Spike in Britons thinking Government acted 'too late' to address virus but confidence in the NHS continues to grow
Two in three (66%) now think that the Government acted too late in implementing stricter lockdown measures.
This week's Ipsos Coronavirus trends find that the public are becoming less concerned about the risk posed by coronavirus to themselves personally over time. The percentage concerned is down 9 percentage points over the last month, from 78% at the end of March (when the lockdown began), to 69% now at the end of April.  
The number of people who say they are 'very concerned' for both the country as a whole (49%, down from 63%) and on a personal level (28%, down from 36%) has also fallen since lockdown began.  Those aged 18-24 are significantly less concerned than other cohorts – just 48% of 18-24 year olds are concerned about themselves personally, compared to 69% overall.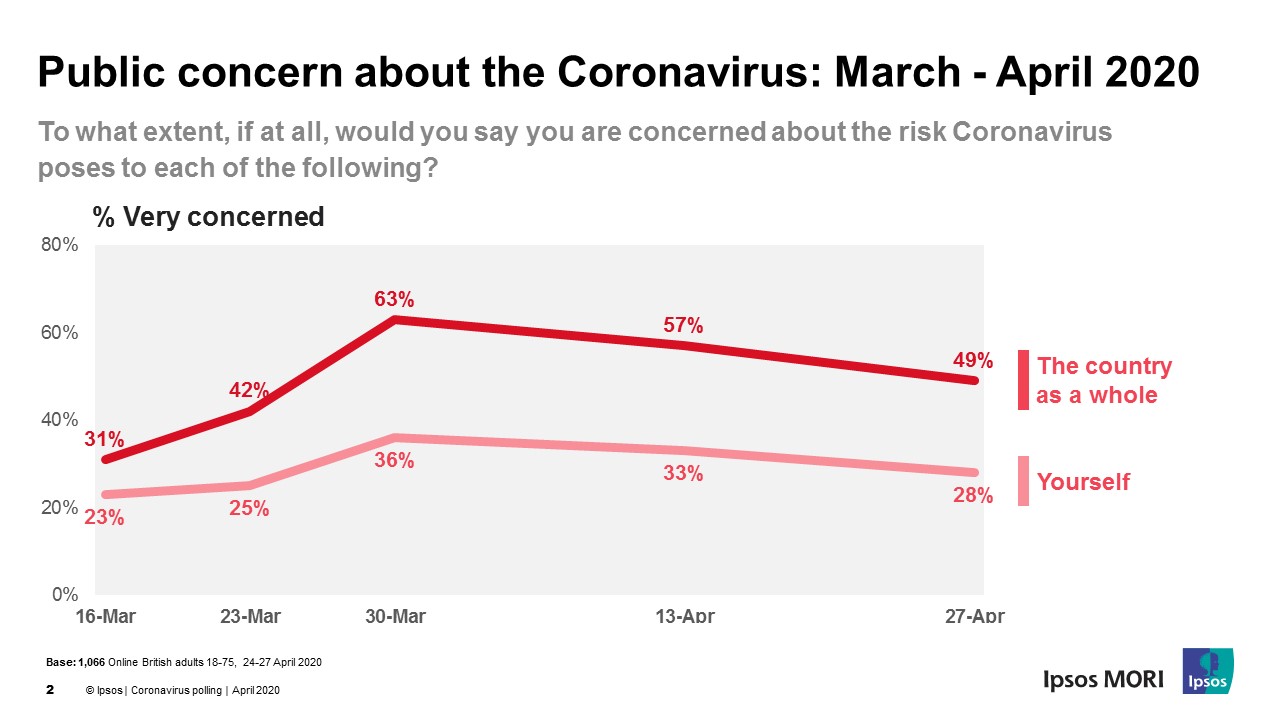 Meanwhile there has been a significant rise in the number of people that think the Government acted too late in taking stricter measures, up 9 percentage points, from 57% to 66% in the last two weeks.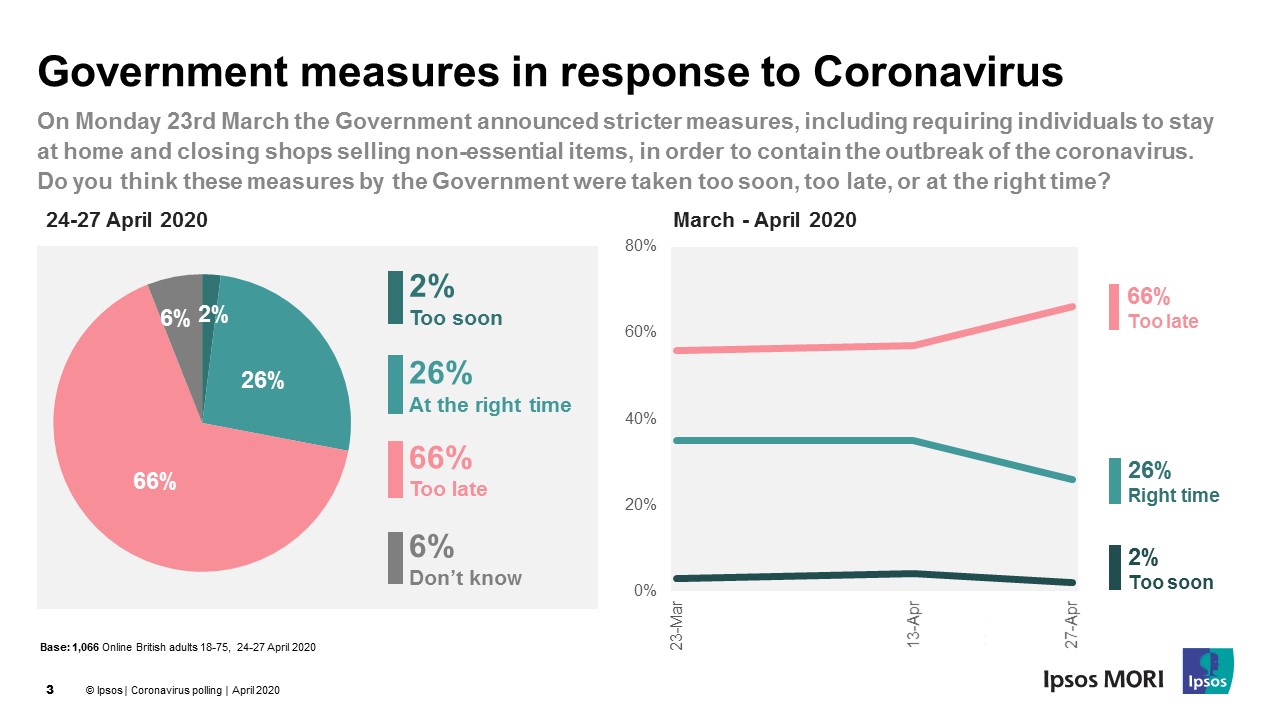 Confidence in the NHS continues to grow and now stands at 82%, with just 16% of people not confident its ability to cope with Coronavirus. This compares favourably to mid-March where 62% were confident and 36% were not. The proportion of Britons that are 'very confident' in the ability of the NHS to deal with coronavirus has more than doubled in this time – from 15% to 32%.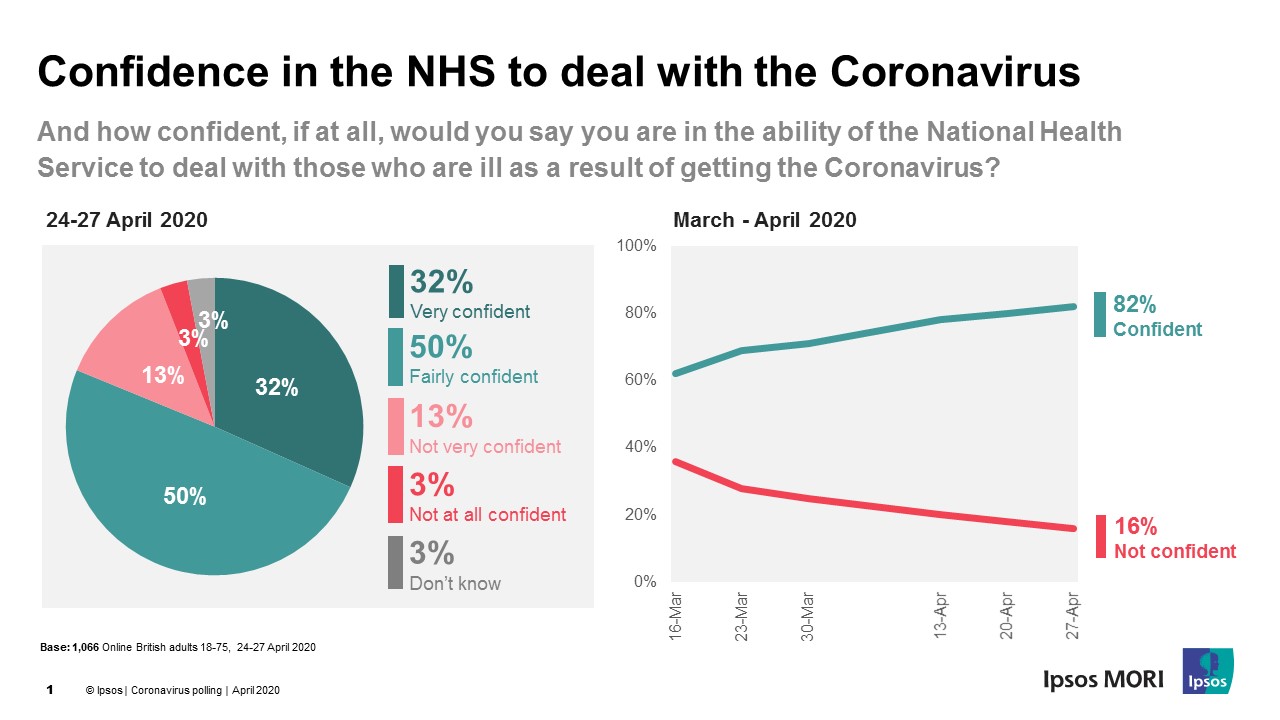 Keiran Pedley, Research Director at Ipsos, says:  
Although the public are still showing high levels of concern about the virus, these trends suggest the Government faces two challenges. Firstly, how do you ensure people stay in lockdown as they becomes less concerned about the risk the virus poses to themselves personally.  Secondly, if the public reaches a consensus that the Government acted too slowly in dealing with the  virus in the first place, it may have difficult questions to answer on that in the future.
Technical note
Ipsos interviewed a representative sample of 1,066 British adults aged 18-75 online between April 24th and 27th 2020.  Data are weighted to the profile of the population.