Starmer's ratings fall further, now at same levels as Corbyn 14 months in
Ipsos's June 2021 Political Monitor shows Starmer's ratings are now similar to those achieved by Corbyn, Duncan-Smith and Howard at equivalent points in their tenures
Just one in five Britons are satisfied with the job the Labour leader is doing
Net satisfaction ratings for Starmer are similar to those achieved by Corbyn, Duncan-Smith and Howard at equivalent points in their tenures
Britons more likely to think Boris Johnson (45%) and Andy Burnham (37%) have 'what it takes to be a good PM' than Starmer (24%)
Half now think Labour should change their leader before the next General Election
Leader satisfaction
22% of Britons are satisfied with the job Keir Starmer is doing as Labour leader (down 14 points from April). 51% are dissatisfied (up 5). Keir Starmer's 'net satisfaction rating' now stands at -29. The lowest he has achieved as Labour leader. 39% of Labour supporters are satisfied with Starmer but 47% are dissatisfied.
By way of contrast, 44% of Britons are satisfied with the job Boris Johnson is doing as PM (unchanged from April), 47% are dissatisfied (-3 points). Net satisfaction -3.
Starmer's overall net rating of -29 is the same as the one Jeremy Corbyn received 14 months into his time as Labour leader. However, Corbyn would later fall as low as -60 later in his leadership. Starmer's ratings are also similar to those received by Iain Duncan-Smith (-27) and Michael Howard (-26) at equivalent times in their leaderships.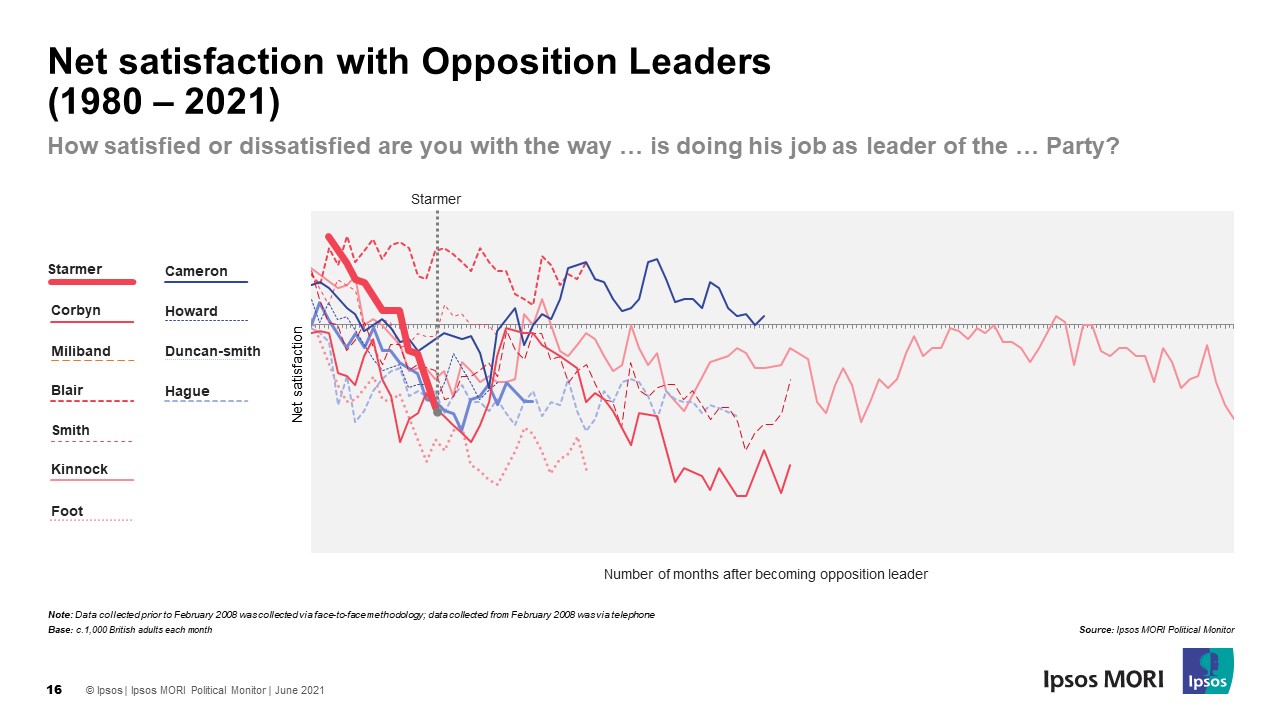 Johnson vs Starmer
Starmer's ratings have fallen on a host of leadership attribute metrics since last September.
Starmer has suffered an 18 point fall in those thinking he is 'a capable leader' (now just 26%) and 17 point falls in him being seen as 'having sound judgement' (now 26%) and 'being a good representative for Britain on the world stage' (now 25%).
Johnson's ratings on the other hand are more stable and he leads Starmer on a number of measures including 'capable leader' (40%, leading Starmer by +14 pts), 'good in a crisis' (35%, +17 pts lead), 'gives me confidence for Britain's future' (34%, +19 pts lead) and 'patriotic' (60%, +22 pts lead). Johnson floors Starmer on 'having a lot of personality' too (61%, +45 pts lead) although he is also more likely to be seen as 'out of touch' (56%, +15 pts lead) and 'more style than substance' (41%, +13 pts lead).
Who has what it takes to be a good Prime Minister?
45% agree Johnson 'has what it takes to be a good PM' (+2 pts since March). 43% disagree (-2).
Just 24% agree Starmer 'has what it takes to be a good PM' (-6 pts from March). 48% disagree (+13).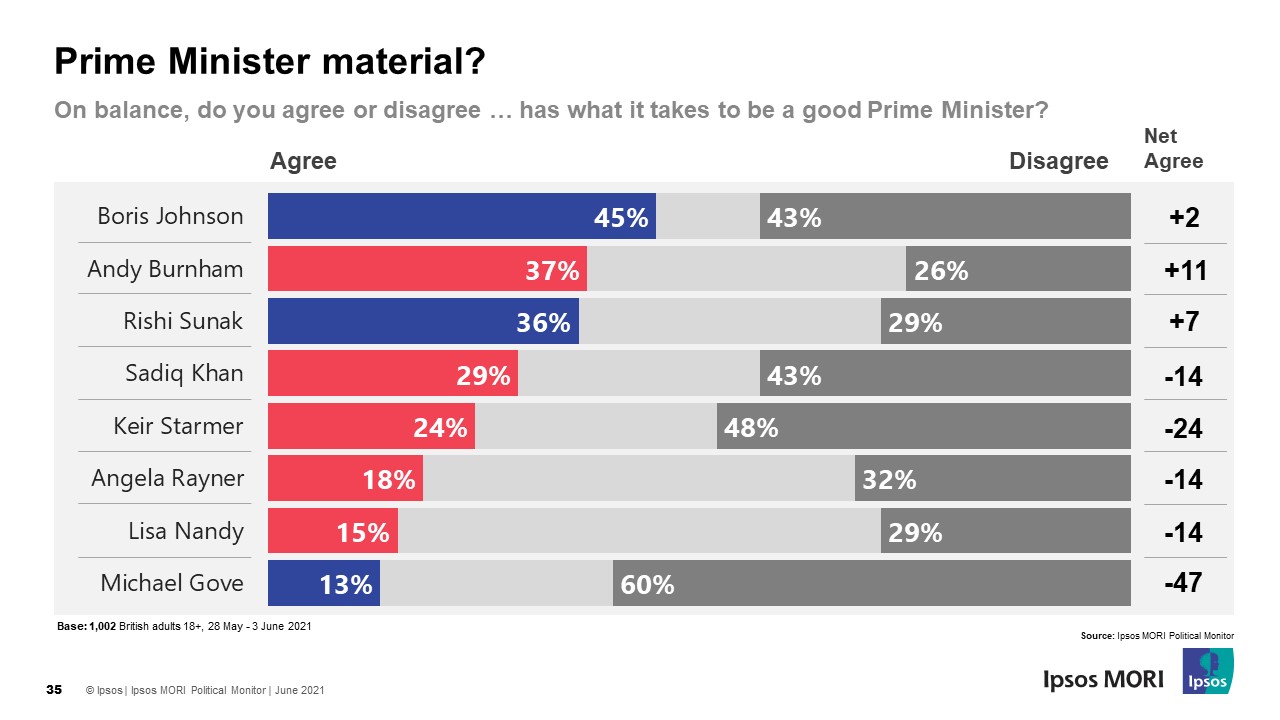 Alternative Labour and Conservative politicians were tested. Notable results included:
Michael Gove. Agree 'has what it takes to be a good PM' 13% (down 3pts from May 19), disagree 60% (+4 pts).
Rishi Sunak. Agree 36% (+3 pts from March 21). 29% disagree (no change).
Andy Burnham. Agree 37% (+10pts from July '15). Disagree 26% (-1). Note the % that agree is 13 pts ahead of Starmer (though 8 pts lower than Johnson). 59% of Labour voters think Burnham has what it takes compared to 48% for Starmer.
Sadiq Khan. Agree 29%. Disagree 43%. 46% of Labour voters agree Khan has what it takes.
Fewer than one in five Britons say Lisa Nandy (15%) and Angela Rayner (18%) 'has what it takes to be a good PM' but there are large numbers of neutrals / don't knows (56% and 51% respectively).
Should Labour and the Conservatives change their leader?
Returning to Starmer, 50% think Labour should change its leader before the next election. 26% disagree.
40% say the same about the Conservative Party. 39% disagree.
However, on Labour, fewer Britons say this than said the same about Corbyn in July 2019 where 62% said Labour should change its leader before the next election. Labour voters are split on Starmer, 48% say Labour should change leader before the next election but 39% disagree.
Ipsos Director of Politics Keiran Pedley said:
These numbers lay bare just how far Keir Starmer's poll ratings have fallen. From opening with the best satisfaction ratings for a Leader of the Opposition since Blair last June his numbers are now as bad as Jeremy Corbyn's at the same point in his leadership. What we don't know is whether Starmer's numbers will continue to fall, as they did for Corbyn, or if the Labour leader will manage to rebound all the way to Number 10 in a similar fashion to how David Cameron once did
Technical note
Ipsos interviewed a representative sample of 1,002 adults aged 18+ across Great Britain. Interviews were conducted by telephone: 28th May – 3rd June 2021. Data are weighted to match the profile of the population. All polls are subject to a wide range of potential sources of error. On the basis of the historical record of the polls at recent general elections, there is a 9 in 10 chance that the true value of a party's support lies within 4 points of the estimates provided by this poll, and a 2 in 3 chance that they lie within 2 points.