Survey shows strong public backing for investment in infrastructure to aid recovery
Findings from the latest Global Infrastructure Index survey conducted by Ipsos in partnership with the Global Infrastructure Investor Association (GIIA).
The 2020 Global Infrastructure Index – undertaken in partnership by GIIA and Ipsos and the largest global survey of its kind looking at public attitudes towards infrastructure and investment – shows that the British public believe investment in infrastructure should form a key part of the UK Government's plan to secure economic recovery from the COVID-19 pandemic.
69% believe Government should prioritise infrastructure investment as part of the COVID-19 economic recovery; just 8% disagree.
83% agree that investment in infrastructure will create new jobs and boost the economy; 2% disagree.
Satisfaction levels with infrastructure have changed little since 2019; 37% this year, 36% last year (29% in 2018); Britain's ratings are lower than the global average with dissatisfaction higher than average across G8 and European countries.
65% say Britain is not doing enough to meet infrastructure needs, higher than both the global figure (59%) and the equivalent figure for all G8 countries (57%).
Investment in flood defences, rail infrastructure and solar energy are the top-ranked priorities for investment in Britain; each are chosen by 42% from a list of 15.
The largest year-on-year increases have been for digital infrastructure (up 7 points), water supply/sewerage (up 7 points) and pavements, footpaths and pedestrian areas (up 6 points).
There has been a significant increase in support for private investment if it helps Britain get the infrastructure it needs with 65% in favour (up 7 percentage points from 2019) and only 9% opposed (down from 13% in 2019).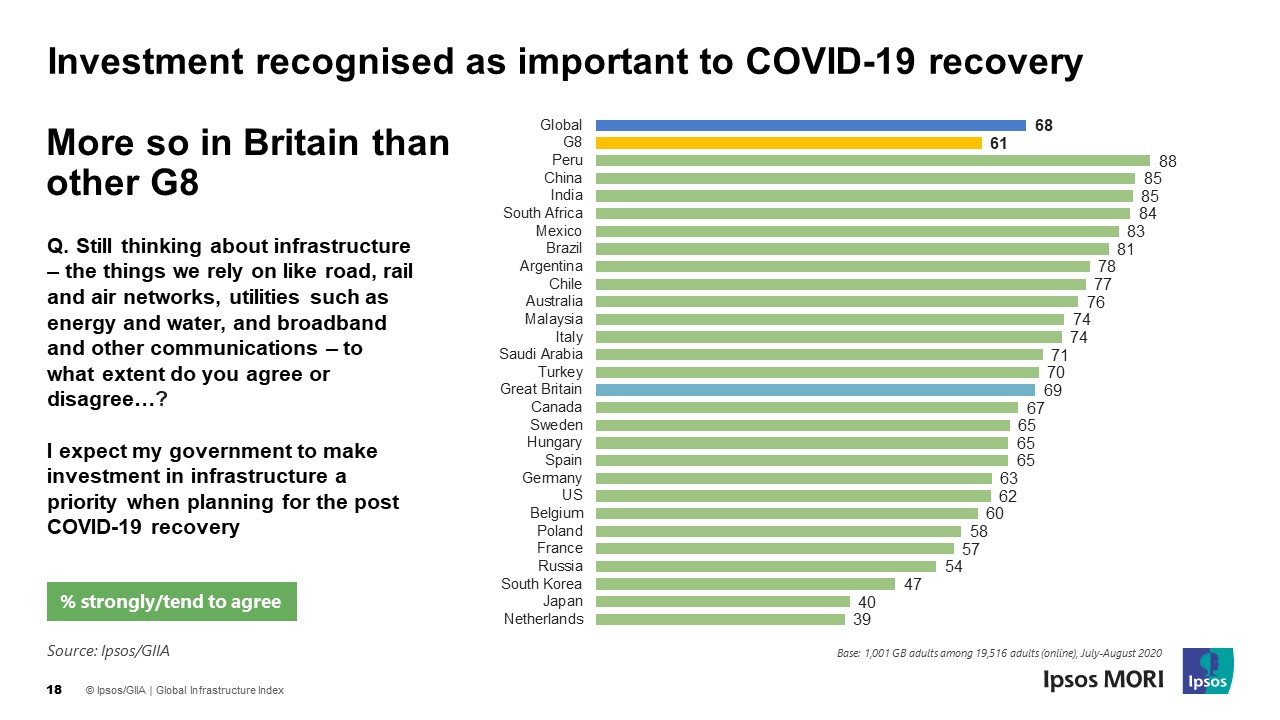 ---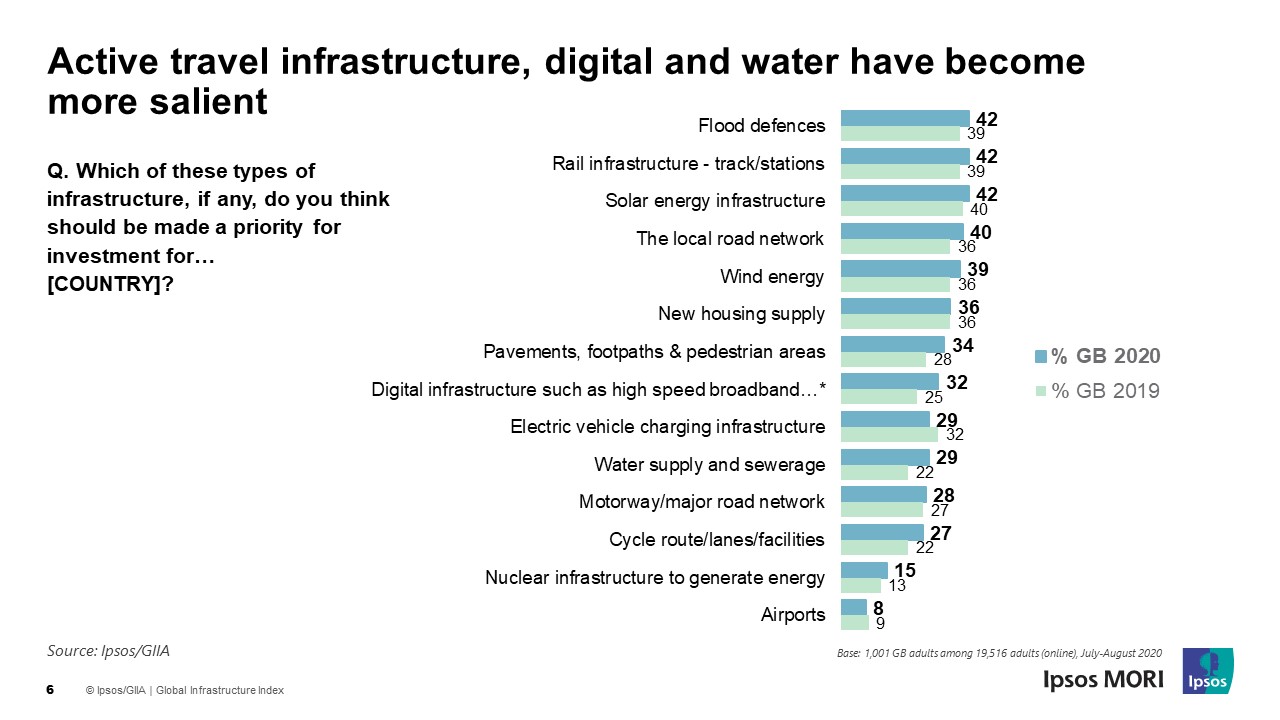 Research Director Ben Marshall, Ipsos Transport and Infrastructure, said:
Last year's general election campaign kicked off with commitments to spend big on infrastructure and since the start of lockdown the Prime Minister has talked of "build, build, build". This was well grounded in public opinion and this year's Global Infrastructure Index again shows public support for investment and improvement. There is a sense that Britain's infrastructure is not fit for purpose, and that investment would boost economic and employment prospects.
That's not been changed by the pandemic, but the survey perhaps signals some possible new currents in public opinion – for example, higher priority is attached to social infrastructure over economic infrastructure. We have also seen increases in the priority attached to investment in digital infrastructure, 'street scene' and key utilities like water.
Technical Note
The fifth GIIA / Ipsos Global Infrastructure Index surveyed 19,516 people across 27 countries from 24 July – 7 August, 2020 including 1,002 in Great Britain.
The survey used an online methodology, sampled via Ipsos' Global Advisor. Participants were adults aged 18-64 in the US and Canada, and adults aged 16-64 in all other countries. Countries were Argentina, Australia, Belgium, Brazil, Canada, Chile, China, France, Germany, Great Britain, Hungary, India, Italy, Japan, Malaysia, Mexico, Netherlands, Peru, Poland, Russia, Saudi Arabia, South Africa, South Korea, Spain, Sweden, Turkey and the USA.
The 2016-2019 surveys used the same methodology, but the profile of participating countries changed. This means that the global trend does not always involve a like-for-like comparison.
Download