Three in ten home-schooling parents say it did not go well
Parents want increased wellbeing support and additional tutoring sessions to help their children catch up on education
In Ipsos's latest KnowledgePanel poll, two-thirds (67%) of home-schooling parents say learning at home went very or fairly well for their children over the latest lockdown, but 31% disagree. 
Parents living in the highest areas of deprivation are most likely to have struggled with home-schooling, with around 4 in 10 (39%) of those living in the two most deprived quintiles according to the Index of Multiple Deprivation saying home-schooling has not gone well, compared with 26% in the two of the least deprived quintiles.  Similarly, home-schooling parents with an annual household income of £75,000 or more were most likely to say it had gone well, at 78%.
Among the public as a whole, additional tutoring sessions and summer school sessions specifically for those who have fallen behind are seen as effective measures by 87% and 84% respectively, followed by increased wellbeing support (77%).  Parents themselves also believe these would be effective – especially additional tutoring (86%) and better support for children's wellbeing (85%). 
However, parents are less convinced than the public as a whole about the effectiveness of other measures.  Seven in ten (70%) among all British adults believe shorter summer holidays for all students would be effective, but this falls to six in ten among parents, and there is a similar gap when it comes to shorter half-term holidays (58% among all believe this would be effective., but only 48% among parents).  The same pattern applies to less favoured measures, such as repeating the current school year (46% of all adults think this would be effective, but 38% of parents), and longer school days for all students (43% vs 37%).
Given their experience of lockdown therefore, the most preferred options for more than half of British parents if their children needed to catch-up on any lost education are to receive increased wellbeing support (56%) and additional tutoring sessions outside of school hours (55%).  Although these two options are the top priorities for all groups, there are some differences of emphasis by income level.  Parents from lower income households place more well-being support as their number one choice, while for higher income parents it is additional tutoring.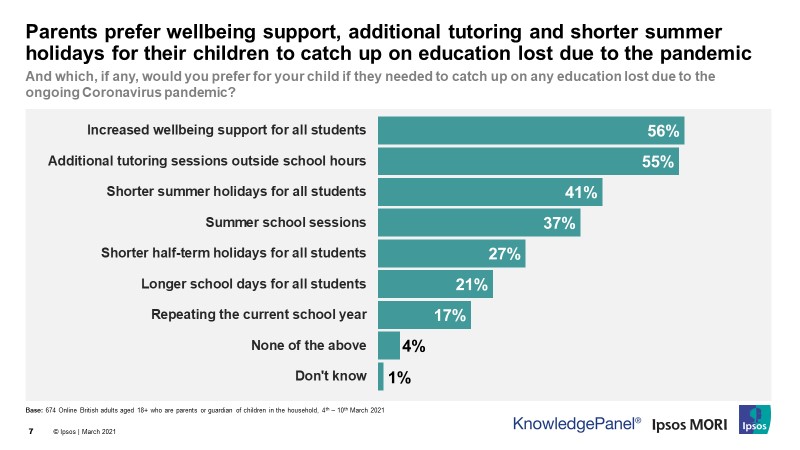 Two in five (41%) parents would prefer shorter school holidays for all students in order to catch up on any missed schooling while 37% would like their children to attend summer school sessions. 
Around 1 in 5 would like to see the current school year repeated (17%) or have longer school days for all students (21%) in order to make up for time lost due to the coronavirus, and around 1 in 4 (27%) would prefer shorter half-term holidays (27%).
Kelly Beaver, Managing Director of Public Affairs  at Ipsos, says:
It's clear that while many parents have done their best with home-schooling during the latest lockdown, it's been a challenge for a significant proportion, especially those living in more deprived areas.  It's also clear that parents are thinking about their children's mental and emotional well-being as well as the impact on their learning, with more support for well-being and extra tutoring tailored for those who are behind their top two priorities for catching up on what was lost during the pandemic.
Technical note:
3,588 British adults aged 18+ were interviewed online on the Ipsos UK KnowledgePanel between 4 - 10 March 2021.  674 were parents/guardians, of whom 520 were parents/guardians of children who needed homeschooling. 
The UK KnowledgePanel is a random probability online panel of approximately 13,000 UK adults aged 16+. It provides an accessible random probability alternative to face-to-face and telephone based methods, and offers a high quality and efficient means of obtaining survey results using a single data collection method.
Panellists to the KnowledgePanel are recruited via a push-to-web methodology using random probability unclustered address-based sampling. Up to two adults aged 16 and over in each household are invited to join the panel. Members of the public who do not have internet access or are digitally excluded are offered an internet-enabled device which allows them to complete KnowledgePanel surveys online.