Americans are struggling amid a record-breaking economic contraction
A historic economic downturn is hurting some more than others as many people struggle to make ends meet as the government rolls back aid.
A day before the additional $600 in unemployment benefits ran out, the Bureau of Economic Analysis registered the worst GDP report ever. The U.S. economy contracted by 32.9% compared to this time last year.
Congress is working to pass another round of legislation to hold Americans over as the pandemic continues into the foreseeable future. 30 million people are still on unemployment as many small businesses and large corporations continue to shed jobs and the reported death toll from the virus climbs past 150,000.
But, what does that experience look like for millions of Americans?
People who are unemployed are struggling to pay routine expenses. The most recent wave of the Axios/Ipsos Coronavirus Index found that 32% of people who have stopped work say it is getting more difficult to buy household goods, 17-points ahead of people who are still working.
Bigger expenses, like making rent or mortgage payments are getting more challenging as well. As July came to a close and those added benefits expired, one in three (32%) people let go from their job say that their ability to make rent or mortgage payments was getting worse, up about 10-points from the previous week.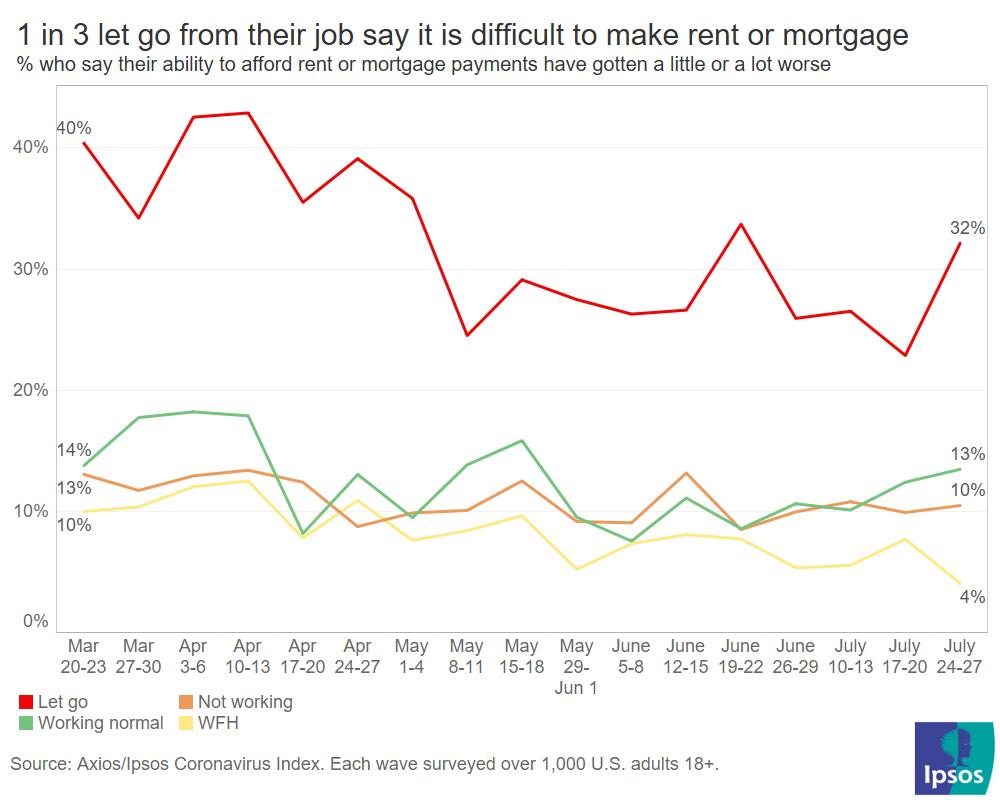 This is still an improvement from the end of March and the beginning of April when 45% of people who were let go from their job said that their ability to make rent or mortgage payments was getting worse.
From there, things seemed to improve at the start of May. There was a 15-point drop in the share unemployed people having trouble making home payments between the middle of April and beginning of May, which correlates with the rollout of stimulus checks and the availability of added unemployment.
Still, people were not spending as much compared to this time last year leading to a historic decline in GDP fueled by a precipitous drop in consumer spending. Though, experts believe the economic damage would've been much worse without government relief cushioning that fall, making families unable to make rent or buy groceries. At the beginning of May, the Axios-Ipsos Coronavirus Index found that four in ten people used their stimulus check to make a rent or mortgage payment or pay for food and basic household needs.  
Federal Reserve Chair Jerome Powell said last Wednesday that the federal spending "has been well spent. It has kept people in their homes. It has kept businesses in business. So that's all a good thing," a sentiment he has echoed before.
Now, the expired benefits coincides with more states, cities and towns rolling back their phased opening plans as the virus gets worse, not better. 24 states are pausing or reversing their reopening plans to get their outbreaks under control.
While the top-line macroeconomic numbers for the U.S. are bad, the country is not experiencing unemployment and financial insecurity equally. Between the middle of June and end of July, the Axios/Ipsos Coronavirus Index found that Black and Hispanic Americans were more worried about paying rent and affording basic household goods than white people.
15% of Black respondents reported that their ability to pay their rent or mortgage has gotten worse recently, while 20% of Hispanic Americans share that same feeling. 9% of white Americans are having a hard time making those payments.
Likewise, many felt it was difficult to get by even while government aid was still available. 15% of white and 17% of Black Americans said it was getting harder to afford household goods throughout June and July. About a quarter (26%) of Hispanic Americans felt the same way.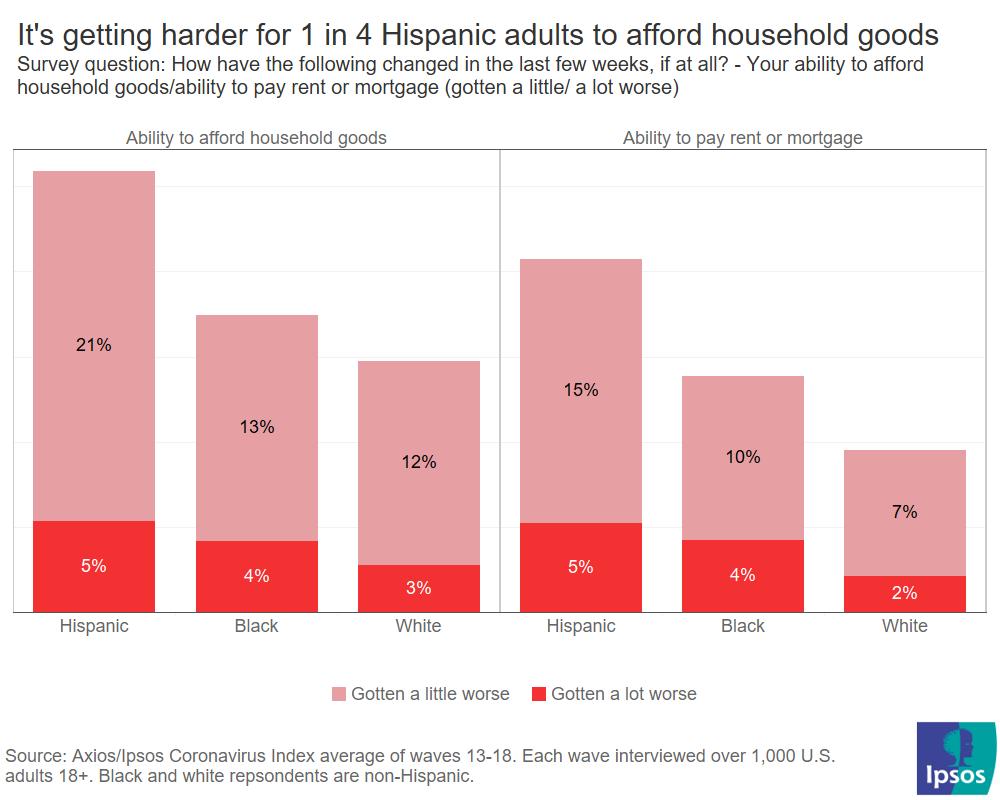 That's primarily because the economic downturn has hit Black and Hispanic Americans harder than white ones. People of color are more likely to be working on the front lines and are also more likely to be unemployed than white people. A Washington Post/Ipsos poll from the beginning of May found that one in five Hispanic adults and 16% of Black Americans reported being laid off or furloughed since the pandemic began. By comparison, 11% of white adults were in the same situation.
On top of that, Black Americans in particular are being disproportionately hurt by both the public health and economic crises. Washington Post/Ipsos polling from June found that Black Americans are nearly twice as likely to know someone who died from COVID-19. Despite sky-high unemployment, four in five Black adults believe that controlling the virus is much more important than opening up the economy.
And, controlling the virus has meant that federal dollars are buoying many Americans as large parts of the economy remain closed. Now, as the economic and public health situation deteriorates, there is continued bipartisan support for this legislation. Most back these programs, which includes additional loans to small businesses, added unemployment benefits, postponing evictions and sending Americans a stimulus check.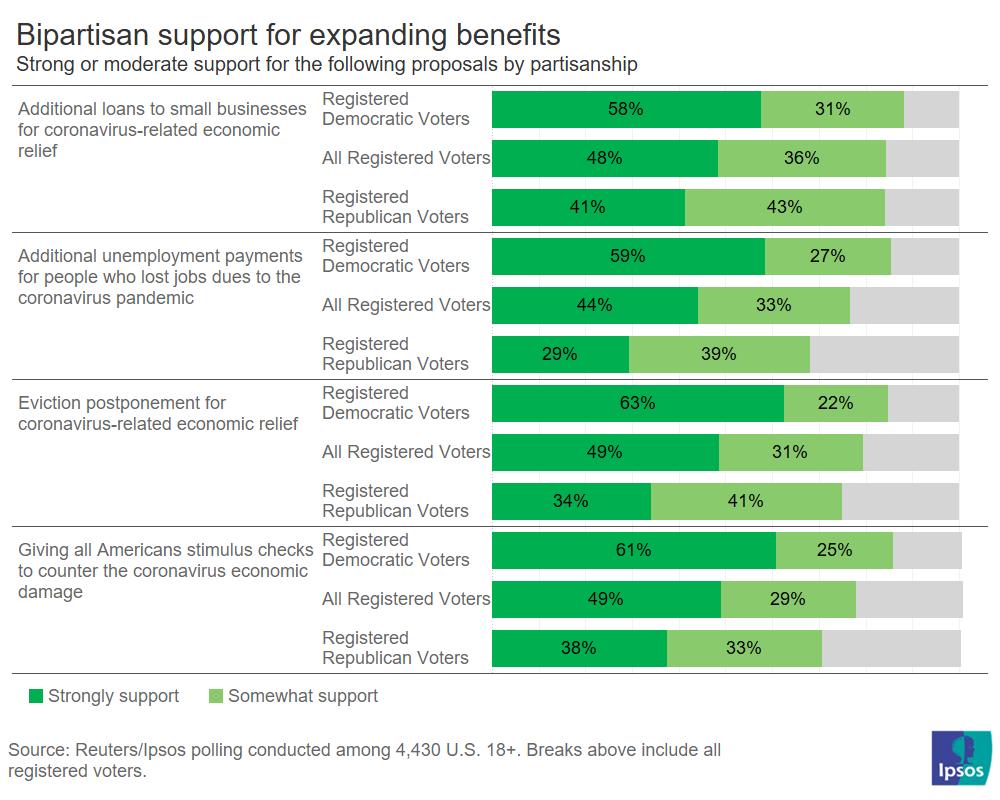 This support persists despite the fact that the initial rollout in the spring was plagued by many obstacles. A Washington Post/Ipsos poll from May found that six in ten laid off workers tried to apply for unemployment and only about half (28%) actually received those benefits.
What will unfold this summer is still up in the air. As of now, Congress is negotiating the specifics of the next round of legislation. A deal won't be ready for a couple of weeks, meaning it would take even longer for that aid to reach those who need it. Many Americans will make it to the end of August with no additional support.
Yet, even as Americans report a growing fear about paying for household goods, or making rent or mortgage on time, Ipsos' Consumer Confidence Index finds that just under half of people (43%) expect the economic situation to recover quickly once restrictions are relaxed. These optimistic expectations have been a dissonant trademark of consumer's relationship to this moment. How long will it last? Will diminishing help from the government begin to sour this outlook as people struggle to pay the bills?
Unfortunately, some of those questions could be answered in the coming months.