Americans at wits' end on coronavirus, want decisive action
With the virus now more widespread than ever, Americans are looking for more aggressive, centralized leadership to contain the crisis.
What you need to know:
Americans' frustration with the federal government's response to the coronavirus to date is plainly evident, with levels of trust in the federal government continuing to fall. Just 25% of Americans say that the U.S. is handling the outbreak better than other countries.
The nation wants to see more decisive, centralized action around the pandemic, with a majority across partisan lines saying that they support a single, national plan to more effectively approach testing. Americans across partisan lines broadly support further economic aid to individuals and businesses struggling with the impact of the virus.
Beyond a national plan for testing, partisan differences appear around questions of central government involvement. However, majorities across the board are supportive of more coordinated industrial policy to deal with the pandemic.
Deep dive:
After months of social distancing and economic disruption, with all the sacrifice and suffering they entailed, the U.S. has not successfully reversed the coronavirus' trajectory. Instead of containment, the virus is spreading more freely now than it was in early March and April.
As Dr. Deborah Birx, White House coronavirus response coordinator, told CNN in early August, the nation has entered a "new phase" of the coronavirus pandemic. "What we are seeing today is different from March and April — [the virus] is extraordinarily widespread," she said, urging all Americans to wear masks and take other precautionary measures.
Johns Hopkins University statistics put the virus' toll at more than 5 million reported cases and 162,000 deaths nationwide. Even these sobering numbers are likely an undercount. Worse, the virus is now embedded in many communities, making it harder to isolate and eradicate. Younger people are more likely to get the virus these days than they were at the outset of the crisis, picking it up – or spreading it – at bars, parties or other social settings.
Americans are frustrated with the current state of affairs, with just 25% saying that the U.S. is handling the outbreak better than other countries, according to NPR/Ipsos polling. Meanwhile, trust in the federal government is at its lowest ebb yet, falling to 29% in the most recent wave of the Axios-Ipsos Coronavirus Index.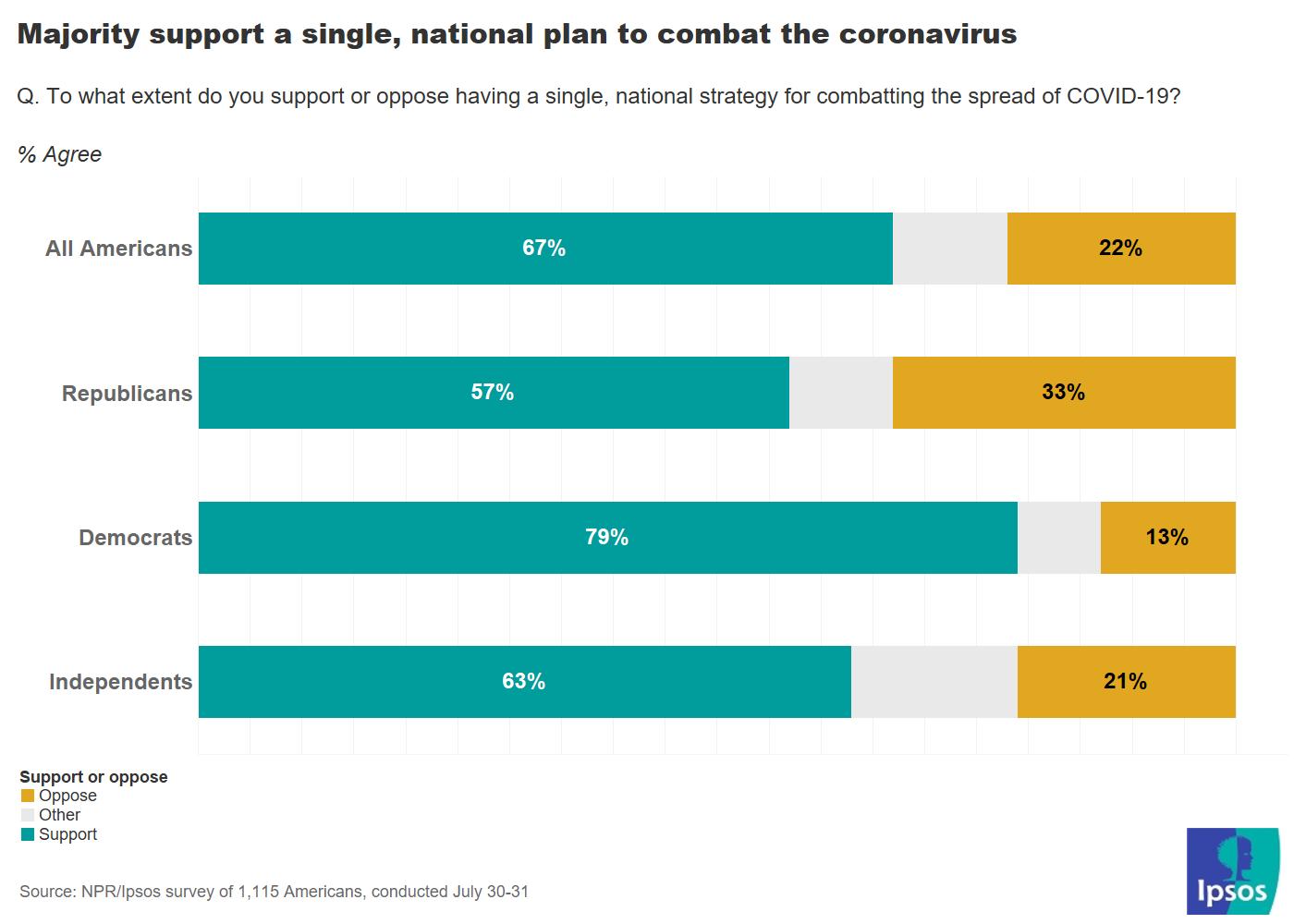 At this stage, the country wants to see decisive, centralized action around the coronavirus. Evidently, the current strategy – a patchwork of differing measures and restrictions rolled out on a state-by-state basis, accompanied by a national testing plan that has seen its fair share of bumps along the road – hasn't won the general public over.
A clear majority of Americans want to see COVID-19 testing cost-free and expanded at the federal level. To date, a comprehensive national approach to coronavirus testing has been beleaguered by faulty tests, long delays in delivering results due to overwhelmed labs, and at times some resistance from the White House.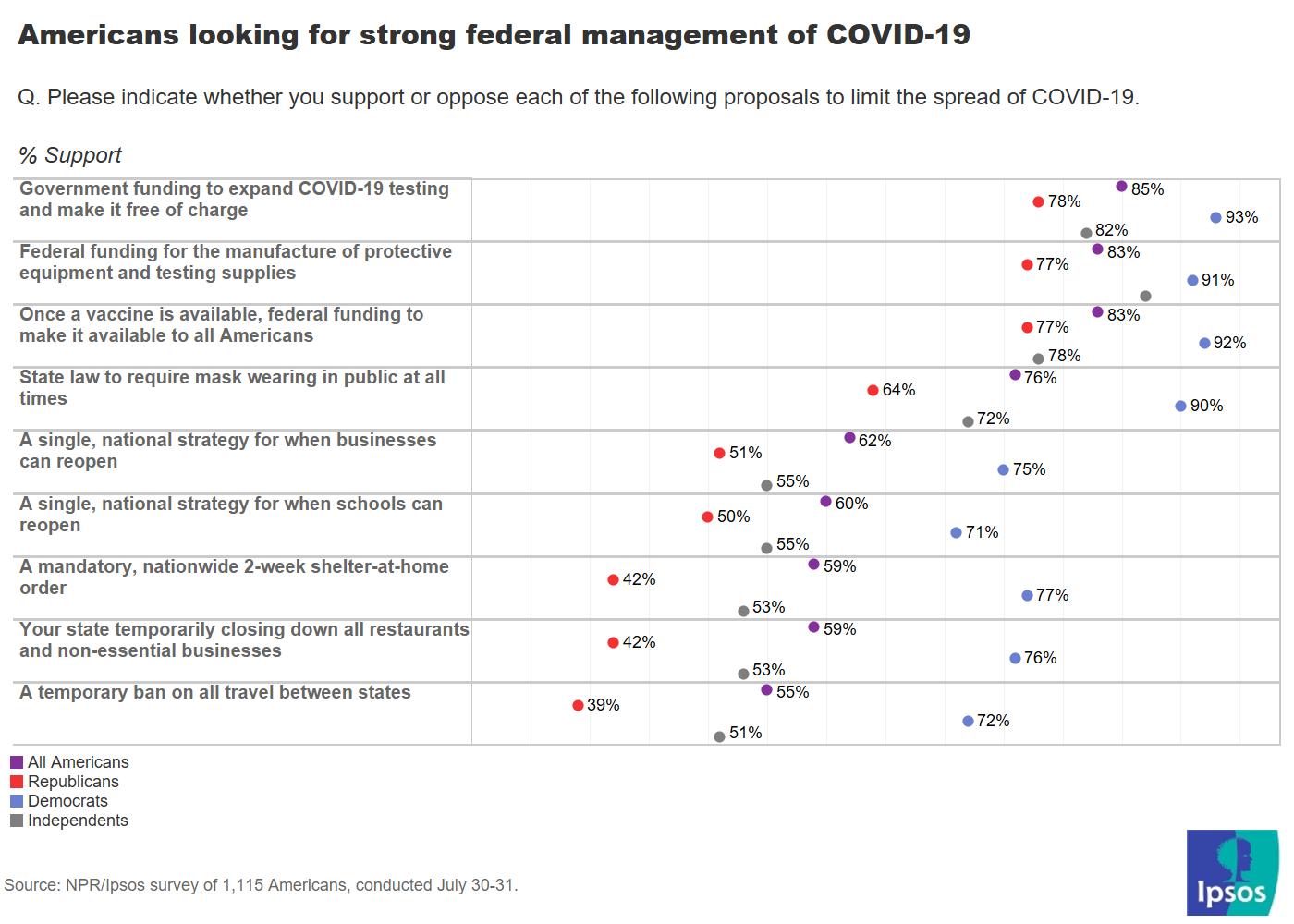 The focus on testing is even more pronounced now than it was in the early stages of the crisis. In late March, 67% of Americans agreed that the federal government should expand its coronavirus testing efforts, according to Reuters/Ipsos polling. At that point, in a time when the virus was not as well understood as it is today, Democrats and Republicans were more closely aligned on this issue, with 71% of Democrats and 67% of Republicans agreeing that testing ought to be expanded.
Beyond expanded testing, Americans want to see the federal government put its weight behind manufacturing protective equipment, testing supplies and making a coronavirus vaccine, once available, accessible to all Americans. The data suggest that even some Trump-supporting Republicans may be moving closer to Democrats on a nationalized approach to tackling the coronavirus.
As Kevin Reno, a Texan Republican who plans to vote for Trump in the fall, recently told NPR, "I think a national approach would be better. I think it would be effective, and it may be at the point here before too long that we have to do that." When it comes to the fundamentals, like testing and vaccines, there is solid national consensus across typically fractured political lines.
In other areas, partisan opinion is more scattered. Early on in the crisis, masks became a political symbol, with national figures like President Trump questioning their utility and suggesting the people who did wear them were doing so because they didn't like him. Though mask use is now trending up across parties, Democrats and Republicans still do not see eye to eye on state mask mandates (90% and 64% support, respectively).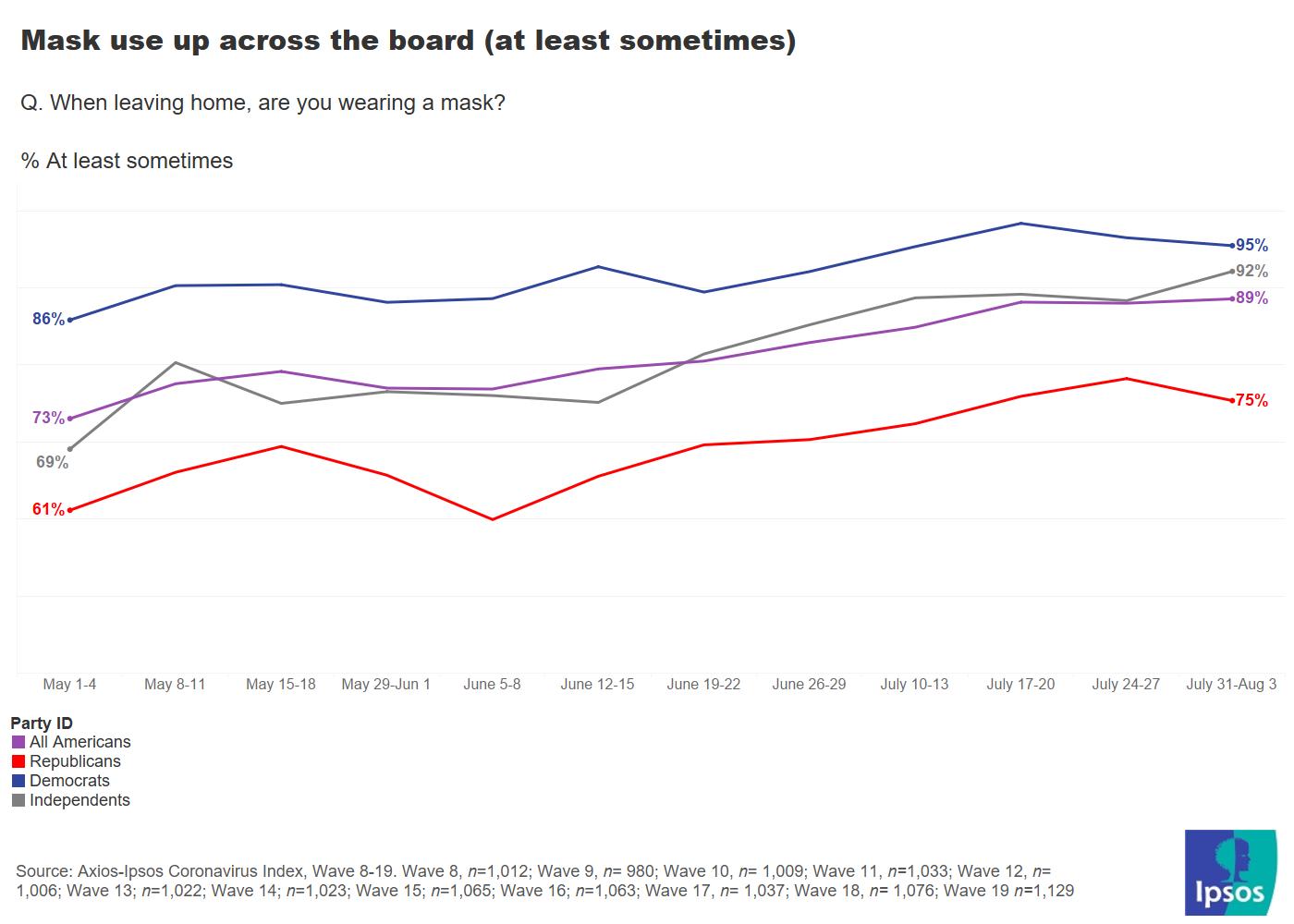 Similarly, the two parties are divided around a nationwide plan around schools and businesses reopening, another mandatory two-week lockdown to contain the virus, and an interstate travel ban. On every count, Democrats are more open to more restrictive measures to contain the virus; Republicans less so.
Taken together, our data indicate that Americans want to see a more centralized approach to the crisis from government, despite a growing skepticism in federal and state leadership. Republicans and Democrats, however, are not in far from perfect alignment on this issue, signaling that the fundamental divide around the merits of small or big government is still very much a force in our COVID-19 world.
Beyond the question of more centralized leadership, individuals are already stepping up their own efforts to combat the virus. This can be seen in increased, albeit not always consistent, mask use across party lines. With majority support for expanded testing and the aforementioned mask use, there is broader support for these fundamental precautionary measures now than there was at the outset of the crisis.
But without a collective strategy, any effort to contain the virus will by definition be piecemeal. As we have seen so far, the U.S.' more scattershot approach to the virus has not been effective in containing it relative to other wealthy countries. The question becomes, as Congress, states and the White House consider new approaches to containing the virus, can they arrive at a collective solution in time?