Over the past half century, few domains have undergone such stark change as that of gender roles. But with women now a vital part of the workforce and more men stepping up to take on responsibilities at home, has public perception kept apace of these changes?
A dive into the long-running General Social Survey gives us a glimpse into just how much some attitudes have changed over the past fifty years. Take, for instance, the statement that "men are better suited for politics than women." Designed in 1974, this question has been asked annually ever since and—despite its very "1970s" mindset—provides a fascinating glimpse into changing attitudes over time.
Attitudes towards women in politics over the past five decades have changed significantly. Over two in five (44%) agreed with this statement in 1974, dropping to 13% in 2018—a 31 percentage point shift.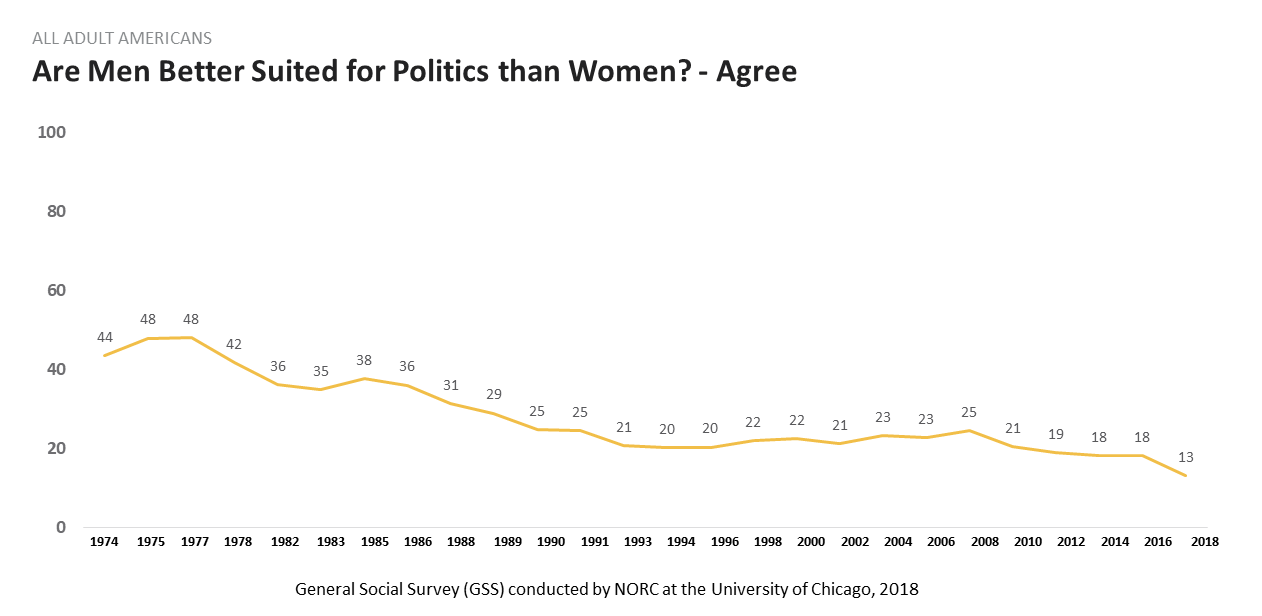 Similarly, American attitudes toward women in the workplace have also changed: in 1977, 60% of Americans believed that a man's place was at work and a woman's place in the home. By 2018 this number halved to 30%.
These changes are partially caused by shifting attitudes but are primarily driven by generational replacement. As the "greatest generation" for whom traditional gender roles were the norm passes on, younger generations more familiar with women in the workforce represent a larger share of the population. There is also the inescapable fact that women currently make up nearly half of the entire American workforce (Pew). Women are at work, and they are there to stay.

Without a doubt, Americans have changed their views on women in politics and the workplace. But to what extent do these beliefs translate to equity in practice? This brings us to the age-old social science question: to what extent are attitudes correlated with behavior?
My interest in the subject was first piqued by a recent Ipsos/National Geographic survey of American women and their perceptions of some of the problems facing the United States today. In it, we asked women what they think are the biggest challenges they face today.

While this is not a behavioral question per se, it does shine a light on the challenges women face in the workplace in particular. Perhaps not surprisingly, women cite "balancing family and career" as their number one concern (38%), followed by "pay discrimination" and "harassment and unfair treatment."
Despite a progressive trend in national attitudes towards their roles in politics and the workforce, the system is not designed to help women balance work and home obligations. This is backed up by a further point from the National Geographic/Ipsos survey: Over half (53%) of women said that men "have it easier in this country these days" compared to just 6% who agree that women have it easier.
To understand the work/life balance challenge in a more granular way, we ran a series of follow-up questions to our National Geographic poll, asking both women and men to assess their own and their partners' relative share of contributions to the household.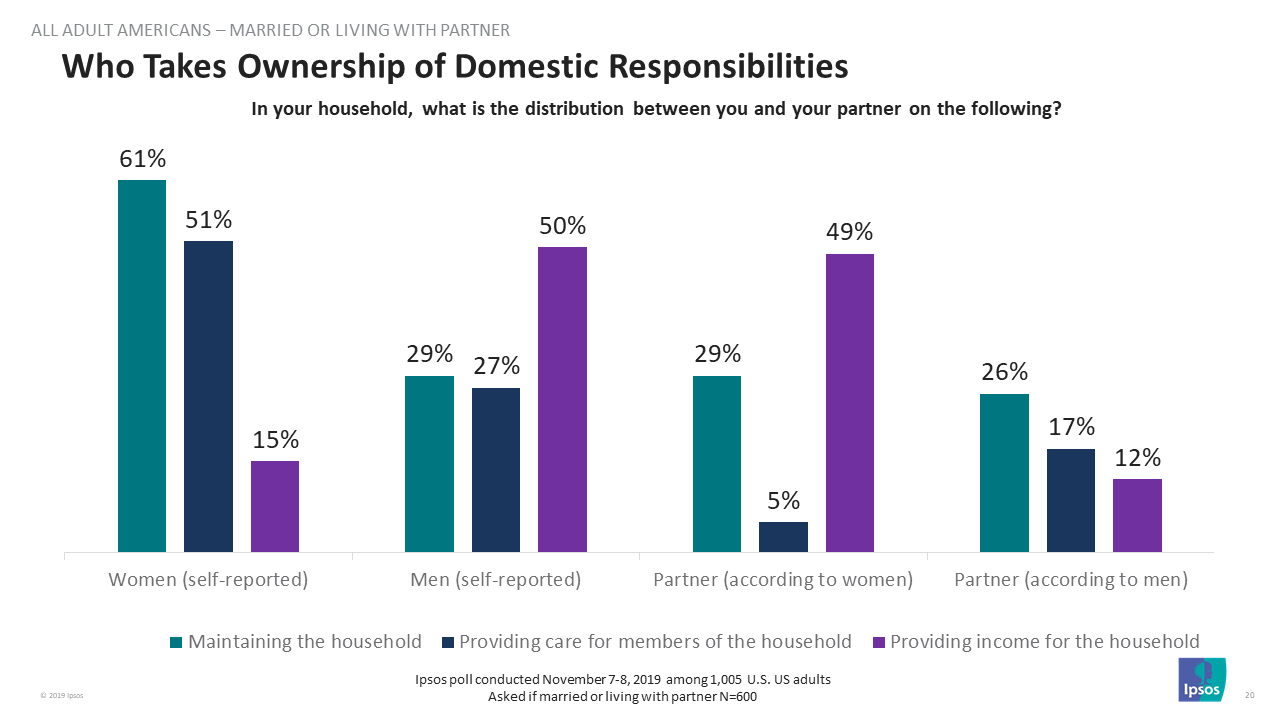 Here is where the rubber meets the road.
There are glaring discrepancies between men and women's perceptions of their relative workloads. Interestingly, however, men and women's reported contributions to the household regarding income match up very well (purple bars).
While spouses agree almost perfectly on who brings home the bacon, they disagree on who maintains the household and provides care for its members. Is this because the provision of income is so concrete and straightforward to measure, and the upkeep of a household far more difficult to quantify? A question that only future research can answer.
In summary
First and foremost, what I am saying is nothing new. Indeed, much has been written on the double standard for women it comes to balancing work and career (Harvard Business School).
While more Americans accept women's role in the workforce and in politics (among other spheres) women still must contend with lingering attitudes about their traditional role at home. Not to mention an outsize burden of household responsibilities, as responses to our follow up to the National Geographic/Ipsos poll underscores.
Encouragingly, more attention is being paid to important structural issues that may help level the playing field, like paid parental leave and the gender wage gap. Though change can be slow, the data suggests that we are moving both attitudinally and perhaps even behaviorally towards greater parity between the genders. Still, as with all issues of inequity, a problem this systemic and culturally ingrained will likely shift only incrementally over time.
For more information, please contact:
Clifford Young
President, U.S.
Public Affairs
+1 202 420-2016
clifford.young@ipsos.com
About Ipsos
Ipsos is now the third largest market research company in the world, present in 90 markets and employing more than 18,000 people.
Our research professionals, analysts and scientists have built unique multi-specialist capabilities that provide powerful insights into the actions, opinions and motivations of citizens, consumers, patients, customers or employees. Our 75 business solutions are based on primary data coming from our surveys, social media monitoring, and qualitative or observational techniques.
"Game Changers" — our tagline — summarizes our ambition to help our 5,000 clients to navigate more easily our deeply changing world.
Founded in France in 1975, Ipsos is listed on the Euronext Paris since July 1st, 1999. The company is part of the SBF 120 and the Mid-60 index and is eligible for the Deferred Settlement Service (SRD).
ISIN code FR0000073298, Reuters ISOS.PA, Bloomberg IPS:FP