Here's how we're feeling about the upcoming holiday shopping season
In less than five minutes of reading time we'll give you all the data and context you need to get you up to speed on Ipsos' latest wave of the Consumer Tracker.
Here's what we know today from the Ipsos Consumer Tracker about: Holiday shopping, premiumization of beauty/skincare, our appetite for major purchases and more. In the Ipsos Care-o-Meter, we look at U.S. Sen. Tommy Tuberville's continued blockade of military appointments and promotions, Kim Jong Un's visit to Russia, record-breaking heat in Phoenix and the NEW ROLLING STONES RECORD.
Here are some quick, miscellaneous findings before we get started:
Buy American is still important. Roughly two in three say they often or sometimes consider where a product was made in the U.S., unchanged since the beginning of the year.
The reasons why they buy American are also unchanged, with factors like the perception of better quality (68%) or keeping money in their community (78%) ranking highly.
Almost half now say they would wear a daily activity tracker, up from 37% in March.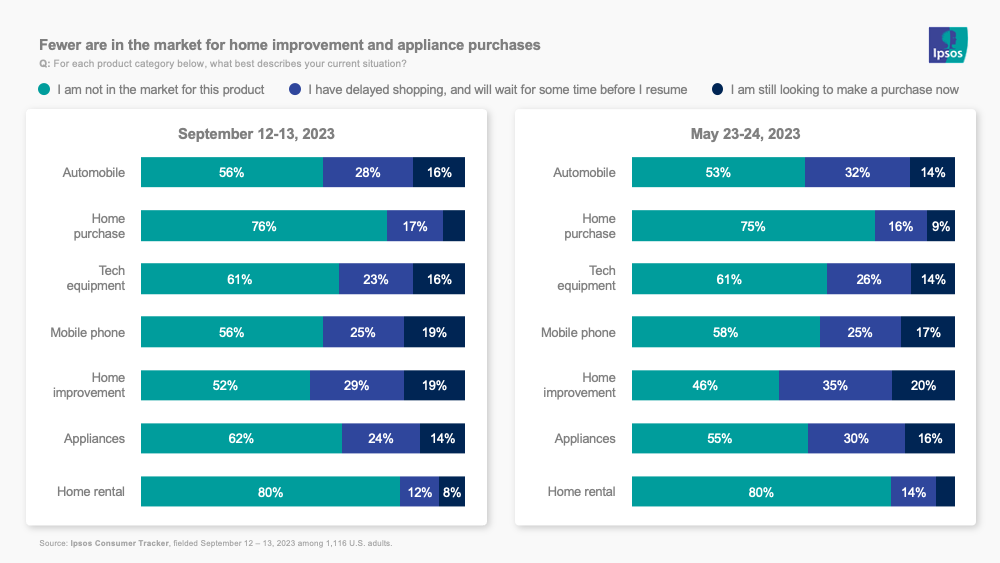 Fewer are in the market for home improvement and appliance purchases
Why we asked: Heading into the holiday season. Yeah. That's happening.
What we found: While other desires for other big-ticket items like homes and automobiles is mostly unchanged compared to May, fewer people say they are in the market for home improvements or appliances. About one in five said they were in the market for home improvements and about 15% for appliances then and now. The shift seems to come from the portion who in May said they were delaying purchases. In May, 35% and 30% respectively said they were delaying purchases. Now it's just 29% and 24%, leading to an uptick in those who say they aren't in the market at all (52%/62%).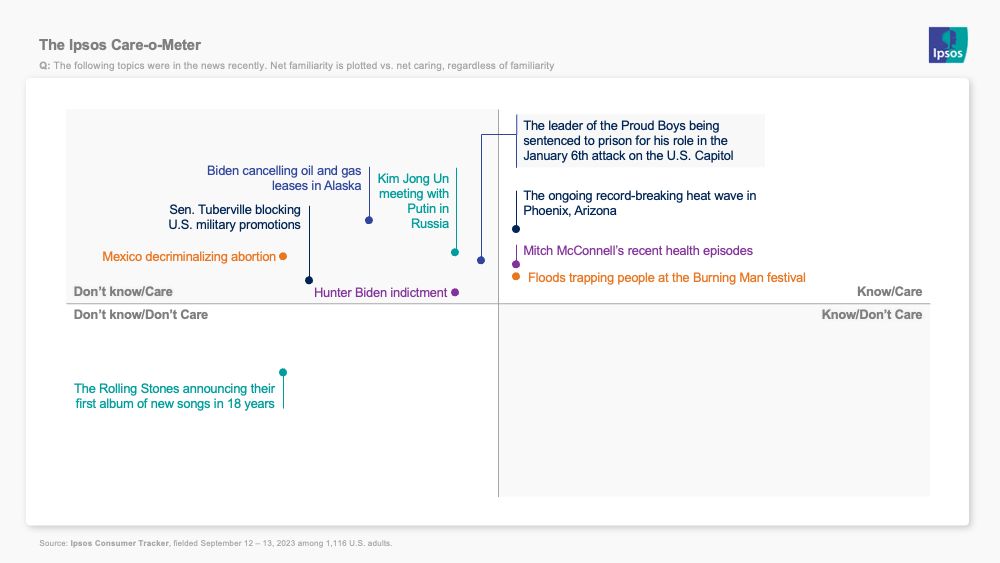 The Ipsos Care-o-Meter (Week of September 11, 2023)
Why we asked: How much do you know about a series of in-the-news events, and how much do you care about them? We explore the relationship between the two in each week's Care-o-Meter. Check out the new Care-o-Meter page for the full analysis.
What we found: Some high-profile news items dropped in the last week about the continued blockade of military appointments by U.S. Sen. Tommy Tuberville, R-Ala., as part of his protest of a Defense Dept. policy paying costs for those serving if they need to travel for an abortion or reproductive care. One profiled the acting Marine Corps. Commandant who is awaiting confirmation. And numerous outlets and officials are raising national security concerns that the current chairman of the Joint Chiefs of Staff is retiring soon, and we won't have a replacement. But the Care-o-Meter hasn't budged on this topic. Awareness is still low (-22), and caring is much higher, but still not high (+6). Democrats know more and care much more (so do older Americans). According to CNN, Sen. Tuberville himself said that he didn't know if Gen. Milley would "go anywhere until we get somebody confirmed" to replace him after retiring this month. When told he had to leave by law, Tuberville said: "He has to leave? . . . We'll get someone else to do the job." So, I think that counts him in with the rest of America in don't know/care.
Elsewhere:
Democrats know more about the flooding that stranded people at the annual Burning Man festival (more like "Drowning Man," amiright?). It squeaks into the know/care quadrant.
Higher-income Americans know more about President Biden canceling oil and gas leases in Alaska; there was a sizable gap between knowing (-15) and caring (+21).
Similarly, Mexico's decriminalization of abortion fell in don't know/care. Democrats care more.
We don't know or care about the new Rolling Stones album, despite it being the first new material from the band since 2005. Come on, folks. It's the STONES!
And we barely know but do indeed care about the record-breaking heat in Phoenix, which just topped 54 days this year over 110 degrees. But it's a dry inferno.

One in seven have started their holiday shopping
Why we asked: Because Christmas trees are already up at Costco (and were before Labor Day when it was 100+ degrees in Chicago).
What we found: 14% say they have already started their shopping, which is about on par with our pace last year. Another 21% say they will start next month. About one in 10 plan to procrastinate all the way to December. Looking back at previous years' tracker data, we've seen that people's habits in this regard are pretty consistent. Further, looking at when people say they will start shopping and when they then say they did start shopping, those figures tend to line up. People seem to know themselves quite well in this regard.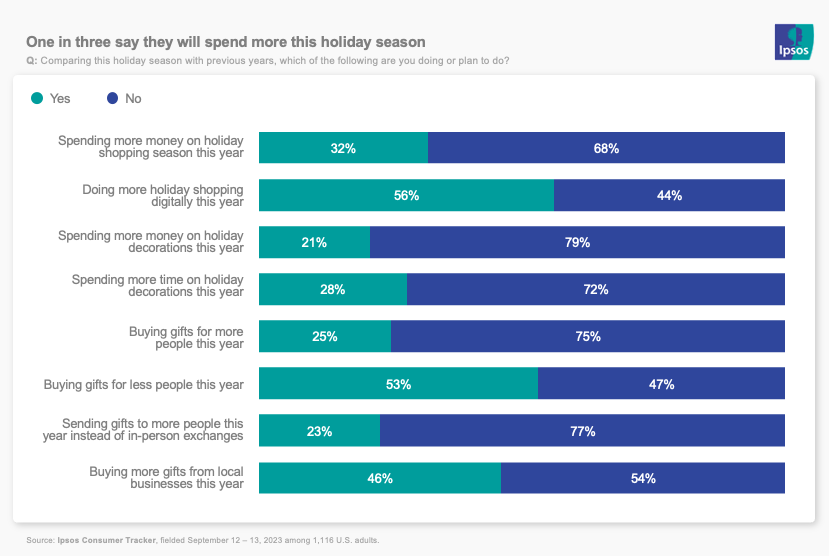 One in three say they will spend more this holiday season
Why we asked: The Consumer Tracker started as the COVID Tracker. Which wasn't meant to make it all the way to holiday shopping season. But since we're in year four of asking COVID questions (sigh) this is about the point where we typically start asking about holiday shopping.
What we found: As of this beginning of the holiday shopping season, one in three say they will spend more this holiday season. That's up from 24% last November during the 2022 holidays. Half say they will do more shopping online, also up from 2022. And the big jump is 46% saying they will buy more locally compared to 31% last year. Now, we're asking the question earlier (vs. Nov. 9 – 10, 2022) so it's certainly plausible that people had a better sense of what they were really doing rather than planning. We will certainly keep an eye on this as we go through the holidays in these odd economic times.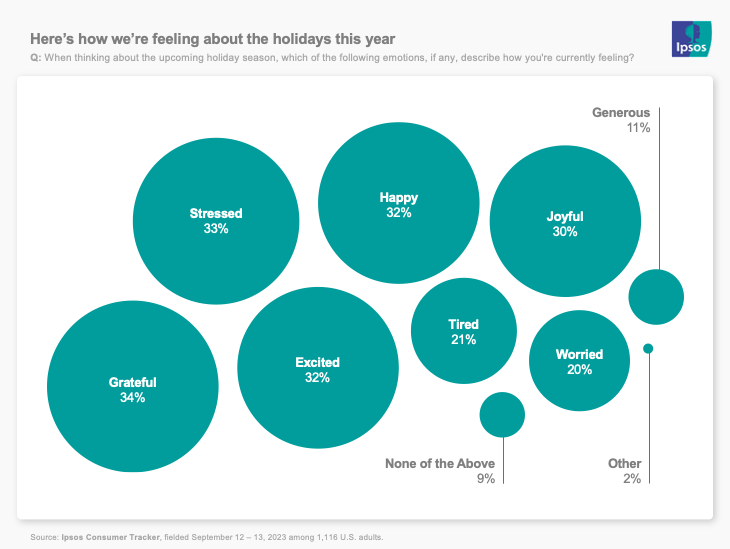 Here's how we're feeling about the holidays this year
Why we asked: This started with a client conversation about general sentiment regarding the holidays. It might be hard to guess exactly how much we'll spend on what, but we can know how we feel.
What we found: We have mixed emotions overall. One in three say they feel stressed, one in five are worried or tired. But one in three also say they are happy or excited (32% each) and the slight edge goes to grateful (34%). Something to keep an eye on as we think about spending levels is that only 11% say they feel generous.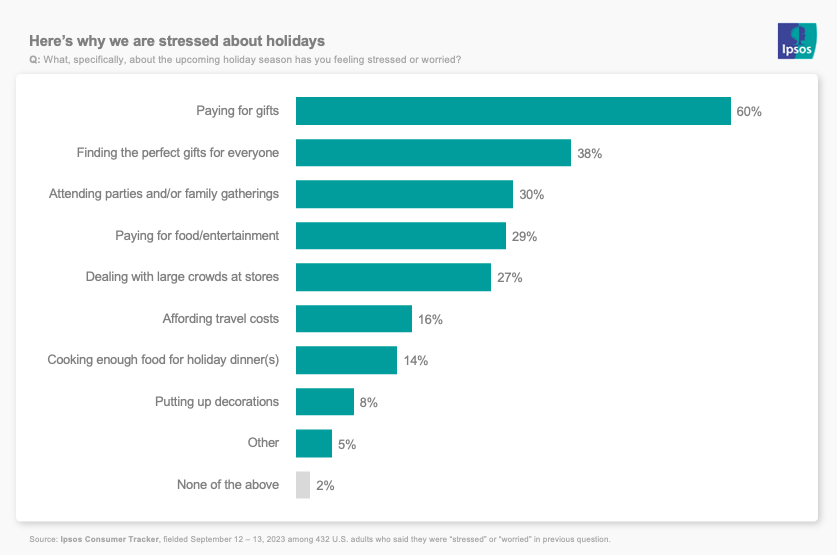 Here's why we are stressed about holidays
Why we asked: What? I'm projecting? Um, maybe…
What we found: In the previous question about how people feel, about four in ten said they felt stressed, worried or both. We asked those folks why they were stressed, and because stress is A Thing, we structured this as a "select all." Six in 10 said they were worried about paying for gifts (another signal for spending.) That includes half of those making $125,000 and above. Another half are worried about the cost of food and entertainment and 16% are worried about paying for travel. About four in 10 say they are anxious about finding the perfect gifts. But about three in 10 are also worried about things like dealing with crowds at stores or attending parties and family gatherings. Me, I'm checking all of the above, thanks for asking.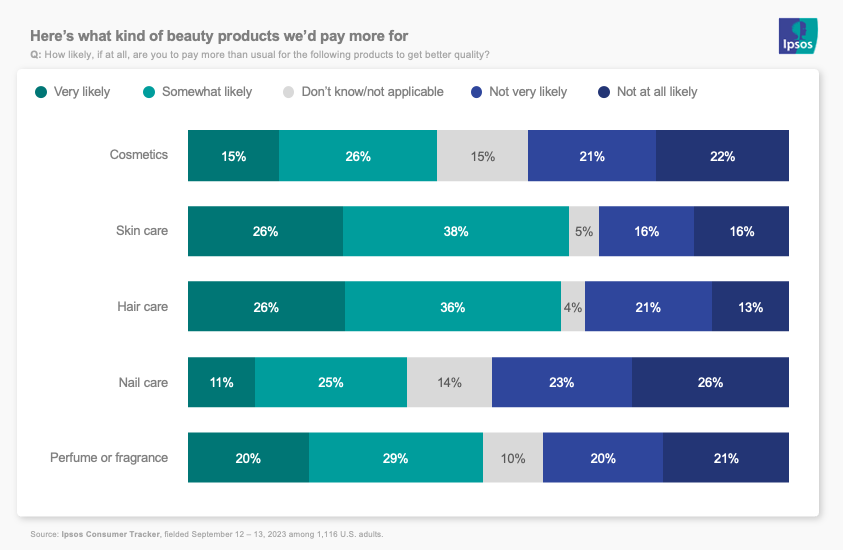 Here's what kind of beauty products we'd pay more for
Why we asked: In a previous wave, we asked about premiumization of mostly food and beverage items. Which prompted discussion and client questions about other sectors. So, here's beauty, hair and skincare.
What we found: Most would pay more for higher quality skin (64%) and hair (63%) products. Half would do so for perfume or fragrance. Slightly fewer would upgrade cosmetics (41%) or nail care.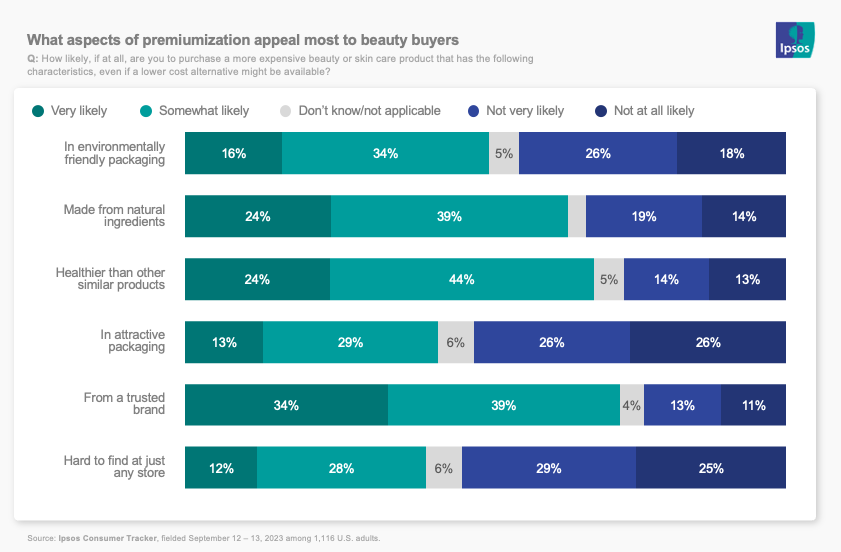 What aspects of premiumization appeal most to beauty buyers
Why we asked: See above.
What we found: We see a similar pattern as with the food and beverage question. Buying from a trusted brand tops the list of options at 73%. Things like "healthier" or "from natural ingredients" appeal to about two in three. And trailing are "environmentally friendly" (50%) or "attractive packaging" (42%).
Signals
Here's what we're reading this week that has us thinking about the future:
For complete toplines for all waves, please see the full data and methodology.