The Inside Track: Election 2020 July Briefing
Key highlights from July's Inside Track: Election 2020, a monthly webinar briefing from the Ipsos political polling team on data and trends shaping the 2020 election.
The Inside Track: Election 2020 presents monthly, in-depth analysis of the latest public opinion data on current trends and recent events influencing the political landscape. Read on below for highlights and key insights from this month's webinar.
What you need to know
At present, Biden is leading Trump in the polls and on other key indicators.
Polls are a snapshot of national sentiment as it stands today. Much could change between now and election-day. As 2020 has proven time and time again, the current moment is volatile
The results of the presidential election will likely to be a referendum on Trump's ability to manage the pandemic
His overall job performance rating, currently sitting at 38%, has been tracking closely with his approval rating on how he is handling the coronavirus
As new coronavirus cases and deaths rise, polls suggest that Americans believe that the carelessness of their fellow citizens is to blame for the spread of the virus
There may be some truth to this; polling shows that Americans most likely to socialize are also less likely to be wearing masks or maintaining six feet of distance from other people in public settings, thus contributing to the continuing transmission of the virus
There have been nearly 4 million confirmed cases of the coronavirus in the United States, though the Centers for Disease Control (CDC) recently acknowledged that the official tally is likely an undercount
Perceptions of risk around every-day activities and the virus continues to rise after a lull in concern around Memorial Day
Deep Dive:
Biden slight favorite to win election
For the past month, Trump has consistently trailed Biden in the polls, both at the national level and in many of the swing states that will be key to deciding the 2020 election. At this point, it's important to remember that the 2016 polling also had Hillary Clinton ahead, and that polling is a snapshot of the current moment. Much could change between now and the election.
Still, there are other factors beyond polling numbers to consider when looking ahead to November, and on many of these metrics, Biden is outperforming Trump as well. Crucially, Biden is seen as stronger on some of the key issues driving voter decisions. He is seen as outperforming Trump on having a robust plan to handle the coronavirus and restoring faith in American government – the two top traits Americans want to see in their presidential pick.
Factoring this, along with Trump's approval rating and standing in the swing states, Biden remains the slight favorite.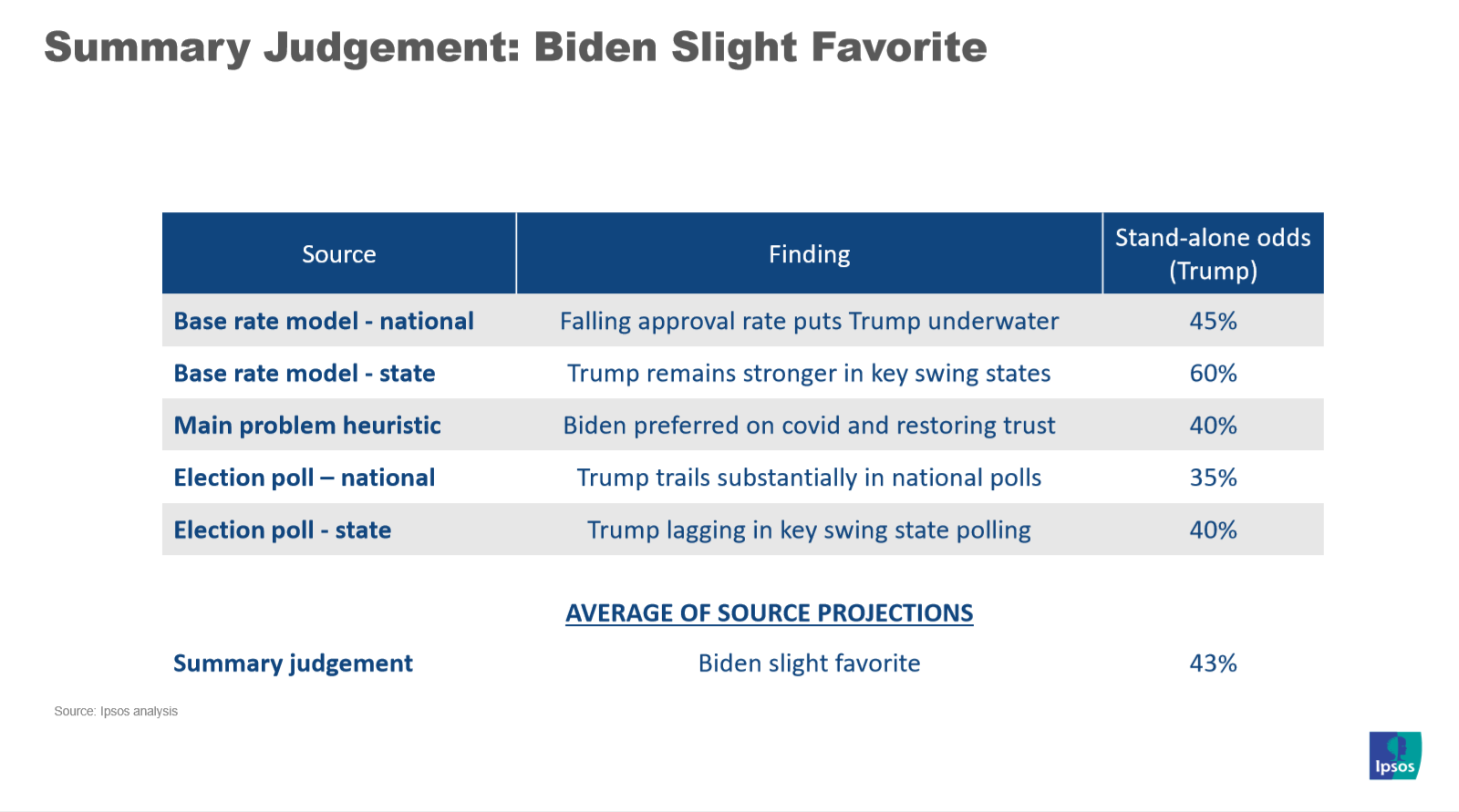 Crucially, Biden has the advantage with undecided voters
Undecided voters, the wild card in 2016 that likely pushed Trump to his surprising electoral college victory, are leaning towards Biden. Among registered voters, undecided voters represent about 20% of the total. While not all will vote, some likely will, and which way they ultimately swing will have a great deal of impact on the outcome of the election.
Currently, our polling tells us that this group favors Biden, when push comes to shove. They very much think the country is going in the wrong direction; only 17% approve of Trump's job performance; and when given a forced choice, right now they're leaning towards Biden, 2 to 1 over Trump.
This is not what happened in 2016. What this means in practical terms for Trump is that he likely doesn't have his hidden reservoir of support, or the "Silent Majority," he often touts. Instead, 67% of undecided voters disapprove of his job performance, which would likely be hard to overcome when they head to the voting booth.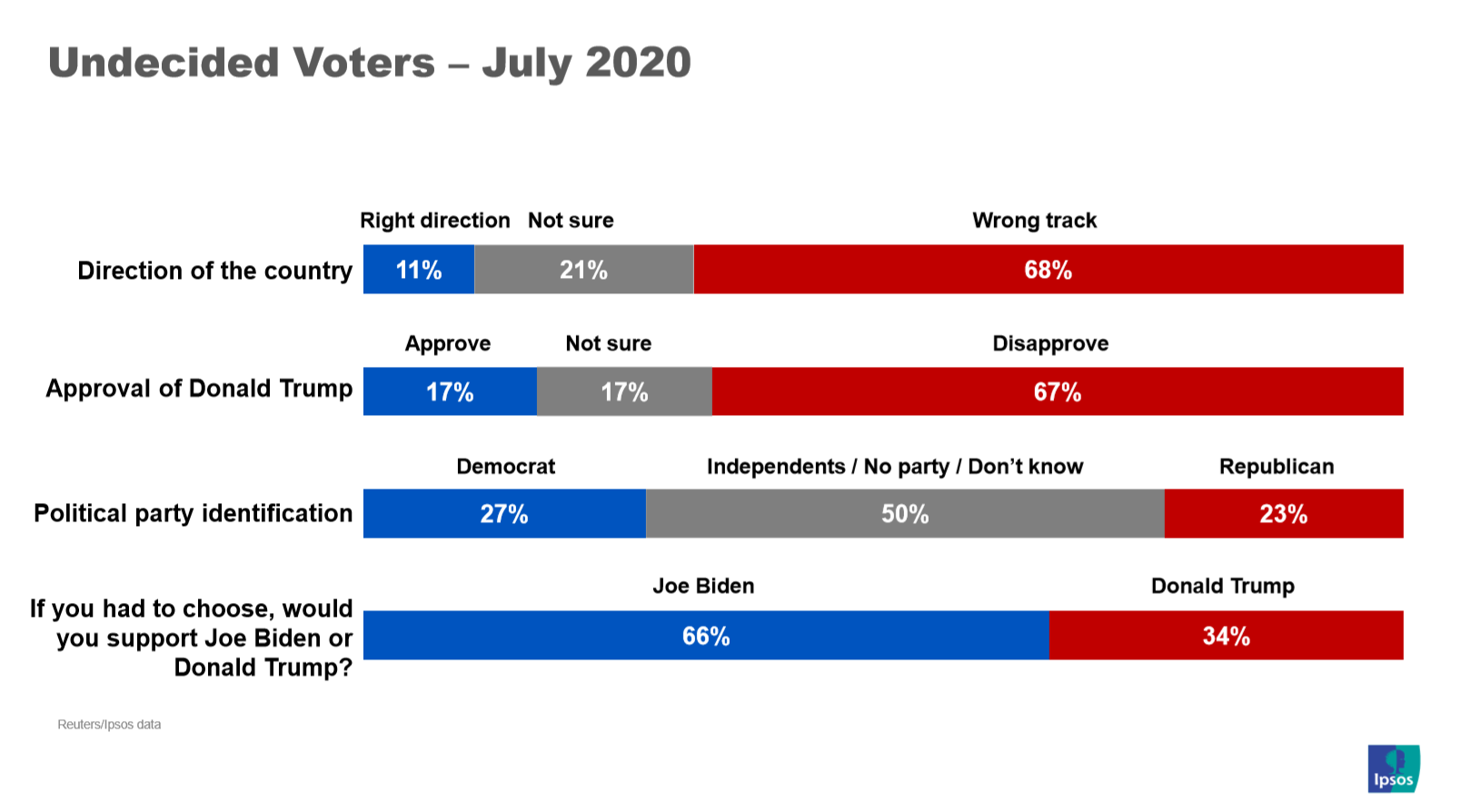 Election will be a referendum on how Trump has managed the pandemic
In another political era, some of the recent scandals surrounding Trump would be enough to sink a presidency, not to mention a run for re-election. For instance, the revelation that Trump may have been aware of Russian bounties on U.S. troops and chose to let the matter slide, would have been the focus of the news for weeks. In today's climate, it's over in one 24-hour news cycle. Similarly, the Supreme Court's ruling on Trump's tax returns might have dominated the news cycle for weeks in previous presidencies, but today is just background noise against the pandemic.
These issues don't seem to matter enough to shift public opinion substantially against Trump. What is making a difference on Trump's electoral standing is the pandemic, which is tangibly affecting the general public in ways that these other scandals are not. Trump's overall approval rating is sliding along with views on how he is handling the coronavirus. Both sit at 38%, according to this week's Reuters/Ipsos polling, signaling that this is the issue around which the election will be framed – at least for the time being.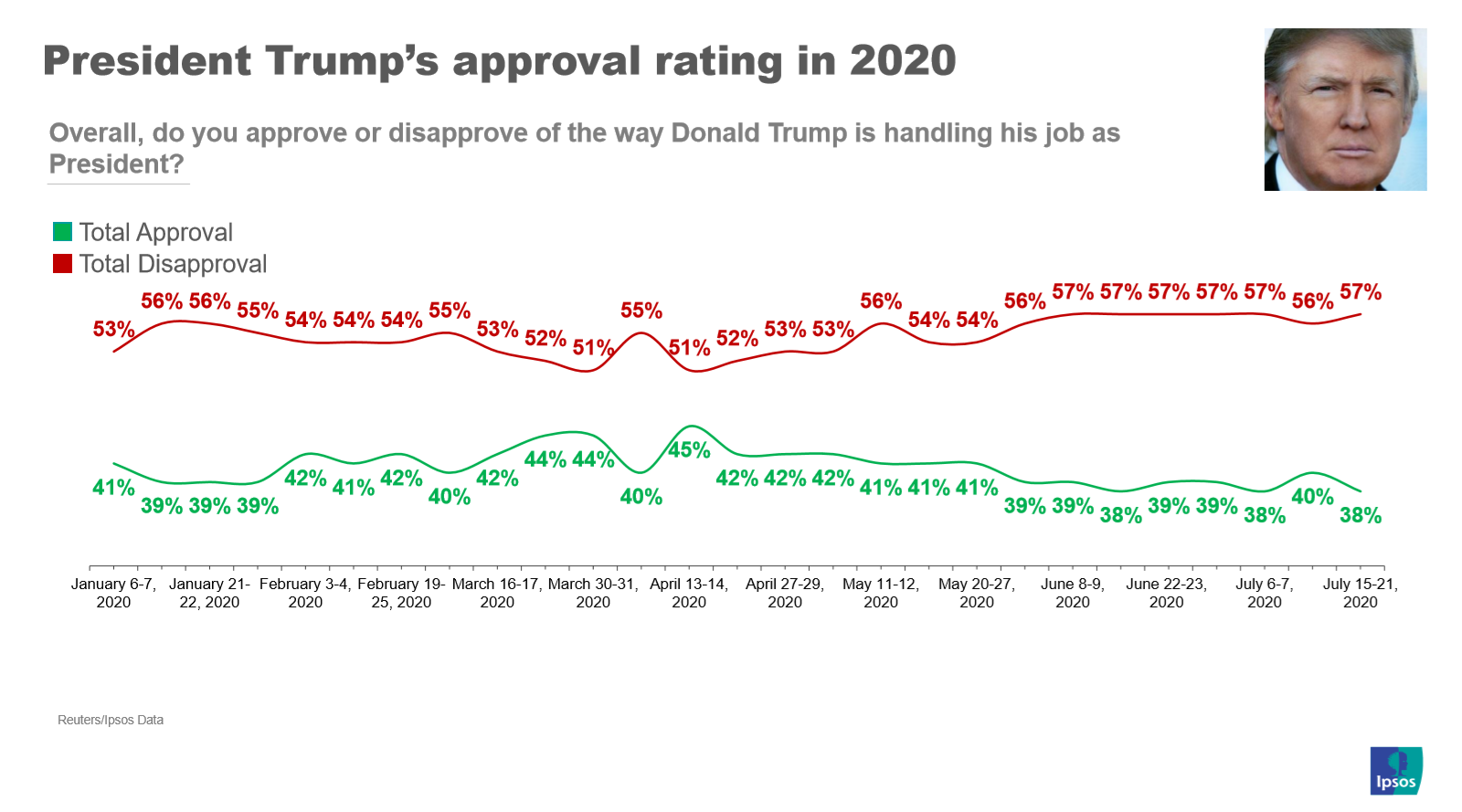 Americans unimpressed with how other Americans are handling the virus
Americans are not particularly pleased with how their compatriots are handling the pandemic. Indeed, most believe that other Americans are making the situation worse. This is true on both sides of the aisle and would explain much of the tension and shaming seen on social media and out in public. 
Still, there is likely some truth behind the belief that a few are making the situation worse for the many. Axios-Ipsos Coronavirus Index findings show that few visiting friends and family are taking strict precautions. Just 18% wore mask the whole time during the encounter; 23% maintained a six-foot distance. In short, many are not taking steps to ensure that virus isn't spreading during their interactions.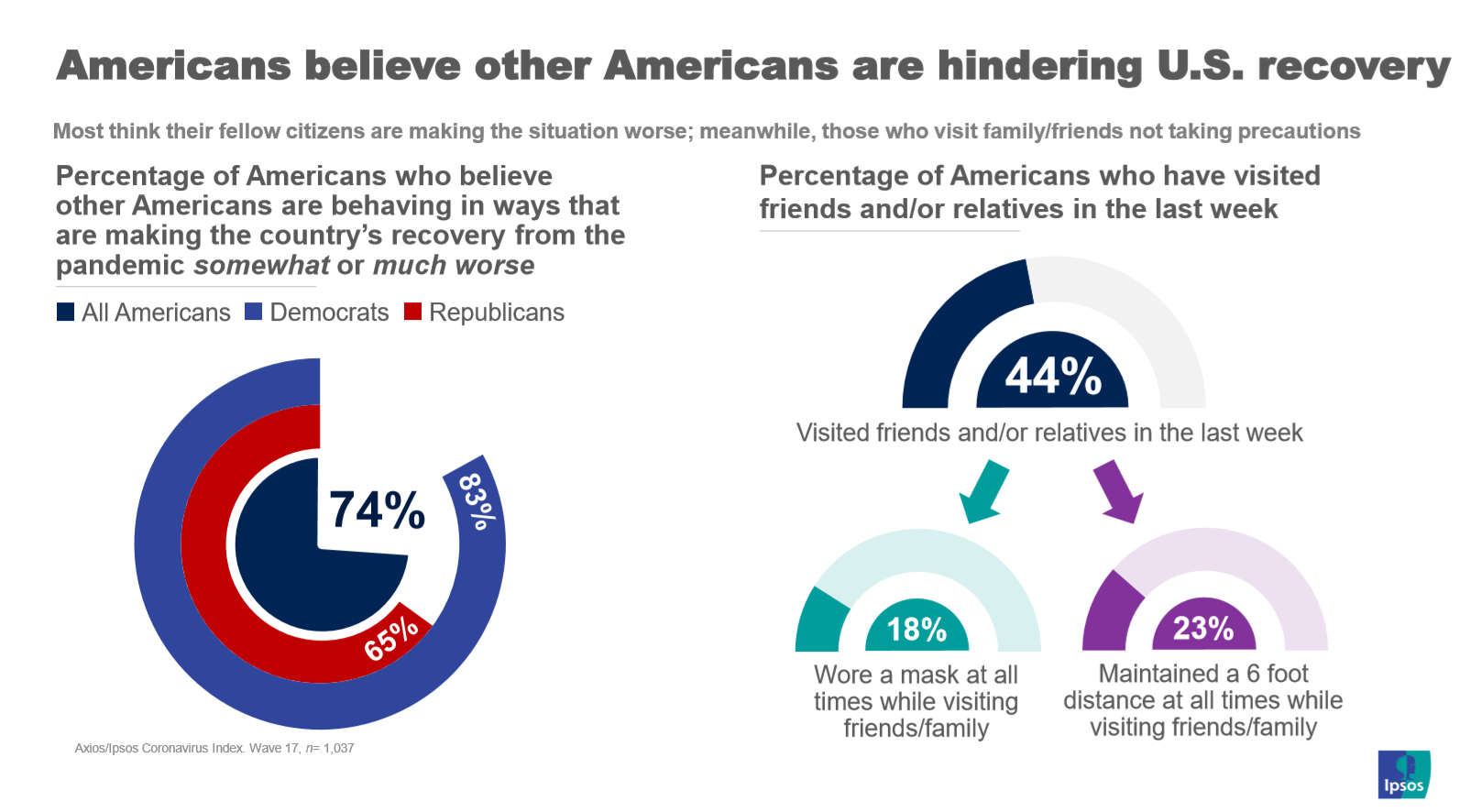 As coronavirus surges, (some) Americans don masks
New coronavirus cases continue to surge in the United States, outpacing testing capacity. Reported U.S. coronavirus cases represent more than 25% of the global total, but CDC officials recently announced that the true number of coronavirus cases could be six to ten times greater than the official count. As the pandemic continues to move quickly through society, perceptions of risk around the virus have been climbing back up, across the board. Everyday activities – such as visiting friends and family, returning to normal places of employment, and going to the grocery store – are increasingly seen as risky endeavors.
Along with growing levels of concern, many are now wearing masks, albeit with some abstainers now that mask wearing has become yet another front in the culture wars. Republicans are the least likely to wear masks. So too are younger people, who are also more likely to be socializing.
Though mask use is up across the board, behavior is not changing in more significant, challenging ways. Americans have not reverted to bunkering down as they did in April and May. Instead, they are turning to masks as the easy out.
Part of this more lackadaisical approach could come down to an absence of direct experience with the virus. A handful of states, namely Florida, Arizona, Georgia, Texas and California, account for a significant number of cases. This means that depending on where they live, some Americans have been able to escape first- or second-hand experience with the virus. It remains to be seen whether more direct experience with the virus will translate to more extreme responses and changing behavior across demographic lines.