The Inside Track: Election 2020 April Briefing
Key highlights from April's Inside Track: Election 2020, a monthly webinar briefing from the Ipsos political polling team on data and trends shaping the 2020 election.
The Inside Track: Election 2020 presents monthly, in-depth analysis of the latest public opinion data on current trends and recent events influencing the political landscape. Read on below for highlights and key insights from this month's webinar.
---
What you need to know
Social distancing created the greatest forced behavioral change in modern history. The best remedy for the pandemic as of now—not being near people—has resulted in major economic shocks, making coronavirus both a public health and economic issue
81% of Americans favor sheltering in place and staying at home until public health officials say it is ok.
President Trump's approval numbers enjoy a muted rally around the flag effect compared to national leaders in other countries
How the public views the pandemic and the economic response will be a major driver for the November election.
Joe Biden is the presumptive nominee of the Democratic primary, with head-to-head polling showing a near toss-up between him and President Trump
Three major swing states—Michigan, Pennsylvania, and Wisconsin—will be vital for determining the outcome of a close election.
---
Deep Dive
Vital Statistics: Coronavirus Is a Public Health and Economic Crisis
Americans are living under exceptional circumstances. For a majority of people, activities like going to the grocery store, traveling, and meeting family and friends in-person are viewed as large to moderate risks now, according to our Axios/Ipsos Coronavirus Index. Most Americans' heightened anxiety and behavior modifications exemplify the lockdown mentality that people are adopting in the face of COVID-19.
These social restrictions are pummeling the economy, with historic unemployment claims rolling in week after week. Ipsos' consumer confidence tracker detected the largest single drop in sentiment in its 18-year time series.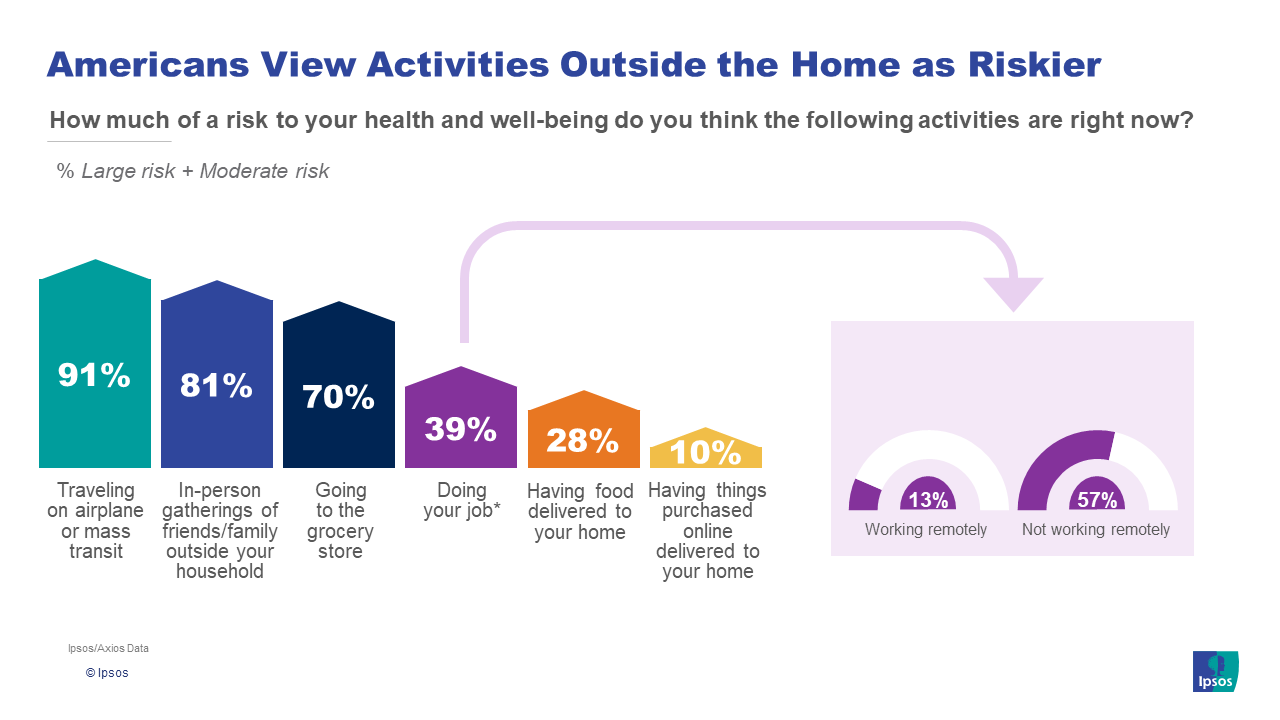 Perceptions of President Trump: A Soft Rally Around the Flag Effect
President Trump experienced a modest rally around the flag effect in his approval ratings. During times of crisis, the public often comes to the support of a national leader as a show of solidarity. Compared to executives in other countries, Trump's bump remains muted, moving around 5 or so points at its highest.
Throughout Trump's presidency his approval numbers remain historically constant. Before coronavirus became a national issue, the president's resting approval rate hovered around the 41% mark. As COVID-19 rose as a national issue, Trump's approval has fluctuated somewhat but remains on the higher side of his steady range.
Normally, a president's approval ratings are closely linked with the state of the economy. Right now, President Trump's approval seems to move alongside approval of how he is handling the coronavirus crisis. The way the president responds to the evolving situation in the days and weeks ahead could weigh heavily on the staying power of this bump.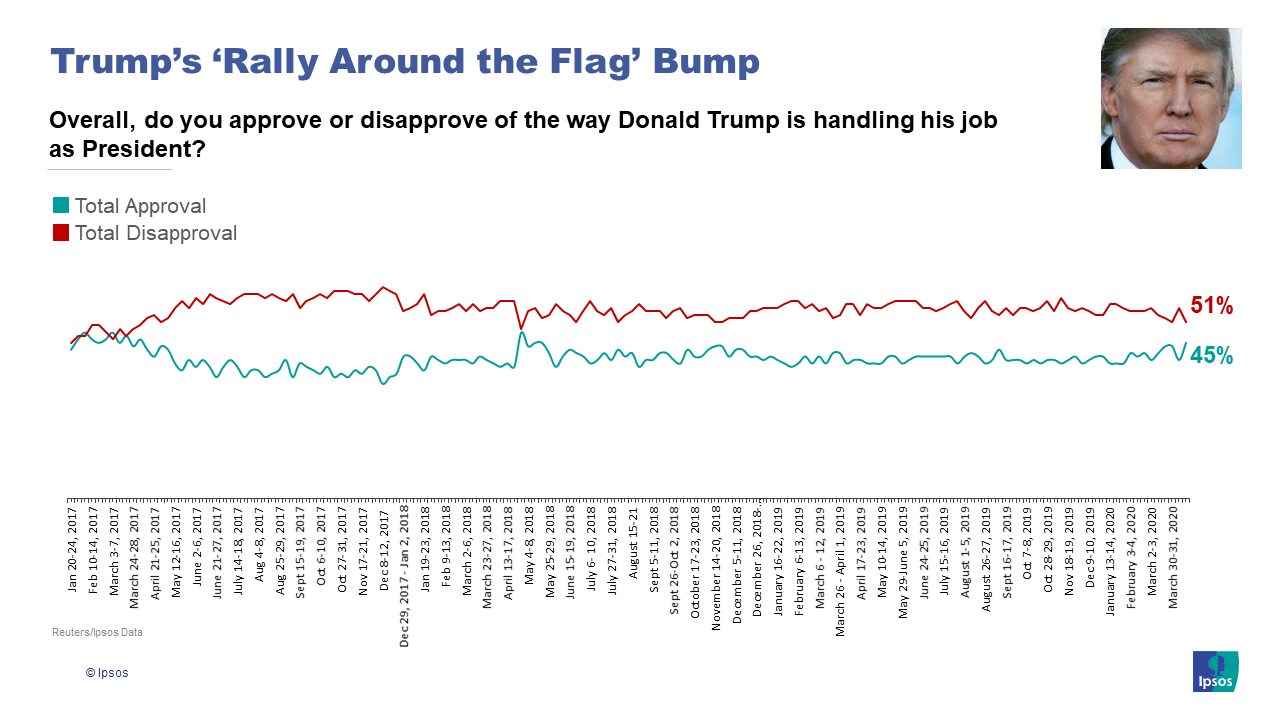 The General Election: COVID-19 Response Vital in General Election
Former Vice President Joe Biden is now the presumptive nominee. The early stages of the general election are taking shape, though traditional campaigning is still not a possibility. Americans are most interested in a candidate who can provide a roadmap for how the nation will recover from coronavirus.  There is bipartisan consensus on the importance of this issue.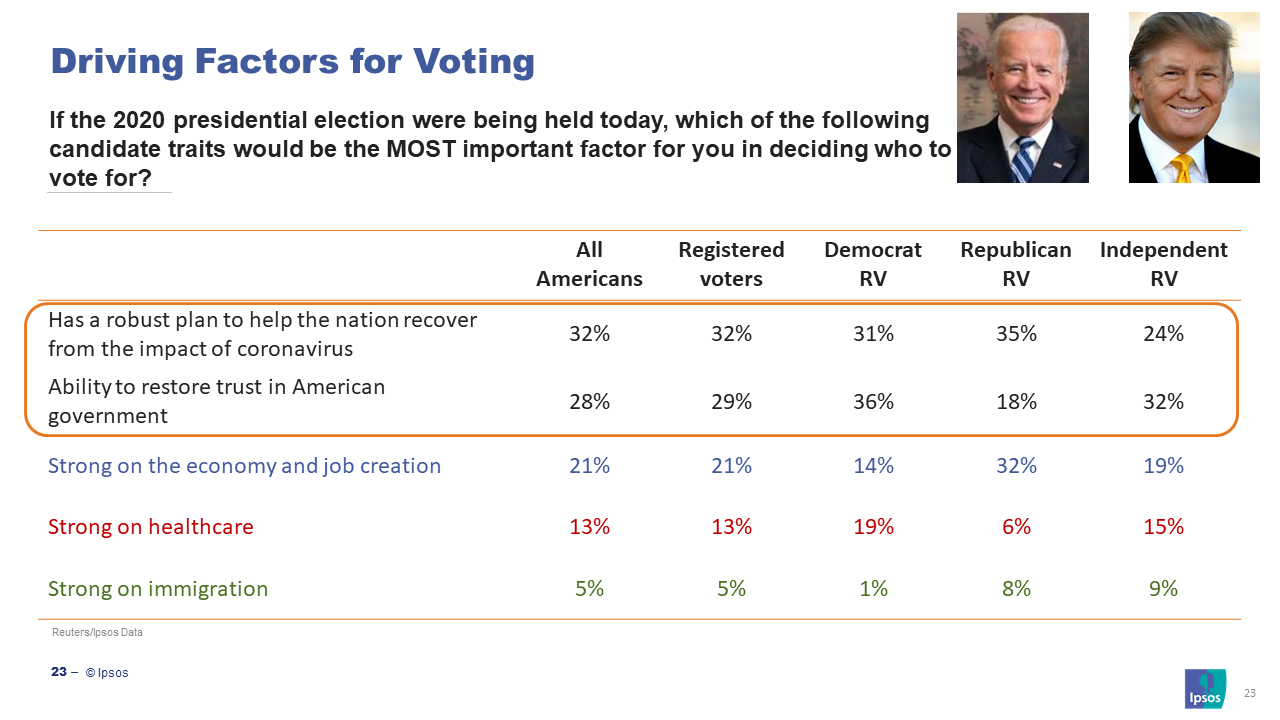 Swing State Watch
In these early stages, the race remains a toss-up between Biden and Trump nationally, though there is a lot of daylight between now and November. Wisconsin, Michigan, and Pennsylvania will be especially important in determining who may win a close election.
Based on research conducted before COVID-19's entry into the U.S., the race was effectively tied in these states as well as nationally. At that point, models of the election gave President Trump good odds of winning those states given his approval ratings there. A lot has changed since then. There is limited state data about how people are absorbing the president's response to the crisis in these places.
Given the rapidly evolving nature of events, we will be releasing polling in the coming weeks on the state of the race in this new normal nationally and in these places. Now more than ever tracking where the public stands will give us a better idea of where we might be going during this unprecedented time.