COVID-19 Impact on Shopping Habits
Top of mind association with COVID-19 are emotionally charged and opinion-driven, prompting behavioral splits around general preparedness and shopping behaviors.
In a qualitative analysis of online community feedback from 726 US consumers across the country, the majority feel they are receiving mixed messages on COVID-19 across media outlets, sparking concern, frustration, fear and confusion.
"Just Another Flu Season" - Social media prompts dismissal for some consumers through shared discussion of potential misinformation, a sense of distance from the outbreak, and comparisons to the traditional flu.
"I think it has been overblown by the media. It may be for political reasons. I'm not sure. But the regular flu has killed so many people in prior years but did not have the hysteria surrounding it."
"Preparing for the Worst" - At the same time, the media is fueling fear among some consumers through shared images of empty shelves, the perception of increased pricing on everyday goods, and personal testimonies shared online.
"The situation feels very chaotic and scary because of all the unknowns. There aren't any definite ways to control or treat the virus yet. We are all just doing our best and waiting for the worst, in a way."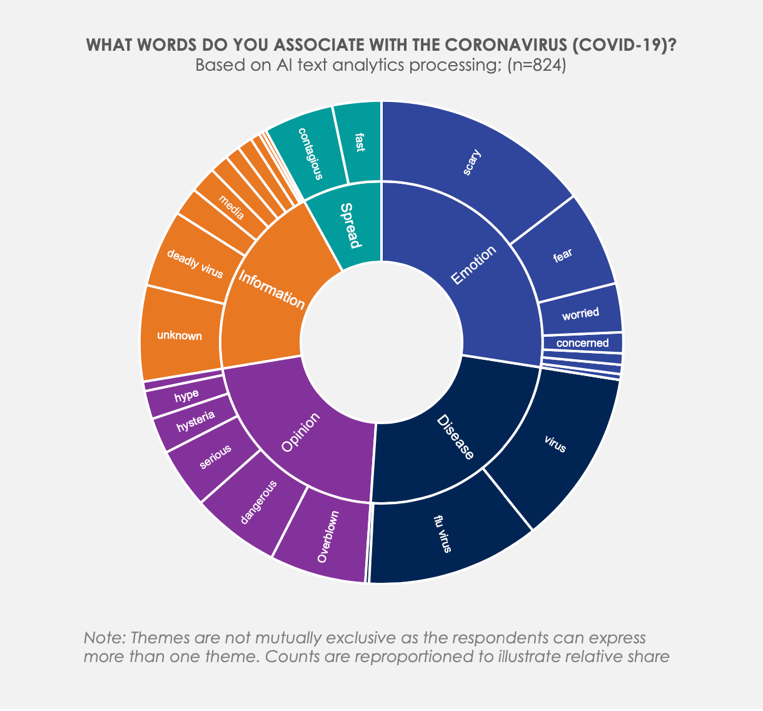 Top-of-Mind Associations
Based on AI text analytics processing, top-of-mind associations with COVID-19 are found to be emotionally charged and opinion-driven, with dominant themes emerging around fear and concern.
Shopping Habits
Though only 1 in 4 report a change in their shopping habits, the quickly changing environment is forcing consumers to adjust across the board.
23% report already changing their shopping habits
Consumers are cutting down their number of trips to the store where possible, and opting to buy in bulk or online
They are defaulting to trusted brands for their "preparedness kit" while local sourcing is important to some
77% say they haven't changed their shopping habits yet, while in reality a number are ready to make adjustments
No, I haven't changed by routine, but…
"I have always gone grocery shopping in the store, and I might use Instacart now instead to avoid germs"
"I grabbed some extra Lysol wipes and toilet paper, because of the crazy people who are buying crates. Who knows when these things will become restocked permanently."
A number of emotional pulls are impacting the severity of shopping changes. The severity of consumer reaction stems from:
Fear of the Unknown – "I'm scared of all the unknowns regarding the virus. How long will it last? How many will die? How much will it impact?"
Overcorrection from Conflicting Media – "I am positive that the news media is just trying to get everyone in a panic. And it is working because the Costco in my area has crazy lines and carts over flowing with paper towels, toilet paper, and water. Then in other areas I've heard that rice is in shortage."
Craving Control – "Just stay in control with preventive measures such as hand sanitizer, gloves and masks. Keep things disinfected."
Source: Ipsos SMX US Syndicated Online Community: COVID-19 Discussion Board (March 5-9, 2020, n = 726)