Why are consumers still leery of autonomous driving technology?
Regardless of age, the industry is facing meaningful obstacles to the adoption of autonomous technology. Learn more about how to address misconceptions.
Electrification and autonomous driving are two technical advances that may fundamentally alter the automotive landscape. But while interest in electrification is taking off, interest in autonomous driving technology is not.
According to the latest installment of Ipsos' Mobility Navigator Study, over 60% of consumers say they are interested in individual features like accident avoidance, night/all-weather vision, and advanced driver assistance, which are key advancements in driving technology. Conversely, only one-third say they are interested in either semi-autonomous driving or fully autonomous driving vehicles, with purchase consideration also remaining stubbornly low at only 31%. This is up only a few percentage points in the past three years.
Despite interest, there are many challenges. Read on for detailed insights. For more on this topic, be sure to also revisit our on demand webinar here.
---
In stark contrast, purchase consideration for electric vehicles skyrocketed to almost 50% in the same time frame. It appears that bundling these two advancements together may not be a good match when it comes to creating interest among potential buyers. Just because both are advanced technologies does not mean they should be launched together—rather, each needs a dedicated education plan.

These are just some of the findings from Ipsos' global study of consumer attitudes and experience. This release is focused on autonomous driving technologies and advanced drive assistance & safety features, following June's release on electric vehicles. The newest results show that consumers are most interested in technology and features that make driving safer and easier but are not fully convinced that autonomous driving technology is up to the task.
Vehicles today offer more potential interactions for the driver, raising concerns over the level of driver distraction. These worries are becoming a common issue. In a U.S. poll of 1,000 adults conducted in 2021, Ipsos found that drivers believe they encounter a distracted driver in one of every two drives they take.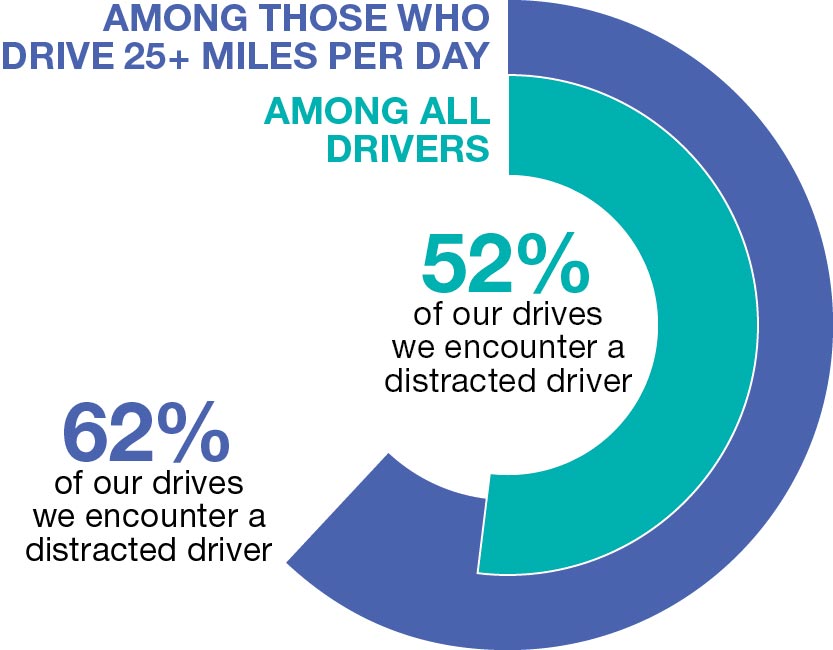 The auto industry is responding to this phenomenon with a slew of features intended to help consumers deal with the complexity of driving and make it easier and safer to drive. One of the most common solutions offered today is referred to as ADAS (automated driver assistance systems). This is typically some combination of individual features such as blind spot monitoring/assistance, adaptive cruise control, lane-centering and accident avoidance. ADAS provides automatic assistance but falls short of providing autonomous driving. The recent results show that consumers are much more comfortable with ADAS and its individual features than they are with technology that seems more futuristic, including full autonomy, augmented reality and routing for hands-free driving.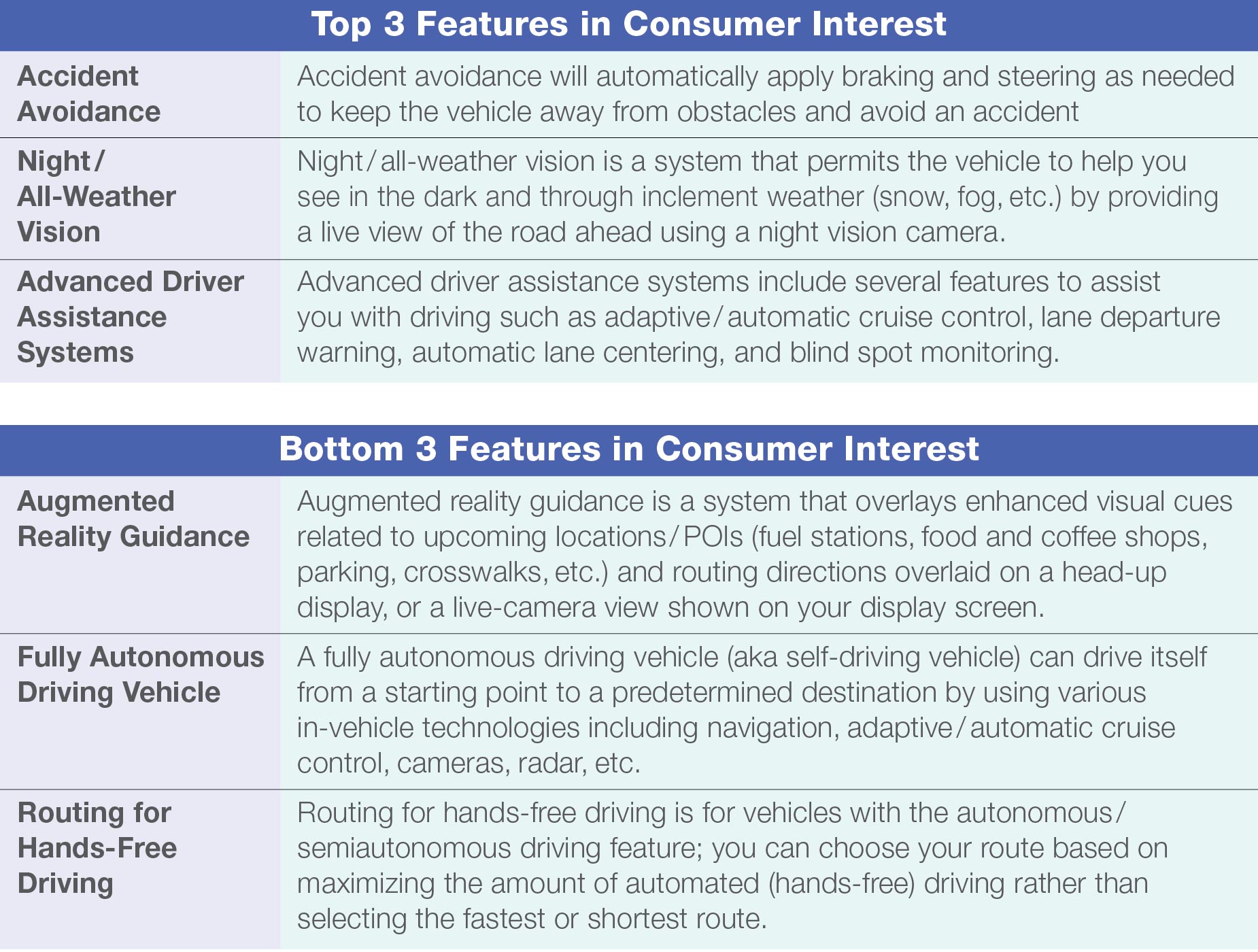 In addition to identifying which features and technology generate the most interest among consumers, the study results also reaffirm that the auto industry is facing a potentially sticky generation gap regarding these transformational technologies. The latest Mobility Navigator data on EVs shows a dramatic difference in attitudes toward, and Battery Electric Vehicles by generation. Gen Y/Z consumers are much more positive about BEVs than their Boomer counterparts. When consumers are asked about autonomous driving technology, the same gap emerges, and may be getting worse.

For Gen Y/Z consumers, everything is looking up for autonomous driving. Awareness, positivity, and interest are all better than they were in 2021 results. For Gen X, the results are much more tempered: Awareness and interest are flat vs. 2021 and positivity ratings are down. And for Boomers, both positivity and interest are down this year and awareness is flat. It's not surprising to see that purchase intent is on the rise for Gen Y/Z but is trending down for Gen X and Boomers.

A difference in reactions to technology by age group is nothing new. Still, the potential cost of a disconnect between the auto industry and its older buyers has probably never been higher, given the transformative potential of both EV and autonomous technologies and the billions of dollars the industry is pouring into them.
Regardless of age, the industry is facing meaningful obstacles to the adoption of autonomous technology. These latest results suggest the need for considerably more dedicated educational efforts to address misconceptions. For example:
Those who are skeptical about autonomous driving vehicles are concerned about safety. They are not confident in a machine being able to drive safely. As a consequence, they do not believe that autonomous technology can live up to its promise of providing societal benefits such as reducing accidents and improving safety overall, something that buyers who are likely to consider autonomous technologies feel strongly about.
Consumers in general do not seem to appreciate the differences between fully autonomous and semi-autonomous vehicles as their answers about both are very similar. This is especially true with Boomers.
Concerns about increased costs related to autonomy are on the rise, especially among consumers who don't plan to consider it. These concerns go beyond an autonomous vehicle simply being more expensive and include worries about higher insurance premiums and the potential costs associated with data security breaches.
Another finding with far-reaching ramifications: Consumers ultimately want control of autonomous technology. Even those consumers who are pro-autonomous driving vehicles express that there is a time and place for it: Three out of four consumers who would consider autonomous technology say they would only want to use it in certain circumstances. This will also require more education for consumers, so they better understand and trust the technology. And until full autonomy is embedded and accepted, it will mean that consumers need user-friendly controls and interfaces with which to control the autonomous tech in their vehicle.
Combining electrification and autonomous as a bundled technology advancement is NOT a match made in heaven. Dedicated education about autonomous and ADAS with a clear safety benefit will help reduce misconceptions and improve trial and acceptance across all generations.
Download