Me and We: How brands can innovate for good
We are no longer simply looking out for ourselves; we're looking out for our communities, our cities, our country, our world. Read how brands can innovate for good in a world of uncertainty.
As America battles the Covid-19 pandemic, a long-building trend is gaining momentum. We are no longer simply looking out for ourselves; we're looking out for our communities, our cities, our country…. our world. "Me" has given way to "We."
The amateur army of people making and donating masks and supplies to local hospitals, the less "at risk" individuals assembling to collect and deliver food to the sick and elderly who cannot go out, the many local initiatives launched across the country overnight to support gig-workers, restaurant owners, and more. And the list goes on. This crisis has made us acutely aware of the importance and impact our choices have on others, as well as the power these choices have to create good amidst chaos. Said differently, we more clearly see that what is good for me, is good for we, and vice versa.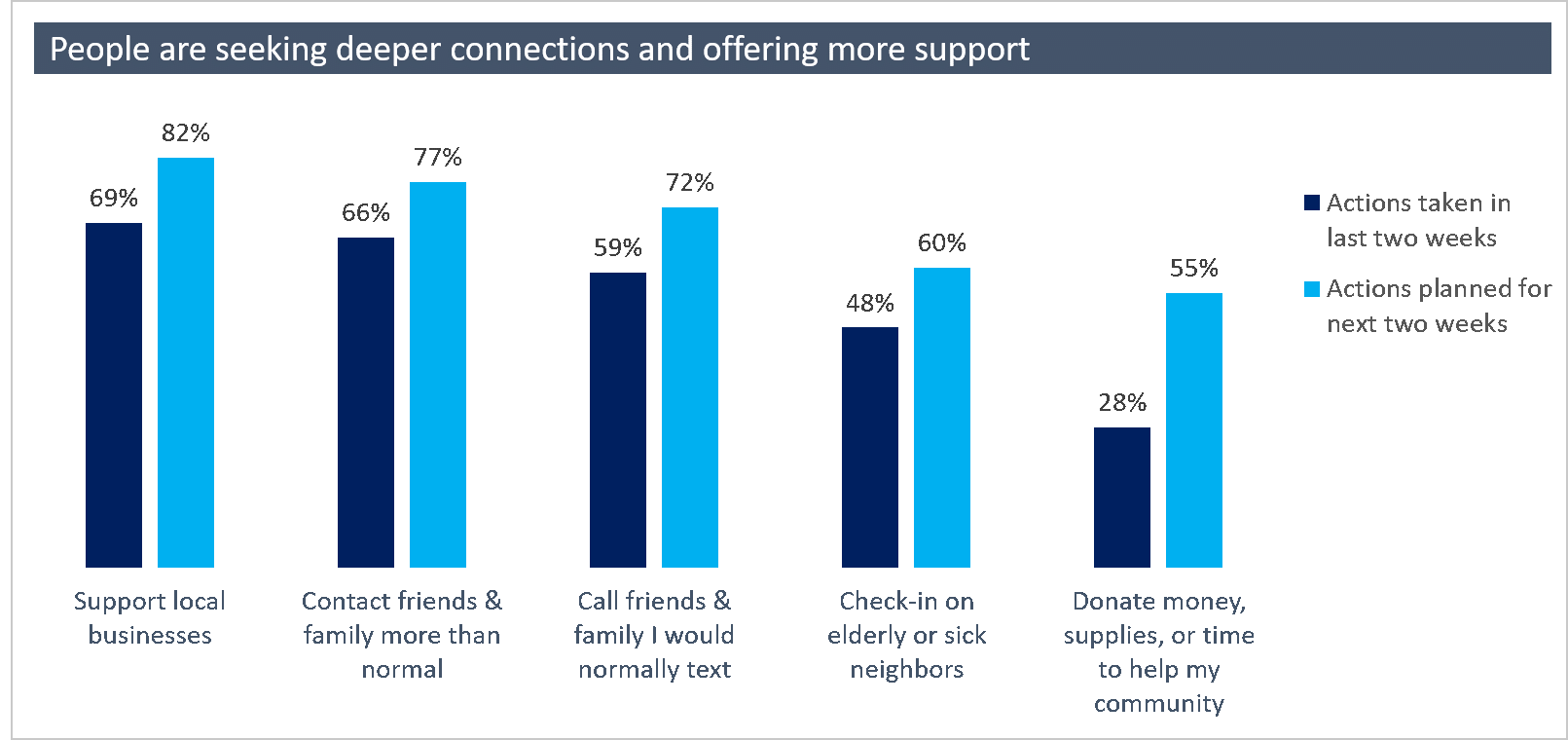 (Source: Ipsos survey conducted between April 10 - April 13 among 1,114 online adults.)
This Me-to-We mentality is more than a mere shift in general sentiment, it is driving notable behavioral changes at the individual level (some big, some small) that are having real commercial and economic impact. Policy makers and companies that accept and understand this shift, and importantly how to tailor their own strategic initiatives to authentically action against them, are more likely to garner trust and ongoing support from their constituents or buyers.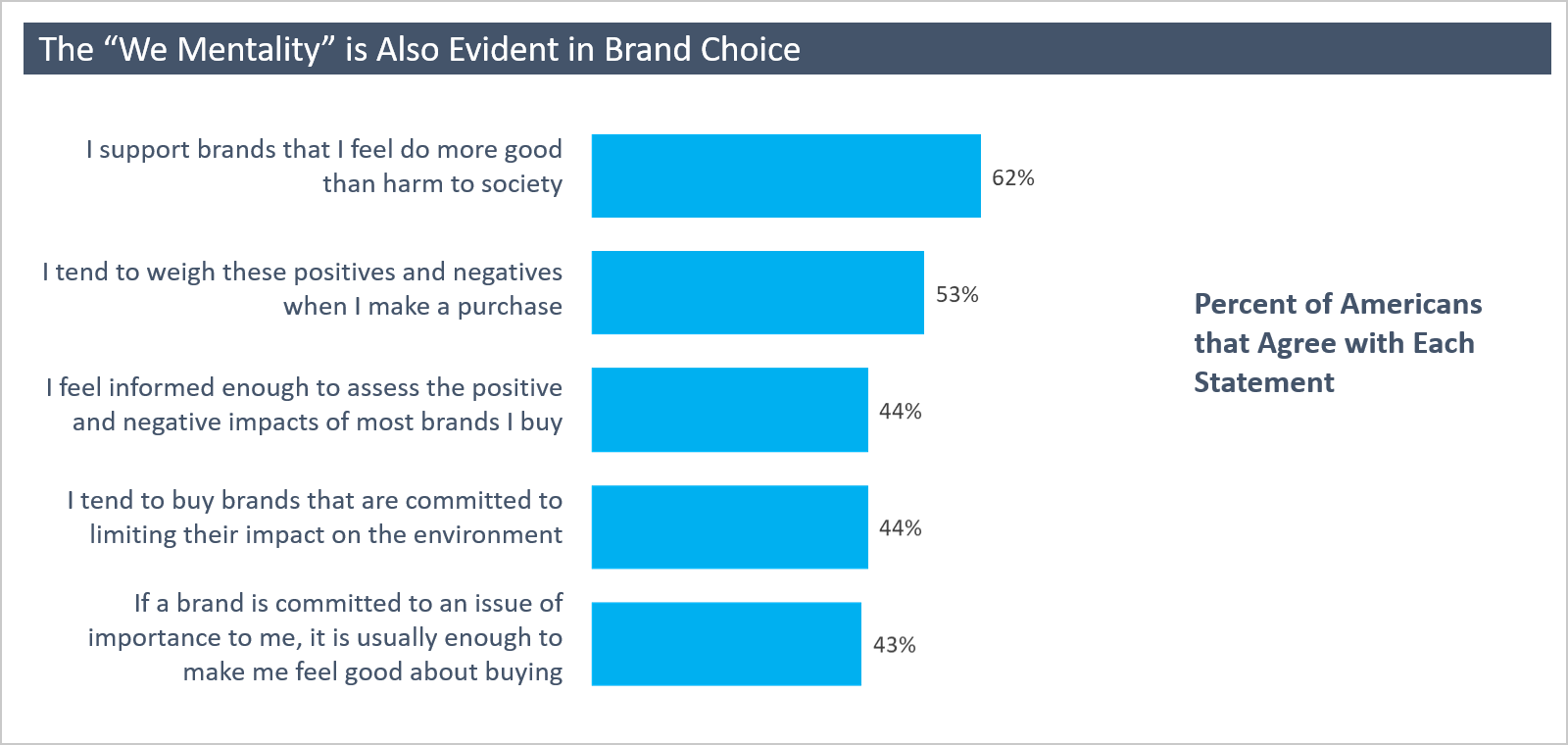 (Source: Ipsos survey conducted between April 10 - April 13 among 1,114 online adults.)
The Ipsos Good Innovation Model
We use our Good Innovation Model to help guide innovation and brand strategies. It provides a lens to think about what people care about on three levels; what is good for me, what is good for my world and what is good for the world. If a brand or innovation can help people feel satisfied on each of these levels, it will drive a more positive brand experience. Of course, the user experience with the product or service is equally important. Getting both right, creates a superior total experience that extends beyond the moment of use and increases the likelihood to continue to engage with the brand, as well as share the experience with others.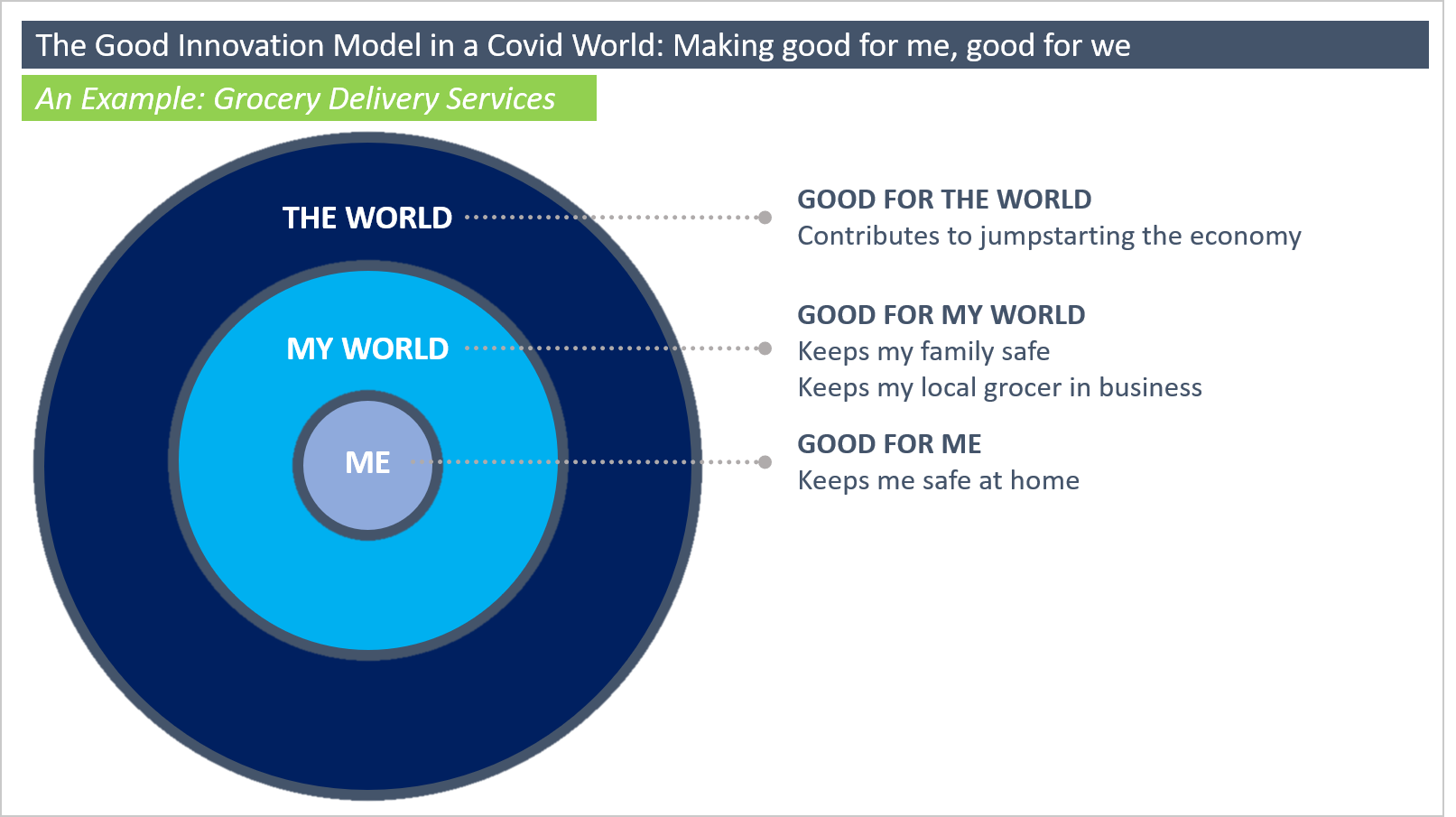 Aligning a brand with a purpose isn't an easy task. But as Unilever's Aline Santos, EVP Global Marketing and Chief Diversity and Inclusion officer, told us it's important to do the work. Having a well-established brand purpose allows you to talk to your customers authentically about how your purpose applies to the current situation.
Of course, we must remember that demonstrating a "we" purpose is only powerful if genuine; it cannot be seen as opportunistic. In the context of Covid-19, we have seen many heralded examples, be it LVMH and many local distilleries making hand sanitizer or Dyson shifting production to make ventilators, but there are many more ways that brands and businesses can help in this time, from Burger King who showed their customers how to make a Whopper at home with easy to source ingredients, to Houseparty for bringing parties online. We even see it with local businesses who are finding creative ways to solve patron's needs in a quarantined society.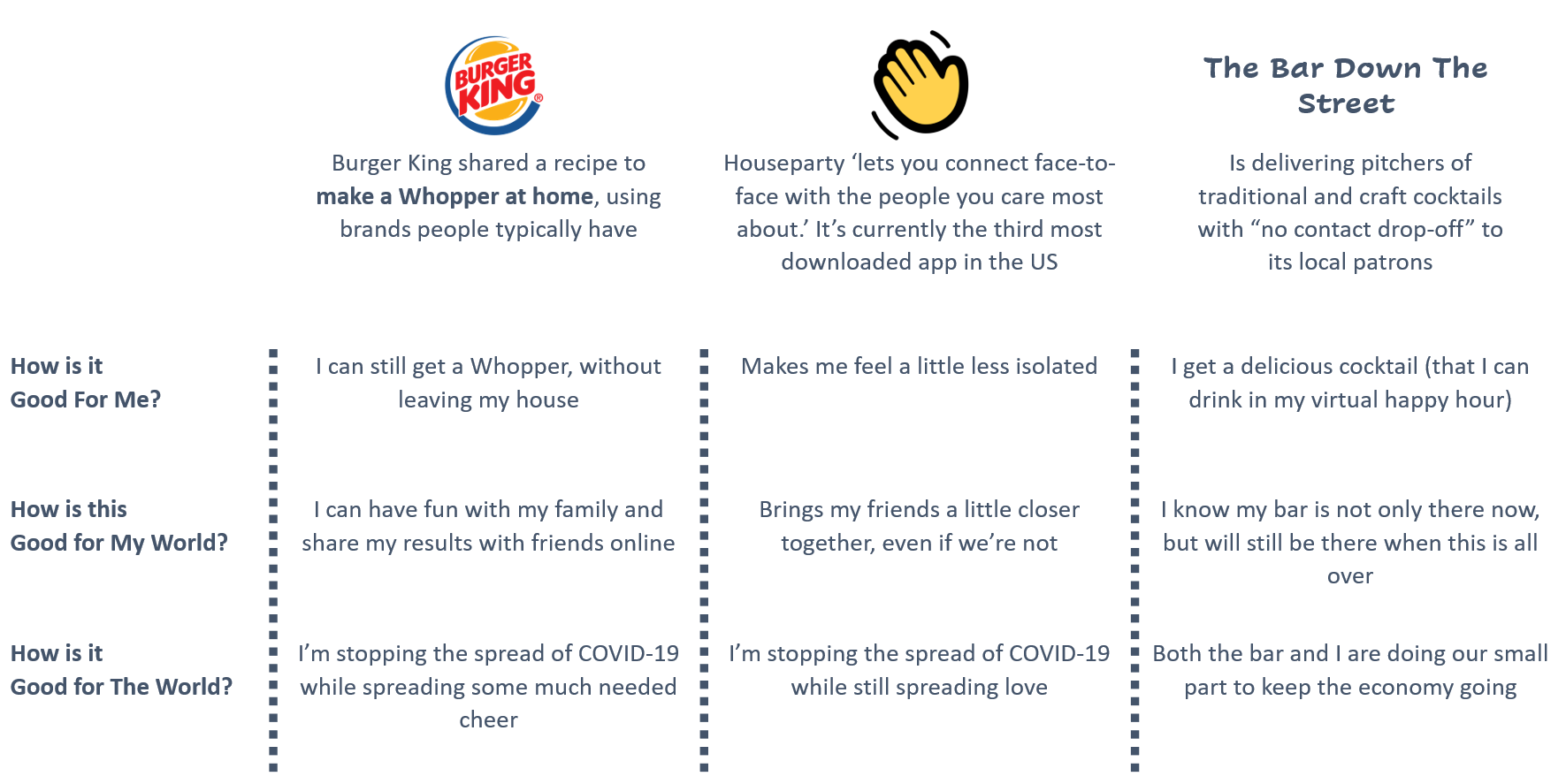 Don't wait to do good
Our research shows that more than half of consumers have tried new products and services as a direct result of the pandemic (this jumps to 77% for 18-34 year olds). Most claim these new products/services are just as good or better than what they typically use. And even more (72%) intend to keep using the new products in the future.

Meanwhile, too few brands are taking action that solve for all three levels of good (good for me, good for my world, good for the world). For every Burger King or Bar Down The Street, there are others who are paralyzed and scared to actively innovate or talk about their products or brands at this time - all for fear of being tone deaf. However, both empirical data and well-established behavioral principles tell us that what we do now, will stick with consumers later. Doing nothing, will stick as well.
None of us know what the future looks like when we get to the other side of the pandemic, but one thing does seem clear. People will have much greater awareness of how their individual choices impact upon the greater world. This will manifest itself in countless ways - how they shop, how they work, how they vote, how they view healthcare, and more. Innovation will be rampant as a result. And we'd wager that the best innovation will come from those brands that authentically deliver for me and we.
Download