Fears of Unemployment Caused by COVID-19 Impact U.S. Consumer Spending This Week
49% of consumers state they are spending less and negative sentiment is on the rise
In a qualitative analysis of online community feedback from 858 US consumers across the country, sentiment is overwhelmingly negative, with worry, anxiety, and boredom bubbling up to the top. From March 26-31, share of community conversation was 88% negative, showing an uptick of 10% from the week prior.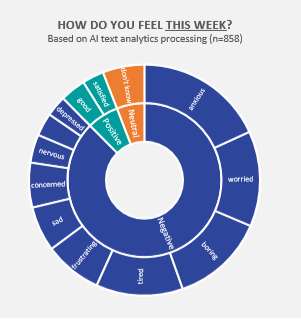 This sentiment bleeds into consumers' spending habits as well – with a number citing fears of unemployment as a leading concern. 
"I'm feeling overwhelmed because I got laid off from my job and have no income right now. I don't know when this will end, and I'm frustrated, because it is out of my control."
"I'm worried because we went from my husband working two jobs and my teens each working to now no one is working. I don't know how we'll feed the family, pay our bills, survive in this tiny hot apartment."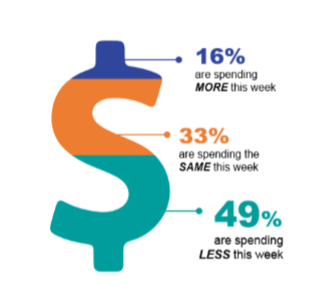 How Consumer Spending is Changing 
Consumers are spending less because…
Stocking outages limit purchases
Lost jobs limit spending
Restaurant closures force consumers to eat out less
Social isolation decreases recreational spending
Less travel results in less spend on gas
"We have to spend less. I have lost some clients due to this so I am down on income for a while. We live week to week so this has been tough and is going to get tougher. But we will make it."
Consumers are spending more because…
Fear drives some to buy in bulk
Food delivery is utilized more frequently
There is limited stock on cheaper items
Parents are looking for ways to keep children occupied by renting movies, purchasing games, and subscribing to educational programs
"We spend more because when we see something we need, we buy it whether we need it or not because we don't know if it will be in stores when we do need it. I think most people are doing this kind of panic buying which why the stores are so empty. It's out of fear, not greed."
Source: Ipsos SMX US Syndicated Online Community: COVID-19 Discussion Board (March 26-31, 2020, n = 858) Our syndicated online community is made up of 6,000+ engaged consumers across the U.S., and we are tracking the impact of the health crisis on consumer behaviors and emotions on a weekly basis. Baseline tracking includes an in-depth look at consumer emotions, day-to-day impact, pain points, and changes in spending. Brand-specific questions can be incorporated to help provide further context around how to support consumers and best meet their needs during this time of uncertainty and disruption.