Americans remain divided in attitudes about the office, and returning to it
As more employers announce "back to office" plans, Ipsos data remains clear. Those who are currently working from home want flexibility (73%), expect their employers to honor that desire (72%) and feel that they are more productive with a flexible work schedule (71%). And the number who agree that they want to return to the office full-time has fallen since Ipsos last asked in March. That month, the number who agree or disagree that they want to return full-time was was 40%/41%. Now, nearly 50% disagree compared to only 32% who agree.
Beyond that, generalizations start to fall apart. Popular sweeping statements like "younger workers need to be around their older mentors and establish their networks" or "parents want the calm of the office" or "parents want the flexibility of a hybrid schedule" miss important nuance.
"For employers, embracing hybrid – and even more importantly, flexible work – will present challenges," says Oscar Yuan, president of Ipsos Strategy3, the consulting group at Ipsos. "Companies will need equitable solutions for a split work force. But not adapting to this new reality could yield even greater challenges for engagement and retention, both of which are critical in our very tight labor market."
About one in three 18- to 34-year-olds want to go back to the office full-time, but four in ten disagree. The gap is slightly wider for 35- to 54-year-olds. Parents are evenly split, but those without kids in their homes are even less in favor of returning full-time.
A recent New York Times piece argues that virtual workspaces are in many ways more inclusive and allow workers to be judged more on the basis of their contributions rather than their demographics. This is especially true for women of color. "I actually like not having to go into the office and be constantly reminded that I'm the only Black woman there," says Courtney McCluney, an assistant professor of organizational behavior at Cornell University. People of color felt more included in their workplace culture remotely, according to the piece and the study from a research group at Slack that it was based on.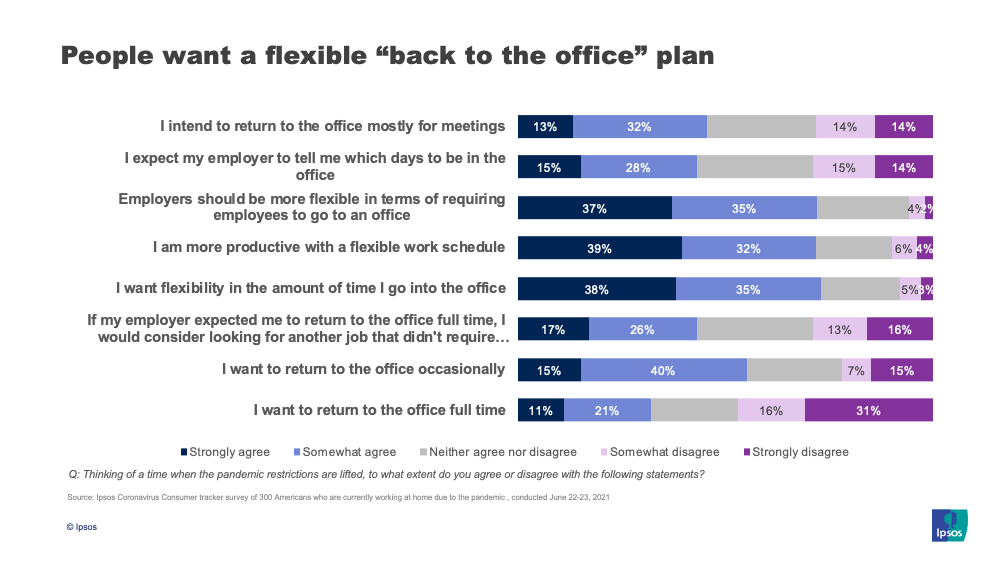 In the data, we see that white Americans are slightly more in favor of a return to full-time office life, while roughly a third of white, Black, Hispanic and Asian workers want to return. More in each group, however, do not. Black workers are the most likely to say they don't miss their coworkers.
Many sectors are facing labor shortages, with millions quitting their jobs and many older workers who left the workforce (willingly or not) during the pandemic not returning. In that climate, employers should note that the number of workers who would look for another job if required to return to the office remains more than 40%. For younger workers, it's fully half. Those figures are unchanged since March.
It's easy to see why many do not want to return full-time. Another New York Times piece cited the complete lack of evidence backing the oft-repeated CEO wisdom that in-person interaction fosters creativity and that popular open office concepts are the best way to facilitate that. In fact, the opposite is likely true. One study from the Harvard Business School found that "contemporary open offices led to 70 percent fewer face-to-face interactions." Headphone-wearing workers were so focused on concentrating in a distracting environment that they avoided the so-called "collisions" their offices were counting on.
To again avoid generalizations, three in ten say that their homes are difficult places to be productive, but nearly half say they are not. Even more people say that the office is a difficult place to be productive. Similarly, 34% say they feel more burned out working at home, but nearly half don't. Slightly fewer report missing their coworkers than they did in March.
For most (46%), going back to the office will mostly be for meetings. That's even more true among younger workers.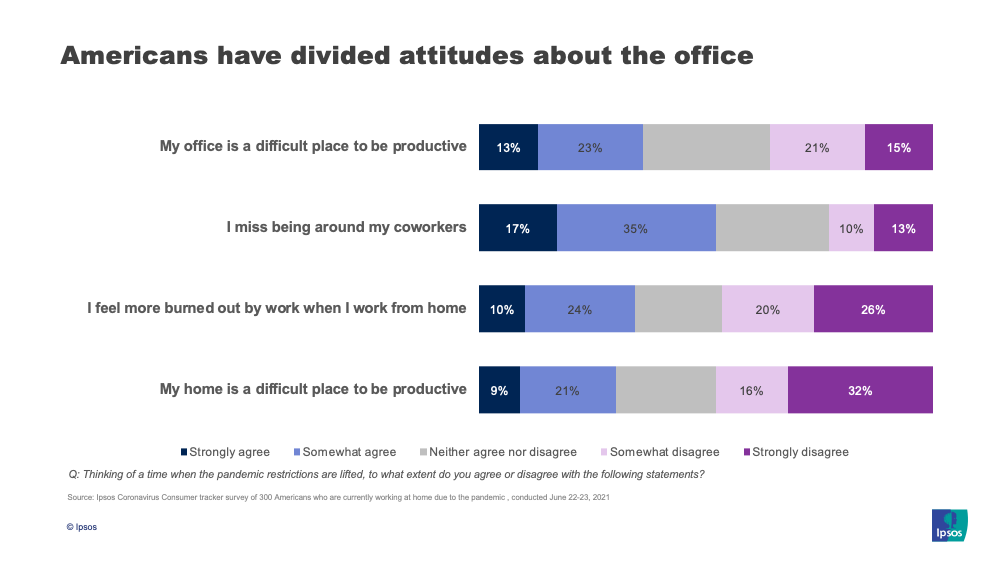 When asked of all workers, people fall into three camps: mostly at home, all or mostly at the office and evenly split between the two.
This won't be an easy time for employers or employees. Much as people experienced the pandemic differently, facing a full gradient of impacts, they will emerge differently, too. It will take some time as Americans adapt to new systems and new ways of working – assuming they all stick. For now, it seems the balance of power has shifted to the worker in many cases. Many companies took the opportunity to downsize their office spaces, which could portend a permanent shift in the role of the office, but maybe not for everyone. Wall Street is pulling its workers back into the office already.
So even generalizations about "hybrid work is here to stay" might miss nuance, too.