Do current remote workers want to return to the office? It's complicated.
Four in ten want to return to the office, but just as many would seek a new job if required to do so
It's hard to avoid one of the dominant narratives of COVID times: Those who can are working from home, it's going well and they don't want to return. The topic has huge implications for how and where we work, live, shop and dine. But is it true?
New Ipsos data shows a complicated picture, but one which points to an obvious outcome. First, there is a major counter-narrative at play: Just over half of full-time and nearly half of part-time employees report working mostly or completely from home. Of those who are currently working from home, 40% want to get back to the office full time – a group that is 2-to-1 male, and almost 2-to-1 parents. This arrangement is wearing on people. Most (59%) miss being around their coworkers. One in three find their homes difficult locations to be productive and 40% feel burned out by work when they work from home.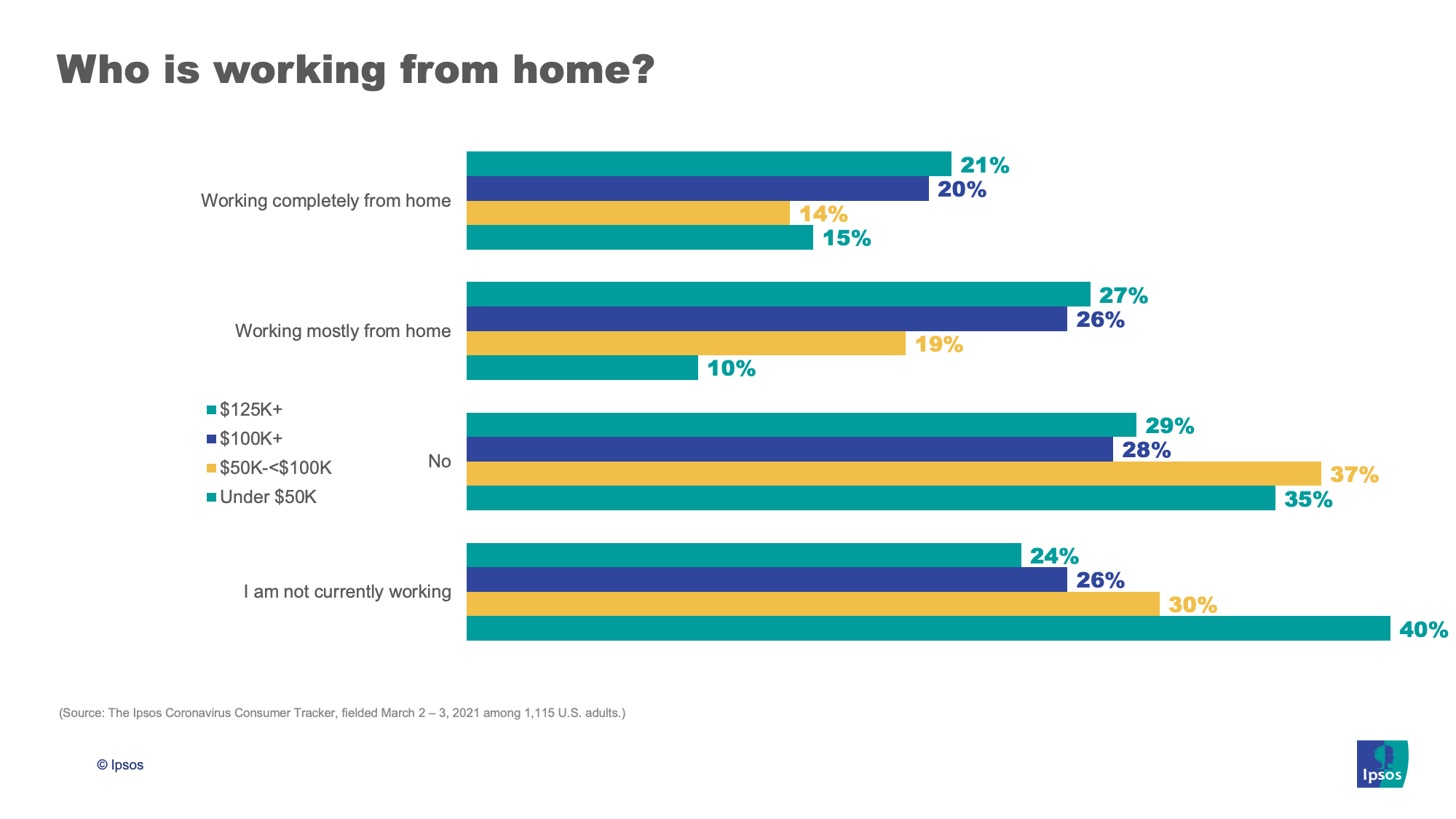 That all said:
62% want to return to the office occasionally.
72% want flexibility in the amount of time they go into the office.
Seven in ten feel more productive when they have a flexible work schedule.
Three in four think employers should be flexible in requiring employees to go into an office.
And in an earlier survey, 35% of all workers said they expect more flexibility after the pandemic.
However, the stat that should give CEOs and HR managers most pause is this one: 42% say that if their employer required them to return to the office full-time, they would look for another job with more flexibility.
"The forced experiment we all joined in this last year demonstrated to us that working from home is certainly functional, but not optimal," said Oscar Yuan, President of Ipsos Strategy3. "In other words, we are able to accomplish most of what we need to for our jobs, but perhaps not as capably, efficiently, or enjoyably as we were when we were physically in the office. The trick in returning to the office is to gain clarity on what we can accomplish better at home, and what we can accomplish better in-person, and building the hybrid model to support that."
Of all the pandemic shifts and trends, flexible work is likely the one with stickiness.
"There will almost certainly be more remote work after the pandemic than before," Jed Kolko, chief economist for job site Indeed.com said in Ipsos' What the Future magazine. "It's less clear whether there'll be a permanent shift toward cooking more at home, exercising at home and insourcing more of your entertainment."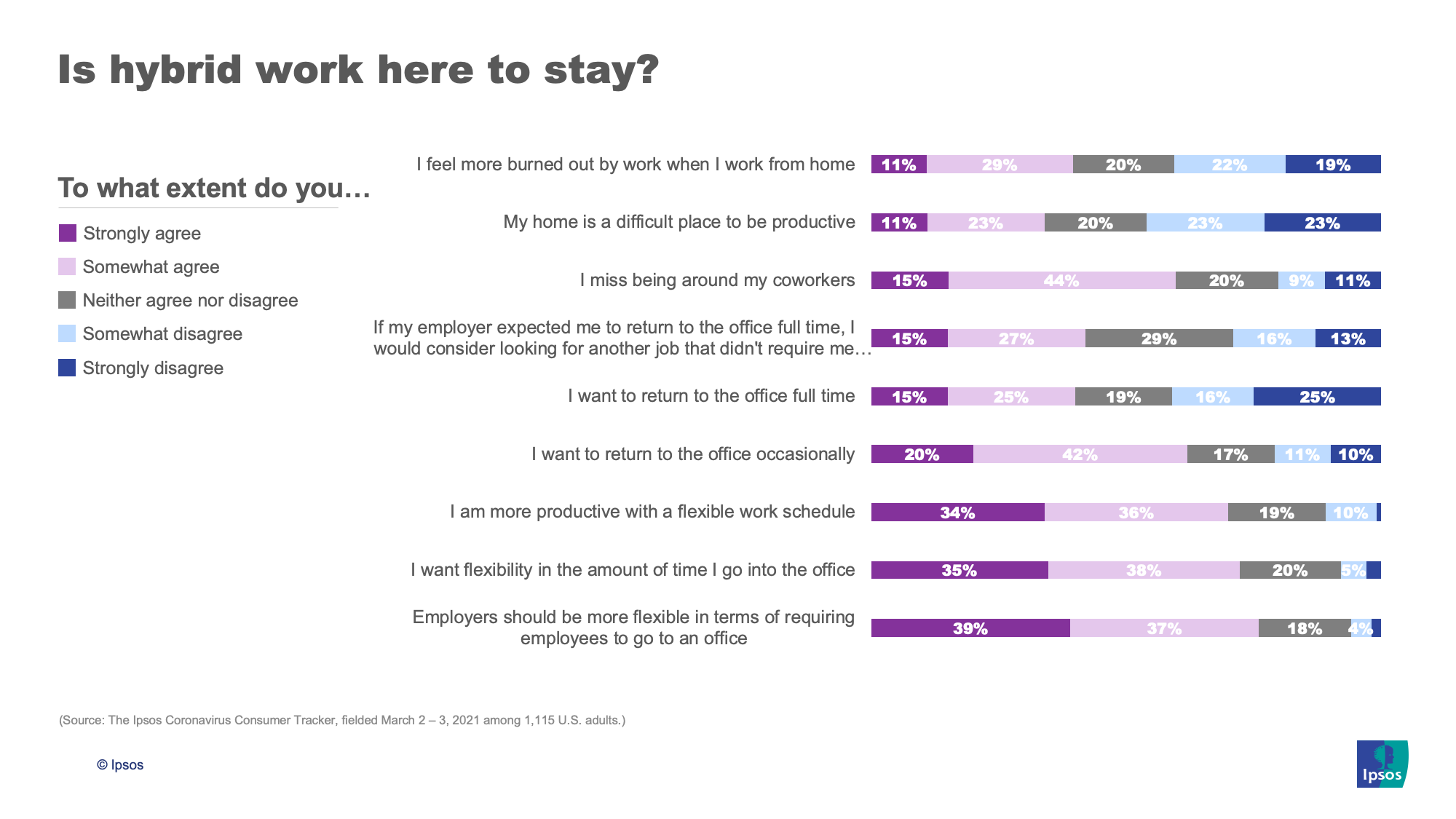 A shift in where and how we work has massive ripple effects through the economy. Obviously, there are implications for where we live, but also the downtown retail and dining environment, transportation, commercial and real estate, state and local governments, ride-sharing services – and, well, just about every other sector.
As just one example Ipsos plans to explore in a coming essay, consider the brand and customer service implications for technology and telecommunications companies. Half of Americans say that home internet speed has become more important to their households since the pandemic began. Six in ten say that using streaming services for entertainment has made the pandemic more bearable.
When customers are suddenly becoming even more dependent on what was already a critical piece of home infrastructure, that opens up potential pitfalls and opportunities for brands.
"Brands will need to accelerate their digital transformation to enable timely and frictionless communication with their customers," said Emmanuel Probst, and SVP with Ipsos. "For example, by implementing chatbots and online/mobile client service that provide answers at the blink of an eye. Most importantly, the brands that will come out ahead are the ones that will establish a direct relationship with their customers and offer a personalized, authentic experience."
All of this means hybrid work is likely here to stay, and be based on the needs of the individual not necessarily the team or company as a whole.