The Inside Track: 2022 Midterm Elections November Highlights
Key Highlights from November's Inside Track webinar, a briefing from the Ipsos political polling team on data and trends shaping American politics and the upcoming midterm elections.
The Inside Track 2022: America the Uncertain webinar series will present in-depth analysis of the latest public opinion data on current trends and recent events influencing the political landscape. Read below for highlights and key insights from this month's webinar.
What you need to know:
Republicans eke out narrow win in the House, Democrats narrowly keep control of the Senate.
The results are largely in line with Ipsos predictions, which predicted that the most likely outcome was a Republican win in the House by a small margin and a throw up in the Senate.
Inflation and abortion are the most important issues among voters in exit polling.
Midterm turnout projected to be high but lower than turnout in 2018. Inflation and abortion were the top two issues that affected voters' choice, according to exit polling.
Looking ahead to 2024, Democrats appear to be picking up steam but it's still too early to tell.
Candidate-wise, the most popular politicians on the national stage remain familiar faces: former President Trump for the Republicans and President Biden for Democrats. Vice President Kamala Harris is the second most popular Democrat among the group tested, while Florida Governor Ron DeSantis' favorability sits just under Trump's.
Deep Dive
Abortion at the top of voters' minds
Abortion seemed to play a significant role in urging voters out to the polls following a landmark Supreme Court ruling that overturned the national right to an abortion. According to exit polling, voters rated abortion as the second most important issue to their vote.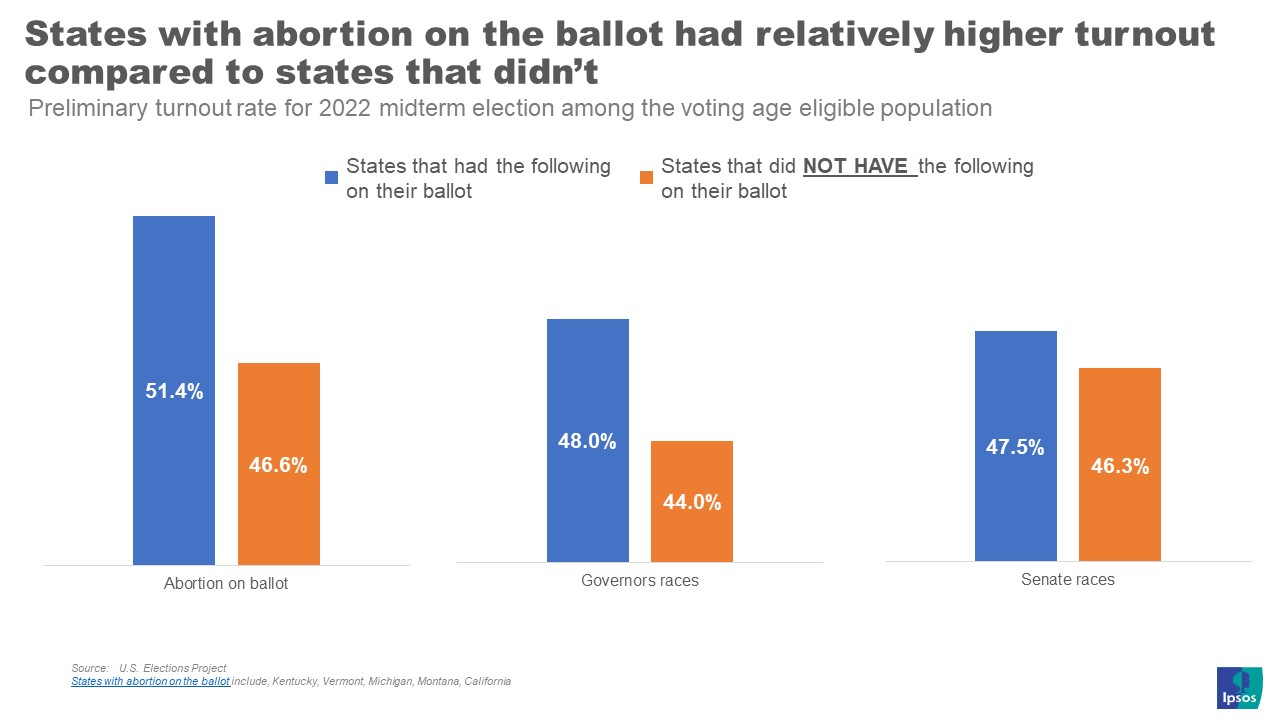 States that had abortion on the ballot also had relatively higher turnout compared to states that didn't, suggesting that abortion played a role in bringing voters to the booths.
Is MAGA dragging down the GOP ticket in competitive races?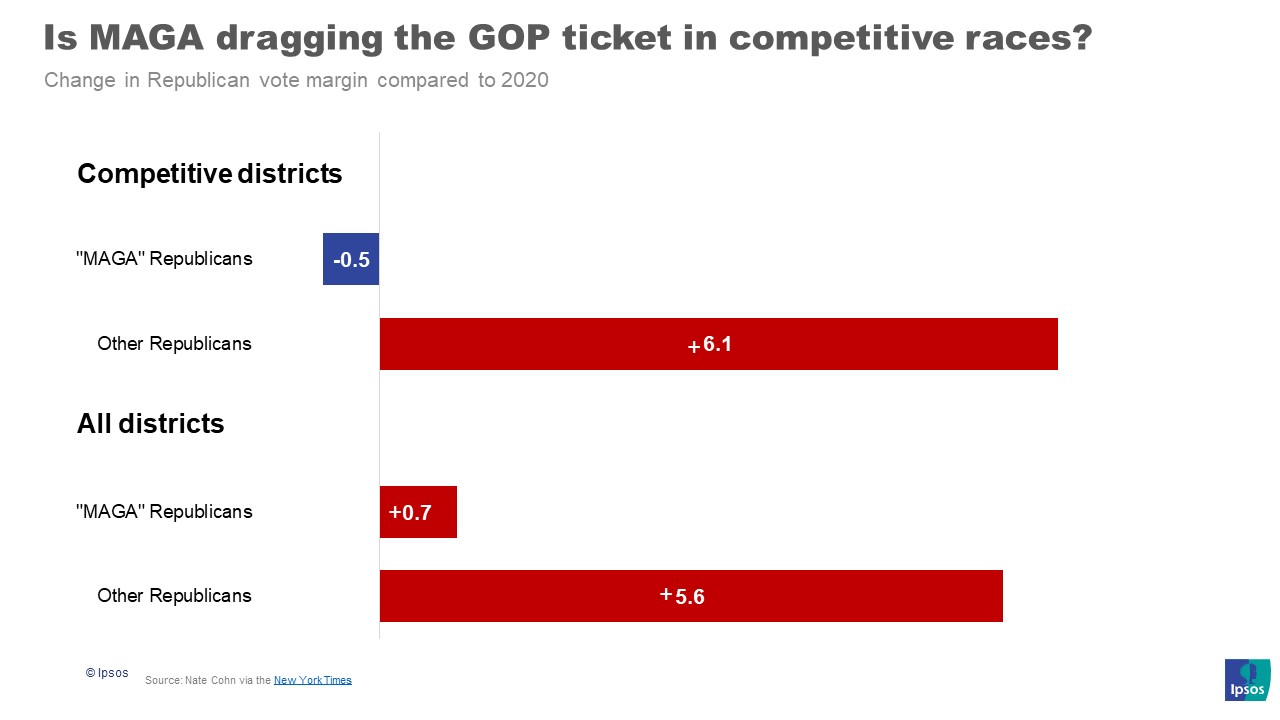 Republicans overall fared better in 2022 than 2020, but Trump-endorsed "MAGA" candidates performed worse in 2022 than they did in 2020, according to analysis by the New York Times.
These Trump-endorsed candidates still performed well as a whole – 82% of Trump-endorsed candidates won their elections, slightly higher than the 78% that won in 2020 – but these results may point to dissatisfaction with the MAGA slate among moderate voters.
Republican voters lose some confidence in their party's ability to win elections
Democratic confidence surged, while Republican voters lost some faith in their party following a worse-than-expected election for Republicans.
Trump also felt the effects of this drop – confidence that Trump would be able to win an election dropped six points between November and August. But Trump still a league above other Republican candidates in terms of popularity, trailed by Ron DeSantis, Mike Pence and Ted Cruz.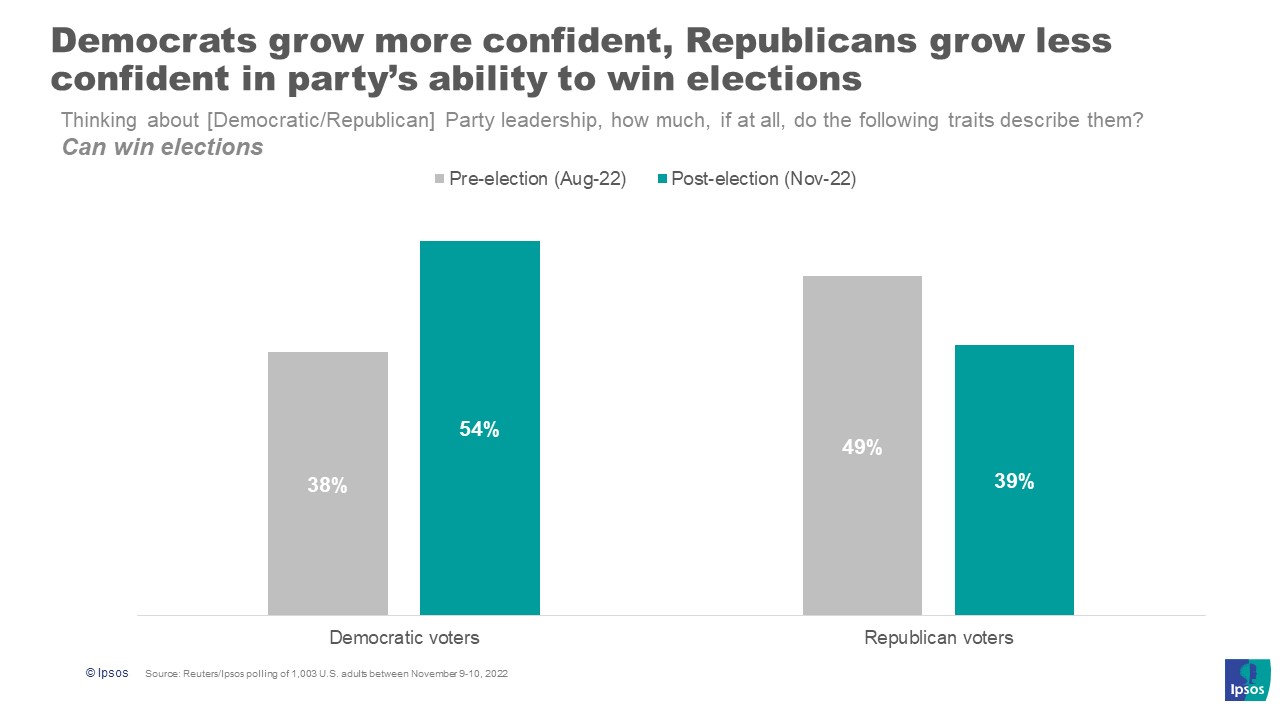 It's worth noting, though, that midterm election results typically have no bearing on an upcoming presidential election. Just because Republicans didn't meet their high expectations doesn't mean they can't surge back in 2024.
Download