The Ipsos Affluent Intelligence Group Releases Fall 2017 Ipsos Affluent Survey
Survey Spotlights "Affluencers" – The Powerful New Target Group that Drive Purchases Across Categories
New York, NY — Affluencers, a powerful grouping of Affluent consumers who also influence others' shopping and buying behaviors, represent 71% of all Affluents, according to the Fall 2017 Ipsos Affluent Survey released this month. The Survey defines "Affluent" as adults living in households with at least $125,000 in annual household income, a group that reflects the top 16% of American households. "While most marketers have understood that the Affluent audience is important due to their buying power and purchase behaviors especially in luxury and high-ticket categories, we've found that their influence is felt in nearly every category," said Michael Baer, SVP and Head of Affluent Intelligence Group, Ipsos Connect.
Marketers are becoming more and more interested in reaching out to and engaging Influencers – due to the factors like media fragmentation, quality and transparency issues of the media supply chain, and the rise of ad blockers. Thus, the idea of reaching a targeted group of people who are particularly powerful and influential is spreading. Which is why the identification of the Affluencers is so important – this target has the potential to not only represent a disproportionate amount of purchases, they also represent a group that is sought for their advice and purchasing input across all categories. In addition, Affluencers on average consume more media than general Affluents, with both print and digital publications up +9%.
Other key findings from the survey include:
Affluencers spend 40% more than other Affluents on all categories, and 3.6X as much as non-Affluents.
Affluencers are early adopters to new technology, innovations and new products – again influencing the adoption and purchase of new products beyond themselves.
Affluencers have the highest levels of future purchase intent in the categories they influence – from 10% to 400% more
All Affluencers influence others' shopping and buying in at least one category, while 50% of all Affluencers express their influence in 5+ categories. In addition, 97% say that others seek them out for their advice across many product and service categories.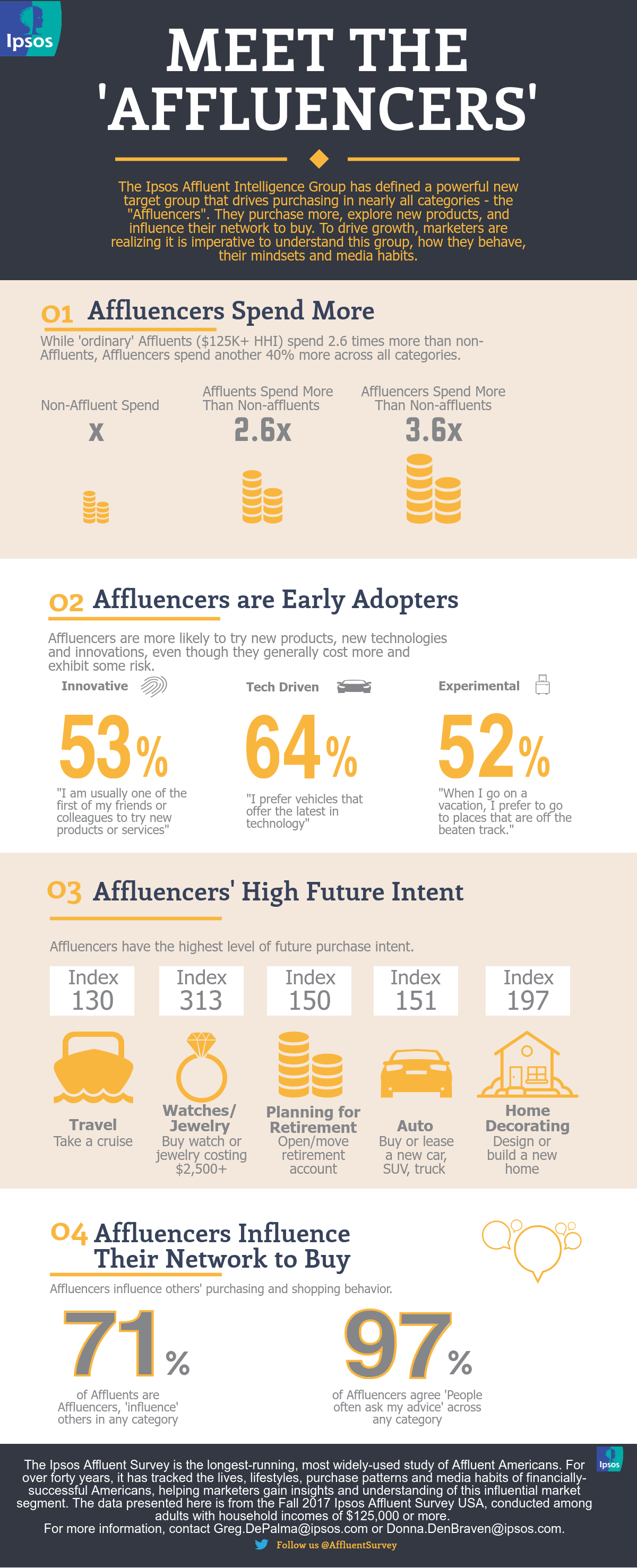 To view the full video from Ipsos Affluent Intelligence's Fall Release launch presentation, "Meet the "Affluencers," click here. 
For more information on this news release please contact:
Michael Baer
Senior Vice President, U.S.
Affluent Intelligence Group, Ipsos Connect
646.313.7674
[email protected] 
About the Ipsos Affluent Survey
The Ipsos Affluent Survey USA is the longest-running and most widely-used research study delivering understanding of the lives, mindsets, media habits and purchasing behaviors of financially-successful Americans. For more than 40 years, the Ipsos Affluent Survey has been helping hundreds of marketers each year gain insights and understanding of this influential market segment. The study reports on how Affluents engage with more than 290 media brands and 1,200 consumer brands and services, across all their delivery platforms.
The Fall 2017 study is based on 22,449 online interviews conducted between June 2016 and June 2017 among U.S. adults (18+) living in households with at least $125,000 in annual household income. The survey uses rigorous methodologies, including weighting to Census estimates, to ensure the results are projectable to the population of America's 58 million Affluent adults. The maximum margin of error is ±0.8 percentage points in the total sample. All sample surveys may be subject to other sources of error, including coverage and measurement errors. In addition to the United States, the Ipsos Affluent Survey covers 50 additional countries.
About Ipsos
Ipsos is an independent market research company controlled and managed by research professionals. Founded in France in 1975, Ipsos has grown into a worldwide research group with a strong presence in all key markets. Ipsos ranks fourth in the global research industry.
With offices in 88 countries, Ipsos delivers insightful expertise across five research specializations: brand, advertising and media; customer loyalty; marketing; public affairs research; and survey management.
Ipsos researchers assess market potential and interpret market trends. They develop and build brands. They help clients build long-term relationships with their customers. They test advertising and study audience responses to various media and they measure public opinion around the globe.
Ipsos has been listed on the Paris Stock Exchange since 1999 and generated global revenues of €1,782.7 million in 2016.