The economy is reopening, but many Americans learned to love the pandemic's at-home conveniences
Many Americans could go back to their old lives right now, if they wanted to: Restaurants, gyms and movie theaters are open. Travel across the country is unrestricted. But many people have come to enjoy the innovations that the pandemic pushed to the forefront of America – creating a hybrid economy that's here to stay.
A recent Wall Street Journal article analyzed data from popular apps to see how behaviors are shifting and saw upticks in users of travel, ticketing and dining sites indicating some return to the old, "normal" ways of day-to-day living. But the question has always been: What new pandemic habits will stick? 
So, we asked Americans: If you had the choice (and both were safe and possible) what would you rather keep doing in-person and what would you rather do at home? While people prefer some activities like visiting restaurants and doctors' offices in person, there's still a substantial percentage of people, across the board, who prefer doing these activities are home. We're going back to the old normal, but we're also keeping the new normal.
"As we adapted over the course of the past 15 months, we realized that there actually were better ways to do things that we had come to accept as the norm," said Ipsos Client Officer Kevin Hung. "While consumers will be excited to go back to certain pre-pandemic ways of interaction, some of the pandemic-induced changes will be preferred and continue on going forward, a phenomenon we're calling 'back with the old, still with the new.'"
It's the hybrid, or the "yes, and..." economy. Do we want to go back out into the world? Yes, and... we want to maintain the convenience of delivery, carry-out and curbside. Do we want date nights at the movies or a concert? Yes, and... we want to keep our streaming services. The speed at which we re-enter will vary but there is clearly demand for both in-home and out-of-home experiences.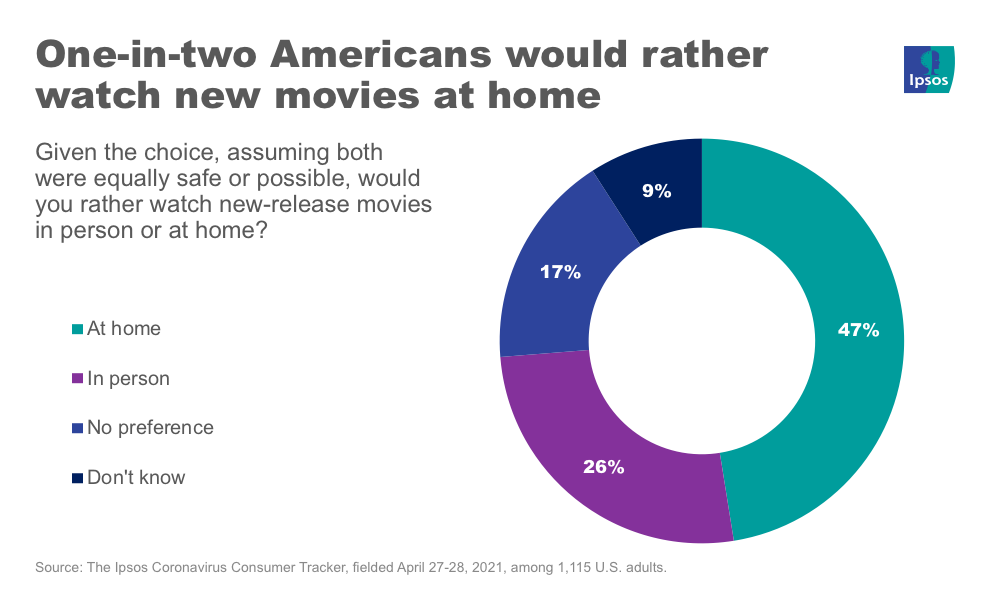 To back that up: With movie theaters closed – or people afraid to visit them – many new movies were released first on streaming services, and the practice was a hit with consumers. Nearly half (47%) say they would rather watch a new-release movie at home, while another 26% say they'd rather watch one in-person.
People are eager to get back to normal in-restaurant dining.
54% would rather eat food from a high-end restaurant in person, and another 18% would rather eat it at home.
The numbers are similar for fast-food or fast-casual restaurants: 51% would rather eat in-person, compared to 27% who would rather eat it at home.
Cocktails and other alcoholic beverages from restaurants became available for carry-out and delivery for the first time in many places during the pandemic. While more people would rather drink them in-person (41%), another 17% enjoy the new experience.
Telehealth appointments, which quickly rose to prominence during the early days of the pandemic when Americans were hesitant to be near other sick people, still aren't most people's preferred way of getting healthcare.
Two-in-three people would rather consult with a doctor in-person for either a routine check-in (67%) or a specific health issue (69%)
And while less than one-in-five would rather do either at home – 18% and 15%, respectively – that's up considerably from the number of people who had ever even tried telehealth visits just a couple of years ago.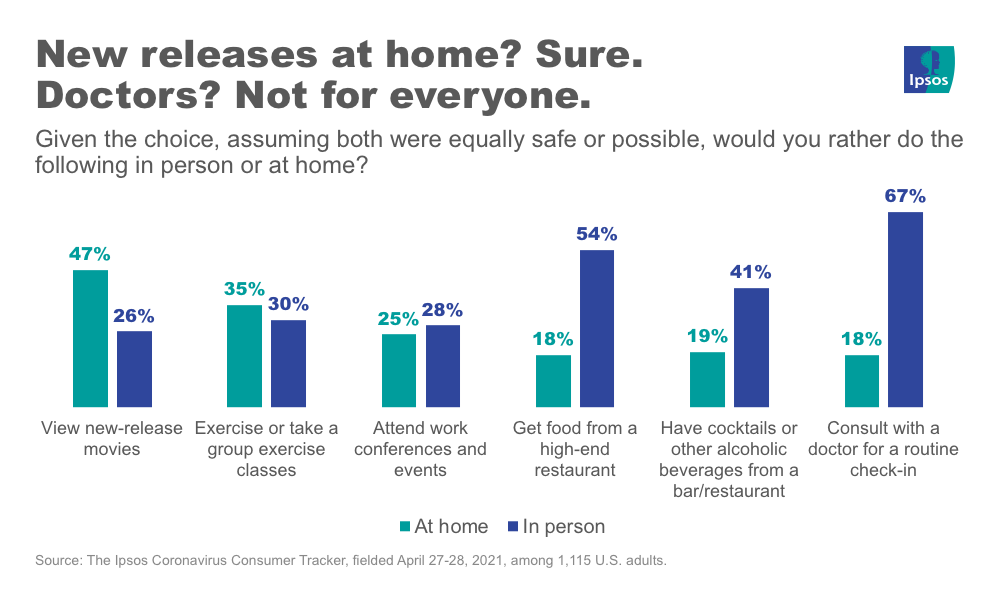 When it comes to work – either for a paycheck or for exercise – people are split down the middle.
Attending work conferences or events? 25% would rather do it at home, while 28% would rather do it in-person
As for exercising or taking exercise classes, 35% would rather do it at home, while 30% would rather do it in-person
The in-person economy is coming back as more people are getting vaccinated and going out every week. But businesses would be wise not to abandon their pandemic infrastructure – even in the least popular at-home categories, these customers who have decided they like the convenient in-home services can bolster your bottom line.