Streaming services hooked young adults and people of color for the first time during the pandemic
Disney Plus led all streaming services in new signups; low-income Americans were most likely to sign up for Amazon Prime for the first time.
More than half of Americans have signed up for a new streaming service or another subscription during the pandemic, according to new data from the Ipsos Coronavirus Consumer Tracker – with young people and Americans of color most likely to have tried a new service.
The biggest winner: Disney Plus, which landed one-in-five Americans (20%) as first-time subscribers in 2020, the most of any streaming service. But many other services attracted numbers that were very close: Netflix, despite being the longest-running streaming service, attracted 18% of Americans as first-time subscribers, followed by Amazon Prime and HBO Max at 17% and Hulu at 16%. Peacock, however, trailed far behind at 9%.
Other subscription services saw smaller gains.
Grocery delivery service subscriptions like Peapod or Instacart attracted 10% of Americans for the first time
Music subscription services like Pandora or Spotify hooked 9% of Americans as first-time subscribers in 2020
Podcast subscriptions landed 3% of Americans
Newspaper websites, like the New York Times or the Washington Post, attracted 9% of Americans as first-time subscribers
Daily news subscriptions like The Skimm or the Buzzfeed Daily Newsletter landed 2%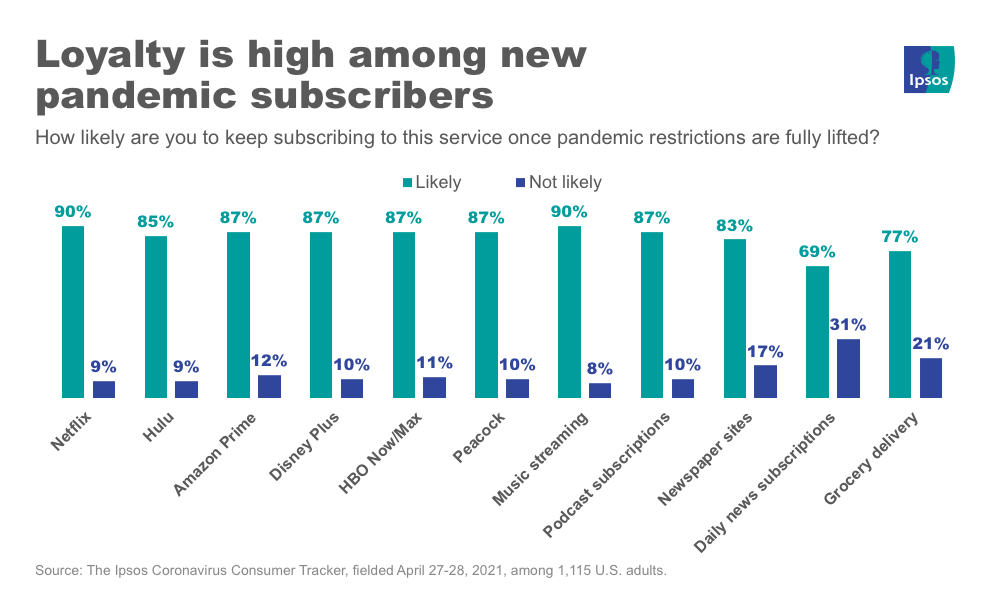 Almost all new streaming subscribers – at least four-in-five – say they'll stick with the services after pandemic restrictions are lifted. Grocery delivery loyalty is a little softer, with 77% saying they're likely to keep subscribing; daily news subscriptions were also soft but still strong, around 69%.
"Streaming entertainment has been the backbone of American culture during the pandemic, and customers clearly recognize that and are rewarding services with loyalty," said Greg Conlon, a senior client officer at Ipsos. "But beneath the surface of these strong numbers, it's even better news that these services are now reaching people of color, who hopefully are seeing more of themselves in today's entertainment."
Black, Hispanic and other nonwhite Americans were much more likely to have signed up for a streaming service for the first time. All three groups were twice as likely as white Americans to have signed up for a Netflix account: 28% of Black Americans, 24% of Hispanic Americans and 26% of other nonwhite Americans, compared to 13% of white Americans.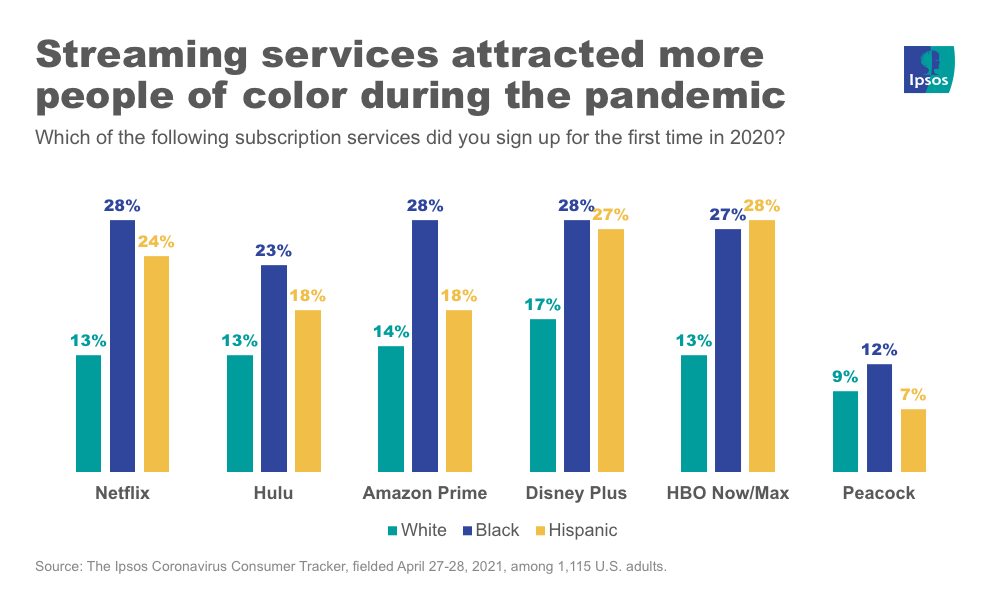 Young adults, aged 18-34, were more likely to subscribe to services across nearly every category compared to their older peers. One-in-three subscribed to Netflix (29%) or Disney Plus (33%) for the first time in 2020, far surpassing adults 35-54 or older than 55.
Low-income households (making less than $50,000 a year) were also much more likely to have signed up for Amazon Prime for the first time during the pandemic: 22% signed up for the first time, compared to 16% making between $50,000 and $100,000 and 12% making more than $100,000.
Download