Cliff's Take: The Forces that Produced Our Uncertain World Persist
From Washington DC to Budapest, a new crop of leaders has come to overthrow established institutions and governing norms

From Washington DC to Brasilia to London to Budapest, a new crop of leaders has come to power calling for the overthrow of established institutions and governing norms. With standard-bearers like Donald Trump, Jair Bolsonaro, Boris Johnson, and Viktor Orbán, many analysts have proclaimed a new wave of nationalism with right-wing authoritarians ascendant (see Washington Post article). This is an over-simplification which mistakes symptoms for causes.
These alarms overlook the election of leftist López Obrador in Mexico, Democratic-Socialist Bernie Sanders coming within inches of a major party nomination, or former Socialist minister Emmanuel Macron's election in France. All these candidates also ran against the establishment. None of them, however, could be considered right-leaning. Macron, in fact, beat out Marine Le Pen in the French second round that pitted right and left-leaning anti-establishment candidates.
The real political trend of the last decade has been the anti-establishment fervor of voting publics, or as I like to say anti-establishmentism ('Age of the Outsider').  It can take on different flavors and forms from country to country and content to context. 
So what is anti-establishmentism?
In a nutshell, it encompasses the widespread belief that the existing political and economic systems are broken. Essentially, 'regular people' no longer have a say in a system that is rigged to benefit the rich and powerful, and in a system where politicians and parties no longer care to address this.
Such beliefs, in turn, shape political outcomes. I often call this belief system, the Caudillo (or Strong Man) Syndrome, having developed it initially to understand the rise of Morales in Bolivia and Chávez in Venezuela in the early naughts (SAIS Review).
Academic research reinforces the existence of this public opinion trend as well (for instance, this paper from Harvard Kennedy School). In the aftermath of Brexit and the US presidential elections, Ipsos conducted research in 27 countries in late 2016 to gauge the extent of the anti-establishment, populist wave (Ipsos: Rise of Populism 2016).
What did we find?
In a word, anti-establishmentism. In the United States and around the world, there was supermajority belief that the system was rigged; that parties and politicians no longer cared about the average person, and that a strong leader willing to break the rules was critical to fix the broken system.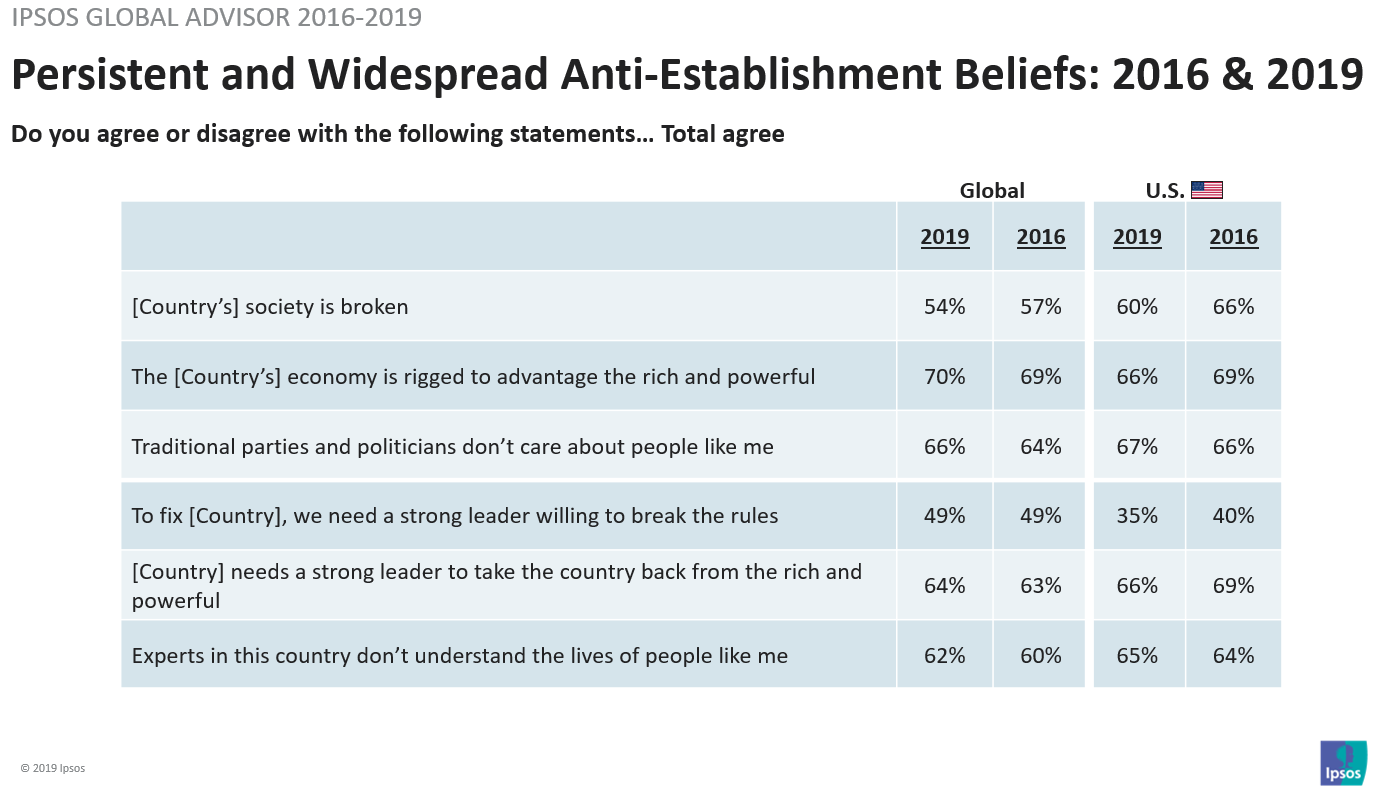 In 2019, we repeated the same study, and we found very little change (Ipsos: Populism & Nativism 2019). Put differently, the same forces that produced anti-establishment outcomes in 2016 are still here today. 
This is striking and should put upcoming elections in proper context. The existence of an anti-establishment public does not necessarily mean you are going to end up with an anti-establishment government. Elections can redirect the will of the people and individual failings or foibles can trip-up parties that otherwise would be in strong positions (see Jeremy Corbyn).
In practice, anti-establishmentism can be operationalized differently depending on what side of the political aisle one sits: those on the Right tapping into more visceral cultural issues like immigration and those on the Left focusing on economic inequality.  But most importantly, anti-establishmentism is neither right or left. This means that the forces that brought Trump to the presidency could just as easily bring a Trump of the Left to power in 2020.
For more information, please contact:
Clifford Young
President, U.S.
Public Affairs
+1 202 420-2016
clifford.young@ipsos.com
About Ipsos
Ipsos is now the third largest market research company in the world, present in 90 markets and employing more than 18,000 people.
Our research professionals, analysts and scientists have built unique multi-specialist capabilities that provide powerful insights into the actions, opinions and motivations of citizens, consumers, patients, customers or employees. Our 75 business solutions are based on primary data coming from our surveys, social media monitoring, and qualitative or observational techniques.
"Game Changers" — our tagline — summarizes our ambition to help our 5,000 clients to navigate more easily our deeply changing world.
Founded in France in 1975, Ipsos is listed on the Euronext Paris since July 1st, 1999. The company is part of the SBF 120 and the Mid-60 index and is eligible for the Deferred Settlement Service (SRD).
ISIN code FR0000073298, Reuters ISOS.PA, Bloomberg IPS:FP
Download