On Immigration, Americans Favor Both Restrictions and Reforms
NPR/Ipsos poll shows most feel situation at the border is a major problem, but favor pathway to citizenship for certain undocumented immigrants
Washington, DC, May 20, 2021 — As concerns over the coronavirus pandemic begin to recede, immigration is a growing concern for some Americans, according to a new NPR/Ipsos poll. A majority also say the situation at the U.S.-Mexico border is a major problem, and many think the amount of migrants crossing the border is higher than both what the news reports, and the number who have crossed in previous years. Views about immigration – both in regards to policy changes and general attitudes toward immigrants – remain deeply partisan, and the issue itself is much more top of mind for Republicans than Democrats.
---
Read the full story from NPR here.
---
Detailed Findings
1. Concerns about the situation at the border are widespread. Though there is partisan agreement that the situation is dire, those on opposite sides of the aisle don't agree on solutions.
Currently, around eight in ten Americans say the current situation with the large number of migrants apprehended after crossing the U.S.-Mexico border is a problem. A majority, 55%, feel it is a major problem, including a majority of Republicans (71%) and Independents (55%), and a plurality of Democrats (45%).
Nearly three-quarters are concerned about ensuring proper care for unaccompanied migrant children detained at the border.
Most (55%) believe the number of migrants crossing the border right now is higher than the same time period in previous years, something most Republicans and Independents, and nearly half of Democrats, agree on.
Where partisan fault lines begin to emerge, however, is on what to do about the issue. For example, most Democrats (63%) favor providing resources to El Salvador, Guatemala and Honduras to curb Central American immigration (just 37% of Republicans agree). On the other side, three-quarters of Republicans (76%) support building a wall or fence along entirety of the border – something only one in five Democrats favor.
One area of widespread, bipartisan support exists: increasing training and oversight of U.S. Immigration and Customs Enforcement (ICE) and Customs and Border Protection (CBP) agents and officers. Nearly three-quarters of Americans support this initiative (73%).
2. How to handle the situation at the border is just one example of the deep partisan divide that exists on this issue.
Overall, Republicans are more likely to cite immigration as a main problem than Democrats. It is the top issue of concern for Republicans currently, while just 9% of Democrats feel the same.
Most Republicans favor many policies put forth by the previous administration, including building the wall (76%), banning travel to the U.S. by residents of certain Muslim-majority countries (52%), and ending the ability of legal immigrants to bring their extended family members to the U.S. (53%). On the other side, more Democrats want to end the for-profit detention centers overseen by ICE (68%) and give legal status to undocumented immigrants brought here as children (72%).
The two sides also disagree on the cap or limit on the number of immigrants allowed in this country, and there is a more than 30-point gap on whether America has a moral obligation to accept refugees facing persecution (29% of Republicans agree vs. 61% of Democrats).
Political affiliation (along with news consumption) is the single biggest driver of sentiments – and differing views – on immigration; more so than race/ethnicity, a respondent's own immigration status, or any other demographic criteria.
3. Last year, most Americans favored restricting immigration during the coronavirus pandemic in a number of ways. Support for these actions has somewhat waned now, though most are still in favor of international travel restrictions.
Last year, more than three-quarters said we should temporarily close the U.S. border, except for essential travel, during the coronavirus pandemic. Now, 59% say the same, a 19-percentage point decline.
Similarly, around 60% last year wanted to ban asylum seekers, refugees, foreign guest workers, and seasonal workers from entering the country, and to prevent legal immigrants from bringing extended family members in. Now, fewer than half (ranging from 38% to 47% for each item) support these plans to restrict immigration during the pandemic.
However, more than three-quarters (77%) are now in favor of temporarily banning flights or stopping travel from countries with severe coronavirus outbreaks.
4.Most Americans remain in favor of reforming our immigration system to allow certain immigrants, under specific circumstances, to have a pathway to citizenship.
A bare majority, 51%, support the core tenet of DACA: giving legal status to undocumented or illegal immigrants brought to the U.S. as children.
It's important to note that while most agree with this, the number represents a slight decline from previous years (59% in 2020 and 60% in 2018).
When framed in a different way – creating a legal way for immigrants who meet certain qualifications to become citizens – support for DACA is higher (66%), demonstrating that Americans are perhaps more won over when highlighting the process or pathway behind the proposal.
In addition to two-thirds supporting giving undocumented immigrants brought here as children a legal way to become citizens, around seven in ten support this for immigrants with temporary status who fled countries suffering from war or natural disasters (70%) and farmworkers/other essential workers (71%).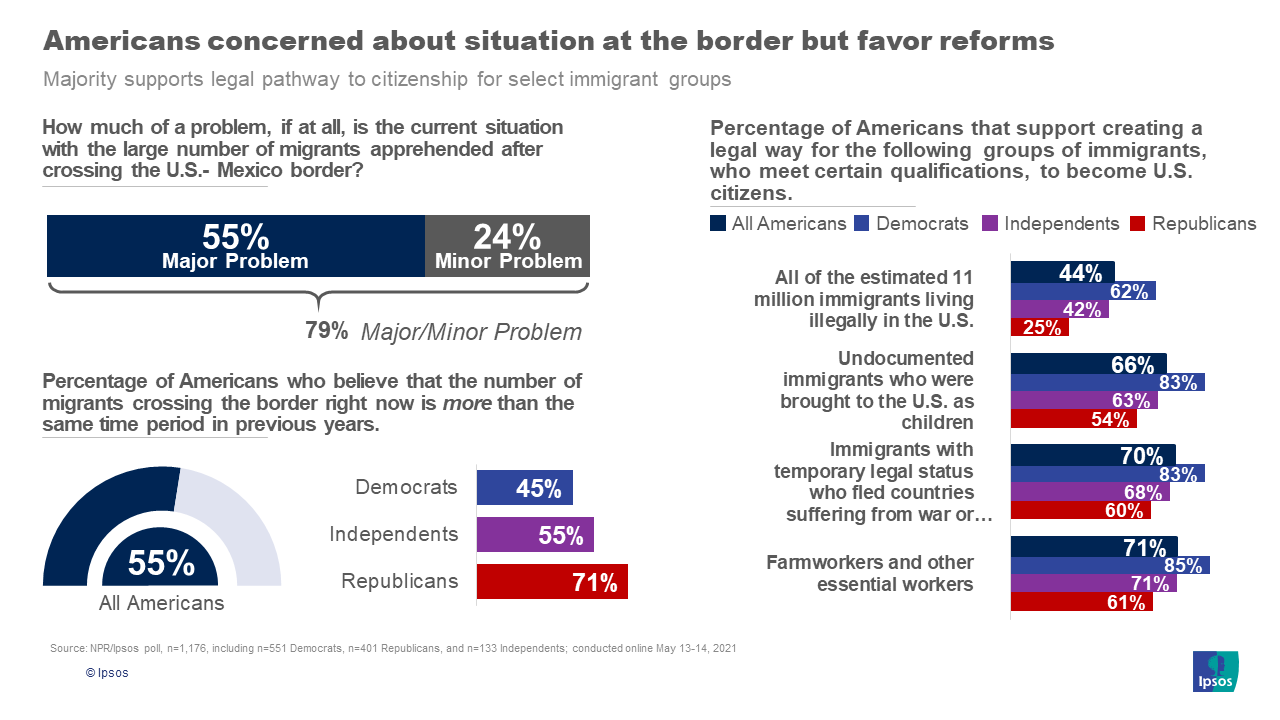 About the Study
These are some of the findings of an NPR/Ipsos poll conducted between May 13-14, 2021. For this survey, a sample of 1,176 adults age 18+ from the continental U.S., Alaska, and Hawaii was interviewed online in English. The sample includes 551 Democrats, 401 Republicans and 133 Independents.
The sample was randomly drawn from Ipsos' online panel, partner online panel sources, and "river" sampling and does not rely on a population frame in the traditional sense. Ipsos uses fixed sample targets, unique to each study, in drawing a sample. After a sample has been obtained from the Ipsos panel, Ipsos calibrates respondent characteristics to be representative of the U.S. Population using standard procedures such as raking-ratio adjustments. The source of these population targets is U.S. Census 2018 American Community Survey data. The sample drawn for this study reflects fixed sample targets on demographics. Posthoc weights were made to the population characteristics on gender, age, race/ethnicity, region, and education.
Statistical margins of error are not applicable to online non-probability polls. All sample surveys and polls may be subject to other sources of error, including, but not limited to coverage error and measurement error. Where figures do not sum to 100, this is due to the effects of rounding. The precision of Ipsos online polls is measured using a credibility interval. In this case, the poll has a credibility interval of plus or minus 3.3 percentage points for all respondents. Ipsos calculates a design effect (DEFF) for each study based on the variation of the weights, following the formula of Kish (1965). This study had a credibility interval adjusted for design effect of the following (n=1,176, DEFF=1.5, adjusted Confidence Interval=+/-4.8 percentage points).
The poll also has a credibility interval of plus or minus 4.8 percentage points for Democrats, plus or minus 5.6 percentage points for Republicans, and plus or minus 9.7 percentage points for Independents.
For more information on this news release, please contact:
Mallory Newall
Director, U.S., Public Affairs
Ipsos
+1 202 420-2014
[email protected]
Kate Silverstein
Media Relations Specialist, U.S., Public Affairs
Ipsos
+1 718 755-8829
[email protected]
About Ipsos
Ipsos is the world's third largest Insights and Analytics company, present in 90 markets and employing more than 18,000 people.
Our passionately curious research professionals, analysts and scientists have built unique multi-specialist capabilities that provide true understanding and powerful insights into the actions, opinions and motivations of citizens, consumers, patients, customers or employees. We serve more than 5000 clients across the world with 75 business solutions.
Founded in France in 1975, Ipsos is listed on the Euronext Paris since July 1st, 1999. The company is part of the SBF 120 and the Mid-60 index and is eligible for the Deferred Settlement Service (SRD).
ISIN code FR0000073298, Reuters ISOS.PA, Bloomberg IPS:FP www.ipsos.com