Most Americans oppose penalizing businesses over their stance on social issues
A new Reuters/Ipsos poll finds most Americans are likely to support a political candidate who believes businesses and corporations have the same right to free speech as regular Americans
Washington, DC, April 29, 2022 – A new Reuters/Ipsos poll finds 40% of Republicans believe former President Donald Trump is the best representation of the values of the Republican party today, with 83% holding a favorable view of him. Behind Trump, is Florida Governor Ron DeSantis (25%), who enjoys a favorable view from 69% of Republicans.
DeSantis has recently garnered attention due to a series of legislative acts concerning transgender rights in the state of Florida. Most recently, he signed the Parental Rights in Education Act, a measure that bans instruction or classroom discussion about LGBTQ issues for kindergarten through third grade. This poll finds that half (50%) of Americans support laws banning classroom discussion on sexual orientation or gender identity for children ages 5-9. This includes 69% of Republicans, 51% of independents, but only 36% of Democrats. DeSantis previously passed a measure banning transgender female athletes from participating in girls' sports. Nearly half (48%) of Americans agree that transgender females should not be allowed to participate in women's sports, a sentiment driven largely by Republicans (72%). Forty-one percent also believe transgender boys should be banned from men's sports.
On Friday, April 22nd, DeSantis signed a bill stripping Disney World of its status as an "independent special district" after Disney's CEO spoke out against DeSantis' Parental Rights in Education Act. Our poll finds that most Americans (62%) are less likely to support a political candidate who supports laws punishing corporations that take a stance on politically controversial issues. This includes 68% of Democrats and 55% of Republicans. In fact, 68% of Americans say they are more likely to back a candidate who believes businesses and corporations have the same right to free speech as regular Americans. This includes 67% of Democrats and 74% of Republicans.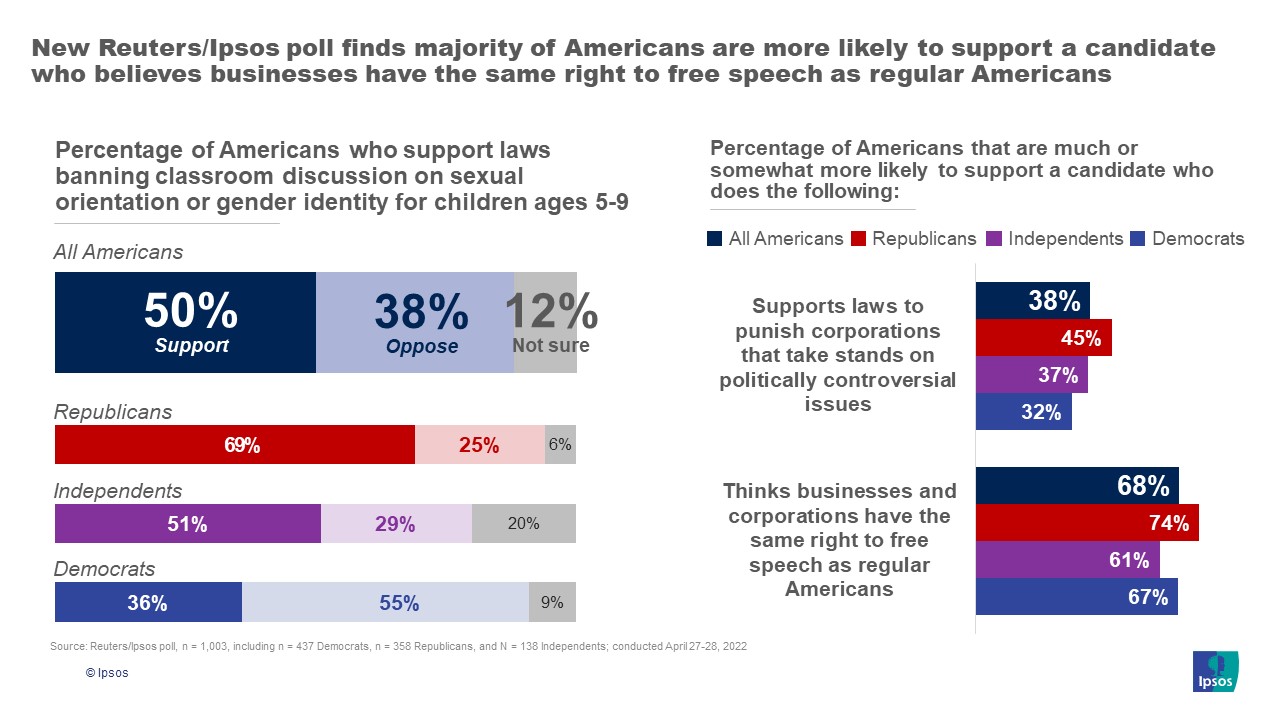 However, Americans are divided on their likelihood to support a candidate who backs the removing of benefits or government tax breaks from corporations that push a "woke" agenda, with 49% saying they are more likely to support (mostly Republicans), while 51% say they are less likely to (mostly Democrats).  Fifty-four percent of Americans are also less likely to support a candidate who backs laws removing benefits or government tax breaks from corporations that are anti-LGBTQ, a sentiment driven by Republicans (68%) and independents (62%). Nearly three-quarters (72%) are more likely to support a candidate who fights against the wealthy and powerful on behalf of regular Americans.
Finally, Americans are also divided on their stance regarding the recognition of transgender people's gender identity. While 46% support policies that recognize them with things such as access to public restrooms, sports competitions, and birth certificates, 40% oppose. Democrats (69%) are more likely to support them while Republicans are more likely to oppose them (66%).
About the Study
These are some of the findings of an Ipsos poll conducted between April 27-28, 2022. For this survey, a sample of 1,003 Americans age 18+ from the continental U.S., Alaska, and Hawaii were interviewed online in English. The sample includes 437 Democrats, 358 Republicans, and 138 independents. Weighting was then employed to balance demographics to ensure that the sample's composition reflects that of the adult population according to Census data and to provide results intended to approximate the sample universe. The precision of Ipsos online polls is measured using a credibility interval. In this case, the poll is accurate to within ± 3.8 percentage points, 19 times out of 20, had all Americans been polled. The credibility interval will be wider among subsets of the population. All sample surveys and polls may be subject to other sources of error, including but not limited to coverage error and measurement error. The poll also has a credibility interval of ± 5.7 percentage points for Democrats, ± 6.3 percentage points for Republicans, and ± 10.2 percentage points for independents.  
For more information on this news release, please contact:
Chris Jackson
Senior Vice President, US
Public Affairs
+1 202 420-2025
[email protected]
Annaleise Lohr
Director, US
Public Affairs
[email protected]
About Ipsos
Ipsos is the world's third-largest Insights and Analytics company, present in 90 markets and employing more than 18,000 people.
Our passionately curious research professionals, analysts, and scientists have built unique multi-specialist capabilities that provide true understanding and powerful insights into the actions, opinions, and motivations of citizens, consumers, patients, customers, or employees. We serve more than 5,000 clients across the world with 75 business solutions.
Download