Trump's grip on Republican base loosens
A new Reuters/Ipsos poll fielded ahead of the Congressional January 6th Select Committee's hearing on July 21 finds Republicans less willing to believe Trump's version of the events surrounding the 2020 election and January 6
Washington, DC, July 21, 2022 --
A new Reuters/Ipsos poll fielded ahead of the Congressional January 6th Select Committee's hearing on July 21 finds that while most Americans have been exposed to coverage of the hearings, their opinions on the events of that day remain largely unchanged.
The poll finds that three in five Americans (61%) have seen or heard coverage about the hearings, largely driven by Democrats who say they have heard or seen coverage (84%). Despite partisan differences, though, over half of Republicans and independents (52% each) have also been exposed to coverage of the hearings, suggesting high penetration of media coverage, regardless of party affiliation. Of those who did see or hear anything about the hearings, 46% of Americans say they followed them closely.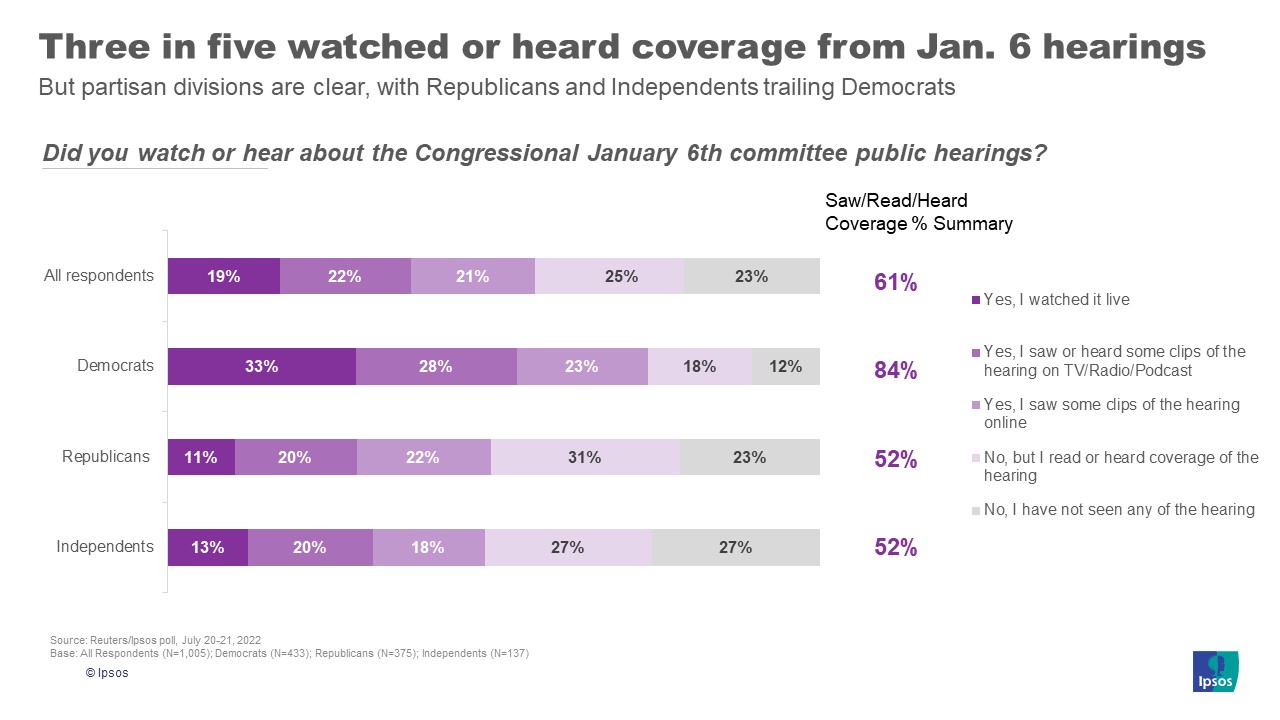 The poll also finds that Americans continue to blame Trump (51%) and the Proud Boys (53%) most for the events at the Capitol, unchanged from perceptions prior to the hearings. Similarly, the percentage of Americans who consider the Jan 6th protesters to have committed criminal acts (64%) rather than expressing their First Amendment rights (36%) has remained relatively constant since before the hearings began.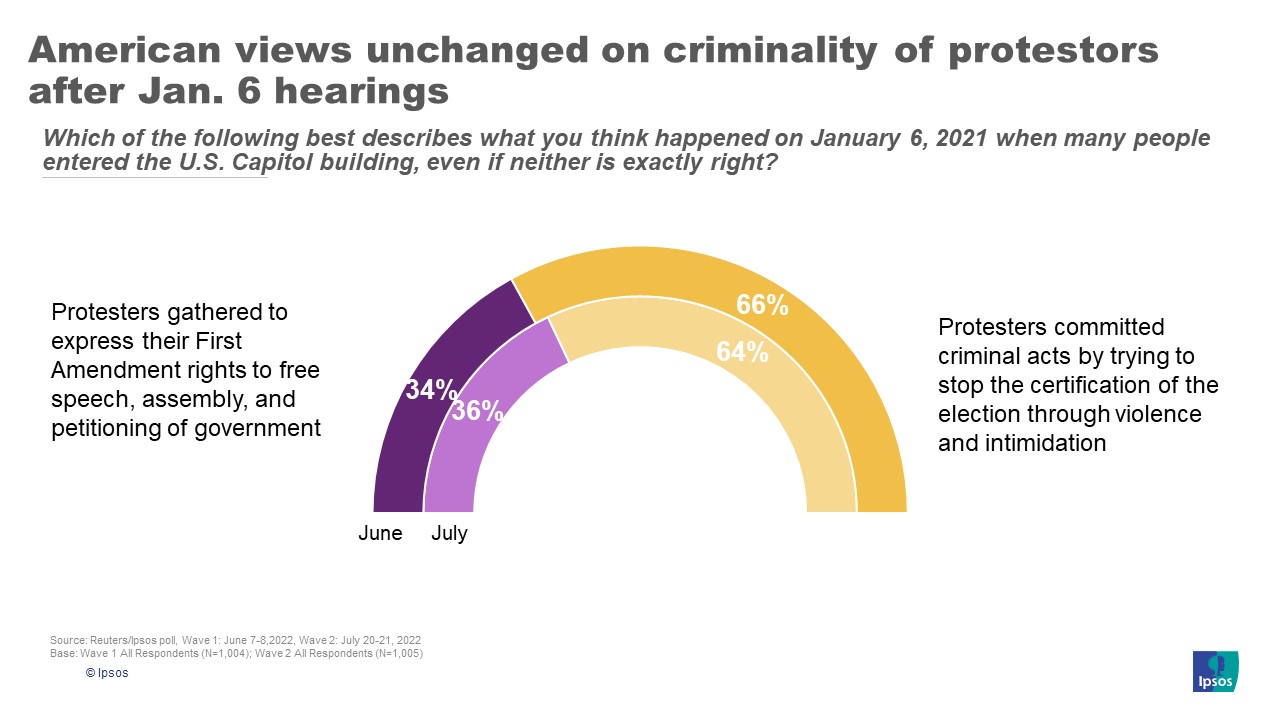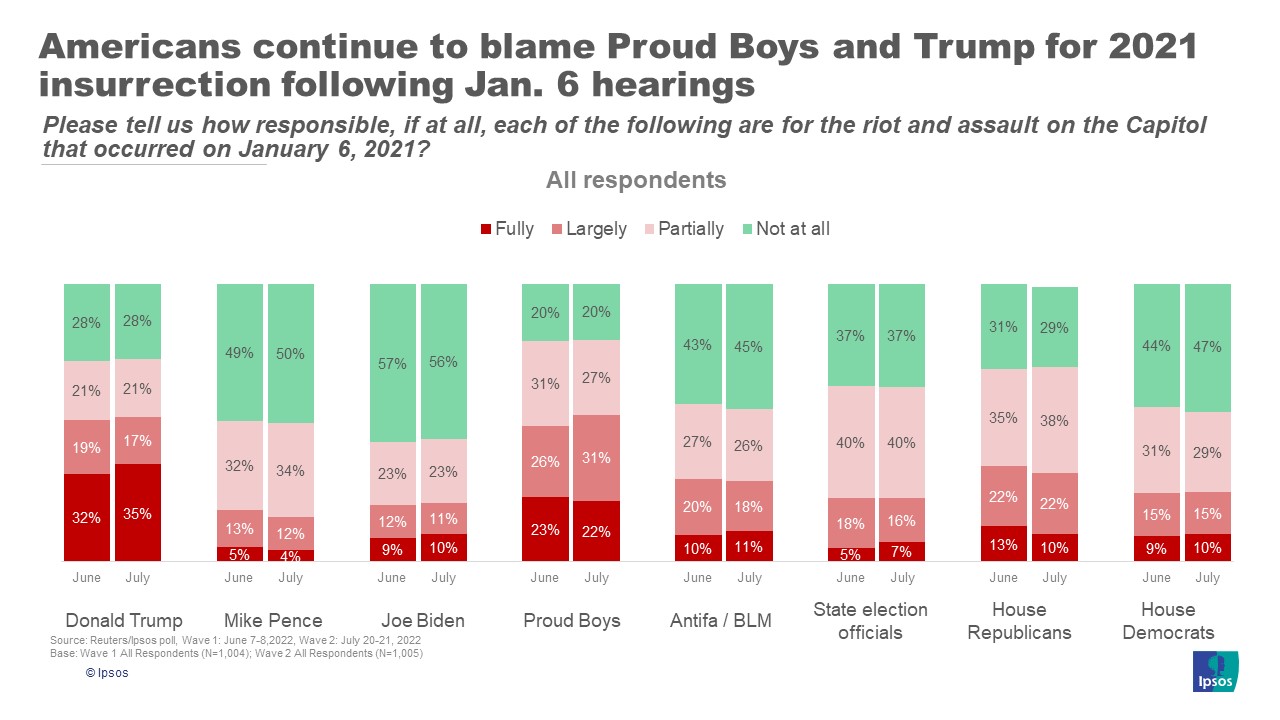 Regardless of these consistencies, there have been some key changes in Republican opinions since the hearings. Today, Republicans are less likely to say the results of the 2020 election were the result of illegal voting or election rigging (51%, down seven percentage points from early June). Additionally, while over half of Republicans (55%) still agree that the 2020 election was stolen from Donald Trump, this is down 12 points from early June when 67% of Republicans thought the same. Republicans are also slightly less likely to disagree with the idea that Trump should NOT run for president again in 2024 (58%, down 7 points from early June (65%)). Overall, while there is little significant shift in views towards the 2020 election or the January 6 events, these surveys do suggest they have weakened Donald Trump's hold on the Republican base by some measure.
The Congressional Committee has completed their summer hearings, but they reserve the right to hold further hearings later on. They plan to publish their findings in the fall.
Please visit www.reuters.com to read the full article.
About the Study
These are some of the findings of an Ipsos poll conducted between July 20-21, 2022 on behalf of Thomson Reuters. For this survey, a sample of 1,005 adults age 18+ from the continental U.S., Alaska, and Hawaii was interviewed online in English.
The sample was randomly drawn from Ipsos' online panel, partner online panel sources, and "river" sampling and does not rely on a population frame in the traditional sense. Ipsos uses fixed sample targets, unique to each study, in drawing a sample. After a sample has been obtained from the Ipsos panel, Ipsos calibrates respondent characteristics to be representative of the U.S. Population using standard procedures such as raking-ratio adjustments. The source of these population targets is U.S. Census 2019 American Community Survey data. The sample drawn for this study reflects fixed sample targets on demographics. Posthoc weights were made to the population characteristics on gender, age, race/ethnicity, region, and education. 
Statistical margins of error are not applicable to online non-probability polls. All sample surveys and polls may be subject to other sources of error, including but not limited to coverage error and measurement error. Where figures do not sum to 100, this is due to the effects of rounding. The precision of Ipsos online polls is measured using a credibility interval. In this case, the poll has a credibility interval of plus or minus 3.8 percentage points for all respondents. Ipsos calculates a design effect (DEFF) for each study based on the variation of the weights, following the formula of Kish (1965). This study had a credibility interval adjusted for design effect of the following (n=1,005, DEFF=1.5, adjusted Confidence Interval=+/-5.3 percentage points).
For more information on this news release, please contact:
Chris Jackson
Senior Vice President, US
Public Affairs
+1 202 420-2025
Annaleise Lohr
Director, US
Public Affairs
About Ipsos
Ipsos is the world's third largest Insights and Analytics company, present in 90 markets and employing more than 18,000 people.
Our passionately curious research professionals, analysts and scientists have built unique multi-specialist capabilities that provide true understanding and powerful insights into the actions, opinions and motivations of citizens, consumers, patients, customers or employees. We serve more than 5000 clients across the world with 75 business solutions.
Founded in France in 1975, Ipsos is listed on the Euronext Paris since July 1st, 1999. The company is part of the SBF 120 and the Mid-60 index and is eligible for the Deferred Settlement Service (SRD).
ISIN code FR0000073298, Reuters ISOS.PA, Bloomberg IPS: F.P. www.ipsos.com