South Carolina Debate Underscores Fractures in Democratic Party
In an ugly debate, few came out ahead.
South Carolina will likely be a pivotal moment in the contest for the Democratic nomination, given how divided and volatile the race has been so far. The pressure was on for the candidates who qualified for Tuesday night's Democratic Debate in Charleston, South Carolina to make their case to voters heading to the polls on Saturday.
It was the ugliest debate yet, as candidates talked over each other, cut into each other's commentary, and sought to tear down current frontrunner Bernie Sanders. Hecklers in the audience only added to the general sense of chaos onstage.
Post-debate polling and analysis of the Ipsos Twitter tracker suggest that there was no definitive winner of the night, though Sanders and Joe Biden were deemed to have had the top two debate performance in the post-debate polls.
Elizabeth Warren and Pete Buttigieg got a particularly favorable response on Twitter during the Democratic Debate. That divergence of opinion in the polls and Twitter underscores that the most active users on Twitter tend to skew younger. Twitter demographics are not always reflective of the demographics of the full electorate.  
Sanders and Biden ahead in FiveThirtyEight/Ipsos polling
Though he was the focus of numerous attacks from other candidates, Sanders was thought to have had the best performance of the night according to people who tuned into the debate, per FiveThirtyEight/Ipsos post-debate polling.
As the chart below shows, the Vermont senator was followed by Biden, who was clearly doing his utmost to be a more forceful presence on Tuesday night than he has in earlier debates. Biden managed to turn around his lagging post-debate appraisals in time for the South Carolina primary, which will likely be a key turning point for his campaign.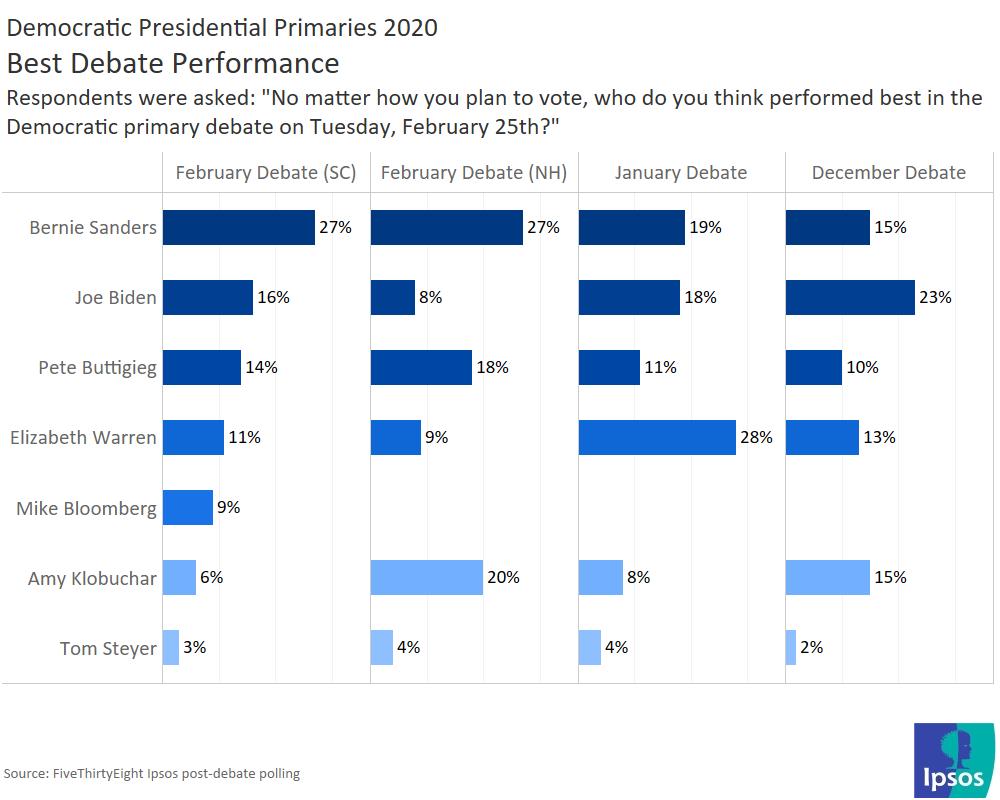 Sanders is leading the pack for now when considering factors other than the debate, such as results from early voting states and strong polling numbers. It's looking increasingly likely that he may be the nominee, but he's not in the clear just yet. Democrats are divided on which candidate they see most favorably, as the chart below shows.
Sanders, Biden, Warren and Buttigieg all get good reviews from potential Democratic voters.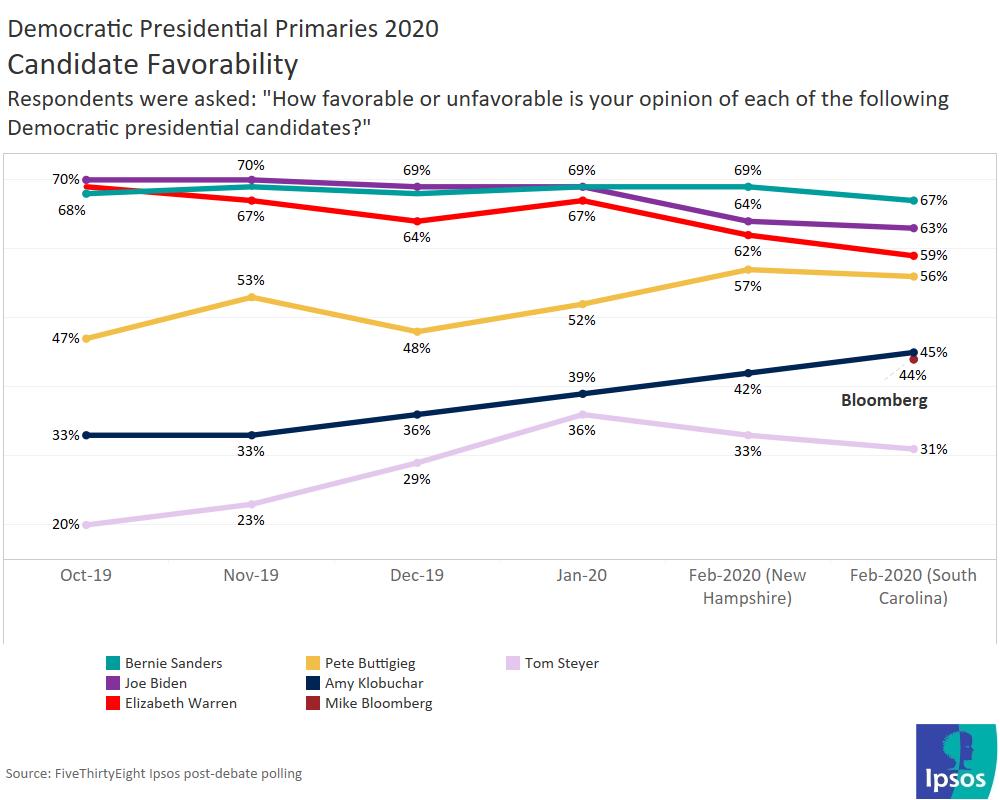 As the race has proven so far, this lack of consensus on a clear favorite has contributed to some surprising early results, such as Klobuchar's third place finish in New Hampshire.
Twitter responded best to Warren and Buttigieg
Another key data point to interpret debate performance is Twitter and social media. Ipsos followed the South Carolina Democratic Debate with the live Ipsos Twitter tracker, which captures net sentiment and overall volume of mentions about each of the candidates in real time.
Warren and Buttigieg came out of the debate with the best reviews on Twitter, as the chart below shows.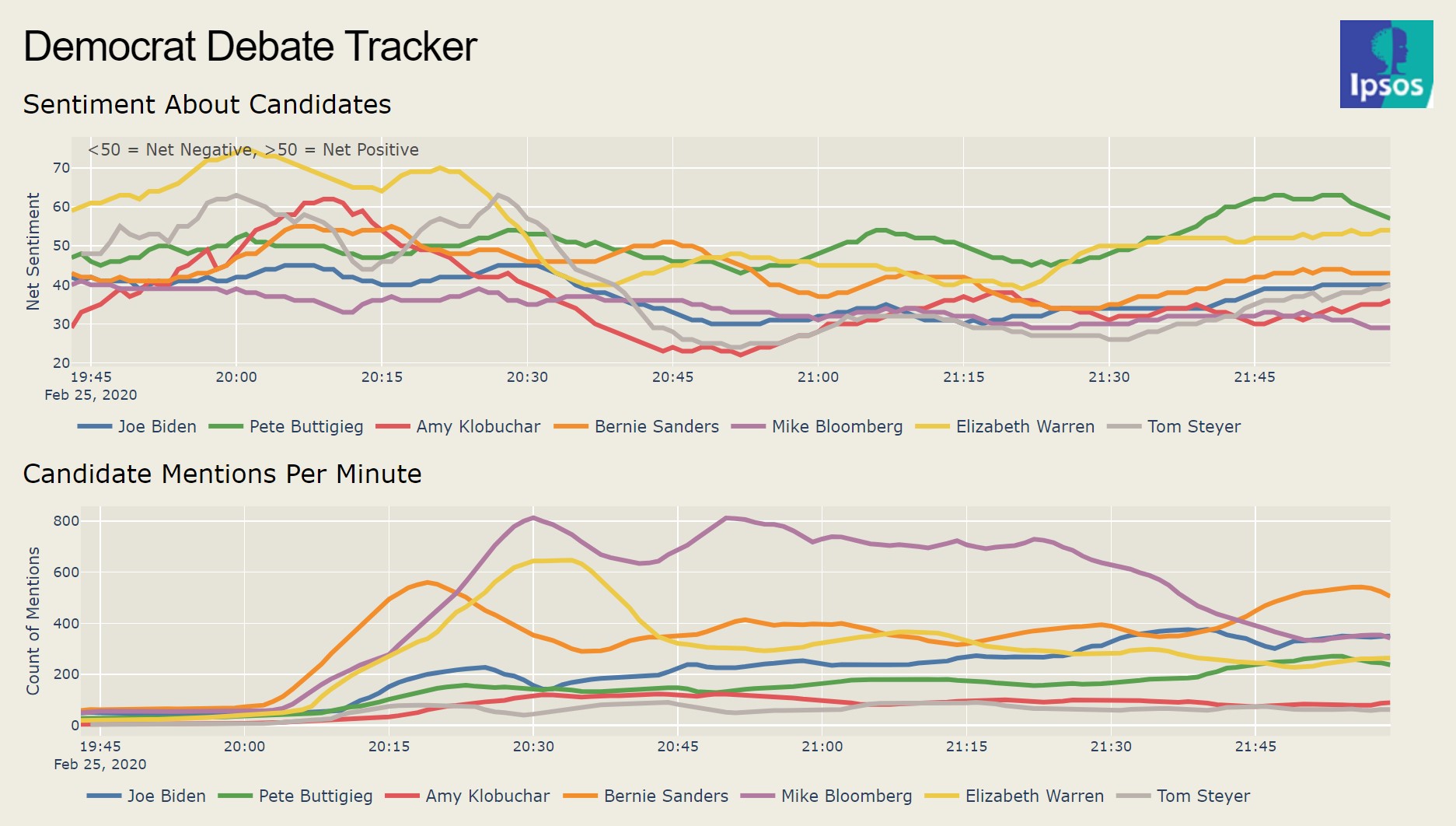 The reaction on Twitter to Warren and Buttigieg maps closely with how they were perceived on social media leading up to the debate.
Over the past six days, Warren and Buttigieg emerged as the candidates generating the most positive feedback on social media platforms nationally per Political Atlas 2020, a collaborative project between Ipsos and the UVA Center for Politics that is tracking key metrics about the 2020 race. According to Political Atlas, net sentiment about Warren sits today at 61% and 58% for Buttigieg (any percentage above 50% can be viewed as "net positive," anything below as "net negative").
While reactions to candidates on Twitter do not offer a comprehensive picture of how the electorate in totality feels about each of the candidates, nor is it necessarily predictive of what will happen when voters head to the ballot box, it is an effective means of capturing off-the-cuff responses to candidates. Twitter trends underscore which moments on the debate stage resonated most with viewers.
What comes next in South Carolina
Heading into last night's debate, the stakes were high for all the candidates, but perhaps the most so for Joe Biden. Having amassed just 15 delegates so far, compared to Sanders' 45 and Buttigieg's 25, Biden needs some wind in his sails to keep his campaign viable.
Biden has strong support in the state among the African American community, and on Wednesday won the endorsement of Representative James Clyburn, an influential Black leader in South Carolina. During the debate, he was candid about his hopes for a win in South Carolina, responding to moderators' rather pointed questions about whether he plans to drop out of the race if he fails to win big in South Carolina.
"I don't expect anything. I plan to earn the vote. I'm here to ask. I'm here to earn it. But, folks, I intend to win South Carolina, and I will win the African American vote here in South Carolina."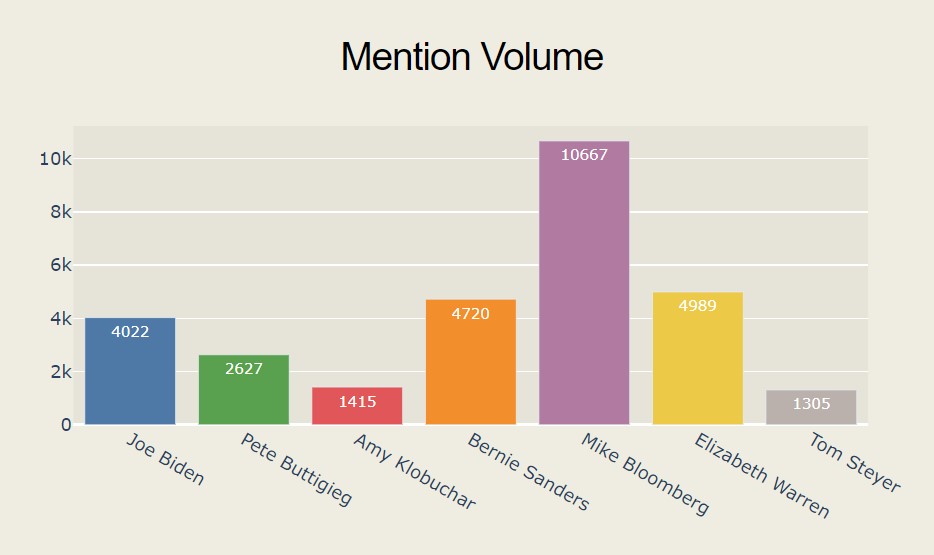 In contrast with the past few debates, where he hasn't drawn much attention on Twitter, Biden was visibly trying to bring more energy to the debate stage. Twitter took note, and he got more mentions this time around. However, many of these may have come from the fact that "Did Biden" was trending, as Twitter users joked about Biden's occasional propensity to stray into inaccuracies.
Biden's comment that "150 million people" have died by gun violence since 2007 in particular got people talking as Twitter wondered, "'Did Biden' really say that?"
Though Sanders is in the lead heading into South Carolina and Super Tuesday, just how he'll do in South Carolina is a bit more of a question mark. It's worth remembering that the Palmetto State went to Hillary Clinton in a landslide in the 2016 primary. That said, the political landscape in 2020 is completely different than it was just four years ago.
Still, the most definitive means of assessing how the candidates are faring can only come from how voters choose to vote come election day. With the South Carolina primary coming up this Saturday and Super Tuesday a few short days after, there will be an answer soon.