South Carolina's Social Media Networks Respond to the Democratic Candidates
Heading into South Carolina's Democratic Debate, how do the candidates stack up on social media?
Tonight, seven candidates vying for the Democratic nomination will face off on the debate stage in Charleston, South Carolina. Heading into the debate, social media is already buzzing about the candidates - or at least some of them. At the moment, Senators Bernie Sanders and Elizabeth Warren are getting the most attention in the Palmetto State.
Ipsos is tracking key metrics about the race via the Political Atlas 2020, a live tracker providing up to the minute analysis of polling data, social media sentiment and more.
Political Atlas 2020 measures social media share by tracking social media posts containing candidates' names, social media accounts or campaign hashtags. The bulk of the social media traffic that Political Atlas captures comes from Twitter, since that is where much of the off-the-cuff political commentary occurs, followed by Facebook and Instagram.
Sanders is getting the most attention on South Carolina social media networks relative to other candidates, eating up 28% of the total social media share as of mid-afternoon on Tuesday, followed by Warren at 19%.
Though Sanders might be getting the most attention on social media, sentiment about the Vermont senator is mixed across the state – perhaps in response to his controversial remarks about Fidel Castro in a recent "60 Minutes" interview. Only a handful of counties are responding to him well on social media.
South Carolina's social media platforms were responding best to Warren heading into the debate, more so than any other candidate. Statewide, social media was swinging towards a 60% net positive sentiment about the Massachusetts senator on Tuesday afternoon.
This tracks with how Warren is doing nationally on social media in terms of sentiment. At least on Twitter, the Massachusetts senator has picked up some positive momentum following her strong performance and her blistering attacks on Mike Bloomberg at the Nevada debate last week. The Las Vegas debate grossed $2.8 million for her campaign overnight.
A Tik Tok video created to celebrate Warren's "take no prisoners" approach to the Nevada debate seems to have captured the general zeitgeist, racking up more than 122k likes on one Tweet alone as of late Tuesday afternoon.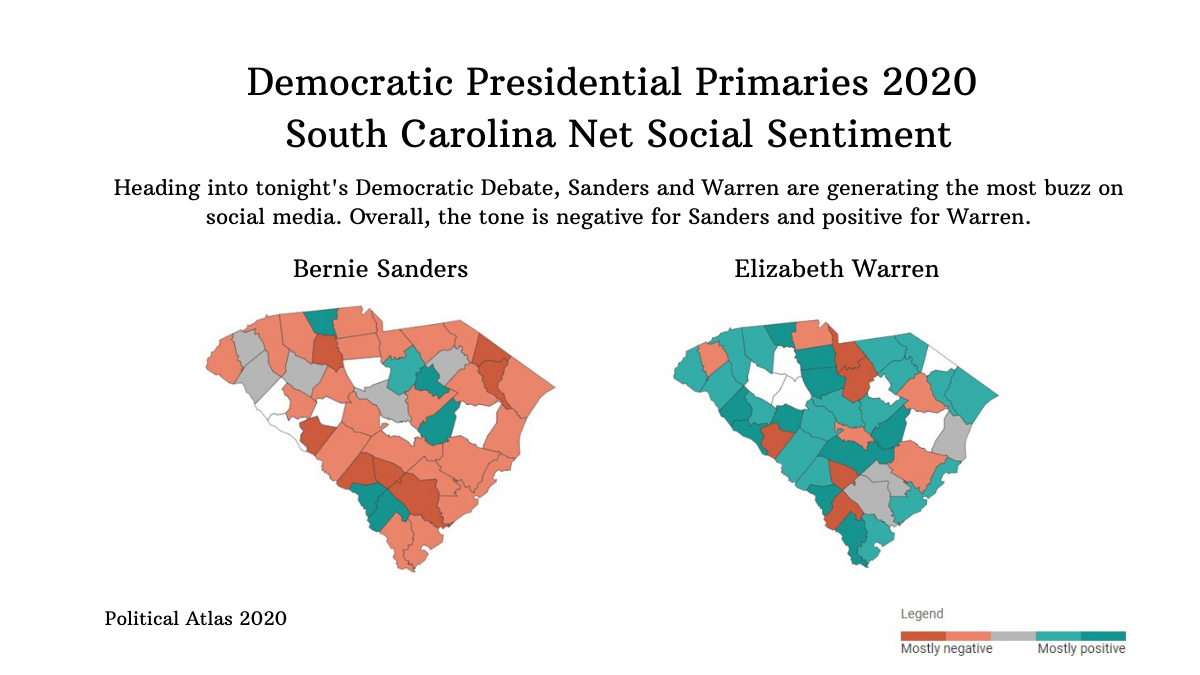 Sidenote: Counties that went for Trump in 2016 are particularly negative towards Sanders on the South Carolina social media map as of Tuesday. Meanwhile, Warren is doing well social media-wise in many of the same counties that went for Clinton.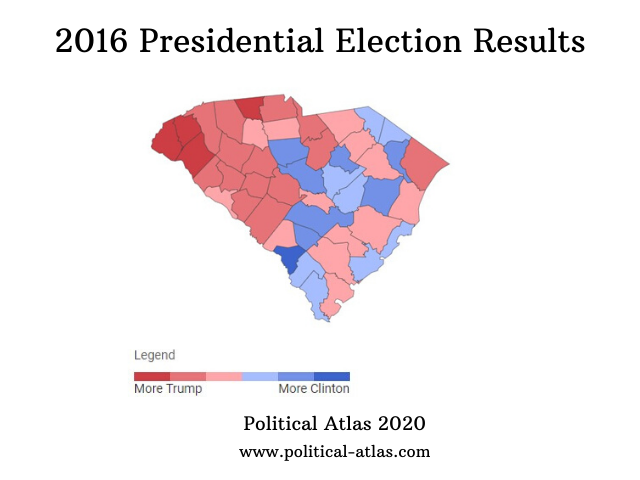 Former Vice President Joe Biden has been banking on rallying his flagging campaign in South Carolina, building on his strong support with the African American community. However, heading into the debate, he is getting less buzz than Warren or Sanders, with just 13% of social media share of voice across the state. For the most part, sentiment about Biden is just shy of neutral and leaning towards negative overall, at 48%.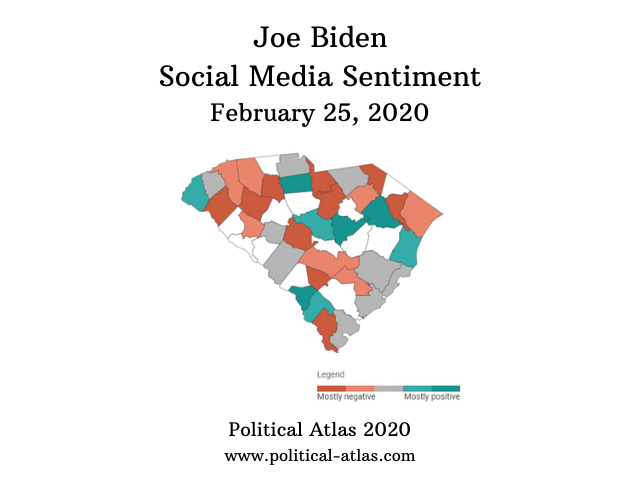 As of Tuesday afternoon, South Bend mayor Pete Buttigieg was tied with Biden for share of social media voice. Buttigieg garnered 12% of the total share of voice, but the commentary he is receiving is trending towards positive overall. He is just behind Warren in terms of net sentiment at 58%.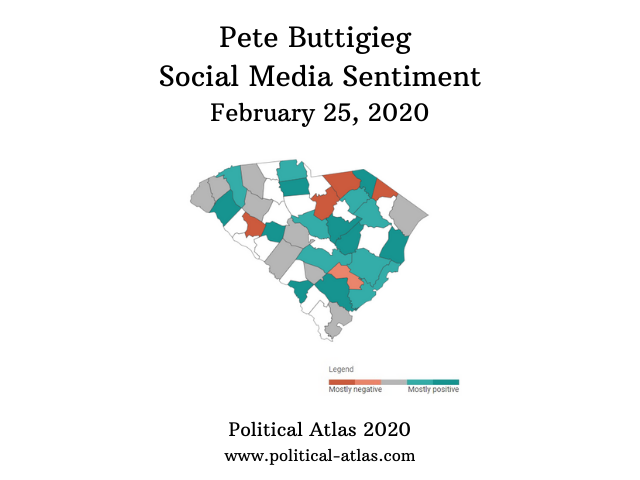 Nowhere to be seen on social media? Tom Steyer, the billionaire candidate who has spent millions on ads in key states, including South Carolina, and lobbied hard to capture the attention of South Carolina's African American population. Despite all that spending, he is taking up just 5% of the total share of voice.
Tonight, Ipsos will track the debate on Twitter to capture responses to the candidates' performance in real time, both for Twitter at large and for social media channels in South Carolina specifically. Follow us at @PoliticalAtlas, @jcbjackson and @callisonmorris.
Post-debate, the social media profile of the Palmetto State may look radically different at this critical juncture in the primaries.