Socialogue: Share and Share Alike? Not Exactly.
Global
- With the "like" and "share" symbols in front of us at every click and with the ability to comment or start a flow of conversation as easy as flipping a light switch, it's not surprising that just over eight in ten of us share some part of our lives online. Interestingly, nearly 25% claim they don't hold back and share most things or everything online. No filter. No privacy. This outspoken segment is balanced somewhat by the 19% who say they share nothing online. Every age demographic, from those younger than 35 (87%) to those older than 50 (72%), shares something. Some may feel that people are sharing too much information (TMI), but the more consumers share, the more opportunity a brand has to learn a lot about consumers and use what they learn to create messaging that is more likely to get liked, shared and re-posted. Bet you "like" that!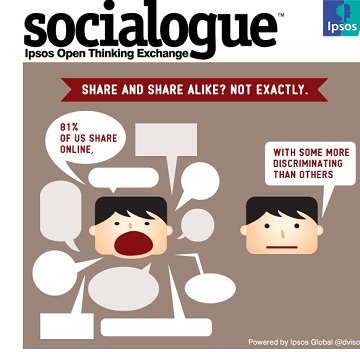 (Click to enlarge image)
Ipsos Open Thinking Exchange (Ipsos OTX) and Ipsos Global @dvisor are pleased to share the latest proprietary global infographic and commentary on the trends and behaviors that define people's lives in today's social media age.
---
More data and full technical details are available in the Detailed Tables document on the right.
For more information on this news release please contact:
Jill Wiltfong Senior Vice President, Marketing Ipsos Open Thinking Exchange 310.736.3440 [email protected]
About Ipsos Open Thinking Exchange
Ipsos Open Thinking Exchange (Ipsos OTX) is Ipsos' global innovation center. This multi-disciplinary team of researchers, strategists, digital natives, and design technologists is blending advancements in technology and a cultural shift toward social interactions to create the future of research, one that is immersive, collaborative, authentic and relevant. SocialogueTM is an ongoing publication from Ipsos OTX which features proprietary, global infographics and commentary on social media trends and behavior. For more information on the current suite of Ipsos OTX social media research tools, to find more about our Futures initiatives or to obtain social media details by country, contact us at [email protected]
About Ipsos and Ipsos Global @dvisor
Ipsos is the world's third largest market research company. With offices in 84 countries, Ipsos offers a complete line of custom, syndicated, omnibus, panel and online research products and services. Ipsos Global @dvisor is a 24-country, online, monthly syndicated research service used to generate information for media and clients. Every month, we complete 500 to 1,000 online interviews in each country. For more information visit www.ipsosglobaladvisor.com or contact us at [email protected]