Women and COVID Vignettes: One year out
What you need to know: 
The coronavirus pandemic set the clock back on gender parity in the workforce, with particularly disastrous repercussions for female employment. Job losses fell most heavily on women of color, in yet another blow for equity.
Women are more likely to be shouldering the bulk of childcare, and their work is suffering as a result.
Paradoxically, women tend to be both more concerned about the virus than men and more apt to adopt COVID safety precautions, like wearing masks and social distancing – but, for some, this concern does not extend to a willingness to be vaccinated for COVID-19.
Deep Dive:
The COVID-19 pandemic upended day-to-day life for everyone, but some groups are suffering more than others. For women in America, the pandemic has had far reaching implications, affecting their standing in the workforce and putting new strain on their finances. Women of color are even more acutely affected by these larger trends, while many mothers had to make a choice between continuing to work or dropping out to focus on their children.
In light of all this stress, it should come as no surprise that women are more likely to say that the pandemic is taking an emotional and mental toll. Below, we outline how the pandemic shaped women's lives over the past year, using data from the Axios-Ipsos Coronavirus Index, the Ipsos-Forbes Advisor U.S. Consumer Confidence Tracker and other sources. To download our paper on this topic, please click here.
Women are more worried about the coronavirus: Concern about the coronavirus spiked dramatically in the early days, but women have always been more worried about the virus than men, according to the Axios-Ipsos Coronavirus Index. This has implications for behavior as well – women were earlier adopters of masks and remained more likely to social distance than men.
Partisanship plays a role in how women respond to the virus.  Women's views and behaviors around the virus follow broader partisan patterns, with Republican women reporting lower levels of concern about the virus than Democrat and Independent women. A supermajority of all women report wearing a mask at least some of the time. Among Democrat and Independent women, that percentage is close to 100%, while hovering at around 90% among Republican women.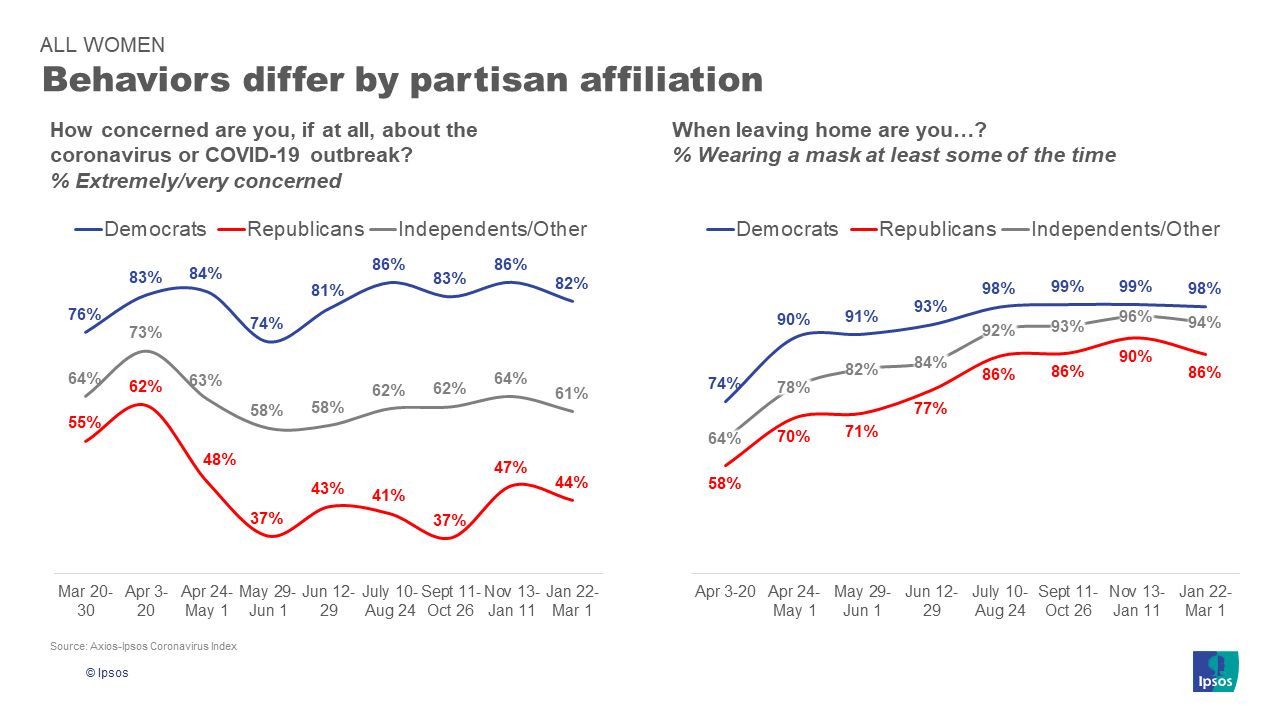 How women fared in the COVID-19 economy: While the Great Recession decimated male-dominated industries such as manufacturing or construction, the coronavirus economy has proven much worse for the sectors that predominantly employ women, like hospitality, retail or healthcare – striking a blow to female parity in the workplace. Not only are women more likely to lose their jobs as a result of the pandemic, but they are also more likely to report stress about savings, speaking to the lack of a financial safety net that many women had leading into the pandemic. Given these factors, it should come as little surprise that men consistently report higher levels of consumer confidence throughout the pandemic according to the Ipsos-Forbes Advisor U.S. Consumer Confidence Tracker.
Economic pressures on women of color: However bad the pandemic has been for women as a whole, it has been even worse for women of color, who were already vulnerable to job losses and other economic pressures. The Axios-Ipsos Coronavirus Index consistently finds that Black and Hispanic women are more likely to report more concern about paying the bills and that their household debt has increased than white women.
Mental health: For women, the pandemic has not been easy, with many reporting that their mental health was worsening week-to-week. The emotional weight of the pandemic fell hard on all Americans, but particularly so on women. However, the status of women's mental health becomes more variable when race is factored in. White and Hispanic women were more likely on average to report that their mental health was worsening over each phase of the pandemic, with white women noting bigger swings in how they were feeling. Black women are consistently less likely to say their mental health is getting worse – but all three groups appear to be approaching a new equilibrium at this point in the pandemic.
Parenting during a pandemic: COVID-19 brought about added pressures for parents who, with schools going virtual, suddenly found themselves in the position of being round the clock caretakers and education supervisors. Women shouldered the bulk of the burden, Ipsos research found, with a particularly negative impact on their work life. According to the Axios-Ipsos Coronavirus Index, mothers were more likely to say they were struggling to keep up at work than fathers. One year on, this is still the case. Though both men and women appear to have gotten into a better rhythm around work in the pandemic, there is still an nine point gap between men and women on this question.
Vaccine hesitancy: Initially, most Americans were highly skeptical of vaccines. In September 2020, just 37% of the population said they would get one. Since then, the context has radically shifted, post-FDA authorization and widespread rollout. Today, Americans overall are much more open to getting the vaccine. But certain demographics lag behind. Crucially, Hispanic women are among the least likely to say they are going to get the first-generation vaccine. Black and Hispanic Americans are hardest hit by the death toll of the virus, so much so that Black Americans have lost 2.7 years of average life expectancy due to the virus. Among Hispanic Americans, average life expectancy fell 1.9 years.
The most skeptical however are mothers, who could have a big say in whether their families are vaccinated or not. According to the February through March 2021 waves of the Axios-Ipsos Coronavirus Index, half of mothers said they unlikely to get a first-generation version.
For many women, and particularly those most vulnerable, the past year was one of extreme stress and hardship. Thankfully, there is new light at the end of the tunnel in the form of vaccines, which offer hope for a return to some form of a post-pandemic normal. Yet even once we arrive at this post-COVID future, the repercussions of 2020 will likely have consequences for years to come. Understanding the full impact of the first year of the pandemic is essential before we can create a more equitable post-COVID world.
For related reporting on these trends, please visit The 19th's full story: here.