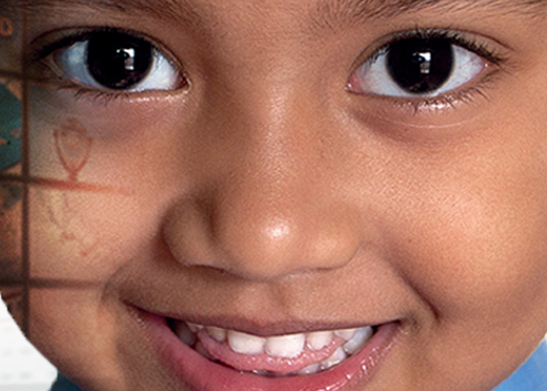 Survey Management, Data Collection & Delivery: Ipsos Observer
OUR SOLUTIONS
Custom Panels
We understand the importance of keeping your finger on the pulse of the consumers that matter the most to you. Our Custom Panel offer provides you the ability to speak directly to your key customer segments on an ongoing, regular basis and to follow trends in attitudes that drive consumer behaviour.
Client context
A Custom Panel may be the right solution for your organisation if:
You are looking for a Customer-centric approach.
You need to collect frequent insights among the same segment of customers, be in regular contact with them, and occasionally even interact directly with them.
You need to track the performance or monitor the perception of a product, a service, or a brand among the same group of people.
You are looking for research flexibility across a wide range of quantitative and qualitative activities, from quick-turnaround to more sophisticated studies.
Solutions
As one of the leaders in panel development and management, Ipsos will build a panel exclusively for your organisation, customised to provide you direct access to your customers and stakeholders, allowing for quick feedback and deeper insights on specific business issues, plus tracking of panel members' experiences over time thanks to a long term relationship with them. We offer you the flexibility to quickly and efficiently survey customers in a timely and cost efficient way. Your panel will be built and managed with the benefit of Ipsos' expertise, and high quality standards in recruitment, panel management and surveying.
Our highly experienced team will partner with you throughout the life of your custom panel. This client-focused team will provide support to design, recruit and maintain an active and engaged panel that will generate valuable and actionable insights. Having an actively engaged and on-tap panel allows you to conduct a wide range of research activities on your schedule.
We provide access to a sophisticated panel management, engagement and survey platform including a mobile app. However, we do not provide technology alone, we offer a full suite of customisable products and services. You are able to do quick screenings, deep dives, run longitudinal to fast turnaround surveys, multi-panelist chats, discussion forums, panelist blogs/diaries, expert blogs and quick polls…all with ease.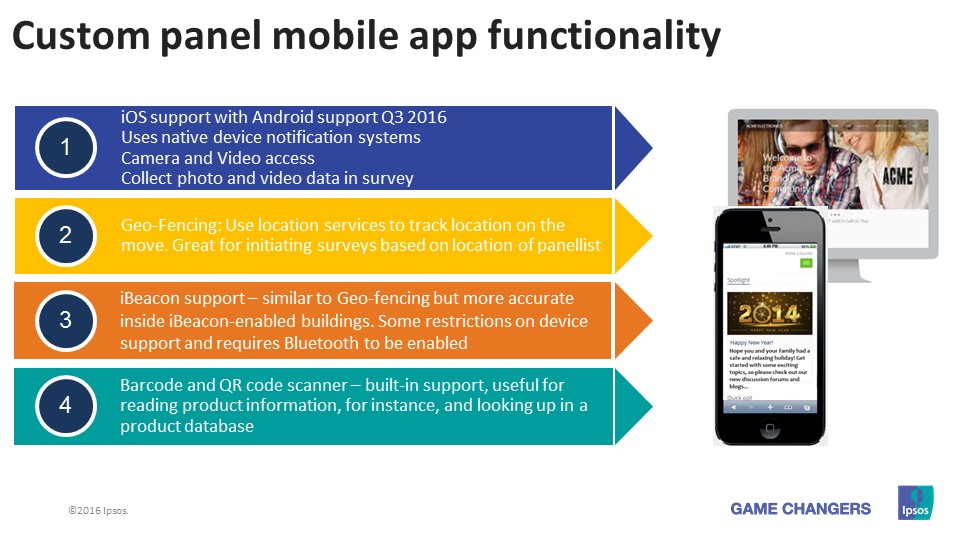 Our engaging platform provides a visually attractive and fun-to-use environment. We can easily turn a survey into a gamification exercise with our visually engaging question types.
Ipsos Custom Panels provides multiple options to fit your research needs
Express panel An Express Custom Panel is built on a shared platform. It has the benefits of being proprietary to a single client but provides cost savings through infrastructure that is shared between other Ipsos panels.
Classic panel Using a Classic Custom Panel ensures that the client has their own proprietary platform with sole access including customised portal features.
Enhanced panel Our most sophisticated offering, an Enhanced Custom Panel provides a client with their own proprietary platform with sole access and increased customisation with our highest level of portal customisation and member engagement.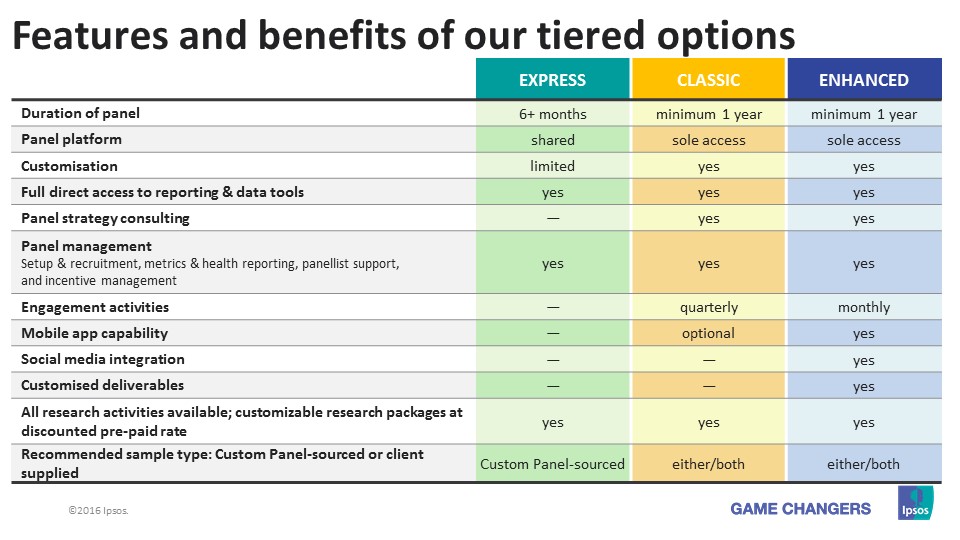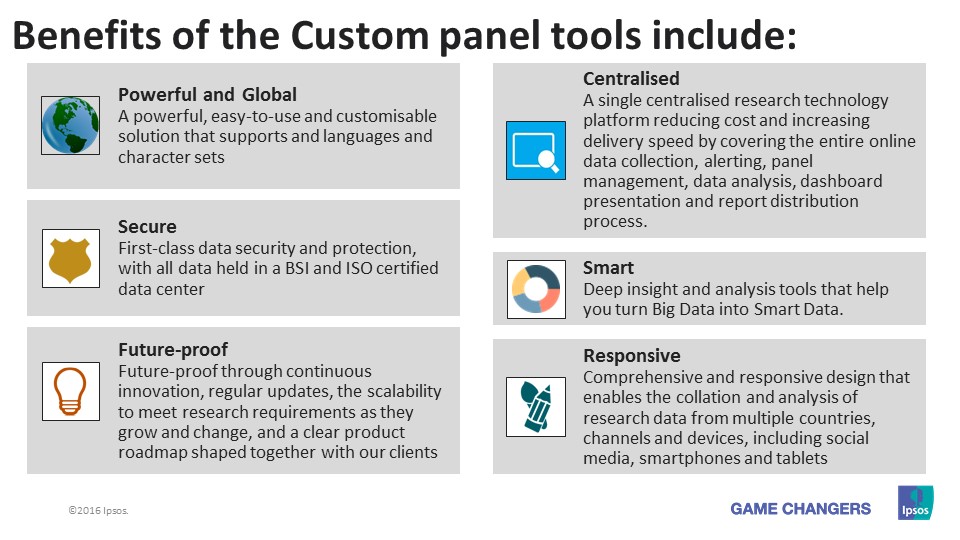 Case studies
Customers optimise creative execution
BUSINESS NEED: A leading global beauty company needed to optimise their advertising and marketing programs amongst key consumer segments. An important element of their marketing strategy are promotional materials that are produced throughout the year, each with its own unique imagery and design. Our client required a rapid turnaround of customer input to fit into a tightly orchestrated production schedule.
OUR SOLUTION: An on-demand panel of over 3,000 European customers was developed to evaluate different creative approaches for each campaign and provide feedback on product offers, pricing, and design layout. KPI such as appeal and purchase intent were captured in a cumulative database to analyse campaigns against the norms across all campaigns.
CLIENT BENEFIT: By involving customers in the design process, our client was able to identify design issues prior to launch and minimise the risk of a flawed execution. Based on positive stakeholder feedback, our client expanded the panel's objectives to include strategic initiatives, including new product category evaluation. The program was expanded to other regions including South America.
Health Care Insurance Program Enhancement
BUSINESS NEED: A large health care insurance company wanted to reach out to their member base to gain knowledge on how to improve offerings and enhance the online experience for their members.
OUR SOLUTION: 4,000 health plan members were recruited for this panel. Panellists offer feedback on benefit plans and evaluate the functionality of the online tools provided to plan members. Panellists may also share insights via monthly quick polls and discussions on topics that are often further developed into qualitative studies. A suggestion box is available to panel members at all times. Occasional live chats have been used to delve more deeply into target topics.
CLIENT BENEFIT: By engaging regularly with their customer base, our client has established a quick and economical way to gather information they can use to improve the customer experience and retain their customers. Panellist feedback has been used not only to improve the online tools available to members, it has resulted in changes to some of the benefits offered to members.
Customers Drive Engagement Strategies
BUSINESS NEED: A leading credit card provider sought to develop an engagement platform to capture customer feedback and advance important strategic objectives. Our client sought an innovative approach that would align with their positioning as a creative marketer. The solution needed to adhere to stringent privacy and technology requirements due to a complex and difficult regulatory environment.
OUR SOLUTION: A representative panel of over 6,000 Canadian credit cardholders provides feedback on a broad range of initiatives. Panellist input feeds into go/no-go decision-making, ranging from voting on proposed design elements for marketing materials to understanding the appeal of new services. Techniques such as member-produced videos to describe an "ideal customer experience" have been used to deepen understanding around consumer values and promote panel vibrancy.
CLIENT BENEFIT: The customer experience videos were showcased at our client's leadership meetings to promote discussion around on how to more effectively engage with consumers. The cardholder panel has become an important voice in the company decision-making process, influencing business opportunity assessment and resource allocation.