2017 French Election: Mélenchon is Taking the 3rd Place (April 11)
With only two weeks until the French Presidential election, Marine Le Pen and Emmanuel Macron leads the field in the latest Ipsos/Sopra Steria poll conducted on behalf of our media partners France Télévisions and Radio France.
24% of likely voters say they support the National Front Party candidate, such as Emmanuel Macron, followed by Jean-Luc Mélenchon (18,5%) and François Fillon (18%), Benoît Hamon (8%), Nicolas Dupont-Aignan (3.5%) and Philippe Poutou (1,5%). None of the other candidates received more than 1% voting support.
Intention to vote
Nearly two in three (60%) of the interviewees report that they intend to vote in the first round of the election, when turnout is traditionally highest. Intention to vote increases with age.
First-round
Uncertainty is high: 40% of likely voters report that they could still change their mind about who to vote for. This is most likely for supporters of Hamon (57% not definite) Macron (45% not definite), and to a lesser extent, Mélenchon (40% not definite). In contrast, both Fillon's and Le Pen's supporters are more confident in their choices with respectively 21% (each) reporting that their choice isn't definite.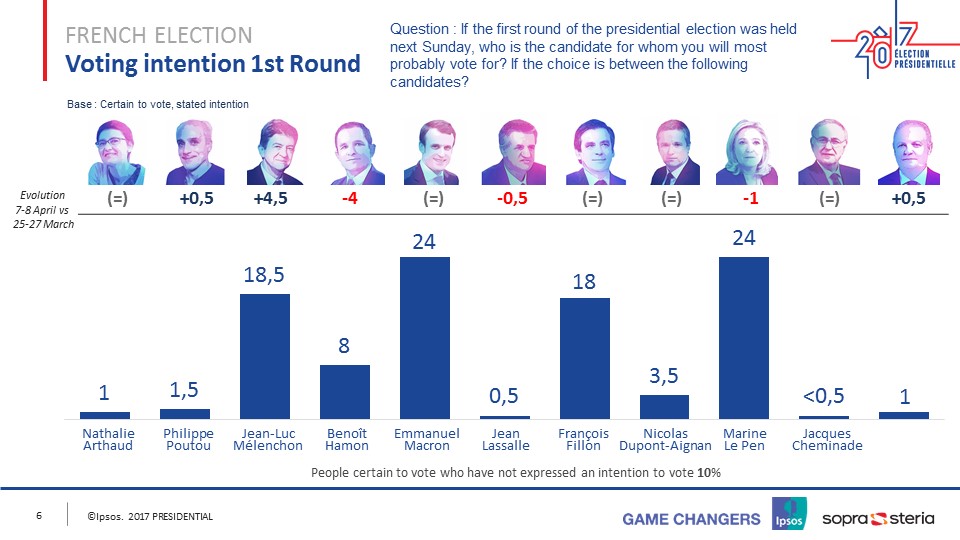 Second round
A second-round vote would likely see Macron opposing Le Pen, a match that Macron would likely win (with 62% of certain voters choosing him vs. 38% for Marine Le Pen). His victory would be assisted by vote transfers from Hamon's electorate (76% would vote for Macron in the second round), and to a lesser extent, from Mélenchon's supporters (47% of whom say they would vote for him on the second round.)
The results are based on a sample of 1,604 registered voters, aged 18+. Interviews were conducted online between April 7 – 9, 2017.