Data in Context: Vacations in Japan
A country briefing on Japan's work and holiday habits, adding cultural depth to survey findings.
In comparison to their international peers, the Japanese employee is least likely to take all of their vacation days, with only 34% reporting that they use up all of their holiday allowance.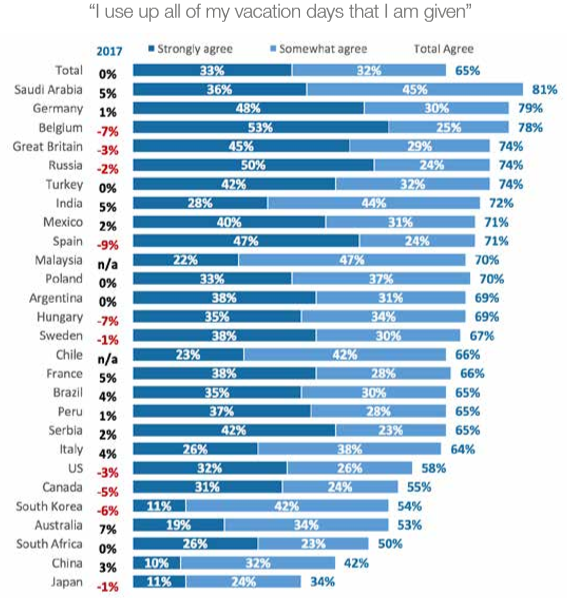 The Japanese are also the least likely to take one full week away on vacation in a given year, with only 24% agreeing that they do this. And while on holiday, only one third state that they do not check their work messages or emails.
These figures adds to the perception of the Japanese as workaholics, but report authors Deanna Elstrom and Fumiya Shirahama argue that this is not necessarily the case. They discuss the social and cultural context in Japan as well as other barriers to taking vacation, helping to explain the humans behind the numbers.
In Japan, vacation days, personal days, and sick days are all grouped together as "kyuuka" (休暇). These are used sparingly across the year for illness, emergencies, occasions such as weddings or caring commitments. So, rather than strictly for holidays, this allowance is paid time off to manage the realities of living.
The social desire to avoid causing "meiwaku" (迷惑), or inconvenience to others, can explain hesitance to use up vacation days.
Also, the Japanese enjoy 22 national holiday days, which is significantly more than other countries. And the additional "obon" (お盆) days in summer, the traditional practice of returning to one's hometown, offer a collective opportunity for uninterrupted time off.
Download