Device Agnostic Surveys a Necessary Evolution 2017
What are device-agnostic surveys? "Device-agnostic" implies that respondents can take in-browser surveys on any device they choose.
Current characteristics of device-agnostic surveys at Ipsos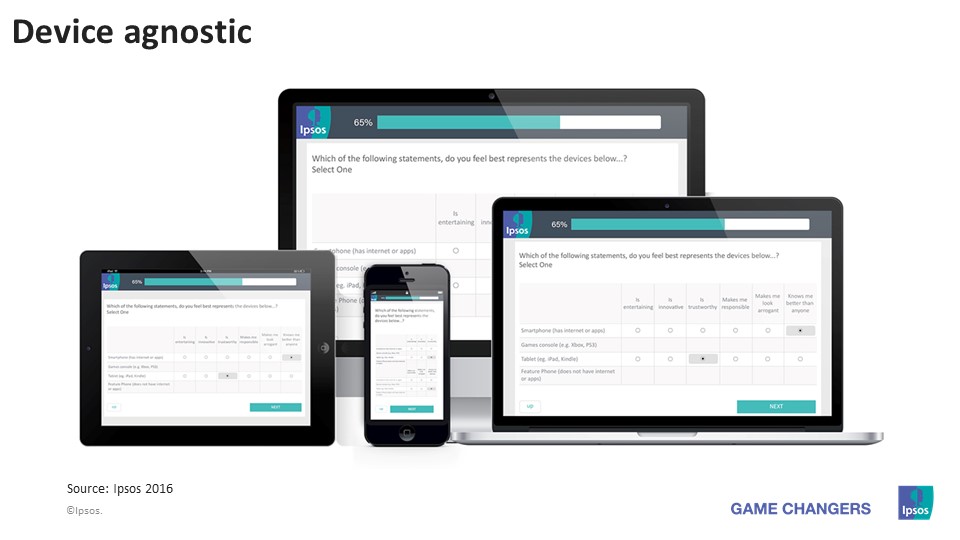 The questionnaire adapts itself to the respondent's device thanks to the Ipsos device responsive survey template (Engage)
The survey is written with the smallest screen size in mind - "mobile first"
The survey is 20 minutes or less.
Why is it critical to move to device agnostic now?
The world is increasingly mobile:
80% of adults will have a smartphone by 2020
Smartphone penetration is strong everywhere and even higher in desirable targets – 18-35.
Internet access via "traditional" means (PC or laptop) is not growing anymore
1 billion people using only their smartphone to access the internet
Because smartphones are an essential part of our lives
Smartphone users connect in short bursts
The mobile phone is already embedded as part of our daily routine – particularly in emerging markets
Whenever and wherever people are, smartphone are always in people's pockets or handbags and used all the time particularly in places where other devices don't go, like in stores.
Thus our research methods need to become mobile too…
To keep samples representative
Most consumers rely heavily on their smartphone to interact with the world.
Excluding mobile respondents from our research prevents us from listening properly.
Not considering this will lead to bias in samples.
Coverage bias: key parts of the target may be missed and survey data skewed
Non-response bias: certain segments may respond less to, or abandon more because their preferred device is not available. Data may be skewed too.
To keep sample targets sustainable
Long-term sustainable research is also linked to the inclusion of smartphone respondents.
Their inclusion will help maintain sample consistency over time.
Including them also helps the entire market research provide the desired respondents for all studies.
Making surveys available to mobile respondents thus device agnostic
At Ipsos, there are two basic conditions to make surveys device-agnostic. 
To conclude, device-agnostic benefits:
Respondent engagement 
Speed
Sample representativity 
Good data quality
Greater coverage 
Easier to find hard to reach targets 
Feasibility / Sustainability