Flair Colombia 2021 - Building on Diversity
Discover the dynamics of a fascinating country through the eyes of Ipsos researchers in this wide-ranging collection of articles on society, markets, and people in Colombia.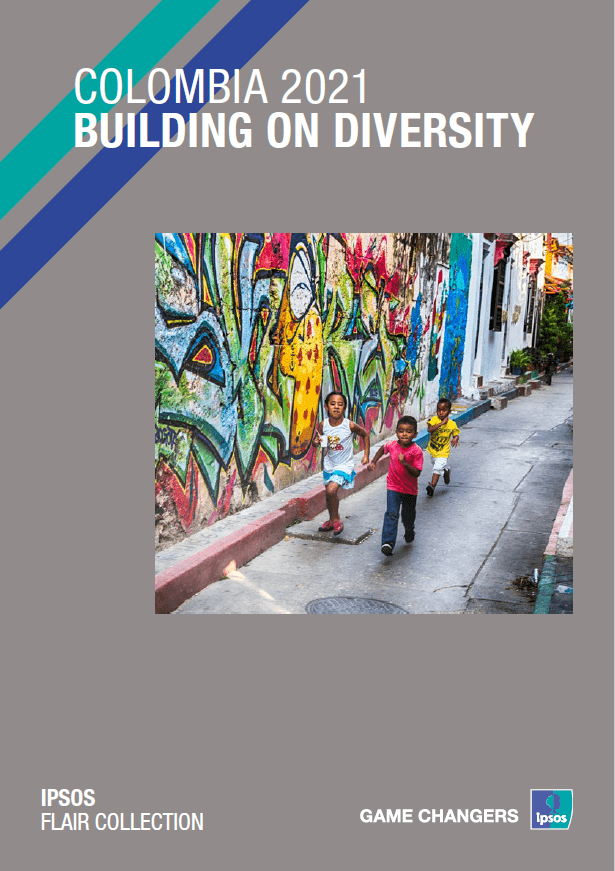 Colombian society is pixelated in its diversity, made up of clusters of homogeneous groups. Where diversity is present, tensions between groups become apparent. Flair Colombia 2021 "Building on Diversity" reflects this reality at a time when Colombia is marked by protests and differences.
Colombians have always known that one of the characteristic features of their beautiful country is its diversity. In primary school, children learn in detail the range of climate zones scaling altitudes, the immeasurable variety of fauna hosted by the land, the infinite universe of flora that adorn the regions, and the different races and ethnicities that have lived together throughout history. It is all is so rich and prolific that people say that five different countries could comprise the nation of Colombia.
Colombia is a hub of creativity, as shown by the many start-up businesses and innovations seeking to solve local or international problems. As one of the strongest-performing economies in Latin America, looking forward, Colombia wants to be the heart of the "Fourth Industrial Revolution" in the region. There are ambitions to make tourism "the new oil" of Colombia and develop a great paradise of global ecotourism, transforming areas where terror has reigned for decades.
The technological, social, cultural, and economic challenges present within Colombia are both ambitious and fragile. They shape the eyes of consumers as much as the strategies of marketers. They express themselves in all the subjects that you will discover in this publication of Colombia Flair.

To give a flavour of the contents of Colombia Flair 2021, here are some of the topics covered by our local experts and researchers:
Jean-Christophe Salles compares perceptions of Colombia with the realities of today's current social context while Ana Leyva looks at Colombia from abroad through the lens of the Colombian diaspora.
Mauricio Sepúlveda writes about Colombia's geography, history and social make-up and defines the ongoing challenge of diversity.
Maria Molina shows us how the top global consumer trends are at the forefront of consumer attitudes and behaviour in Colombia today and explores the key changes people would like to see.
Daniela Rey and Juan Pablo Calderón explain some common Colombian phrases to reveal how popular wisdom is captured in language and passed on through generations.
Sandra Pastan takes us through some surprises from the Colombian census and explains the importance of robust information systems.
Pablo Valbuena writes about risks and rights in relation to the transgender community in Colombia and reflects on the role market research can play.
Mauricio Ramirez gives an overview of how the pandemic has affected customer experience, from both sides of the interaction.
Cristina Querubin presents 6 lessons learned from public policy design in Colombia.
Sandra Patricia Godoy shows how social attitudes are changing through new family formations in Colombia.
---
Ipsos Flair is an international publication that analyses the values and attitudes of consumers and citizens, provides in-depth analysis, and recommends the best strategies for decision-makers. See our other editions in a range of countries here. For more information, please contact: [email protected].