Nation Brands Index 2022: Germany finishes first again with Japan and Canada rounding out the top three nations
Germany finishes in first place again, while Japan overtakes Canada for second place — its best performance since 2018, when it also ranked second. Japan sees strong reputational rankings on the Exports, Tourism, and Culture indices. The United Kingdom's ranking drops again in 2022, moving from fifth to sixth. Russia's ranking falls to the bottom three nations.
These are the results of the Nation Brands Index 2022. Discover the full results of the 2023 edition here.
---
The Anholt-Ipsos Nation Brands Index (NBI) is an annual study that has been conducted since 2008, gathering perceptions of countries around the world. On its 15th anniversary, Germany once again claims first place, continuing its six-year reign at the top. But while 2021 brought strong positive perceptions that many nations benefited from, the 2022 Anholt-Ipsos Nation Brands IndexSM (NBI) is another year of softening scores. The ranking of the top 10 nations has experienced some minor changes since 2021:
Canada falls to third after a record-high second place in 2021.
Japan lands in second for the first time since 2018.
The United Kingdom, which was ranked in second place in 2020 and fifth in 2021, drops once more to take the sixth position. France is now ranked fifth.
Notably, Russia's ranking falls from 27th place in 2021 to 58th place in 2022.
"This year's results remind us that chaos damages countries' reputations, and stability is rewarded," says Ipsos CEO Ben Page. "Britain sees itself fall again, now dropping out of the top five for the first time ever. Russia has been punished for its war by global public opinion, dropping from 27th place last year to 58th now. If Germany is an unexciting country to some, overall it remains world number one yet again. In uncertain times, there is something to be said for predictability."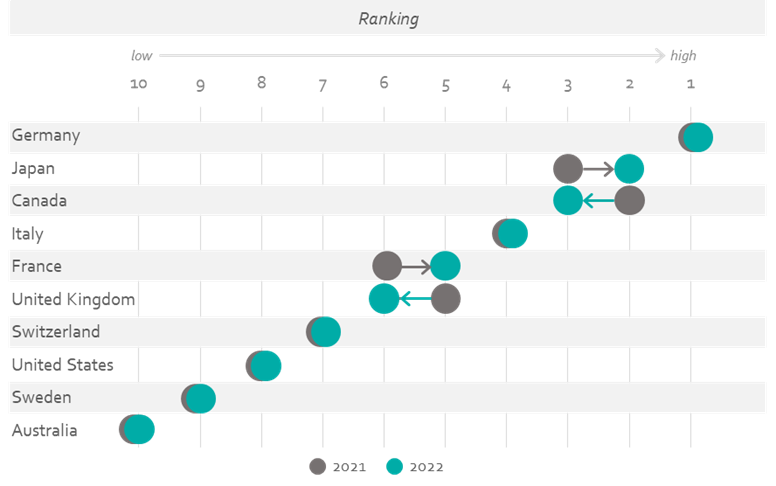 Germany's record-breaking six-year first place run
Germany ranks first out of 60 countries on the Nation Brands Index for the eighth time overall and the sixth year in a row. Germany is the highest-ranked NBI nation in 2008, 2014, 2017, 2018, 2019, 2020, 2021, and now 2022. Last year, Germany was tied with the United States for a record of seven years as the number one NBI nation. Germany now holds the record for the longest streak of consecutive first-place rankings. Germany's reputational strengths continue to come from the Exports, Immigration & Investment, and Culture indices. In 2022, there are particularly positive opinions on feeling good about buying German products, the employability of German people, German sports, and the appeal of investing in German business — all attributes in which it ranks in the top two.
Canada and Japan swap places
After breaking the top two for the first time in 2021, Canada is back in third place. Canada drops in the rankings on Governance, where it once held a first-place ranking. However, it is still the top nation on the People and Immigration and Investment Indices. Japan's robust ratings on the Exports, Tourism, and Culture Indices helped it climb to the second spot on the overall NBI.
The UK is out of the top five for the first time
While the United Kingdom remains a constant in the NBI's top 10, for the first time in NBI history it falls out of the top five. The UK is reputationally sound on the Culture, Exports, and Immigration and Investment indices, and is rated particularly positively regarding its contemporary culture, science and technology, feeling good about buying products from the UK, and educational qualifications. However, the United Kingdom sees weaknesses on the People and Governance indices, where it received lower marks on the welcoming nature of its people and having a competent and honest government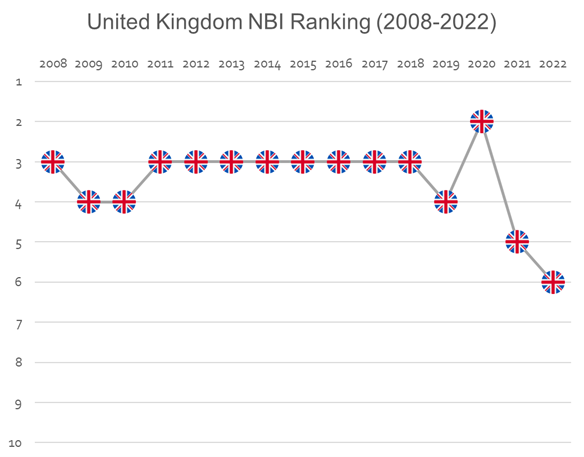 Italy, Switzerland, the United States, Sweden, and Australia hold steady
Italy (#4), Switzerland (#7), the United States (#8), Sweden (#9), and Australia (#10) all retain their top-10 rankings from 2021, despite above-average declines in score. Switzerland, Sweden, and Australia receive high marks on their Governance, People, and Immigration and Investment, while Italy holds first-place rankings on Culture and Tourism. The United States' strengths lie on the Exports index.
Russia now a bottom three nation
In 2021, Russia ranked 27th, with reputational strengths on the Culture, Exports, and Tourism indices. However, in 2022, Russia sees sharp decreases across the board. Russia's 58th place rank is attributed to the declining favorability of its Governance, Immigration and Investment, and People —particularly when it comes to peace and security, willingness to work and live in Russia for a substantial period of time, and the welcoming nature of its people.
"As Russia's image falls by an unprecedented 31 places in the 2022 Nation Brands Index, here is further evidence that humanity simply will not tolerate conflict in the twenty-first century," says Simon Anholt. "A collapse of this magnitude in a country's national standing will cripple the ability of its companies, its government and above all its people to trade and engage with the international community. It will do so more effectively than any economic sanctions, for years, if not for generations to come."
Desire to visit and invest decrease
A longitudinal analysis of 50 Nation Brands Index (NBI) countries between 2015 and 2020, and 60 measured nations from 2021 to2022, demonstrates how the desire to travel declined between 2015-2016 and increased between 2016-2018, only to decline again between 2018 and 2020. In 2022 there is a decrease in desire to travel, bringing it to the lowest it's been since 2016. Of the 58 NBI nations measured in both 2021 and 2022, most nations observe a decrease on this metric.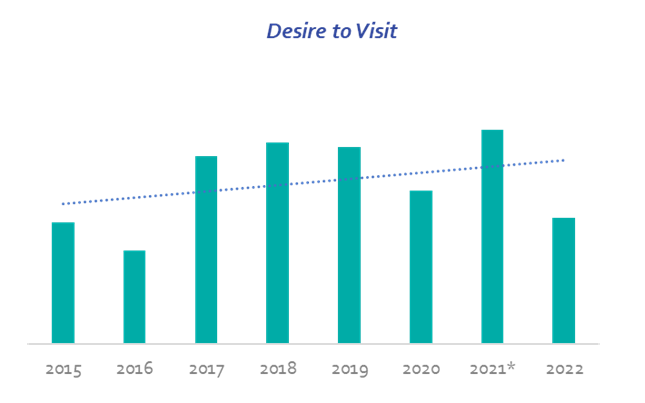 Another longitudinal analysis of 50 Nation Brands Index (NBI) countries between 2015 and 2020, and 60 measured nations from 2021-2022, demonstrates changes to the appeal of investing in other countries' businesses over time. Two sharp declines have occurred over the last eight years: 2020 and 2022. In 2020, economies globally saw the effects of the COVID-19 pandemic, which may have impacted the appeal of investing in businesses during a time of uncertainty, before rebounding to its highest rate in 2021.
The rebound was short-lived, as in 2022, inflation rates have risen globally to rates unseen in years. As such, respondents may be timid toward investing in businesses worldwide. Overall, most nation brands see a decline in investment appeal since 2021.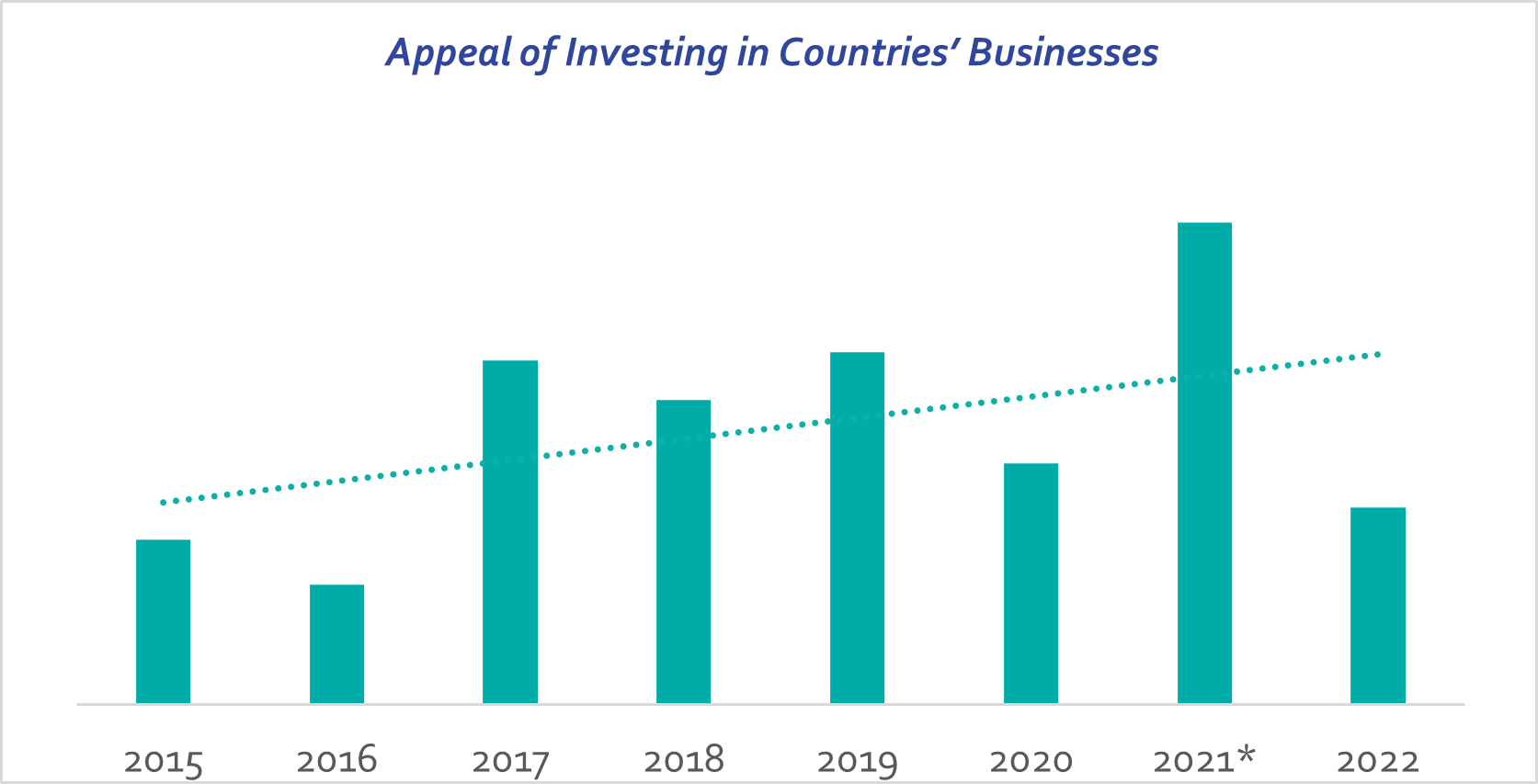 All 60 NBI nation scores and rankings
As with 2021, the full list of nation rankings and scores are published to provide sufficient context for potential movement within the measured country list.
---
About this study
The Anholt-Ipsos Nation Brands Index (NBI) collects over 60,000 interviews online in 20 panel countries with adults aged 18 or over each year. Data are weighted to reflect key demographic characteristics including age and gender. Fieldwork was conducted from July through August.
The nations measured in 2022 are as follows, listed by region:
North America: Canada, the United States

Western Europe: Austria, Belgium, Finland, France, Germany, Greece, Iceland, Ireland, Italy, the Netherlands, Northern Ireland, Norway, Scotland, Spain, Sweden, Switzerland, the United Kingdom, Wales

Central/Eastern Europe: Czech Republic, Hungary, Latvia, Poland, Russia, Slovakia, Turkey, Ukraine, Serbia

Asia-Pacific: Australia, China, India, Indonesia, Japan, New Zealand, Singapore, South Korea, Taiwan, Thailand, Vietnam

Latin America and the Caribbean: Argentina, Brazil, Chile, Colombia, Dominican Republic, Ecuador, Mexico, Panama, Peru

Middle East/Africa: Botswana, Egypt, Israel, Kenya, Morocco, Palestine, Qatar, Saudi Arabia, South Africa, Tanzania, United Arab Emirates
About Simon Anholt
Simon Anholt designed and launched the Nation Brands Index in 2005. Since 1998, he has advised the presidents, prime ministers and governments of 63 countries, helping them to engage more imaginatively and effectively with the international community. He is recognized as the world's leading authority on national image. Professor Anholt also publishes the Good Country Index, a survey that ranks countries on their contribution to humanity and the planet, and is Founder-Editor Emeritus of the Journal of Place Branding and Public Diplomacy. He was previously Vice-Chair of the UK Foreign Office Public Diplomacy Board. Anholt's TED talk launching the Good Country Index has received 12 million views, and is the all- time most viewed TED talk on 'governance'. He has written six books about countries, cultures and globalization and is an honorary Professor of Political Science at the University of East Anglia. His latest book, The Good Country Equation, was published in August 2020.