Navigating the changing landscape of the financial sector: Insights from social media conversations
New services from Ipsos Synthesio help Retail Banks to track consumer trends and spot innovation opportunities.
The current level of change in the financial services sector is unprecedented. The disruptive pressures of digitisation, fraud & cybercrime, data security, product innovation, the sustainability imperative, and a volatile economic environment apply to all players in the sector: commercial organisations and regulators alike.​
Meanwhile, adaptability and agility are core to the strategies of the most successful companies. Staying close to consumers and customers is more important than ever to identify the early signals of trends.
One of the fastest and often most cost-effective ways of identifying early trend signals is to monitor online conversations. Internet users turn to social networking sites, forums, and online communities every day to discuss the topics above – and these mentions are a goldmine of insights for retail banks to understand how consumers are thinking, feeling, and behaving. In Q4 2022 alone, there were over 800,000 social media mentions related to macro factors influencing the finance sector in the UK, with cybercrime at the top of the list.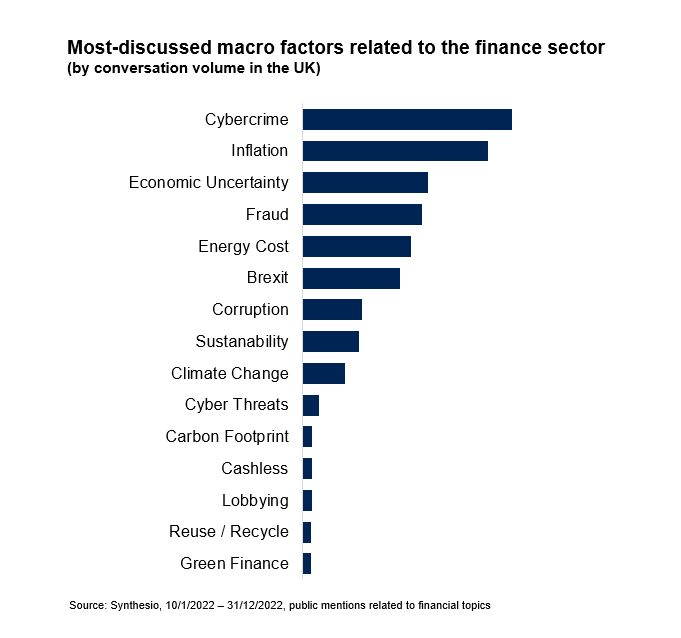 Diving deeper into cybercrime and fraud conversations
Cybercrime and fraud are increasingly prevalent; a recent Ipsos research study in Europe showed that more than half (56%) of Europeans surveyed experienced at least one type of fraud/scam in the last two years. 'Monetary fraud' was the most frequently encountered type of fraud, followed by 'identity theft' and 'buying scams.' 
Online, cybercrime and fraud are among the most-discussed topics impacting the finance sector. In the UK, social mentions revolve around customers sharing warnings about recent online scams, seeking advice and support on recovering lost funds, and sharing their experiences dealing with banks and merchants. 
Using Synthesio's AI-enabled consumer intelligence platform, we analysed millions of conversations to uncover the top themes in conversations: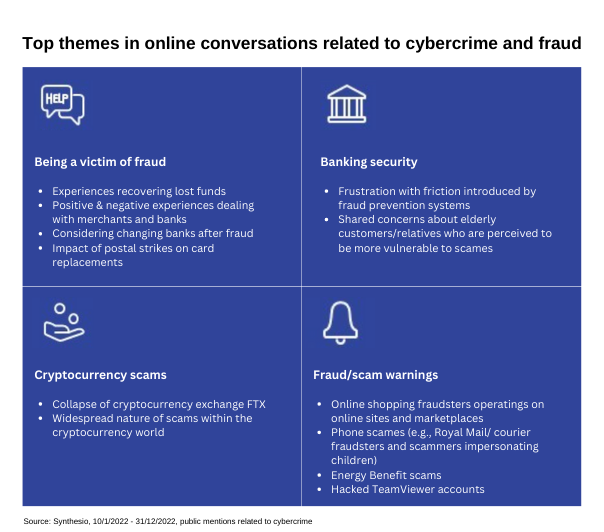 The overall number of social mentions related to cybercrime increased during Q4, with a peak in the first half of December after a Mumsnet (a popular UK website for parents) user issued a warning about a sophisticated PayPal scam. Compared to other tracked topics, the general sentiment of cybercrime conversations skews significantly more negative, with the top AI-detected emotions including anger and fear. This is largely driven by consumers sharing their anger after becoming a victim of fraud, frustration with their banks' fraud prevention systems, or fear after experiencing a near-miss. 
There is also clear tension within online conversations regarding the perceived sensitivity of banking security systems. While customers appreciate banks' systems that protect them from fraud, they also feel frustrated when these systems create excessive friction in their daily experiences. One user posted, "I've been the victim of a horrible bank scam - I've spent now six hours on the phone whilst overseas trying to resolve this, and whilst doing so, the scammers have managed to siphon £9000 out of my savings, and I am still on hold. 'Your call is important to us..' 🥺"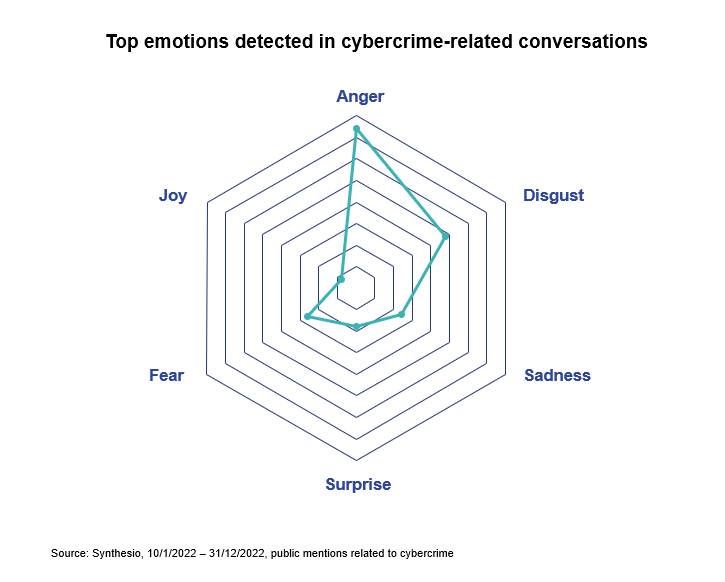 What does this mean for banks?
As consumers continue to get targeted by sophisticated scams and fraudulent practices, they increasingly seek out trust and transparency from their banks. Fostering the belief that a bank truly has its customers' best interests at heart is key to sustaining strong customer relationships. Brands that are authentic and empathetic can gain a competitive advantage if their products and services meet real consumer needs and expectations.  
Both social and survey data show us that there is strong consumer demand for innovation and better customer experience in the banking sector. This represents pressure but also opportunities for brands to develop solutions that support consumers in their everyday lives in the "Twitchy Twenties."
To help navigate this changing market, Ipsos Synthesio has launched Retail Banking Consumer Pulse, an industry solution designed to provide insights and answers to the banking sector's top challenges. The offering includes strategic insight reports written by industry experts that dive into the latest trends, emerging behaviors, and hot topics - and access to real-time Synthesio banking Dashboards. By combining the broadest set of online and offline data sources, AI technology, and Ipsos' analytical frameworks, we help you uncover how the latest consumer and market shifts are likely to impact your sector and your brand.