Future uncertainty: Why people don't see a quick economic recovery from coronavirus
Consumer confidence and poll on economic outlook show doubts about recovery ahead.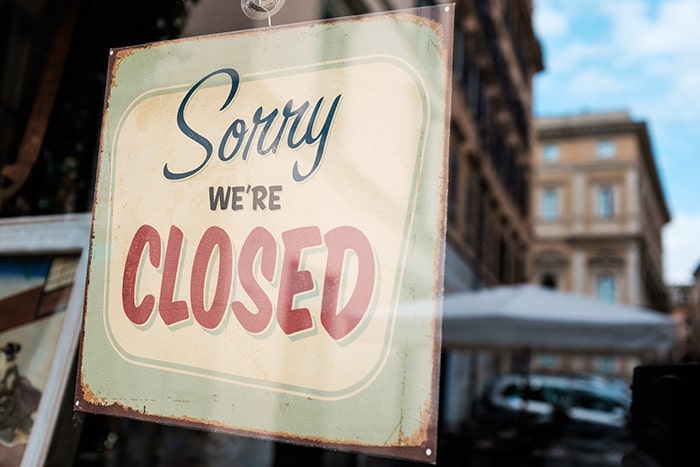 News that quarterly growth contracted significantly in the world's second biggest economy – China – for the first time in 28 years, skyrocketing jobless numbers in the U.S., and warnings from oil cartel OPEC that demand will fall to a 30-year low, have many wondering if it really will be business as usual once the coronavirus pandemic is over.
Our latest global poll results show people have some serious doubts despite reassurances from many governments that we will see a quick recovery in the economy once the outbreak is under control.
The majority of people in 10 out of the 15 countries surveyed say a quick economic recovery is unlikely once the lockdown from the pandemic is lifted, with this sentiment highest in hard-hit European countries.
Nearly three in four people in Spain (76%), and France (72%) are most negative about a quick recovery, followed by those in Italy (68%), the United Kingdom (67%), Russia and Japan (64%).
Experts say a combination of uncertainty over when the shutdowns will end, a resulting loss of wealth, the speed and depth of the downturn, and the risk of a new outbreak without a vaccine are all factors weighing on people's confidence about the economy bouncing back.
Doug Porter, Chief Economist at BMO Financial Group, said the reality is that the virus is in charge and until we have better clarity on the path infections take, people can't be fully confident on where the economy is headed.
"The fact that people have been directly affected  ̶  whether through their jobs or their investments  ̶ likely makes them wary about a broader economic recovery," said Porter. "The fact that job losses have been so widespread and affected so many people directly accentuate the impact."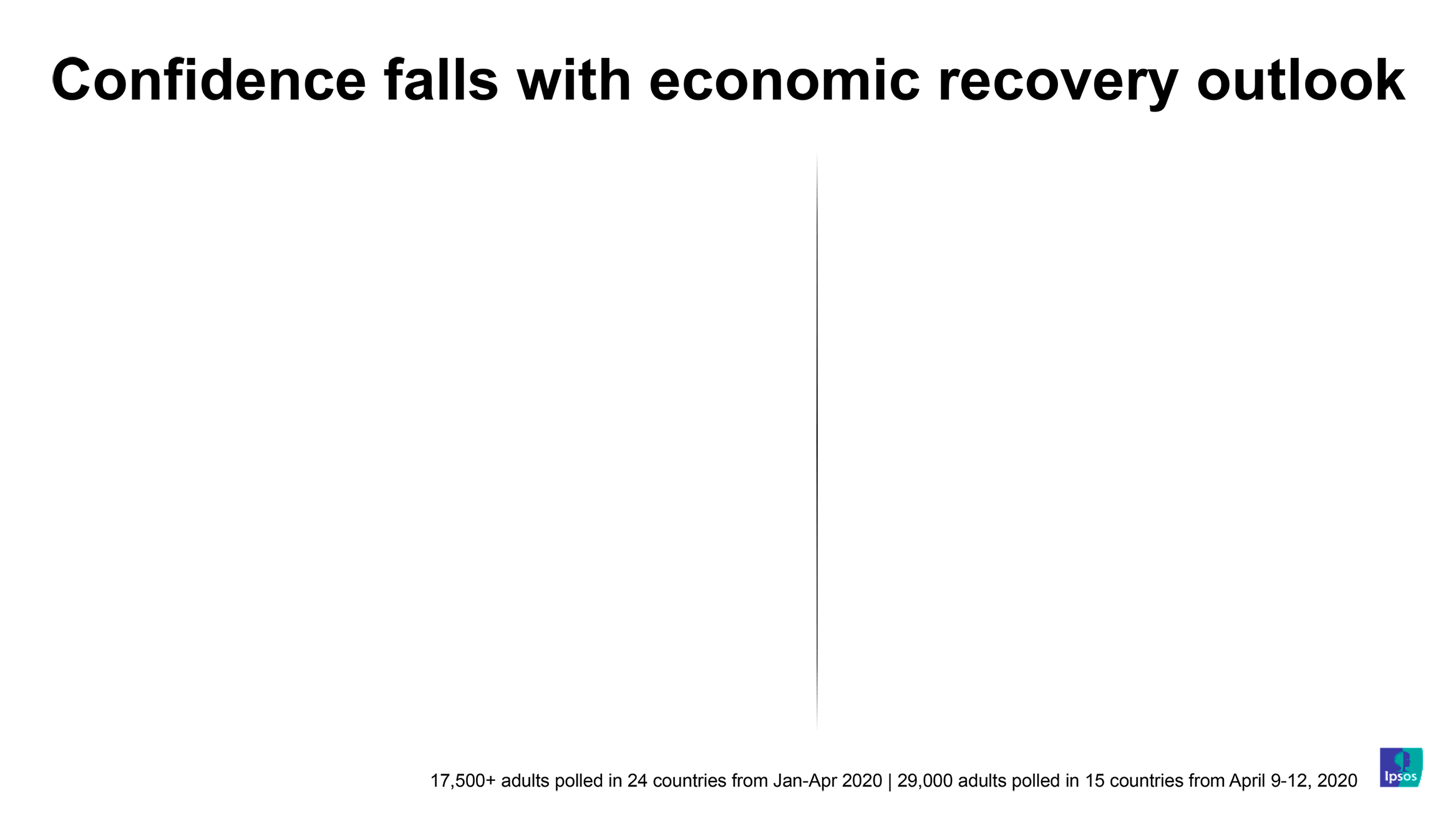 The loss of confidence
The Ipsos' Global Consumer Confidence Index released last week for April fell to its lowest level in more than seven years – since December 2012. The expectations index, which reflects consumers' outlook on their job, financial situation, and local economy showed an even bleaker picture – declining four points lower than at any time in its decade-long history.
Royce Mendes, Senior Economist at CIBC Capital Markets, said it won't be business as usual until consumers feel comfortable eating at crowded restaurants or taking a leisurely stroll through a mall.
"Whether or not governments lift restrictions on activity, that won't happen until there is a vaccine," said Mendes. "Many companies will be able to bounce back nicely. But, unfortunately, there will be some businesses that don't survive the period of shutdowns."
Other businesses might be operating at severely reduced capacity or will have taken on additional debt burdens and, therefore, won't be able bring back all of their prior workforce, according to Mendes.
"Uncertainty about employment prospects when this is all over will have more households cautious about a recovery," he added.
The latest government figures show that 22 million people in the U.S. have applied for unemployment insurance in four weeks, while job losses are in the millions in other major economies around the world.
The dangers of reopening the economy
In light of this, there have been announcements last week from governments globally on plans to reopen the economy. Germany will gradually reopen some small businesses starting on Monday, while schools are set to open in May. Switzerland announced similar moves for the end of the month and early May.
China, meanwhile, has been criticized for opening up parts of its economy even as it revised the death toll in the city of Wuhan  ̶  where the virus originated  ̶  higher by 50% on Friday. U.S. President Donald Trump has also unveiled plans for states to ease lockdowns gradually.
But Krishen Rangasamy, Senior Economist at National Bank of Canada, said this pandemic, if anything, has shown that governments and authorities can lose control of the situation either through lack of preparation or bad luck, or a combination of both.
"Once people lose confidence, it can take some time before they start trusting authorities again," said Rangasamy. "Governments will do well to not over-promise considering there are so many unknowns at this point. Reopening the economy too soon could back-fire with unnecessary loss of lives, and an economic relapse."
Brad Setser, Senior Fellow at the Council on Foreign Relations in Washington D.C., added that government forecasts indicating a return to business as usual are likely too optimistic.
"Obviously this shock is unique, but it is worth recalling that the recovery from the global financial crisis was also slow," Setser said. "It would be helpful if governments recognized that it will likely take time to get COVID-19 fully under control, and thus, a full recovery is still some time away."
Experts agree the pace of a recovery, likely in the second half of the year, is uncertain, because it depends on the extent of the damage in the first half such as the permanent loss of industrial capacity. They say current economic indicators point to an ongoing downturn.
"A full recovery will likely hinge on developing effective therapeutic treatments for COVID-19, if not an effective vaccine," said Setser. "Government support for the economy is also likely to be necessary for an extended period of time."
"It is better to plan for the worst and be pleasantly surprised than to be caught unprepared."