Confidence in Theresa May to get a good Brexit deal falls
The Ipsos MORI February 2019 Political Monitor shows that trust in Theresa May to make the right decisions on Brexit has fallen.
Confidence in May to get a good Brexit deal for Britain falls
Three-quarters now think the Conservatives are divided on Brexit
Seven in ten expect the Government to delay Brexit
As Theresa May travels to Brussels today to meet EU leaders Ipsos MORI's new Political Monitor reveals public expectations around her getting a good deal for Britain remain low. Only one in five (21%) say they are confident she will get a good deal for Britain in the negotiations, while three in four have little confidence or none at all (77%, up from 69% in December). Conservative supporters also lack confidence in the Prime Minister achieving a good deal with three in five (62%) saying they're not confident in her (36% say they are confident, down from 67% in March 2018).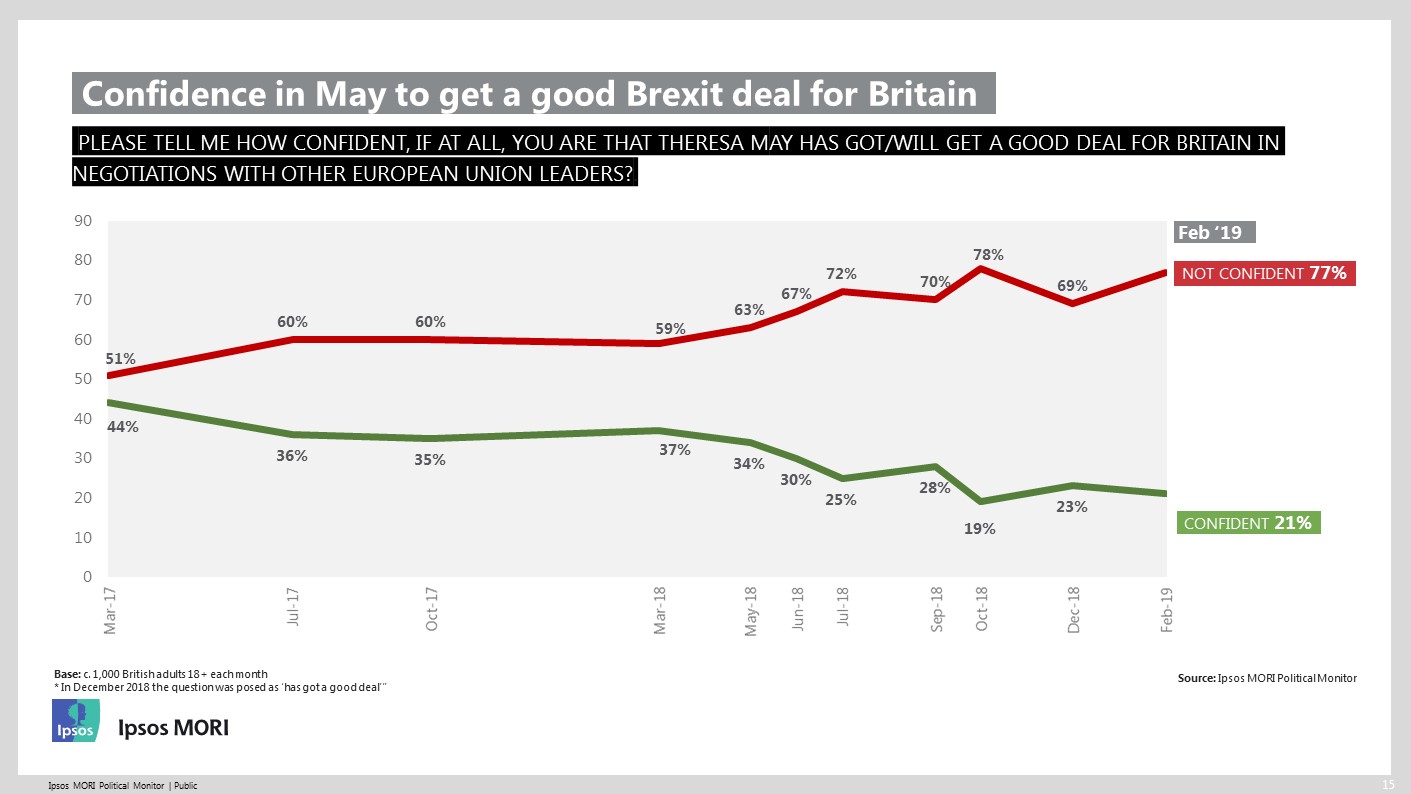 Trust in the Prime Minister to make the right decisions for Britain on Brexit has also fallen since July. A third say they trust Theresa May (34%, down from 41% last year) while nearly two-thirds do not trust her very much or at all (64%, up from 58%). Half (50%) also say the Prime Minister has provided weak leadership when handling Britain's exit from the EU (35% say she's provided strong leadership).  She does though keep majority backing from Conservative supporters – three in five (60%) say the Prime Minister has been strong, and 69% trust her to make the right decisions.

When asked whose interests the Prime Minister puts first during the Brexit negotiations only a minority (36%) say she puts the country's interests first.  A third (33%) say she puts the interests of the Conservative party first, and another 25% that she puts her own interests first. She does however fare better than her party's MPs. Almost half (47%) say that Conservative MPs have put their own interests first when it comes to Brexit while 29% say they have put the party's interests first. Just 13% believe Conservative MPs have put the country's interest's first.  The Conservatives are also increasingly seen as divided over Brexit.  Three-quarters (76%) believe the party is divided on how to handle Brexit (and even higher – 86% - among Conservative voters) – up from 67% when asked in December 2016.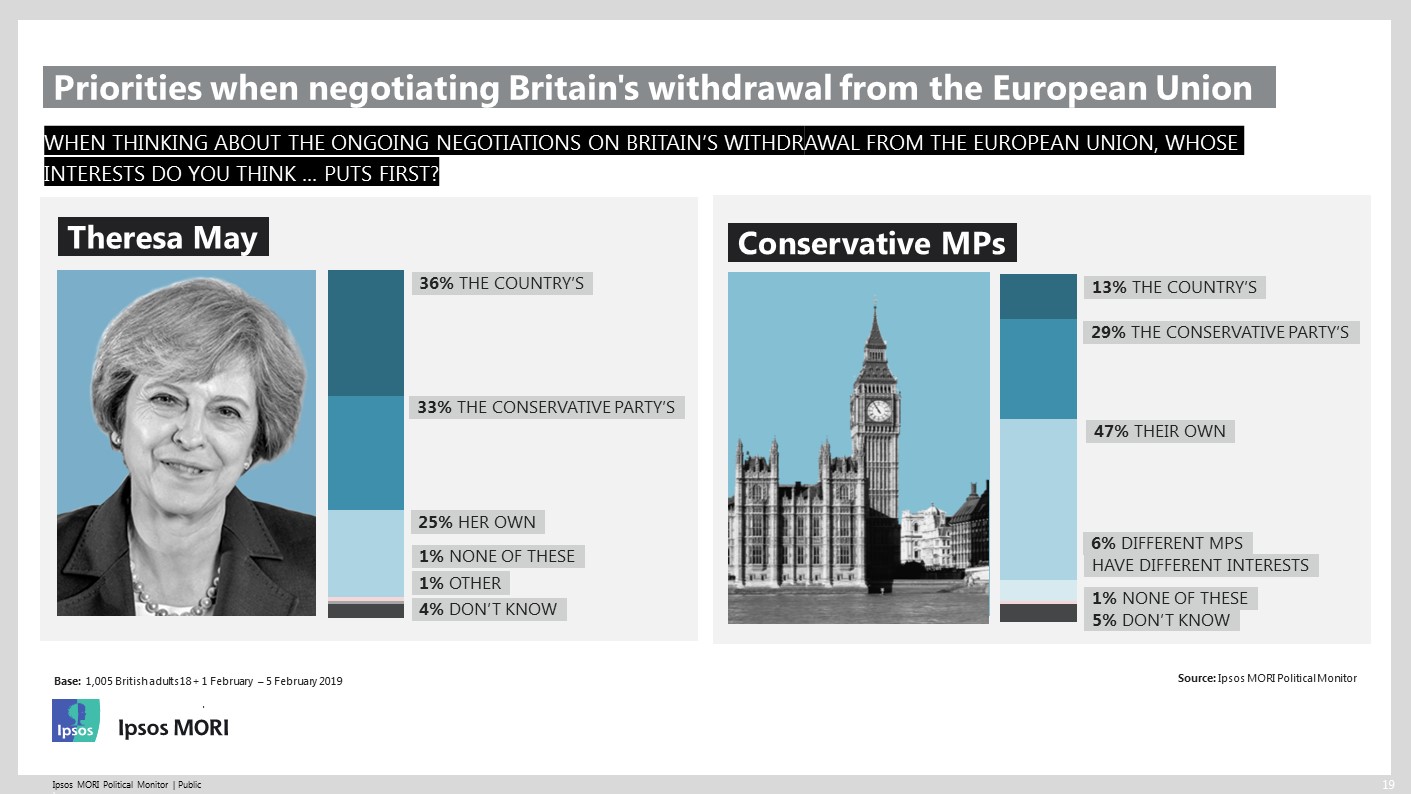 The new poll also shows that seven in ten (72%) of the public think that it is either very or fairly likely that the Government will ask to delay Britain's exit from the EU, while half (50%) say they would support such a delay (37% would be opposed to it). This includes two-thirds (66%) of Labour voters (24% oppose), although half (51%) of Conservative supporters would oppose a delay (39% support). And when thinking about the possibility of Britain leaving the EU on 29 March without a deal in place, three quarters (77%) say the Government has done a bad job preparing for such a situation, including two-thirds (63%) of Conservative supporters.

Despite a tough start to 2019 for the Prime Minister her leadership satisfaction ratings have seen little change from December. A third (33%) are satisfied with the way she is doing her job (down 2 points) and 58% are dissatisfied (up 1 point) leaving her a net satisfaction index score of -25. Two-thirds (64%) of Conservatives are satisfied in her (down 2 points) while 30% are dissatisfied (down 1 point) giving her a net satisfaction score of +34 amongst her party supporters.

Overall Britons remain pessimistic about the state of Britain's economy. The Ipsos MORI latest Economic Optimism Index shows 57% believe it will get worse over the next 12 months (down 4 points from December), 14% think it will improve (no change) and 21% think it will stay the same (up 2 points) – leaving an EOI score of -43.  Although this is slightly better than last month, it means Britons still start the year more pessimistic than they were at the start of 2018.

Our ongoing vote intention scores show little change from December with both the Conservative and Labour parties level at 38% (no change) and the Liberal Democrats on 10% (up 1 point).
Gideon Skinner, Head of Political Research at Ipsos MORI, said:
After Parliament's rejection of her deal, public confidence in the Prime Minister to get a good Brexit deal is as low as we've seen, and trust in her judgement has also fallen.  Even among her own party supporters confidence is low, although they at least trust that she is trying to do the right thing for the country.   The Conservative party's reputation has also been damaged – there has been a rise in those thinking it is divided over Brexit, and the public is even less positive about Conservative MPs' motives over Brexit than they are for the Prime Minister.
Technical note
   Ipsos MORI interviewed a representative sample of 1,005 adults aged 18+ across Great Britain. Interviews were conducted by telephone 1st February – 5th February 2019. Data are weighted to the profile of the population. All polls are subject to a wide range of potential sources of error. On the basis of the historical record of the polls at recent general elections, there is a 9 in 10 chance that the true value of a party's support lies within 4 points of the estimates provided by this poll, and a 2 in 3 chance that they lie within 2 points.