Favourability towards Boris Johnson falls to lowest level since October
Fall in those who believe the country is moving in the right direction
Are things in Britain heading in the right or wrong direction?
30% of Britons think things in Britain are heading in the right direction (-5 pts from June), 44% think things are heading in the wrong direction (+4).   The net rating on this measure of -14 is the lowest since January this year.
Optimism has fallen particularly among 2019 Conservative voters, from 63% last month to 49% this month (among Labour voters, there has been little change at 22% from 19%).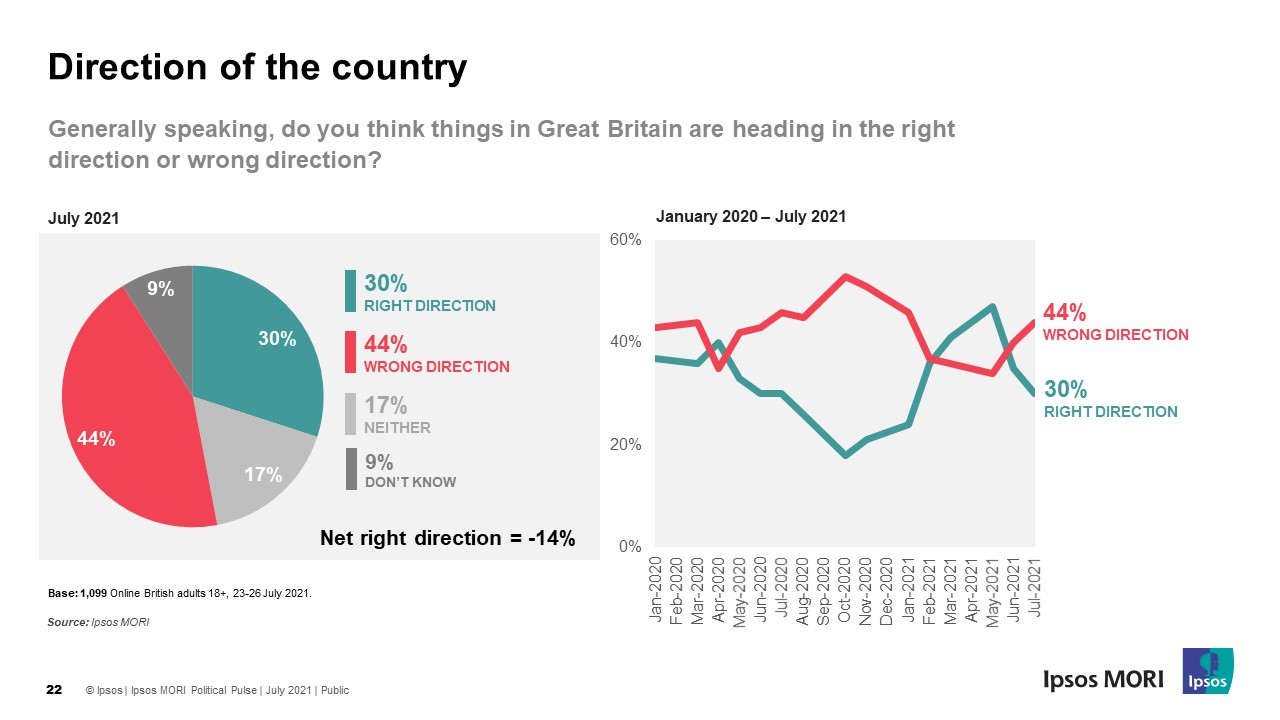 How favourable are the public towards the parties and leading politicians?
Favourability towards Boris Johnson has also fallen again this month, to 27% favourable (-6 pts since June) and 47% unfavourable (nc).  This is his worst rating in this series since October last year.  Again, there has been a 10 pt fall among Conservative voters, although a majority are still positive (58%).  
There has also been a marginal fall in favourability towards the Conservative party, to 27% (-4 pts), while 45% are unfavourable (nc).
Among other Conservative politicians, Rishi Sunak receives the highest favourability scores (36% favourable, 26% unfavourable, although this has been falling since March), while 25% are favourable towards Sajid Javid, the new Health Secretary, and 31% unfavourable.  This net score of -6 is similar to Matt Hancock's ratings in May, but better than his final rating of -39 in June.
For the first time, we asked attitudes towards Priti Patel, with 15% favourable towards the Home Secretary and 54% unfavourable.  This net rating of -39 is similar to Jeremy Corbyn's scores in the beginning of December 2019 before the General Election.  Conservative 2019 voters are twice as favourable towards her than Labour ones (by 26% to 13%, although 41% are still unfavourable).  
Favourability towards Keir Starmer has slightly improved after falling earlier this year.  23% feel favourable towards him (+3) while 38% are unfavourable (-7), similar to his scores in March.  Among Labour voters, his ratings have risen by 8 pts to 47%.  
Favourability towards the Labour party itself is little changed at 26% favourable vs 42% unfavourable, similar to views of the Conservative party.  
The Green Party continues to receive the lowest unfavourable ratings (at 28%, while 29% are favourable), while the Liberal Democrats are viewed less positively (17% favourable, 36% unfavourable).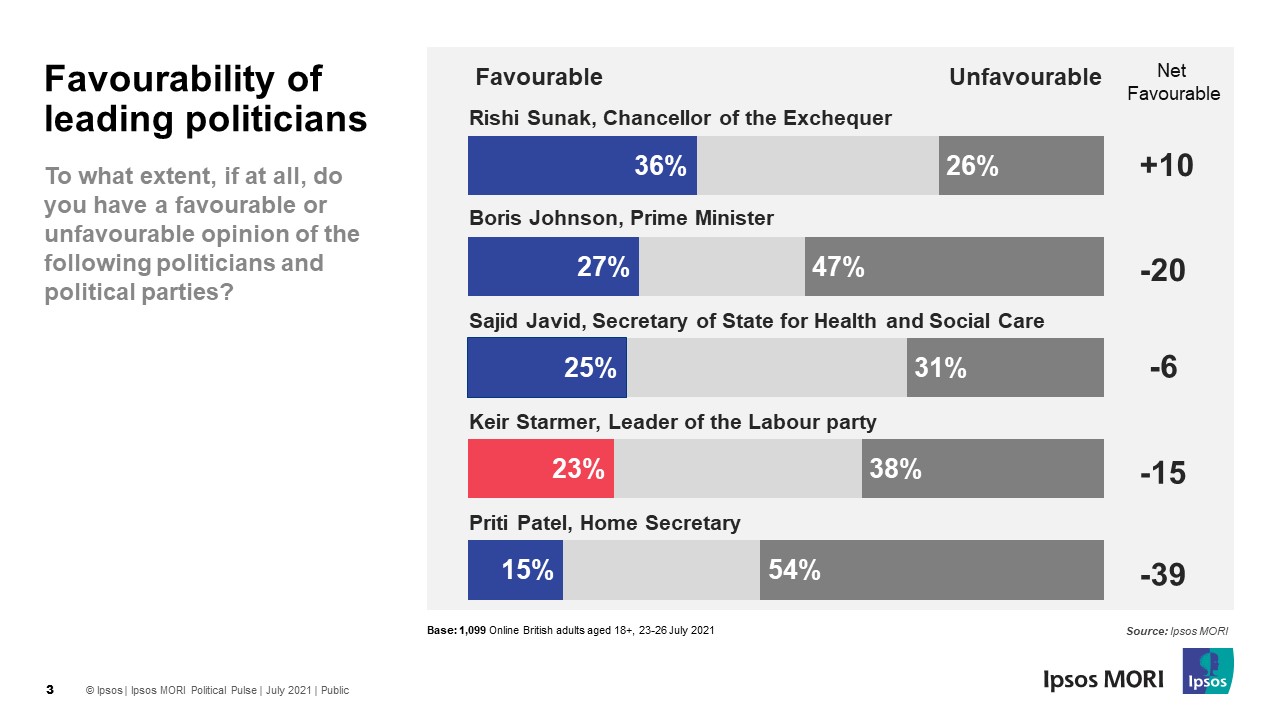 How are the Conservatives delivering in government?
28% think the current Conservative government, led by Boris Johnson, is doing well at running the country (-4 pts). 44% say it is doing badly (+2), while 24% are neutral.
On delivering specific policy areas since it was elected in December 2019, Brexit is seen as Boris Johnson's government's strongest performance, with 38% saying they have done a good job at taking Britain out of the EU, and another 38% bad (unsurprisingly, Leave voters are more positive than Remainers by 67% to 17%).  Having said that, getting a good deal for the future EU relationship is seen less positively, at 25% good job (39% among Leavers, 15% among Remainers) vs 43% bad.  
Almost half think the government has done a bad job at improving living standards for people with low incomes since 2019 (49%), reducing social divisions, improving the NHS (both 48%) and reducing social inequality (46%).  
Around 4 in 10 are critical of its efforts in reducing crime (42%), spending on social services, making Britons proud (both 40%), and improving Britain's economy (39%).  People are more split on setting the right level of taxation (24% good job, 33% bad), while 44% see little net impact either way on their own personal standard of living.
This can be compared with people's expectations immediately after the Prime Minister's election victory in December 2019.  Then, the vast majority (81%) thought it likely his government would take Britain out of the EU, while half (49%) were hopeful it would improve the country's economy.  But most were pessimistic about its chances of reducing social divisions (63% unlikely), inequality (61%) or crime (61%), or of improving standards of living generally (60%) or for those on low incomes (56%)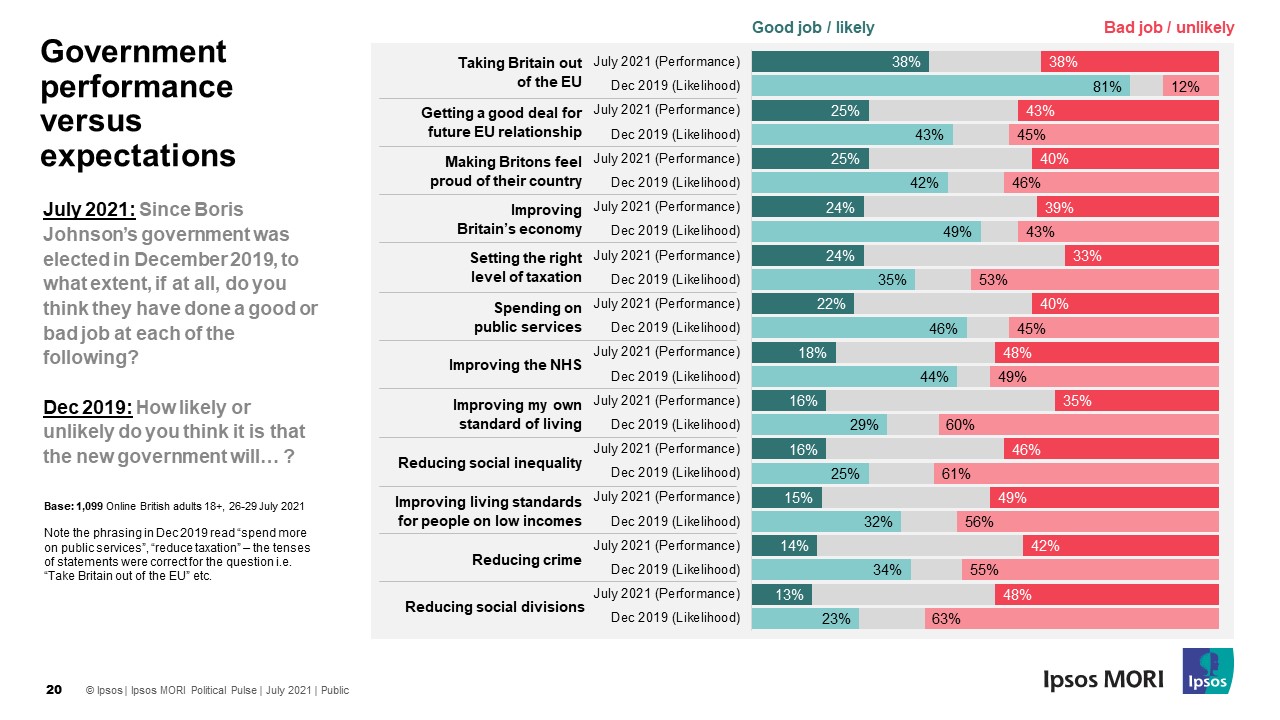 Impact of leaving the EU
Meanwhile 33% think the UK decision to leave the EU has had a positive impact on the country (+1 since June). 40% say negative (-4) and 19% think it has made little difference (nc).
Commenting on the findings, Ipsos MORI Head of Politics Gideon Skinner said:
The optimistic national mood we saw in the Spring is slipping away, and with it favourability towards Boris Johnson and his party.  Having said that, there is still little sign so far of Keir Starmer and Labour pulling strongly ahead in the public's affectations, although they have at least arrested their own fall.  
When it comes to delivery, Britons were expecting the Prime Minister to take the country out of Europe, and on this his ratings are highest.  Expectations were much lower that his government would reduce inequalities or divisions, but he may be more concerned about the gap in outcomes the public thought were more achievable – such as demonstrating improvements in the economy across the country as a whole, and spending on public services – particularly to improve the NHS.
Technical note:
Ipsos MORI interviewed a representative sample of 1,099 British adults aged 18+. Interviews were conducted online from 23rd – 26th July 2021. Data are weighted to match the profile of the population. All polls are subject to a wide range of potential sources of error.