Ipsos MORI Issues Index: March 2021
Public concern about Coronavirus drops sharply, but it remains the biggest issue facing Britain
Forty-nine per cent see Covid-19 as one of the biggest issues facing the country, down twenty-three percentage points from last month
Concern about Brexit falls again, with one quarter now mentioning it as a worry (26%), down from 33% in February, 35% in January and 60% in December
This month sees significant increases in the proportion of the public worried about the NHS, poverty/inequality, education and housing
The March 2021 Ipsos MORI Issues Index records the first significant drop in concern about Covid-19 since June 2020. The proportion who name the coronavirus as a big issue for the country has fallen from 72 per cent in February to 49 per cent this month. One third see the pandemic as the single biggest issue (34%), a decrease from almost six in ten last month (57%).
While economic concern has held steady, there has been a fall in the proportion of the public naming Brexit as an issue. This month 26 per cent cite the UK's exit from the EU as a worry, the joint-lowest score for this issue since the vote to leave in 2016 (concern was also at this level in April 2020). This month's score is seven percentage points lower than last month – and half the level of concern recorded in December 2020 (60%).
There has been an eight-percentage point increase in mentions of the NHS as a big concern: 24 per cent mention it as an issue. Fieldwork occurred between 5 and 11 March, covering the period when the Government announced a one per cent pay rise for NHS staff.
Other issues that have risen significantly form last month include Poverty and inequality (up 6ppt since February), education (up 4 ppt), unemployment and immigration (both up 3ppt),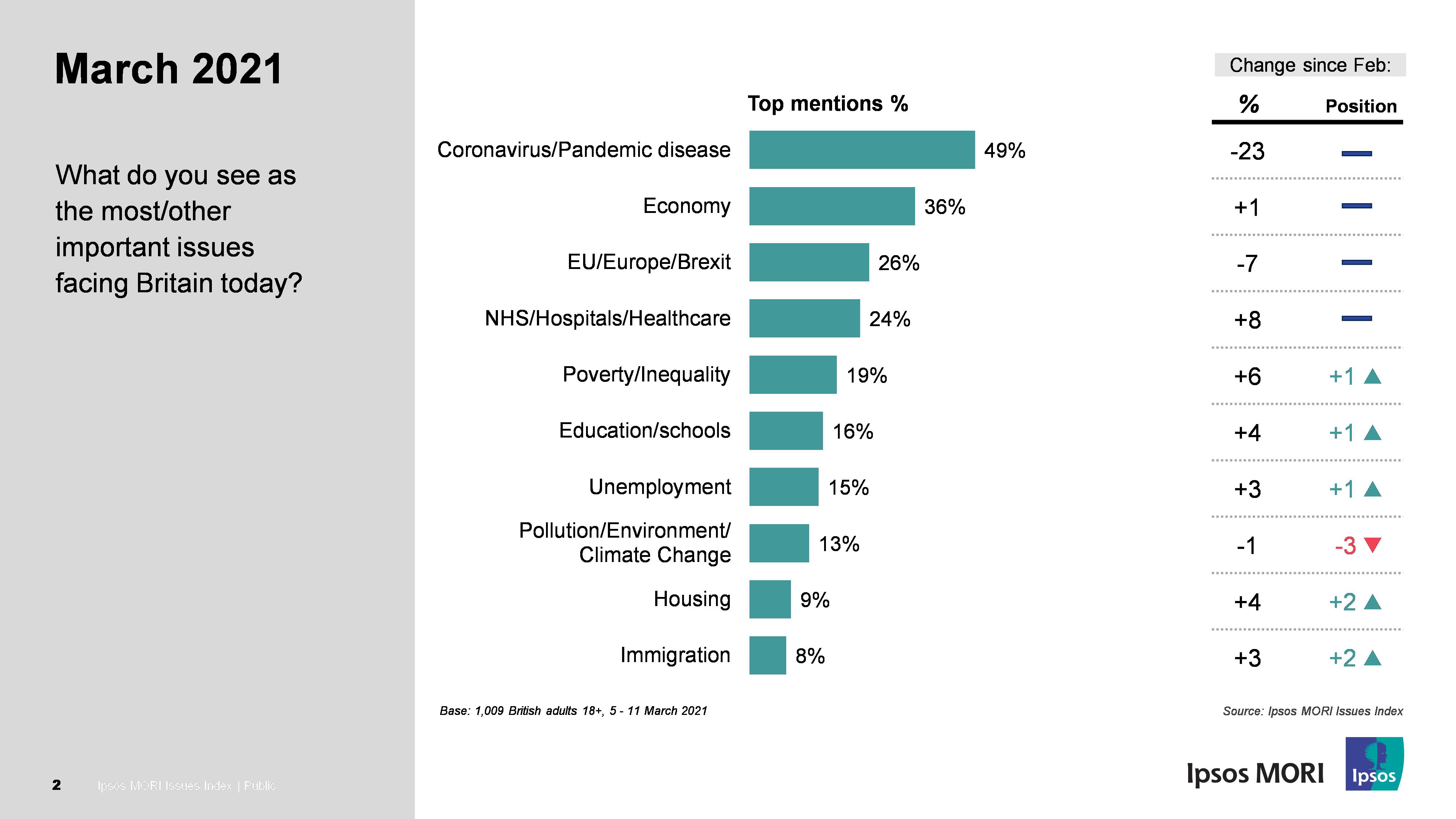 While concern about Coronavirus has fallen across all groups since last month, there is a distinct pattern by age, with older and younger Britons now significantly less concerned than those in the middle age brackets. The proportion mentioning the pandemic as an issue stands at 44% among 18-34s, 59% among 35-54 year olds, and 43% among the over 55s. By contrast, in February these figures were 70%, 76% and 72% respectively.
Those aged 65 and over are among the least likely to mention the pandemic as a big issue; 39% do so, meaning it is their joint-top concern alongside the economy (also 39%).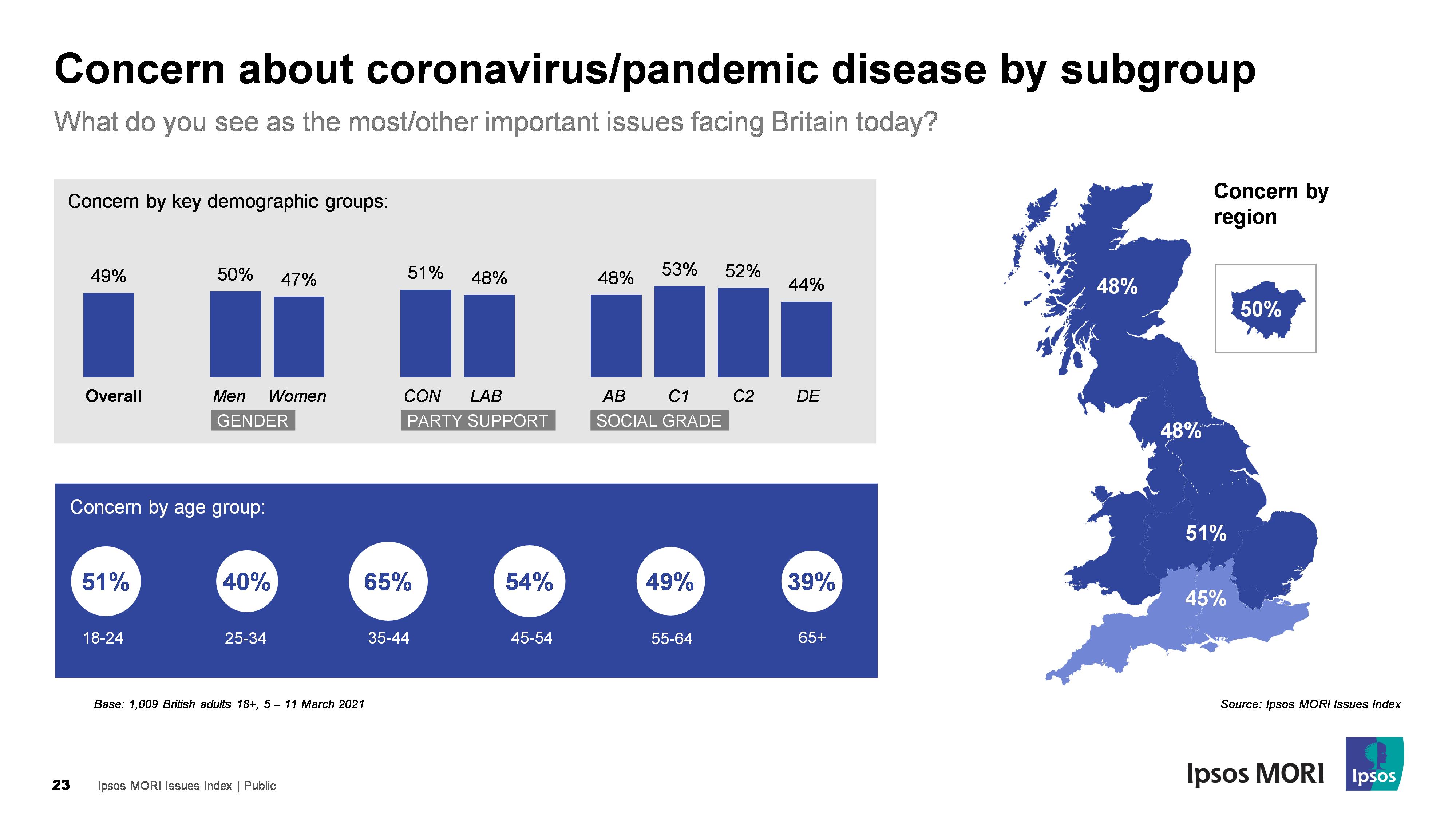 Mike Clemence, Associate Research Director at Ipsos MORI, said:
This month's issues index suggests the public may feel the end of the pandemic is in sight. While half still see Covid-19 as a big issue for the country, this is significantly lower than last month, when three quarters felt the same way.
Concern is notably lower among older age groups, which may suggest the vaccination campaign is having an impact on public perceptions – although worries are also lower among the youngest Britons who will not yet have been vaccinated.
Yet as concern about Covid falls we also see other worries begin to rise. We have recorded significant increases this month in worries about the NHS, poverty, education and housing.
Technical note 
Since May 2020 the Issues Index has been conducted over the phone; lockdown conditions mean face-to-face fieldwork is currently not an option for public opinion polling. Mode effects should be kept in mind when comparing the new data points with previous months.
Ipsos MORI's Issues Index is conducted monthly and provides an overview of the key issues concerning the country. Ipsos MORI interviewed a representative sample of 1,009 adults aged 18+ across Great Britain. The answers are spontaneous responses, and participants are not prompted with any answers. 
Ipsos MORI's telephone omnibus was used for this survey. Interviews were conducted between 5 and 11 March 2021 across Great Britain. Data are weighted to match the profile of the population.