Ipsos MORI Research Highlights - December 2020
In this week's Ipsos MORI Research Highlights we share the latest voting intention, global attitudes towards Britain and our End of Year Review.
We recently hosted our annual Ipsos MORI End of Year event, an intelligent review of 2020 with insights and reflections from our panel The Rt Hon Jeremy Hunt MP, Jude Kelly CBE and Lord Woolley of Woodford. Thanks to everyone who joined us and if you weren't able to attend please do watch the recording.
Conservatives and Labour end 2020 in a dead heat
With vaccines arriving to the UK, ratings for the Government and Boris Johnson have improved this month. Thirty-seven per cent are satisfied with how the Government is running the country and 42% are satisfied with the job Boris Johnson is doing as Prime Minister (up 9 points from October). The parties will finish 2020 neck and neck in voting intention preferences with both the Conservatives and Labour both on 41%. Elsewhere almost two-thirds of Britons think Boris Johnson has handled Brexit badly.
Half believe Christmas coronavirus measures not strict enough
As seven in ten (70%) Britons are looking forward to Christmas, there are more than a quarter (27%) who say they are not looking forward to the festive season. As debate continues on the restrictions half (49%) believe that the rules are not strict enough while two in five (39%) and just 10% think that they are too strict. 
One in three people exposed to COVID-19 anti-vax messages
While a third of the country report being exposed to anti-vax messages about a coronavirus vaccine, this rises to nearly half (46%) among those aged 16 to 34. Facebook is by far the top source of such messages, with one in five Britons (20%) saying they've seen this kind of content on the social network. There is also support for a response from social media platforms or regulation from government to combat the sharing of anti-vax content. While the public tend to have a negative view of anti-vaxxers, a third (33%) think they are selfish, and four in 10 (41%) think they are stupid. There are a notable minority that have a favourable perception of people who would refuse a coronavirus vaccine.
2020 saw increasing concern among Britons about the global influence of China
Ipsos polling for Halifax Security Forum reveals just 19% of Britons believe China will have a positive influence on global affairs over the next decade, a drop of 16 percentage points since 2019. Globally 66% believe that Great Britain will have a positive global influence over the next decade, which is a four point rise since 2019. Britain also fairs well in comparison to China, where positive sentiment has fallen 11 points since 2019.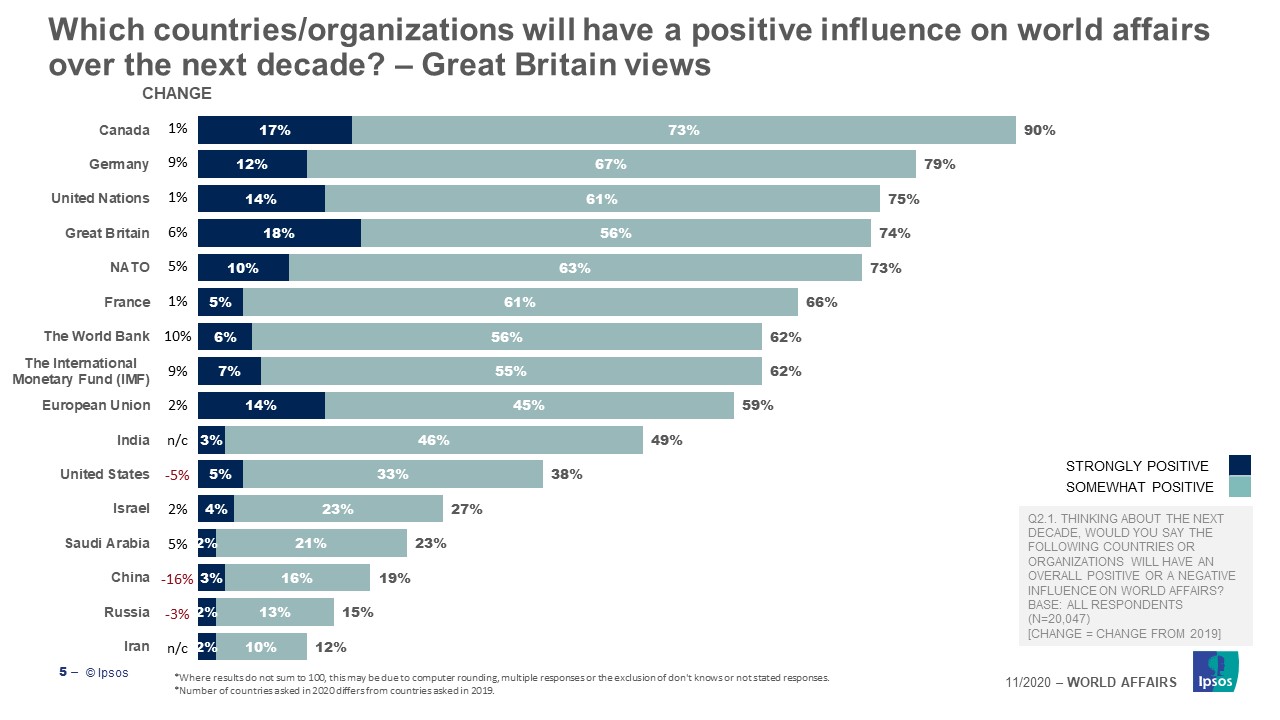 Study reveals why one in four have found rules harder in second lockdown
Seventy-two per cent of Britons have had an easier time during the second lockdown - 26% have found the rules harder. In line with our previous research women are much more likely to have found restrictions tougher and feel more to feel worn out by COVID-19 than men (47% vs 33%). Across the country there has been some debate over what level of restrictions have been opposed where and 34% say that the restrictions are not being applied fairly to everyone. 
Ipsos MORI Politics & Society Podcast: Women and COVID
On this week's podcast, Keiran Pedley is joined by Kully Kaur-Ballagan from Ipsos MORI to discuss how the pandemic is changing (or reinforcing) existing gender roles in our society.
In other news
The SNP retains a very strong lead in voting intention 55% (-3 compared with early October). Among those who would be likely to vote in an independence referendum, 56% say they would vote Yes while 44% would vote No.
The landmark research, commissioned by The Royal Foundation of The Duke and Duchess of Cambridge and conducted by Ipsos MORI, reveals what the UK thinks about the early years. 
Our Veracity Index shows politicians (15%) and government ministers (16%) continue to receive the lowest scores. Trust in different professions remain largely unchanged however, three-quarters of the public trust care home workers and delivery drives, rating them above the police and priests.
As ever, please do let us know what you think, and I hope you find something to interest you.
Ben Page
Chief Executive, Ipsos MORI
ben.page@ipsos.com