SNP dominates Scotland's political landscape ahead of May elections
Ipsos's Scotland Political Monitor, run in partnership with STV News, finds support for the SNP remains at very high levels ahead of the May 2021 Scottish Parliament elections.
Scottish Parliament voting intention
The SNP retains a very strong lead in voting intention for both constituency and list votes in next May's Scottish Parliament elections, with the Conservatives in second place and Labour faring worse in third. More than twice as many people say they will vote for the SNP as for their nearest rival the Conservative Party.
Headline Scottish Parliament voting intention figures for the constituency vote are:
SNP: 55% (-3 compared with early October)
Scottish Conservatives: 22% (+3)
Scottish Labour: 14% (+1)
Scottish Liberal Democrats: 6% (+2)
Other: 2% (unchanged)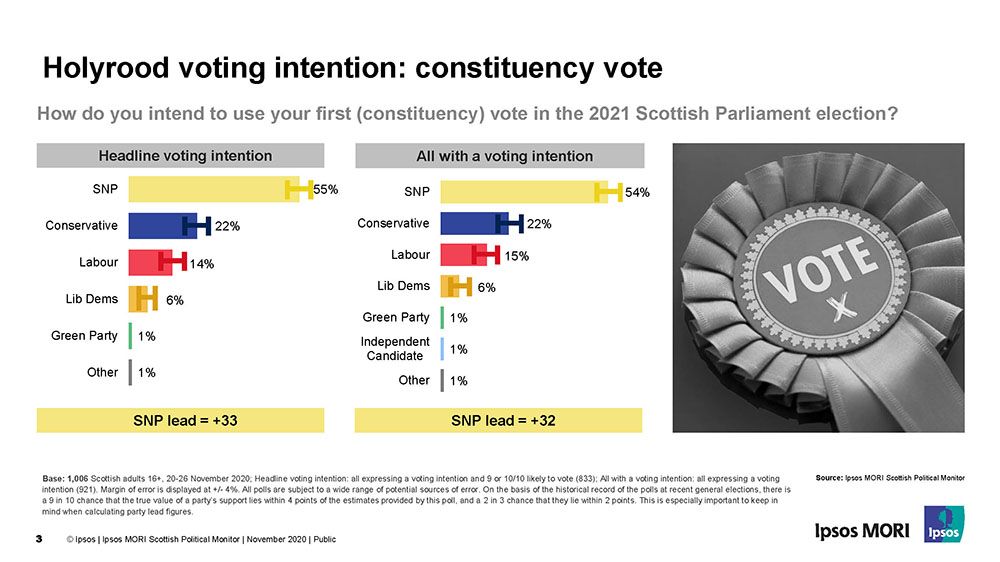 Headline Scottish Parliament voting intention figures for the regional vote are:
SNP: 47% (unchanged since early October)
Scottish Conservatives: 22% (+3)
Scottish Labour: 16% (+3)
Scottish Green Party: 7% (-2)
Scottish Liberal Democrats: 6% (-2)
Other: 2% (-1)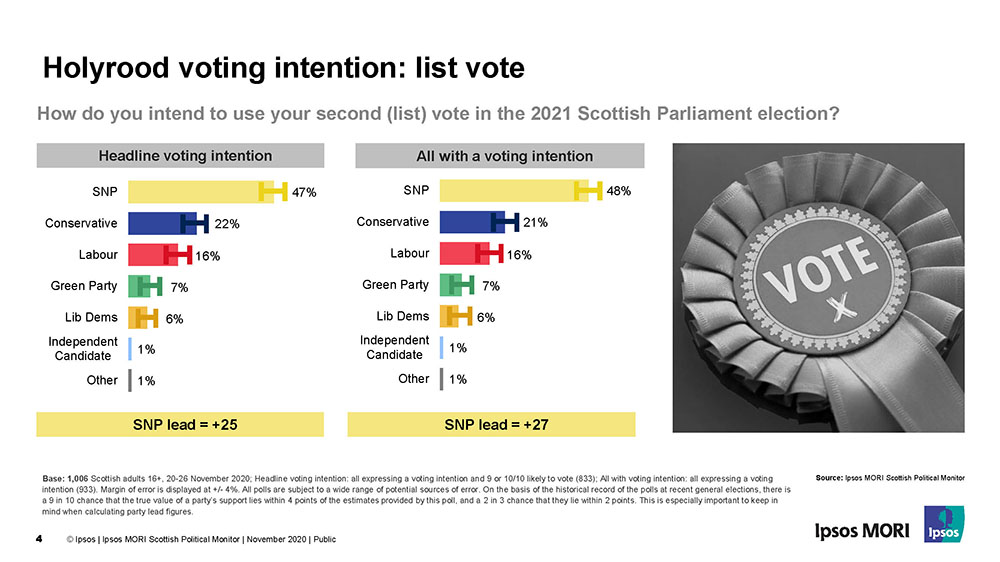 Scottish independence
Among those who would be likely to vote in an independence referendum, 56% say they would vote Yes while 44% would vote No. This is in line with Ipsos's recent political poll in early October, which also showed Yes clearly ahead (58%/42%).
However, around a quarter of people do not appear to hold a completely definitive position in favour of either independence or the Union. On a scale of 1 to 10, where 1 indicated complete support for independence and 10 complete support for the Union, 25% put themselves between 3 and 8. This suggests that their position on the constitutional question may be less definitive than that of the 73% of people who put themselves at 1/2 or 9/10.
Trust in the parties
The Scottish National Party is far more trusted by the Scottish public than either the Scottish Conservative Party or the Scottish Labour Party to deal effectively with a wide range of issues facing Scotland.
Even on education, a policy area where the Scottish Government has been the target of considerable criticism in recent years, the SNP are the most trusted of the three parties – 59% say they trust the SNP 'a great deal' or 'quite a lot' to deal effectively with managing education and schools in Scotland, compared with just 40% who say the same of the Scottish Labour Party, and 33% who trust the Scottish Conservative Party on this issue.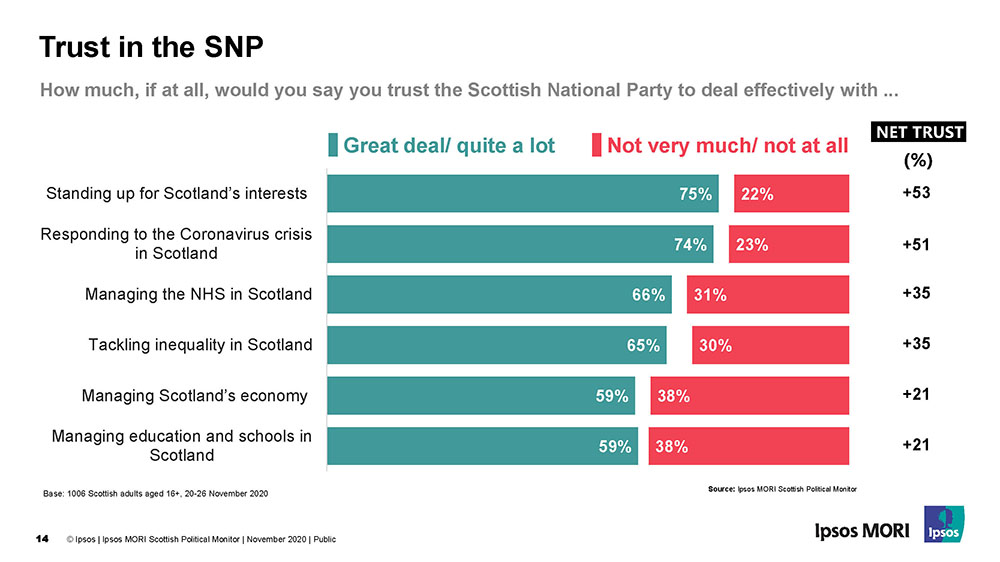 Brexit
Around half (53%) of Scots are pessimistic about the likely impact of Brexit. A quarter (23%) are optimistic, while a quarter are neither pessimistic nor optimistic, or are unsure how they feel about it.
Emily Gray, Managing Director of Ipsos Scotland, commented:
Our latest polling results are clearly very favourable for the SNP, with support both for the party and for an independent Scotland remaining high. The party's record on key issues such as the economy, education and public services has been much criticised by the Conservatives in recent months. However, those messages do not appear to be cutting through with Scottish voters, who trust the SNP much more on the economy, education and the NHS than they do any other political party.
Technical note
Ipsos interviewed a representative sample of 1,006 adults aged 16+ across Scotland.
Interviews were conducted by telephone 20-26 November 2020.
Data are weighted to the profile of the population.
Scottish Parliament voting intention figures are based on all expressing a voting intention and saying they would be at least 9/10 likely to vote in a Scottish Parliament election.
Where results do not sum to 100%, this may be due to computer rounding, multiple responses, or the exclusion of "don't know" categories.
All polls are subject to a wide range of potential sources of error. On the basis of the historical record of the polls at recent general elections, there is a 9 in 10 chance that the true value of a party's support lies within 4 points of the estimates provided by this poll, and a 2 in 3 chance that they lie within 2 points.