Over half of Britons' say they would struggle to pay their bills if interest rates double
While many feel confident in their ability to explain inflation, few know what the average level has been since 2001
New polling suggests a rise in interest rates could lead to financial hardship for many.  At least half of Britons said they would be worse off than they are today (55%), that they would find bills a real burden (52%) and they would start to find themselves financially stretched (51%), should interest rates double from the current base rate. More than 4 in 10 (44%) would have to use savings to make ends meet, 42% say this is unlikely.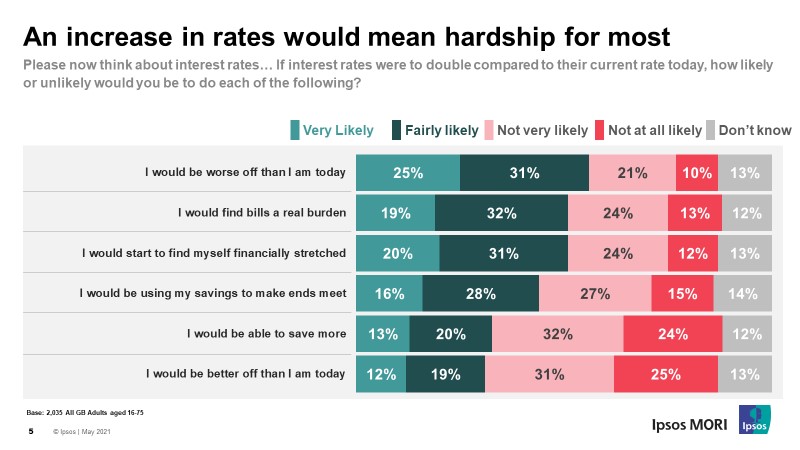 Nearly 6 in 10 (56%) say they would not be able to save more should interest rates double while less than a third say they would be better off than they are today (31%). 
Half (53%) of Britons think that the average interest rate since 1975 is 3% or less – the real average is higher at 6%.  While the average of answers given is correct, only 4% were exactly right, choosing 6% as the average Bank of England base interest rate.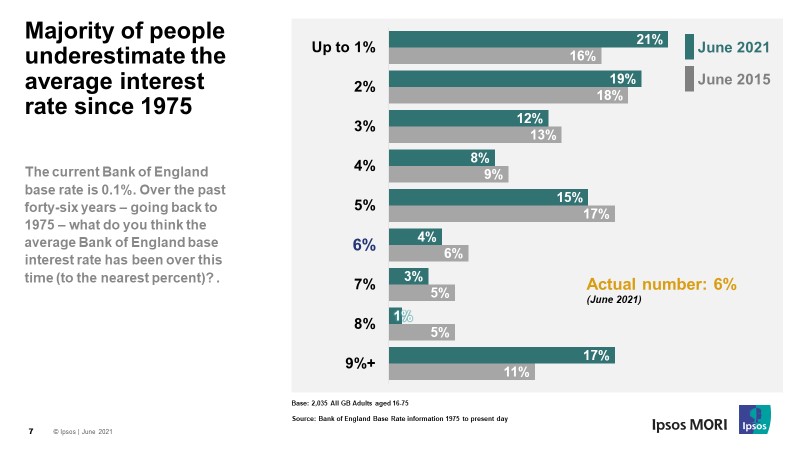 Just 3 in 10 (31%) know the current rate, which is 0.1%, while 1 in 5 (18%) say they don't know. Twenty-two per cent incorrectly believe the current base rate is 0.5% while around 1 in 10 select either 1% (8%) or 2% (11%).
Inflation
On average Britons believe the highest level of inflation in the UK since 2001 is 10%, in reality inflation has only reached 5.2% in the past two decades. The most common answer given, however, is much more accurate, 15% of respondents think inflation has only ever reached 5% in the last 20%, while 11% say a level of 3% and 1 in 10 (9%) say inflation peaked at 4% in this time period.
Despite misconceptions in levels of inflation, a strong majority of Britons say they are confident they would be able to explain what inflation is, almost two-thirds (64%) say they can define it, compared to a third (32%) who would not be confident doing so. Confidence is significantly higher among men (72% vs. 57% of women) and older generations (75% among 55-75s). Although most people are confident in their ability to explain inflation, this is self-defined. 
People also appear to understand the impact of higher inflation rates. Three-quarters (74%) say it is true that, should inflation rates increase, mortgage payments would increase for those not on fixed rate mortgage products. Almost two-thirds (64%) believe it is true that the value of savings in real terms would go down if rates increased while 6 in 10 (58%) say interest rates of savings accounts would increase. Only 1 in 5 (20%) say the cost of living would become cheaper should inflation rise, almost 6 in 10 (57%) say this is false.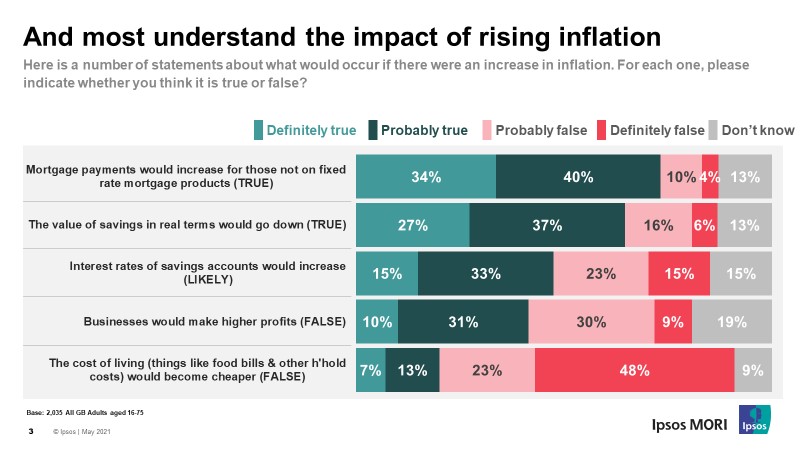 Flora Vieites, of Ipsos MORI, said:
While only a third of people can accurately quote what the current rate is, it's great to see that most would know what the impact of higher inflation would have on their circumstances. Given our new found freedoms, people are likely to be out spending, which may bring inflation back into line, however should that not be the case and we find inflation continuing to rise, and the furlough scheme shortly coming to an end, the proportions of those who are financially vulnerable are likely to increase. For many the boom bust years of inflation are distant memory, while we can hope it stays that way, this research shows that while people may have got used to low inflation and low interest rates, we need to think about who could be affected if the situation changes.
Technical note:
Ipsos MORI interviewed a representative online sample of 2,100 British adults aged 16-75 between 20th-21st June 2021. Data are weighted to match the profile of the population. All polls are subject to a wide range of potential sources of error.
 
Download