Six in ten Britons want schools to teach children about Britain's involvement in the slave trade and its impact in the world today
People want to educate children about Britain's role in the slave trade and invest in the lives of ethnic minority groups in the UK, however Britons are less supportive of paying reparations to those whose ancestors were slaves
A new survey by Ipsos MORI for Black History Month shows strong support for educating children in both primary and secondary schools about Britain's involvement in the slave trade and its impact in the world today. Six in 10 (60%) support teaching children in British primary schools while almost two-thirds (65%) are in favour of educating secondary school students on this subject.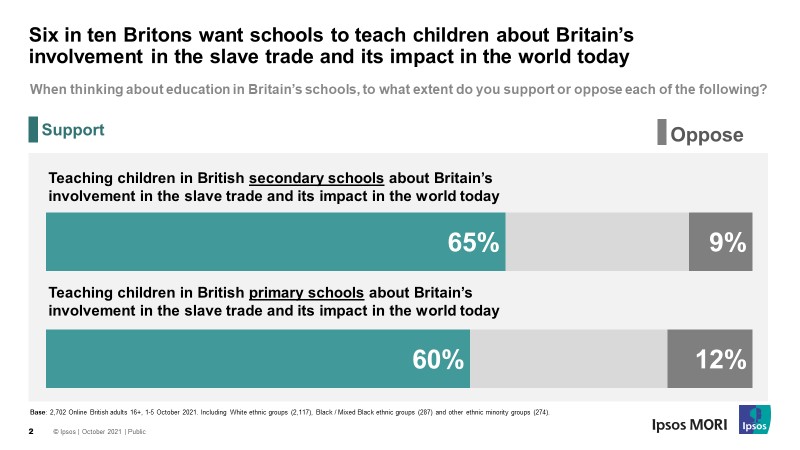 As one might expect, Britons from Black or Mixed Black ethnic backgrounds are significantly more likely to support the teaching of the slave trade and Britain's involvement than those from other ethnic groups. Almost 8 in 10 (78%) support this subject being taught in secondary schools and 76% would like to see it in primary schools. 
Opinion is split when considering Britain's involvement in the slave trade. While 1 in 5 (20%) feel more ashamed of its involvement, the same proportion say they are more proud that Britain was one of the first countries to abolish it. Britons are most likely to say that it all happened too long ago to be either proud or ashamed (29%), while 18% feel a mixture of both.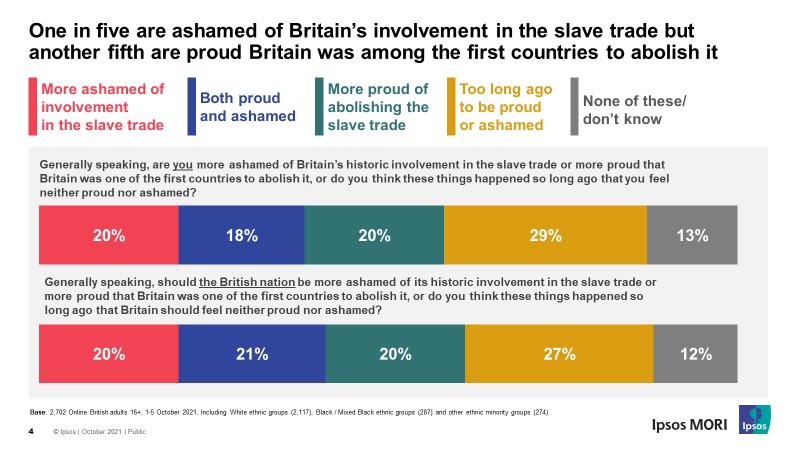 Younger generations are most likely to say they feel more ashamed, 31% of Gen Zs (those born in 1996 and after) feel apologetic compared to only 8% of Pre-War Britons (born pre-1945) and 13% of Baby Boomers (1945-1965). 
When considering how the British nation as a whole should feel, 20% say we should be more ashamed of the country's involvement, while the same proportion say the country should be more proud of its pioneering role in abolition. Twenty-one per cent say it should feel both ashamed of its involvement and proud to have acted to end it before other countries – and some 27% believe it happened too long ago to feel either way. 
By two to one, Britons are against the UK government paying compensation to those whose ancestors were slaves. Overall half (50%) are opposed to the UK government paying compensation to people living in Britain whose ancestors were slaves while nearly a quarter (23%) support of it. However, around half (53%) of Britons from Black or Mixed Black ethnic groups support this (19% opposed).  A majority of White Britons (55%) are opposed (20% support it).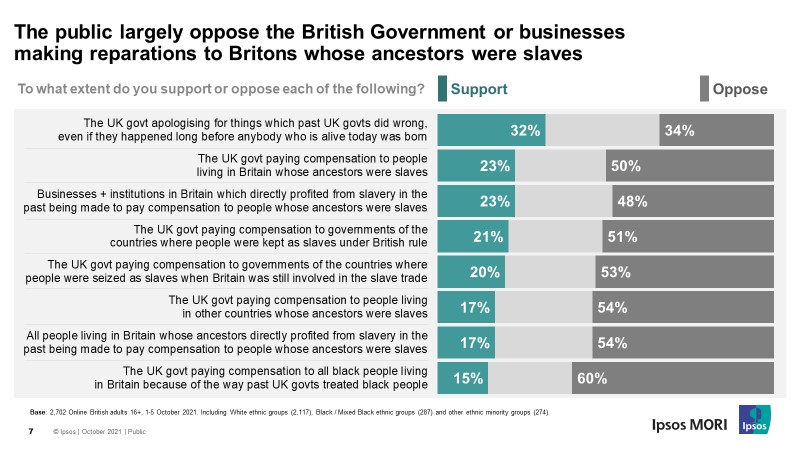 Most (60%) oppose the government paying compensation to all Black people living in the Britain because of the way past governments treated Black ethnic groups, and 54% oppose compensation being paid to people living in other countries whose ancestors were slaves or making all of those whose ancestors profited directly from the slave trade pay compensation to those whose ancestors were slaves, and 53% oppose payment being given to the governments of countries where people were seized as slaves. Opinion is split when considering the UK government apologising for wrongs done by previous governments (even if they happened long before anybody who is alive today was born); 32% support this but 34% oppose. 
In contrast Britons are more in favour of investment in housing, education, health and employment for all ethnic minorities in Britain than of paying compensation to the descendants of slaves. Half (51%) think it is more important to dedicate investment to help all ethnic minorities living here today, while only 8% would rather see the money paid to compensate all those whose ancestors were slaves. 
Among Britons from Black or Mixed Black ethnicity fewer also say compensation for the past is more important than investment in all ethnic minorities (28% vs 41%).
Ben Page, CEO Ipsos MORI, said:
Most people want children to be taught about the British slave trade, and only a minority want to forget all about it.  At the same time, there is resistance to paying compensation to people whose ancestors were affected by it, with a clear focus among white and Black Britons alike in investing in services to help disadvantaged minorities.
Technical note:
Ipsos MORI interviewed a representative sample of 2,702 adults aged 16+ in United Kingdom using its online Ipsos Digital omnibus between 1st and 5th October 2021. This sample included people who belong to the White ethnic group (2,117) and a boosted response from those in the Black / Mixed Black ethnic group (287) and other ethnic minority groups (274).  The sample obtained is representative of the population by age, gender, region and working status.  The data has been weighted to the known offline population proportions for ethnicity within age, working status and social grade within gender, and for government office region and education, to reflect the adult population of the United Kingdom. All polls are subject to a wide range of potential sources of error.