The State of Wales: Key trends for the future
Instability and concern over the future of Wales are the key themes from this year's Ipsos MORI survey amongst Welsh Assembly Members.
Every year Ipsos MORI conducts a survey amongst Welsh Assembly Members (AMs) to analyse opinions and attitudes towards companies, public bodies and a variety of topics including; opinions on devolution, the economy, sector and potential reputation issues. This information is used to inform and tailor our clients' communications to the specific needs and interests of stakeholders (such as AMs) – by analysing the current political climate and how AMs feel about client organisations and their competitors. In addition to how well our clients engage with AMs.
Instability and concern over the future of Wales are the key themes from this year's survey. Most AMs are concerned about the disproportionate impact of Brexit on Wales and this feeds into pessimism about the economy. When engaging with AMs organisations should tailor their communications to highlight the actions that they are taking to mitigate the potential economic impact that Brexit may have on the economy. Ensuring that communications are relevant for AMs is crucial in making sure our clients are top-of-mind for AMs when they think of various sectors and industries.
Key trends identified by our research among AMs in 2018:
Brexit looms large and continues to have political and economic ramifications on Wales.
Worries about the impact of Brexit disproportionately affecting Wales.
NHS and health draw a lot of attention from AMs, especially in the devolved context.
A strong desire exists towards further devolution, more in line with the Scottish example – but uncertainty on which specific areas AMs would like to see further devolved.
Economic worries dominate AMs' thinking this year. The majority of AMs across most of the main political parties, see economic uncertainty due to Brexit as the main issue affecting Wales. More than eight out of ten AMs mention general economic issues as one the most important issues facing Wales.
Brexit because of its overarching impact on every area of life; economically, in terms of environmental legislation, workers' rights, everything
- Labour AM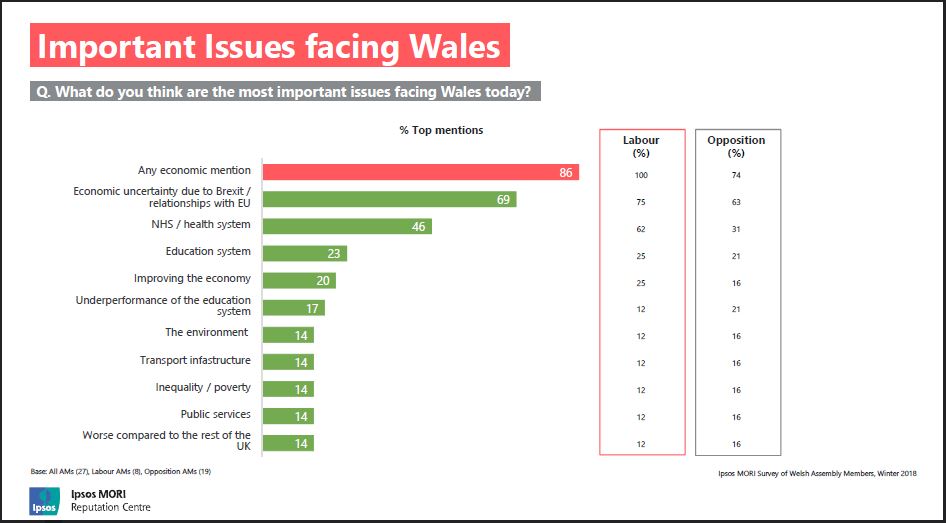 Negative views on the economic prospects for Wales are at the highest level since the financial crash in 2008-2009. Six out of ten AMs think the economic prospects for Wales will get worse in the next 12 months.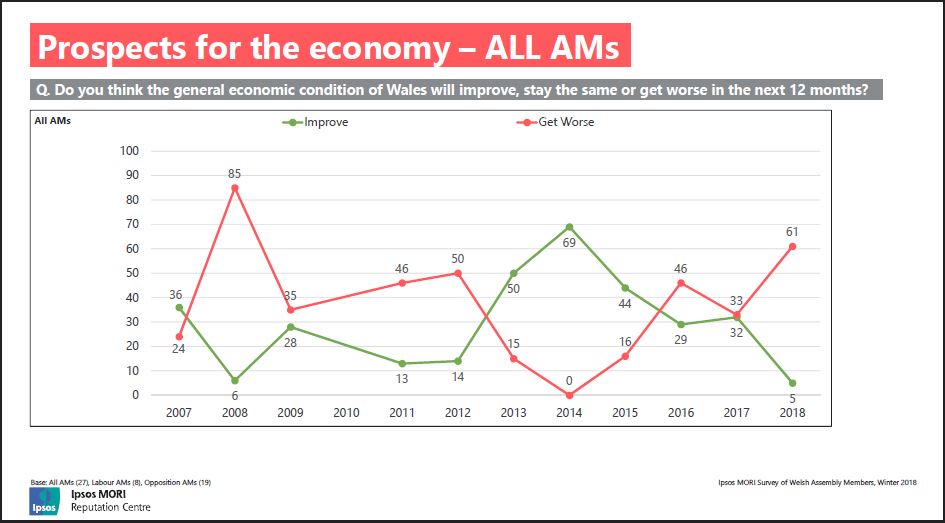 On balance, when both the views of AMs who are optimistic and pessimistic about the economy are taken into account, it is clear that AMs are more pessimistic about the prospects for the Welsh economy. More so than their counterparts in Westminster are about the UK economy as a whole. MPs and AMs are increasingly pessimistic about prospects for the economy reflecting similar concerns amongst journalists and UK business leaders.
AMs are worried that Wales will be disproportionately impacted by Brexit. More than half of AMs (56%) think that Wales will benefit less or suffer more when Britain leaves the EU. And the vast majority (79%) do not trust the UK Government to handle the issue of Britain leaving the EU. Only Conservative AMs are likely to have faith in the UK government (57%).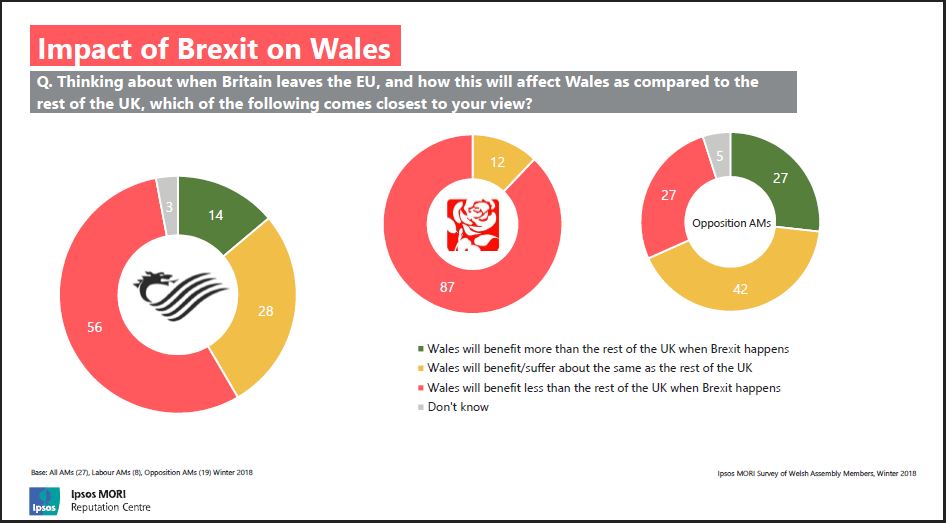 Brexit uncertainty is regarded as a key issue facing Welsh businesses and industries by a majority (64%). There is a split along party lines. Almost nine in ten Labour AMs mention Brexit as opposed to four out of ten opposition AMs. Another key issue in the minds of AMs is access to a skilled workforce – which is a cross-party issue mentioned by four out of ten AMs.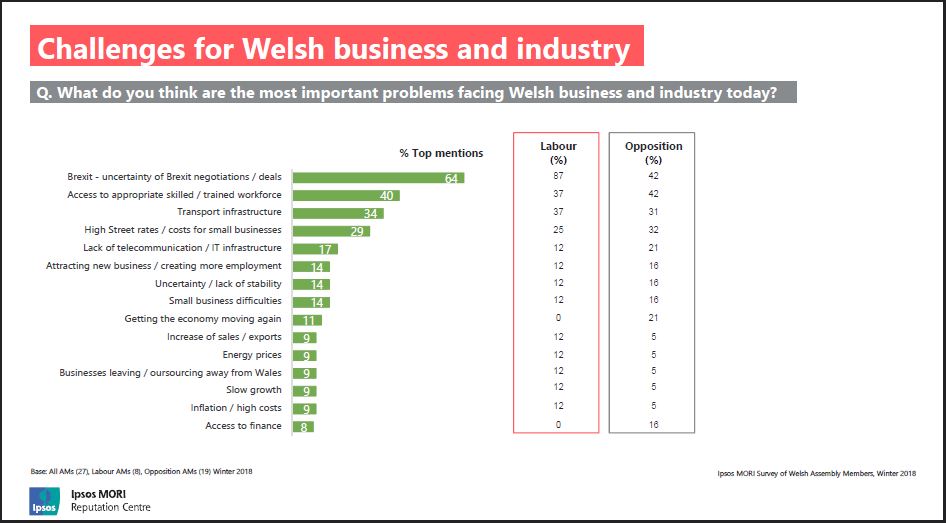 Uncertainty over Brexit is the big one, what is going to happen next. A lot of businesses are concerned about interest rates which have stayed artificially low now for a decade. Different industries have different problems.
- Labour AM
Demonstrating how your organisation or business contributes to the Welsh economy and how it is planning to mitigate the impact of Brexit are the topics that are likely to be of interest to AMs considering how high-profile these issues will continue to be in 2019.
Worries about Wales are not limited to Brexit and the economy. More than half of AMs see the NHS as an issue facing Wales.
Health service, we have a very badly run health service here in Wales.
- Conservative AM
 
NHS is the main one. There are not enough people in there and I think it should come down to smaller in-house, the money should go in-house.
- Independent AM
There are higher levels of concern over the NHS and health in Wales compared to MPs in Westminster, where a quarter of MPs mention this as an important issue for Britain. This may reflect that health is a devolved area – indeed it is one of the areas which AMs are most influential/involved in (54%) along with housing (55%) and economic development (52%). For the general public, health continues to be a high-profile issue. MPs and AMs continue to communicate frequently about the NHS in the Welsh Assembly and the UK Parliament.
These issues appear to be reflected in AMs current views towards and the potential for further devolution. Three-quarters of AMs think that the National Assembly should have powers equivalent to the Scottish Parliament, and two-thirds believe Wales should have its own separate legal jurisdiction. Half of AMs want policing to be further devolved. However, Conservative AMs are generally opposed to further devolution.
My view is that we shouldn't be seeking further devolution on anything at the moment, simply because we have already had a big chunk of it from the UK government
- Conservative AM
 
Justice and policing. Because that is the next obvious one - we can create laws but can't bring people to justice for breaking those laws.
- Plaid Cymru AM
Looking to the future of Wales in 2019; Brexit, the NHS and devolution are likely to remain high-profile issues. Engaging with the economic, social and political issues identified by AMs is key to creating and tailoring stakeholder engagement in an effective way.
For further information on our surveys among Welsh Assembly Members and Members of Parliament, please contact Alex Baumont de Oliveira.
Technical Note
Ipsos MORI interviewed 27 Assembly Members (AMs) between 8 November and 19 December 2018, with all interviews conducted face-to-face or by telephone with AMs, either in English or Welsh. Quotas and weights were used to ensure the final data reflects the composition of Welsh Assembly Members by political party. The AMs Survey is an annual multi-client survey run by Ipsos MORI and forms part of a wider suite of syndicated stakeholder surveys that it runs (which also includes surveys among UK MPs, Scottish MSPs, Business Journalists and Business Leaders).