Support for Government's tax rise for NHS and social care splits opinion
Half of Britons doubtful it will improve NHS and social care, and most think even more funding will be needed
Public split on whether Conservatives were right to break manifesto promise
Support higher among older people and Conservative voters
Support dips when prompted with extra cost to taxpayers 
Young and poorer people most likely to be viewed as unfairly treated
Last week, the UK Government announced a plan to raise National Insurance to help fund health and social care. Now, new research by Ipsos MORI shows many Britons are split in their support for the policy, the impact it will have on the NHS and social care, and how fairly it treats different groups.  Just over a third say the quality of social care is likely to improve as a result of this policy (35%) while 37% are hopeful for improvement in the NHS. However half are more sceptical, thinking it is unlikely that the NHS or the quality of social care will improve (48% and 49% respectively).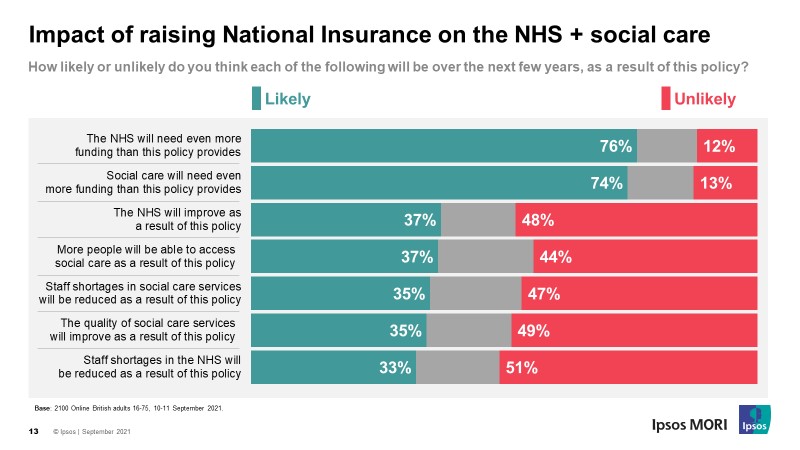 Opinion is also split as to whether more people will be able to access social care (37% believe this is likely to happen over the next few years while 44% disagree), or whether it will reduce staff shortages in the NHS (33% likely vs 51% unlikely) or social care services (35% vs 47%).
There is though a feeling that even this funding boost will not be enough.  Three-quarters say it is likely that the NHS and social care services will need even more funding than this policy provides over the next few years (76% and 74% respectively).  Similarly, a plurality of Britons believe the money promised over the next 3 years is too little for both the NHS (42%) and social care services (42%).  Around a quarter 10 say it is about the right amount (28% and 26%) while just over 1 in 10 think it too much (12% and 13%). 
Most Britons to view this policy as unfair for poorer people (55% - a view held among those on high, medium and low incomes), while a similar proportion (53%) say it is fair for richer people.  People also believe it is unfair to younger people by a margin of 2:1 (45% vs 22% - again, a view shared amongst all age groups), while they are split on whether it is fair for older people (31% fair vs 34% unfair). Only a quarter (24%) think it is fair for "people like me" while 41% think it is unfair (although this falls to 32% among 55-75 year olds).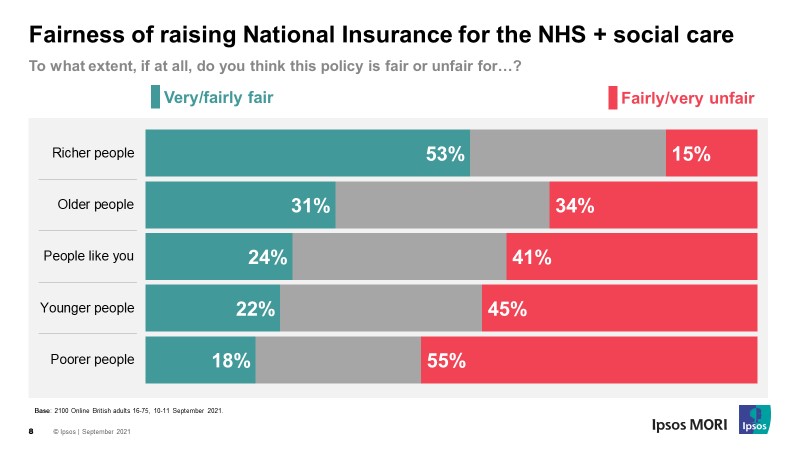 Looking ahead, there is still a lack of confidence that the desired improvements to social services will be achieved over the next few years. Fifty-six per cent are not very/at all confident that social care services will provide an outstanding quality of care, while 55% doubt they will be fair and accessible to all who need care and support, when they need it and 54% are not confident that they will offer choice, control and independence to people with care needs. 
Support for the policy overall splits opinion - a third (31%) support it, and the same proportion are against it (33%). When prompted with the extra tax that would be paid for it, a third (34%) still support it, but 41% oppose. Support is higher among older people and Conservative voters than younger people and Labour voters. However, a majority of Britons knew little, if anything, about the policy. Fifty-five per cent say they didn't know very much, had heard of the policy but knew nothing of it or knew nothing at all before taking part in the survey.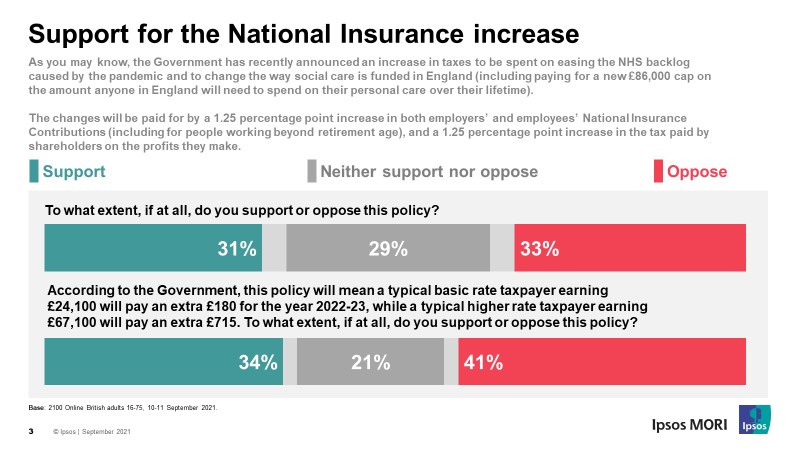 Opinion is split as to whether the Government were right to break their manifesto promise not to raise the rate of income tax, VAT or National Insurance, 38% say they are right to increase taxes to provide more money for the NHS and social care while 39% say they were wrong. Again, the proportion of people who think the Government was right increases to 53% of 55-75s and 54% of Conservative voters.
Almost 6 in 10 (58%) expect the policy to make the Conservatives less popular while only 12% expect their popularity to increase. Britons expect the policy and Labour's reaction to it to have less impact on Labour's reputation: 32% say it will make no difference while 26% expect it to harm their popularity and 19% expect an improvement. 
Gideon Skinner, Head of Political Research at Ipsos MORI, said:
The public is split in its reaction to the Government's new levy or health and social care.  Political partisanship is playing a role, but there are other factors at play – on the one hand a feeling that even more money may be needed to tackle the challenges faced by the NHS and social care, to tackle staff shortages, improve the quality of care and increase access, and on the other concerns about fairness towards the young and poorer people (concerns that are shared by older people and those on high incomes).  And the reality of the extra tax that will need to be paid is also having an effect.  
Having said that, as many people think the Government is right to spend more on the NHS and social care (even if it means breaking a manifesto promise) as disagree, and almost four in ten do expect to see it leading to some improvements.    For the Government, showing that this decision delivered improvements in the longer-term will be vital to get over short-term criticism, but the public's concern over the NHS and social care is unlikely to go away.
Technical note:
Ipsos MORI interviewed a representative sample of 2,100 Britons aged 16-75. Interviews were conducted online from the 10th-11th September, 2021. Data are weighted to match the profile of the population. All polls are subject to a wide range of potential sources of error.
 
Download