Economic Optimism falls to its lowest level since July 2013
Ipsos's Political Monitor for December shows a majority believe the Conservatives would cut too much if they win the 2015 general election.
Britons' economic optimism has fallen substantially in the last month, though more still think the economy will improve than that it will get worse, Ipsos's December Political Monitor reveals. One in three (35%) think that the economy will improve over the next 12 months, compared to 30% who think it will get worse (the same proportion thinks the economy will stay the same). This gives an Ipsos Economic Optimism Index score (% improve minus % get worse) of +5, the lowest score since July of last year. This is down from a score of +19 last month and a sizeable fall on May's all-time peak of +35 (53% improve, 18% get worse).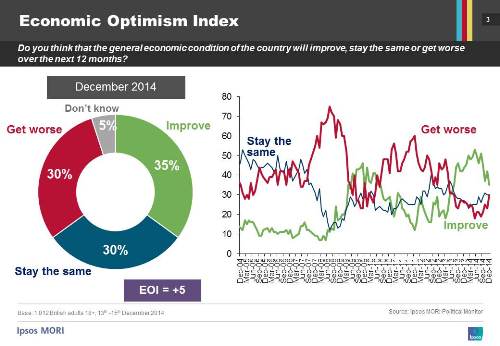 Following the Autumn Statement and the ensuing debate over the size of potential spending cuts needed in the next Parliament in order to reduce the deficit while not damaging public services, public attitudes to the parties' approaches to public spending are mixed. Nearly six in ten Britons (57%) think the Conservatives will cut spending too much if they are in government following the General Election. Only a quarter (26%) think the same of Labour. However, it's not all good news for the opposition; one in three (35%) think Labour will cut spending too little in the next parliament, compared with 10% for the Conservatives. A quarter each think the Conservatives (26%) and Labour (27%) will get the balance about right on spending cuts to reduce the deficit while protecting public services.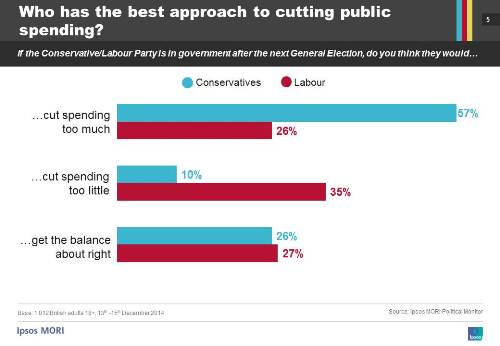 Reflecting these mixed attitudes on the parties' spending plans, Britons are also divided on who has the best balance between cutting spending to reduce the deficit and not damaging public services. A quarter each think Labour (25%) and the Conservatives (24%) have the best balance, while eight percent think the Liberal Democrats have the best balance and seven percent think the same of UKIP. One in nine, 11%, say no party has the best balance.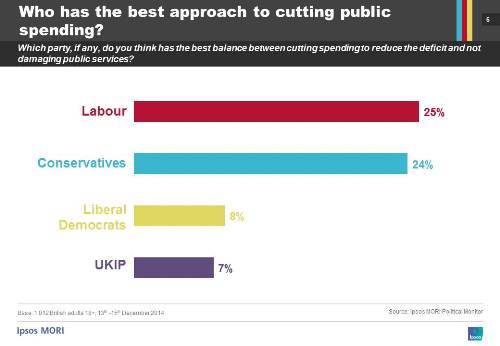 Gideon Skinner, Head of Political Research at Ipsos, said:
"2014 is still the only year since it started in 1979 that our Economic Optimism Index has been positive every single month, so we've not dipped into negative territory yet, but the summer's record optimism has not lasted as we go into Christmas.  What's clear, though, is that neither of the main parties is seen by the public as having all the answers – both are struggling to get the balance right." 
Downloads