George Osborne takes lead over Ed Balls as most capable Chancellor
Our December 2013 Political Monitor featuring the latest voting intention trends, satisfaction in party leaders, economic optimism and this month the relative popularity of George Osborne, Ed Balls and Boris Johnson.
CON 33 (+1); LAB 37 (-1); LIB DEM 9 (+1); UKIP 10 (+2)
Ipsos's latest Political Monitor indicates that George Osborne has taken a firm lead over Ed Balls as most capable Chancellor in the eyes of the public, having been neck-and-neck in August. Four in ten (40%) see Mr Osborne as the more capable Chancellor, an eleven percentage point lead over Mr Balls (29%). In August they were tied, with Mr Osborne on 36% and Mr Balls on 35%.
This appears to be based on policy rather than personality, with Mr Osborne leading Mr Balls on the popularity of his policies. Just over a third like Mr Osborne's policies (36%) compared with 26% for Mr Balls. Both are equally unpopular personally, however, with both men disliked by around half of Britons (54% for Mr Osborne, 51% for Mr Balls).
This comes as the public's economic expectations remain positive, with the Ipsos Economic Optimism Index (those thinking the economy will improve over the next year minus those who think it will get worse) up 3 points this month to +18. The Conservatives and George Osborne continue to reap the benefits of this year's upturn following on from our September polling, where the Conservatives built an 18 percentage point lead on managing the economy, reaching their highest point on this measure since October 2010. Last month, the Conservatives also held a 12-point lead on growing the economy, although they lag behind on tackling the cost of living and are even with Labour on providing the benefits of growth.
However, both the Chancellor and Shadow Chancellor trail Boris Johnson in the ratings, both in personal popularity and on policy. Three in five (59%) say they like Boris Johnson and 44% like his policies, compared with 27% and 36% for George Osborne and 27% and 26% for Ed Balls. Among Conservative supporters, Mr Osborne holds a slight lead on policy (73% like his policies, compared with 68% for Mr Johnson), but lags well behind on personal popularity (53% like Mr Osborne, 76% like Mr Johnson).  
Despite rising economic optimism, Labour continue to lead in the polls. Labour's lead is now 4 points, on 37% to the Conservatives' 33%. UKIP and the Liberal Democrats are also relatively unchanged; UKIP on 10%, the Lib Dems on 9%.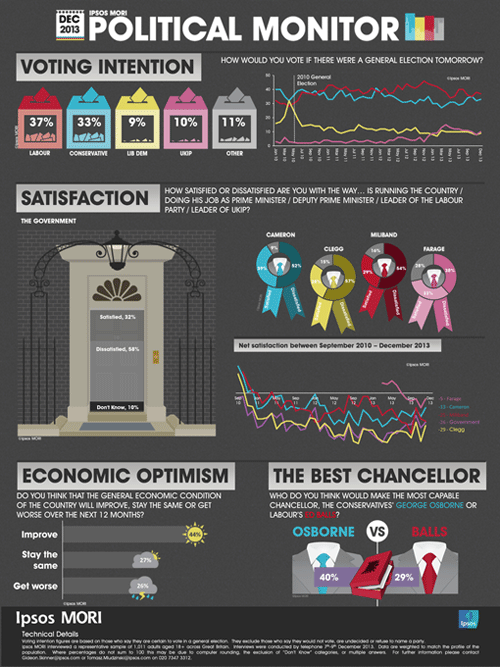 Satisfaction has risen for David Cameron, Nick Clegg and Nigel Farage, but has stayed steady for Ed Miliband:
Mr Miliband has a net rating (% satisfied minus % dissatisfied) of -25, steady from -23 last month. 29% are satisfied with his performance as Labour leader, while 54% are dissatisfied. Mr Miliband's net rating among Labour supporters is +6.
While still less popular than Mr Miliband, Nick Clegg has, in contrast, seen a big rise from a net rating of -43 last month to -29 this month; 28% are satisfied with his performance as Deputy Prime Minister, 57% dissatisfied. Among Lib Dems his net rating is +14.
David Cameron has a net rating of -13, his highest since March 2012. 39% are satisfied with his performance as Prime Minister, his highest score since January 2012, while 52% are dissatisfied. Among Conservative supporters his net rating is at +61.
Nigel Farage's net rating is at -5, up from -13 last month; 33% are satisfied in his performance as UKIP leader, with 38% dissatisfied. Among UKIP supporters his net rating is at +81.
Net satisfaction in the performance of the government is at -26, from -31 last month, with 32% satisfied and 58% dissatisfied. Among Conservatives and Lib Dems, its net satisfaction rating is at +31.
Gideon Skinner, Head of Political Research at Ipsos said:
"The Conservatives' position on general economic competence continues to benefit from rising economic optimism – although we know they are not so strong when it comes to living standards. George Osborne has the edge on Ed Balls in terms of policies, although both lag behind Boris Johnson in the popularity stakes."
Technical Note
Ipsos interviewed a representative sample of 1,011 adults aged 18+ across Great Britain. Interviews were conducted by telephone 7th – 9th December 2013.  Data are weighted to match the profile of the population.