I'm a Celebrity… Get Me Out of Here fans are most likely to want Jill Scott to win, with Mike Tindall a close second
One in four I'm a Celebrity ... Get me out of here! fans expect Jill Scott to be crowned Queen of the Jungle
As we reach the final few days of 2022's I'm a Celebrity… Get Me Out of Here series, new polling by Ipsos shows fans of the show are most likely to want Jill Scott crowned as Queen of the Jungle (22%) while Mike Tindall is second-most popular (18%).   
Asked before celebrities started being eliminated, results appear to be in line with those who have already been voted out of the jungle. Among those following the show very or fairly closely, only 1% wanted Charlene White to win, she was eliminated first, while 4% wanted Scarlette Douglas and 3% wanted Sue Cleaver to become the new Queens of the Jungle. Those who remain in camp see higher scores, with 1 in 10 wanting Matt Hancock to win (10%) while 12% want Owen Warner to be crowned. 
When asked who they think will win the show, a quarter of those following very or fairly closely believe it will be Jill Scott (24%) while 15% say Mike Tindall and 12% say Owen Warner. 7% think Matt Hancock will win.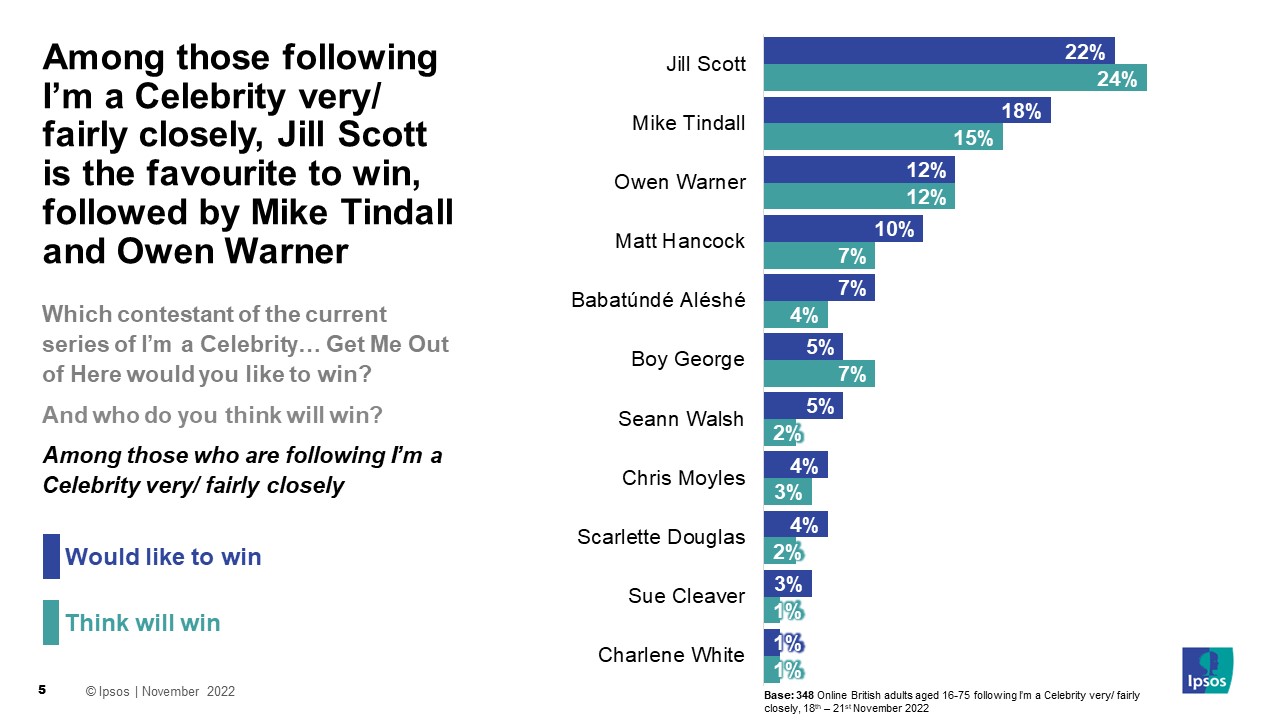 Roughly a third of Britons are following this year's I'm a Celebrity series very of fairly closely (32%), increasing to 4 in 10 16-24s (41%).   
Matt Hancock in the jungle
Considering Matt Hancock's decision to head into the Australian wilderness, 58% now say he made the wrong choice. While still a majority, this has fallen from 64% when asked at the beginning of the month. Just over one in ten say he has made the right decision (12%), also down on the 17% that said the same a few weeks ago. 13% now say they don't know and 18% say the decision was neither right nor wrong, earlier this month those numbers were 6% and 12% respectively. 
When the former Health Secretary joined the jungle, the public voted for him to do multiple consecutive "Bushtucker Trials". New polling shows a third (33%) would prefer to see other contestants taking part in more of these trials while 1 in 5 (20%) wanted to see Matt Hancock doing all or most of them. 
Keiran Pedley, Director of Political Research, said:
These findings suggest that current favourite Jill Scott appears well placed to win this year's I'm a Celebrity, though of course it all depends on who casts their vote ahead of this weekend's final. 
Meanwhile, there is no obvious rallying of public support behind Matt Hancock. Whilst fewer now think he made the wrong decision taking part, a clear majority still think he was wrong to do so and the proportion of Britons who think he was right to take part has also fallen. 
Technical note:
Ipsos surveyed a representative quota sample of 1,084 adults aged 16-75 in Great Britain. Surveys took place on the online Omnibus 18th-21st November 2022. Data has been weighted to the known offline population proportions. All polls are subject to a wide range of potential sources of error.