Ipsos Issues Index: June 2022
Inflation remains the most important issue for Britons, as public concern about a lack of faith in politicians also rises
One quarter of the British public mention a lack of faith in politics and politicians as a big issue, up nine points since May
Concern about inflation remains the biggest issue for the country, mentioned by four in ten
Three in ten see the wider economy as a worry, while concern over petrol prices enters the top ten biggest issues
Just four per cent express concern about COVID-19 and pandemic diseases, the lowest score since February 2020
The June 2022 Ipsos Issues Index shows a sharp increase in the proportion worried about the behaviour of politicians as inflation and the economy remain the top concerns for Britons.
Twenty-six per cent of Britons mention "a lack of faith in politicians and politics" as an important issue facing the country, up nine points since last month. This is back to the highest score recorded for this issue since it was first added to the Index in 2016, and puts it in third place overall. Concern is now at the same level as it was in January 2022, when the news about lockdown-breaking parties in 10 Downing Street first emerged.  Fieldwork was carried out 8th – 14th June.
However inflation remains the biggest issue for the country, with 40% mentioning this as one of the biggest concerns for Britain, the same level of worry as last month, which was the highest for around 40 years. The wider economy is the second-biggest concern, mentioned by three in ten.
Concern about defence and foreign affairs is on 13% this month, down six points from its score in May. It is now seen as the fifth-biggest issue for the country, alongside poverty and inequality.
Petrol prices have entered the top ten biggest issues for Britain this month with an increase in concern of three percentage points since May. Eleven per cent are worried about fuel prices, which is the same proportion as those concerned about climate change and pollution this month.
Finally just four per cent mention COVID-19 and pandemic diseases as a worry this month. This is a decrease of four points since May and the lowest score for this issue since February 2020, before the initial outbreaks of COVID-19. This makes it the seventeenth-biggest issue for Britain this month.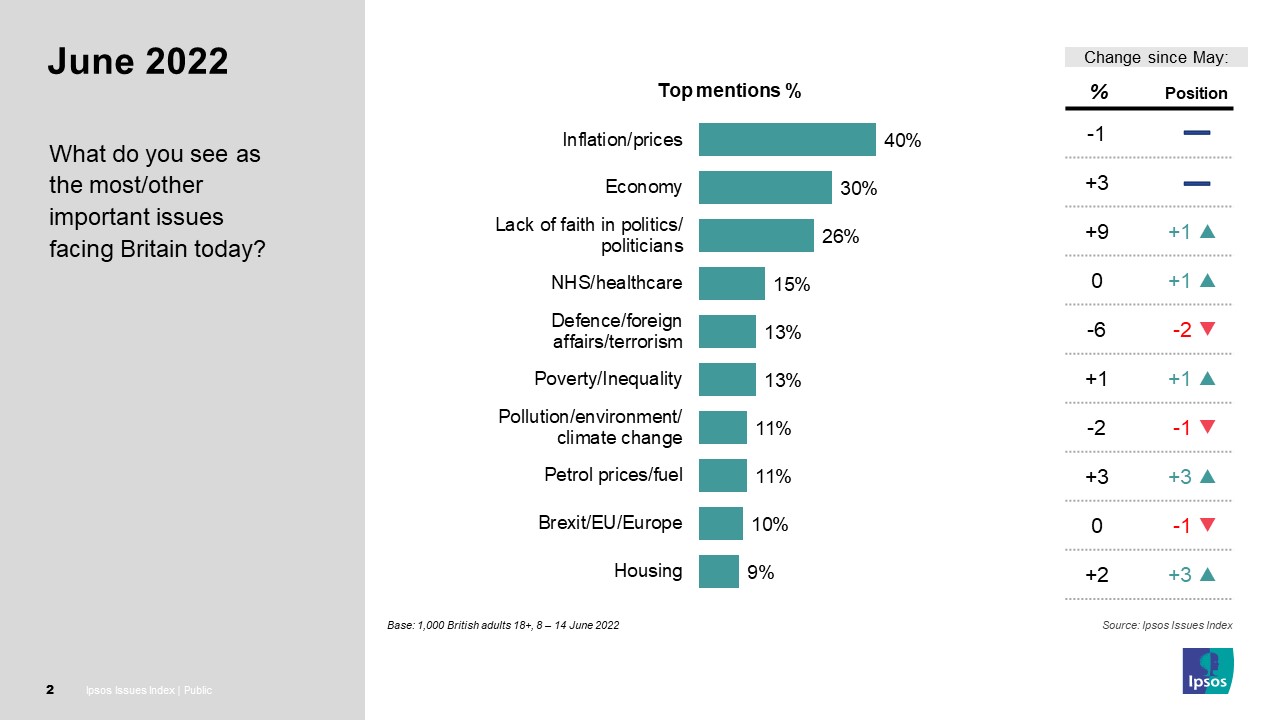 While inflation is seen as the top concern for most groups, there are large variations in the proportion of different groups of the public who mention a lack of faith in politicians and politics as a priority.
Conservative party supporters are significantly less likely than average to mention this as a concern (16%) while a third of Labour party supporters see this as a big issue (33%). 
Older age groups are also more likely to mention this topic, with 40% of those aged 55-64 mentioning it, putting it alongside inflation.
This is also a bigger concern for those in social grades AB (mentioned by 35%)..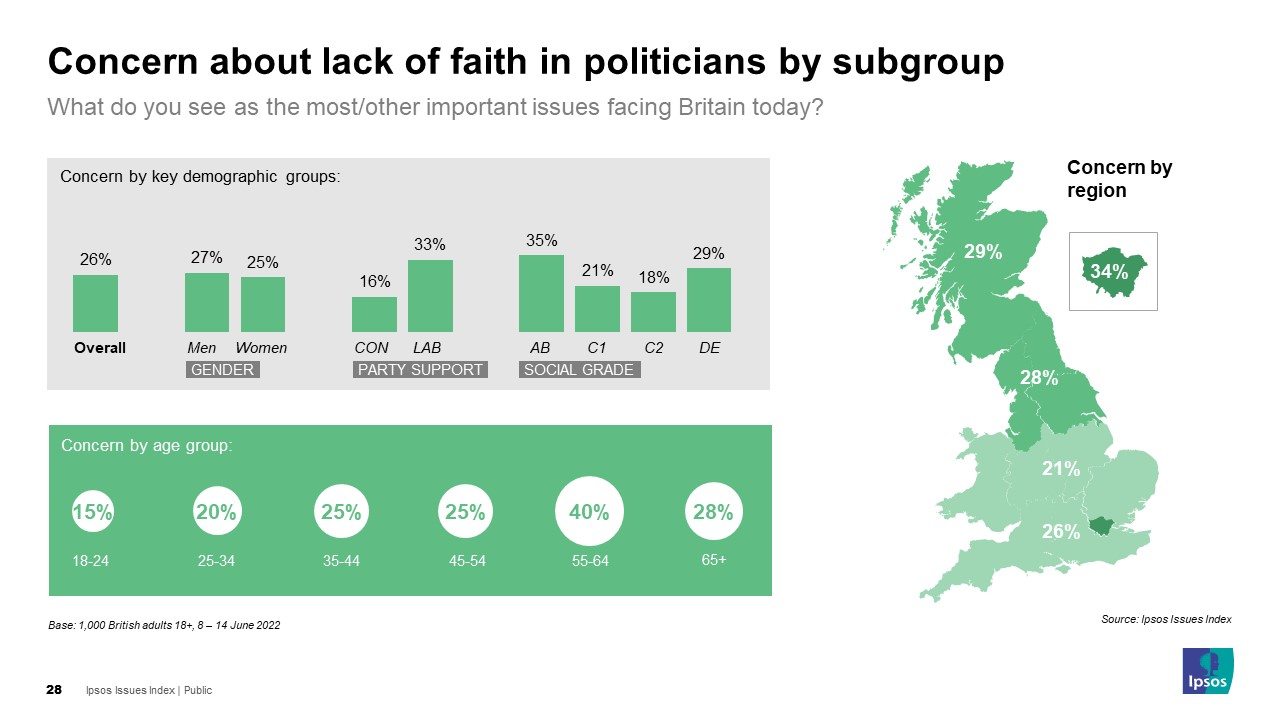 Mike Clemence, a researcher at Ipsos, said:
In the wake of the confidence vote in Prime Minister Boris Johnson's leadership we have seen a rise in public concern about politicians' conduct, especially among Labour party supporters and older people. However, prices and inflation remains the top concern for all groups this month, with official figures putting the UK inflation rate at its highest for 40 years.

We have also seen concern about pandemics decline further, with just four per cent of the British public mentioning coronavirus as a big issue for the country this month. This is the same as the level of concern in the last pre-pandemic Issues Index of February 2020.
Technical note
Ipsos' Issues Index is conducted monthly and provides an overview of the key issues concerning the country. Ipsos interviewed a representative sample of 1,000 adults aged 18+ across Great Britain. The answers are spontaneous responses, and participants are not prompted with any answers. 
Ipsos' telephone omnibus was used for this survey. Interviews were conducted between 8 and 14 June 2022 across Great Britain. Data are weighted to match the profile of the population.