Ipsos Issues Index - 2019 year in review
According to the Ipsos Issues Index, Brexit was the biggest issue for Britain overall across 2019, but worry about the NHS surged ahead of the General Election.
Brexit has been the dominant issue for the public over the year, on 64%
The NHS was the country's second-biggest concern on 42% overall
Concern about immigration fell further and it was 26 percentage points lower than in 2016
Looking across Ipsos Issues Index data for 2019 it is clear that Brexit dominated the agenda: two thirds (64%) of the British public mentioned it as a concern and half (51%) cited it as the single biggest issue facing Britain. The average level of concern about Brexit for 2019 is 11 percentage points higher than in 2018, when 53 per cent mentioned it as an issue.
The NHS was also a major national concern for 2019. Across the year 42 per cent mentioned it as a big issue, ranging from 32 per cent in March to 55 per cent in December, when it replaced Brexit as the biggest issue facing Britain. This is a slight decline in concern since 2018, when 45 per cent mentioned it as a worry.
In the final two months of 2019, both the NHS and Brexit were listed as big issues for the country by more than half of the British public. This demonstrates the exceptionally high levels of public concern around both issues: since 1997 there have only been three months where two issues have scored more than 50 per cent at the same time.
Crime and law and order concerns are the third largest category for 2019, on 23 per cent. This is an increase of four percentage points from 2018 (19%) and double the level of public concern recorded in 2017 (12%).
Concern about immigration – the third biggest issue in 2018 – has fallen by five percentage points since then and it is now the ninth-biggest concern, on 14 per cent. The proportion worried about immigration has fallen by 26 percentage points since 2016, when it was the biggest issue of the year (on 40%).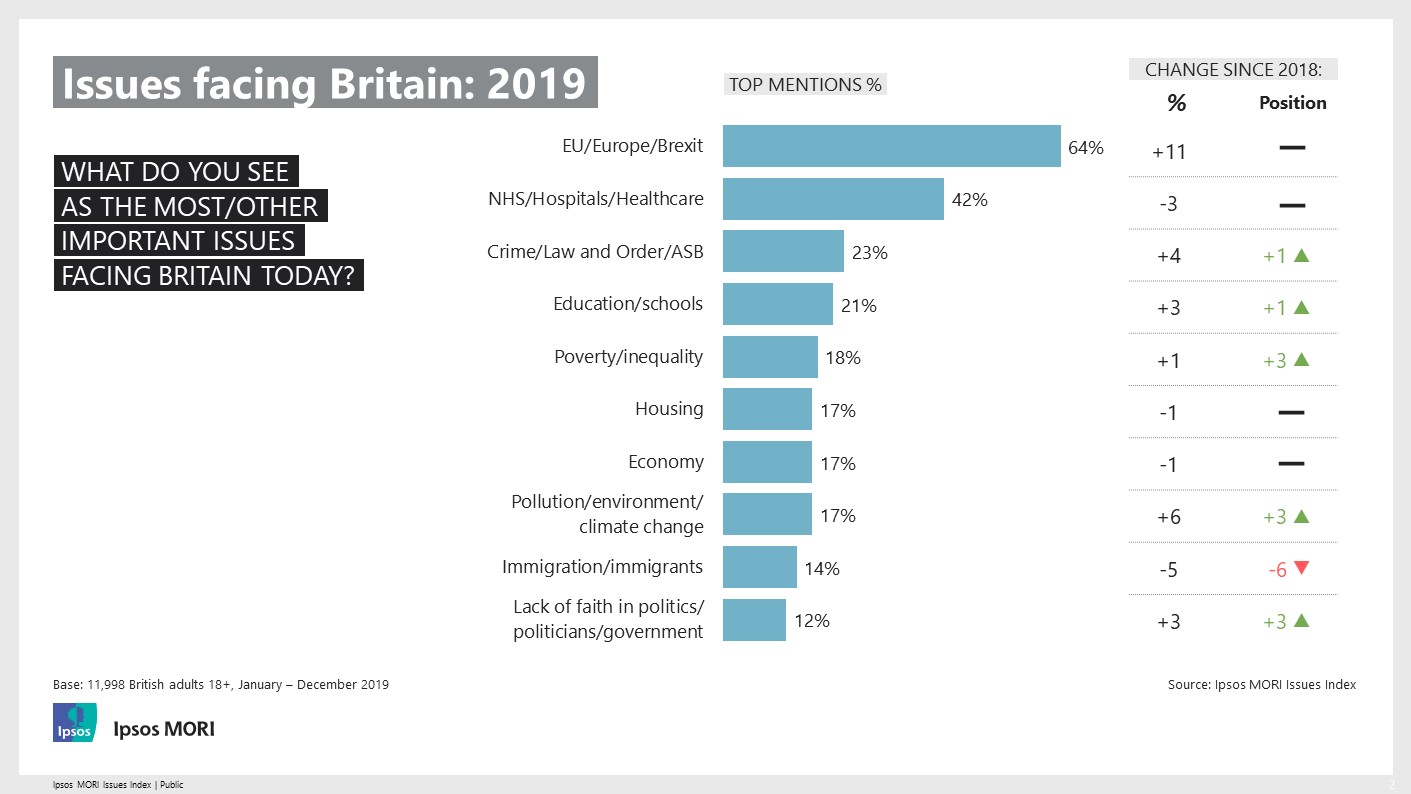 Pollution, the environment and climate change is a new entrant to the top ten for 2019. This year 17 per cent mention it as a big issue for Britain, putting it eighth overall. Public concern has increased by six percentage points since 2018, when just 11 per cent mentioned it as a major issue for Britain. A fifth of those in Generation Z (the younger generation) mentioned it as an issue, compared with 12 per cent of those in the Pre War generation.
| Generation | % concerned about pollution / environment / climate change |
| --- | --- |
| Pre-War (born pre-1945) | 12% |
| Baby Boomer (born 1945-1965) | 16% |
| Generation X (born 1966-1979) | 18% |
| Millennial (born 1980-1995) | 16% |
| Generation Z (born 1996 onwards) | 20% |
Brexit was the top issue for 2019 across all demographic groups. This unanimity can be seen across party preference, social grade, gender and age group. The largest split is by gender: the lead for Brexit over the second biggest issue (NHS) for men is 30 percentage points, while for women the gap is half that size (14ppt)
 
 
% mentioning Brexit
% mentioning NHS
Brexit lead over NHS
Gender
Men
67%
37%
+30 ppt
Women
60%
46%
+14 ppt
Party Support
Conservative
73%
47%
+26 ppt
Labour
61%
45%
+16 ppt
Lib Dem
82%
49%
+33 ppt
None
57%
36%
+21 ppt
Social grade
ABC1
70%
44%
+26 ppt
C2DE
55%
38%
+17 ppt
Age
18-34
56%
34%
+22 ppt
35-54
65%
44%
+21 ppt
55+
68%
46%
+22 ppt
National Concerns
Brexit's pre-eminence as an issue is also reflected across the nations and regions of Britain. Concern about Britain's exit from the EU has been the biggest issue across all 11 regions and nations of Great Britain.
Those living in the south west and north east of England were most likely to see Brexit as a big issue with seven in ten residents mentioning it, along with close to two thirds of those in the south east, Wales and Yorkshire and Humberside. The regions which were least likely to cite Brexit as a concern were London and the West Midlands – but even here six in ten saw Brexit as a big issue.
The gap in concern between Brexit and the NHS varies between different regions. The largest gaps are in the north east (26 percentage points) and east of England (25ppt), while the smallest can be found in Wales (13ppt) and the North West (14ppt). Wales stands out as the only region in Britain where both the NHS and Brexit have been mentioned as big issues by more than half of the public across 2019.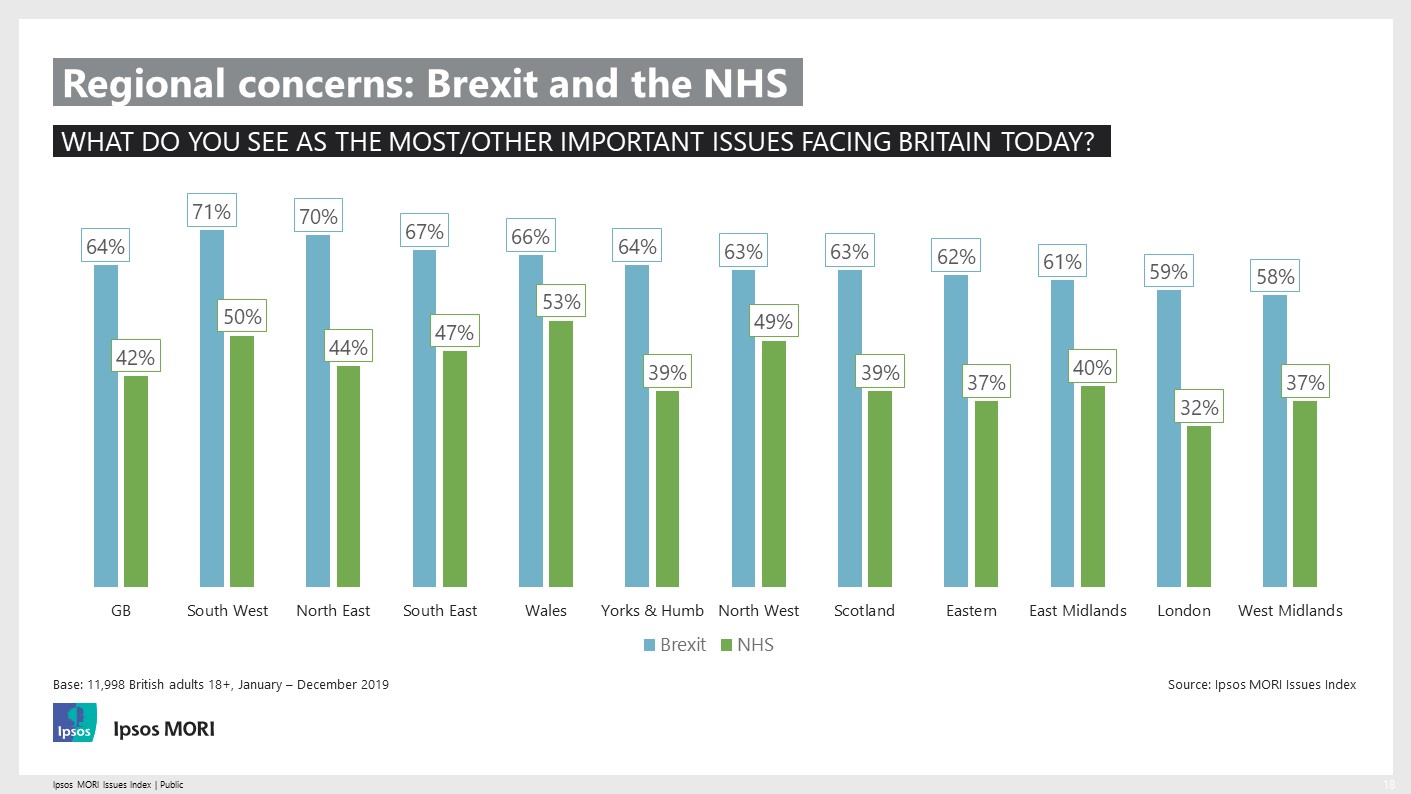 Political divides 
The preoccupation with Brexit is also found across supporters of the three main political parties – as well as those with no political affiliation.
Three quarters of Conservative supporters saw Brexit as a big issue for the country (73%), significantly above the national average of 64 per cent. Close to half were also concerned about the NHS (45%). The other issues in the top five were crime (30%), immigration (22%) and education (21%).
Labour supporters also put Brexit first, but their level of concern was in line with the national average (61%, compare with 64%). The NHS was also the second-biggest issue for this group and the proportion mentioning it as a worry matched that among Conservatives (45%). Poverty and inequality was the third biggest concern (28%), followed by education (26%) and housing (23%).
Liberal Democrat supporters showed the highest level of concern about Brexit of any political grouping, with 84% naming it as one of the biggest issues for the country – nine percentage points higher than Conservatives and 21 points higher than Labour supporters. They are also slightly more likely to mention the NHS as a worry (49%). Education (31%) and pollution/environment/climate change (30%) are the joint-third issues, followed by the economy on 24 per cent.
Those who do not support a political party also put Brexit at the top of their list of concerns across 2019, on 57 per cent. This is followed by the NHS on 36 per cent, then crime (22%), education (16%) and the economy (15%)
Technical note
Ipsos's Issues Index is conducted monthly and provides an overview of the key issues concerning the country. For the 2019 aggregate data from the twelve waves of the study carried out in 2019 were combined: across this period Ipsos interviewed 11,998 adults aged 18+ across Great Britain. The answers given are spontaneous responses, and participants are not prompted with any answers.
Ipsos's Omnibus was used for this survey. Interviews were conducted face-to-face and in-home across twelve monthly surveys carried out in Great Britain. Data are weighted by month to match the profile of the population.
Download